This post may contain affiliate links. Please read my disclosure policy.
My favorite 1-Hour Soft and Buttery Dinner Rolls recipe is easy to make by hand or with a stand mixer and absolutely heavenly served warm out of the oven.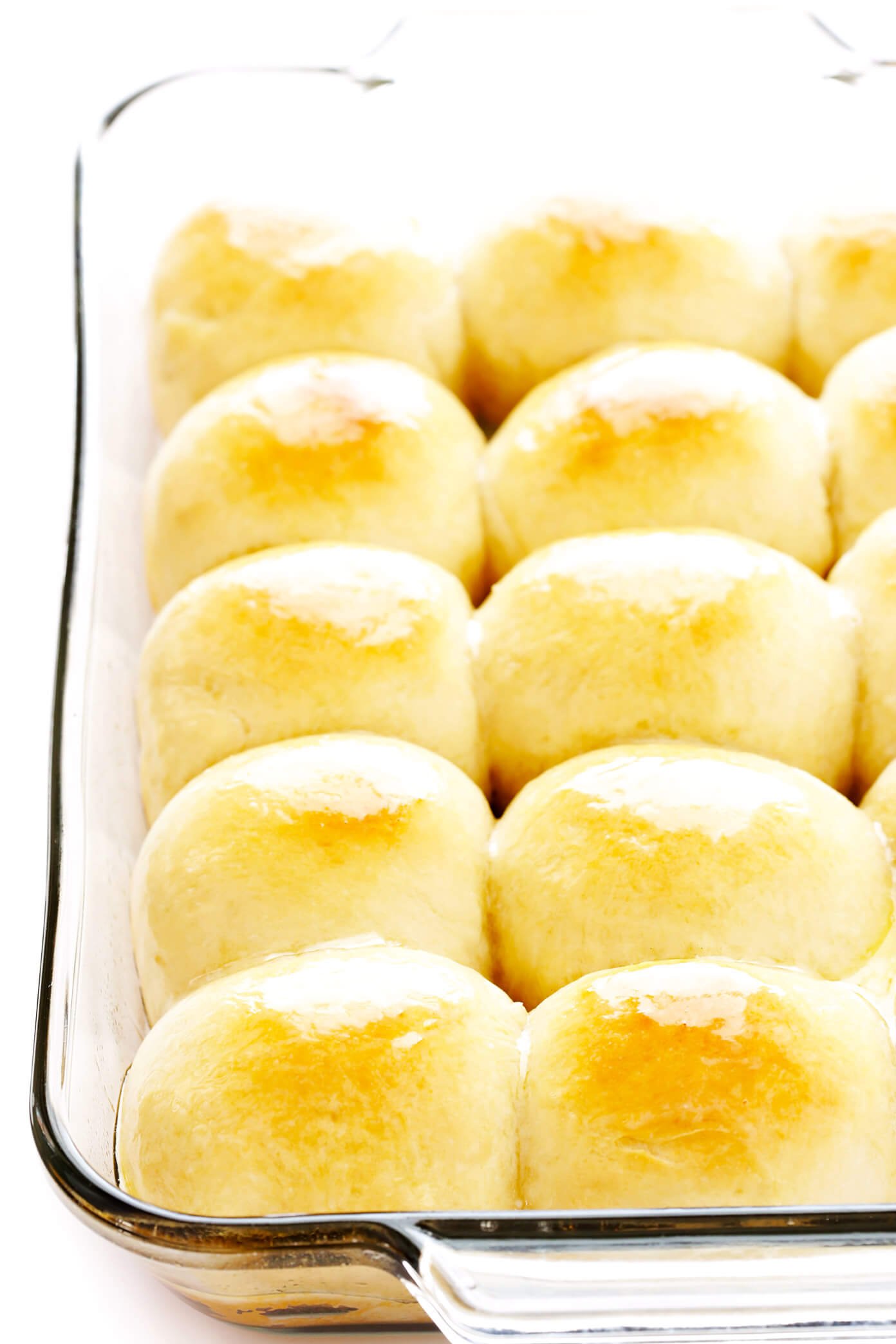 Is there anything better than a freshly-baked pan of homemade dinner rolls?
Actually, yes — this easy dinner rolls recipe that can be ready to go in just one hour! ♡
This recipe has been my go-to for many years now and always yields the most perfectly soft, fluffy, buttery rolls.  But I especially love it because the ingredient list is simple, the rise times are minimal, and the dough can be easily made either by hand or with the help of a stand mixer.  And everything can come together quickly in just an hour or so, which makes this recipe more do-able on busy weeknights when you're craving some homemade bread, and also super-helpful on holidays when you're trying to multi-task all the things.
Many of you have also asked about make-ahead options with this recipe over the years, so I have updated the post with instructions for how to make the bread dough in advance.  And I have also included some fun variations if you would like to make your rolls more garlicky, herb-y, cheesy, or whatever other add-ins sound fun.
Bottom line, this dinner rolls recipe is a keeper and never lets me down.  So if you are looking for a good one to add to your repertoire, bookmark this one and give it a try!
1-Hour Dinner Rolls Recipe | 1-Minute Video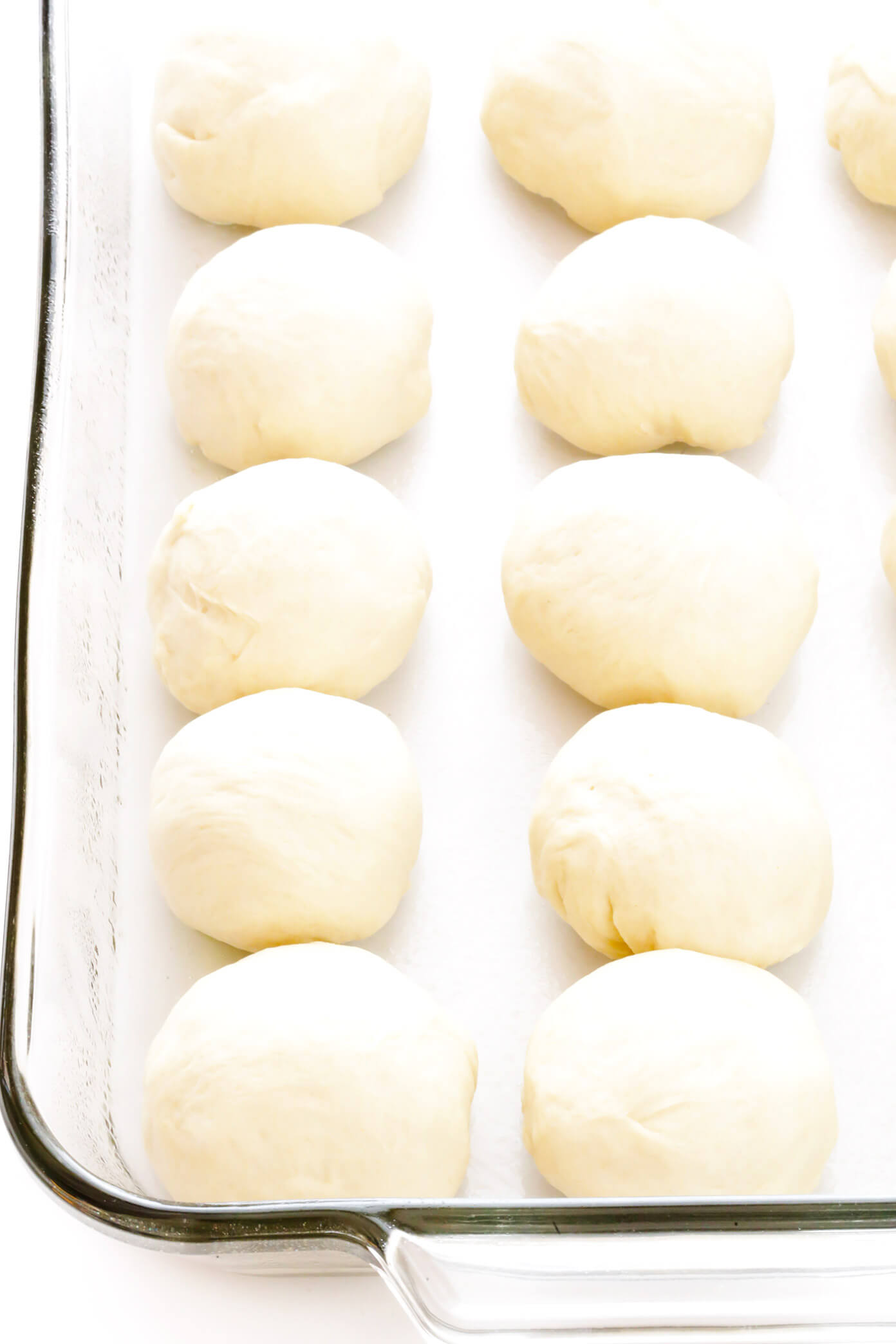 Homemade Dinner Rolls Ingredients:
Before we get to the full recipe below, here are a few notes about the ingredients that you will need to make this homemade dinner rolls recipe:
Water and milk: These will serve as our base liquids for the bread dough. I used dairy milk, but you are welcome to sub in a plain plant-based milk (such as oat milk or almond milk) instead.
Melted butter: Which we will both bake into the rolls and brush on top.
Honey: To add just a hint of sweetness.
Active dry yeast: This recipe calls for 1 tablespoon of yeast.  So if you are purchasing your yeast in 0.25-ounce packets, you will need slightly more than one packet.
Flour: I have only tested this recipe with all-purpose flour.  But if you try out different flours, please let us know how it goes in the comment section below!
Salt: Which we will mix into the rolls to bring out all of those delicious buttery flavors.  Feel free to sprinkle a bit of flaky salt on top of the warm rolls just before serving too!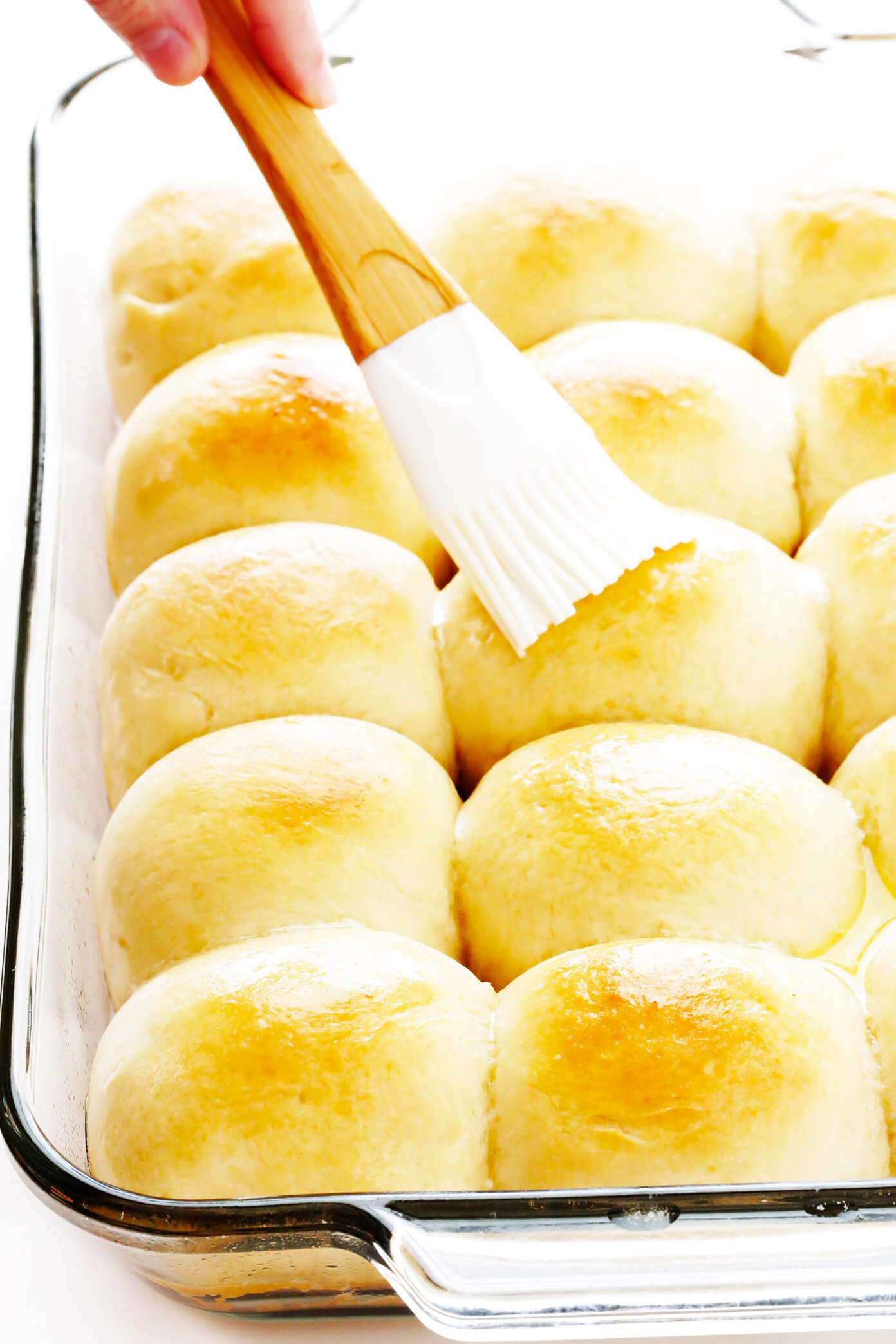 Tips For How To Make Dinner Rolls:
The full recipe is included below for how to make these dinner rolls, but here are a few helpful tips to keep in mind too:
Be sure that your yeast is not expired. This is one of the most common reasons for why a batch of bread dough does not rise.  Double-check the expiration date on any yeast that may be hanging out in your pantry.  And if the yeast does not begin to puff and bubble up after 5 minutes once it has been added to the wet ingredients, toss out the batch and start over with new yeast.
Double-check the temperature of the liquid ingredients. When heating the liquid ingredients (water, melted butter, milk and honey), it's essential that they be within the temperature range of 100-110°F.  If the mixture is too hot, it can kill the yeast.  If it is too cool, the yeast may not activate.  The mixture should feel warm and not hot to the touch, but I always recommend testing the mixture with a cooking thermometer just to be sure.
Don't skip the rise times. They are essential to helping the dough rise and create that soft and fluffy texture we're going for.
No worries about perfection. When portioning the dough into 12 rolls, don't worry about them all being perfectly equal in size.  They will all bake up together in the pan, and if some are slightly larger or smaller, hakuna matata. 🙂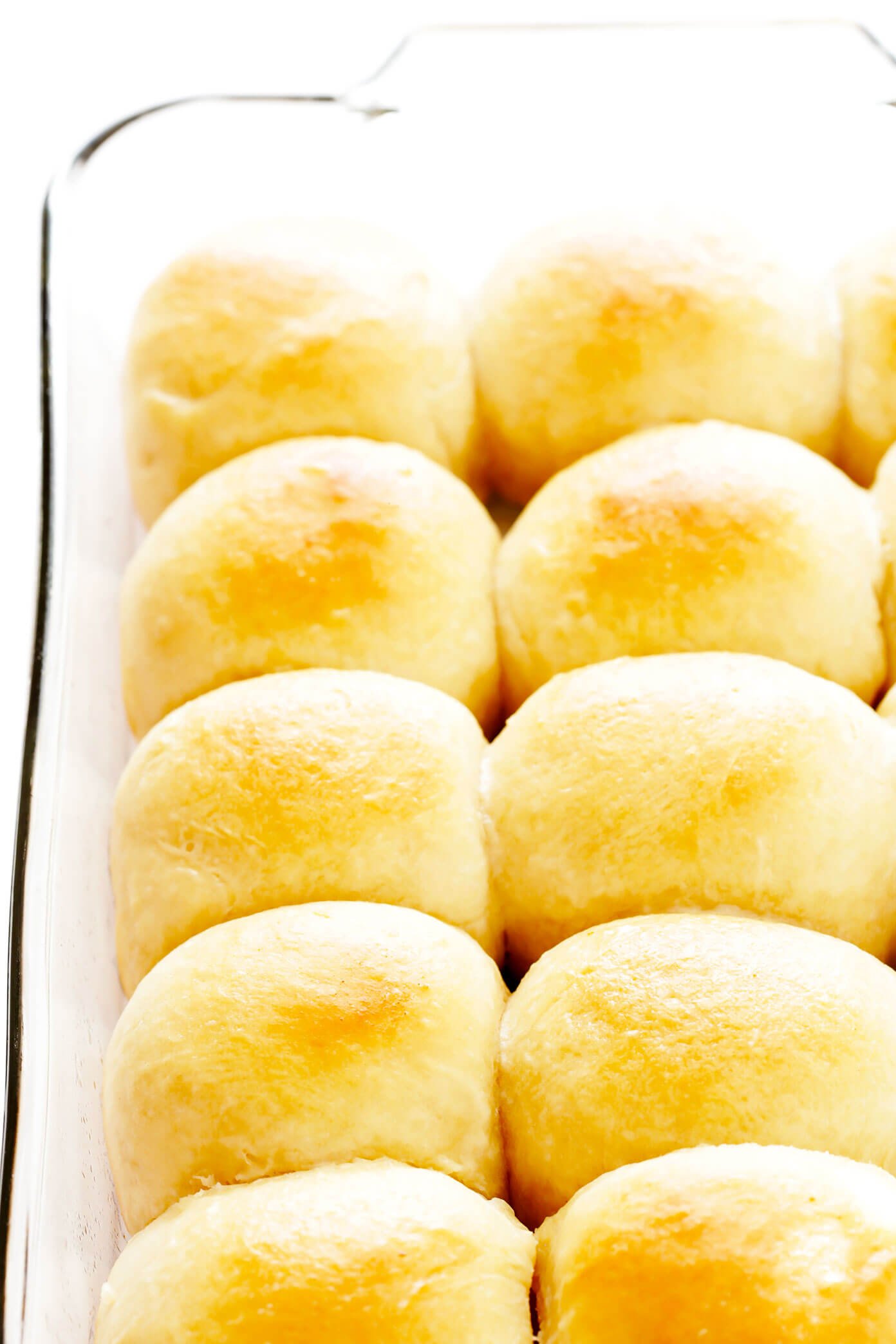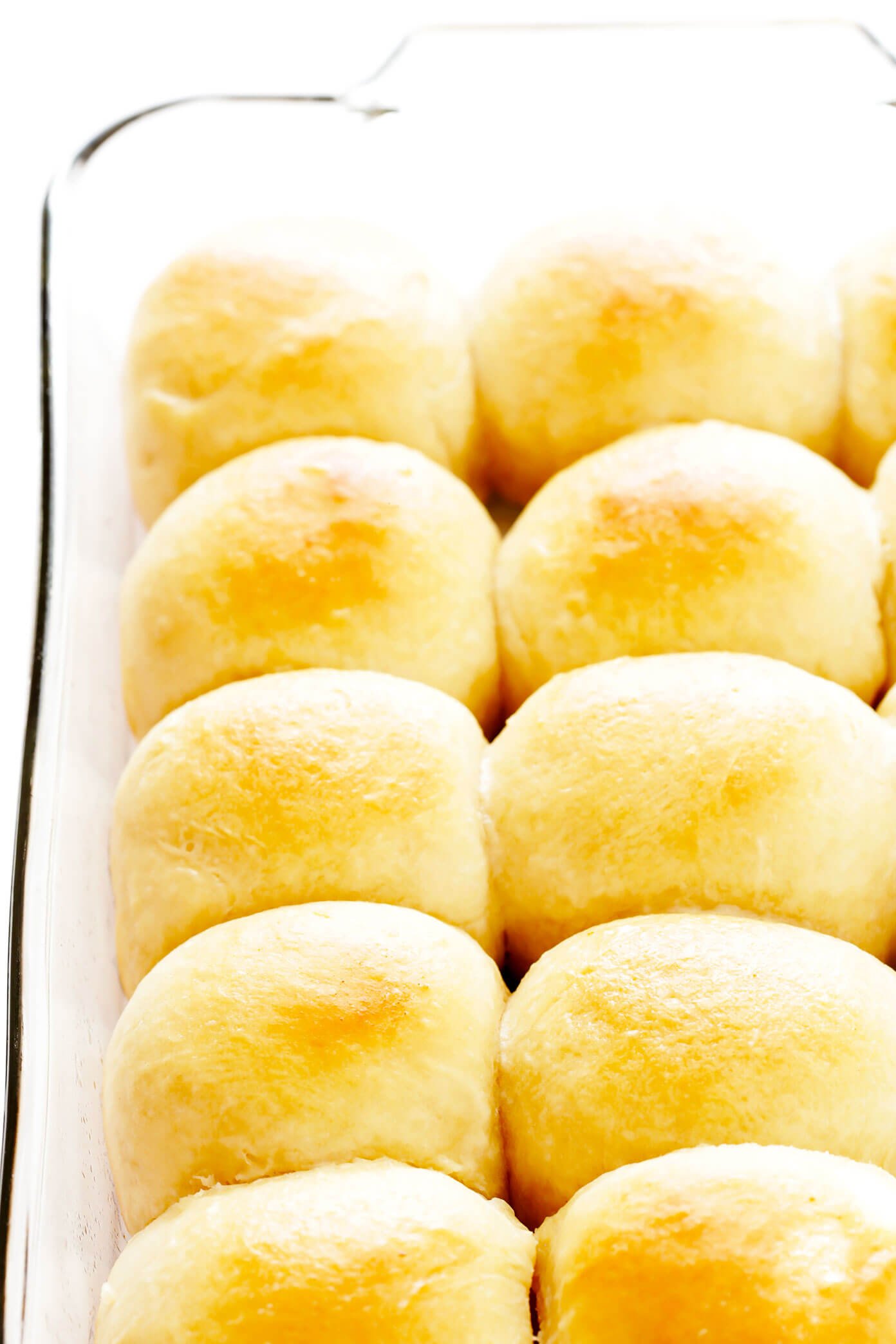 Possible Recipe Variations:
Here are a few other possible variations that you could make to this dinner rolls recipe:
Make-ahead option: For make-ahead dinner rolls, follow the recipe through the step that you shape the individual rolls and place them in the baking dish.  Then tightly cover the baking dish and refrigerate for up to 48 hours.  Transfer the dish to the counter and let it warm up to room temperature for 2 hours before baking, and then bake as directed.
Make it vegan: Use plant-based milk and butter and your preferred sweetener in place of honey.
Add garlic: Add in 1 teaspoon of garlic powder to the bread dough to make the rolls more garlicky, and/or you could also simmer some minced garlic with butter to brush on top of the rolls after baking.
Add herbs: Add in 1 to 2 tablespoons of finely-chopped fresh herbs (such as rosemary or parsley) to the bread dough to add flavor to the rolls, and/or you could also mix some fresh herbs in with the melted butter to brush on top of the rolls after baking.
Add cheese: You can also mix in 1/3 to 1/2 cup of freshly-grated cheddar cheese to make cheesy rolls.  (Or I also love mixing in some freshly-grated Parmesan, and then sprinkling some on top of the rolls during the final 5 minutes of baking.)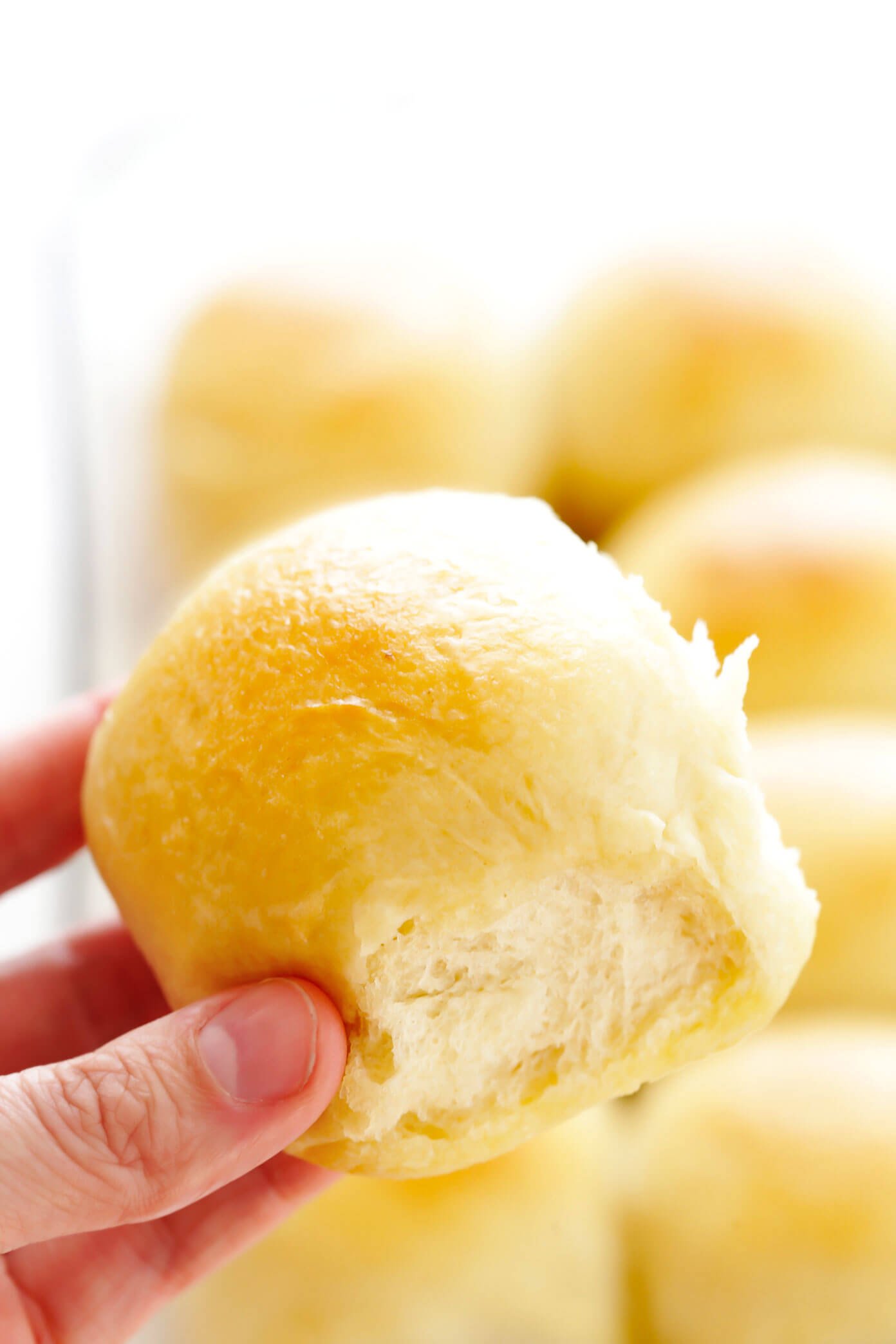 More Favorite Bread Recipes:
Looking for more easy bread recipes to add to your repertoire?  Here are a few of my faves…
---
Description
My favorite 1-Hour Soft and Buttery Dinner Rolls recipe is easy to make by hand or with a stand mixer and absolutely heavenly served warm out of the oven.
---
---
Instructions
Prep your oven and baking dish.  Heat the oven to 400°F.  Grease a 9 x 13-inch baking dish with cooking spray, and set aside.
Heat the liquids. In a microwave-safe bowl or measuring cup, stir together the water and melted butter, then add in the milk and honey and stir until combined.  Microwave the mixture for 1 minute and give it a stir.  Continue microwaving the mixture in 15 second intervals, until it reaches 110°F (it will be warm but not hot to the touch) and the butter is completely melted.
Add yeast.  Pour the liquid mixture into the large bowl of a stand mixer.  Then sprinkle the yeast evenly on top, give it a quick stir with a fork to combine, and let the yeast activate for 5 minutes until it is foamy.
Add dry ingredients.  Add in

3 1/2 cups

of flour (not all of the flour) and the salt.
Mix. (See alternate instructions in the notes below for how to knead the dough by hand.) Use the dough-hook to mix in the dry ingredients on medium-low speed until combined.  If the dough is sticking to the sides of the bowl, add in 1/4 cup more flour at a time until the dough pulls away from the sides of the bowl and is only slightly sticky to the touch.  (Only use up to 4 cups of flour total.)  Continue mixing on low speed for 4-5 minutes until the dough is smooth.  Then form the dough into a ball with your hands and transfer it to a greased bowl.
Let the dough rise.  Cover the bowl with a damp towel or paper towel, and let it rise briefly for 15 minutes.
Form the rolls.  Gently punch the dough down and divide into 15 equal-sized pieces. Form each piece into a ball and place the dough balls in the greased baking dish.  Cover the dish again with a damp towel or paper towel and let the dough balls rise for an additional 15-20 minutes.
Bake. Uncover and bake for 15 minutes, or until the rolls are lightly golden brown on top and cooked through.
Brush with more butter. Transfer the baking dish to a wire cooling rack and brush the tops of the rolls with melted butter.
Serve warm. Then serve warm and enjoy!
---
---
Notes
Yeast: I typically purchase my yeast in bulk. But if you are using the 0.25-ounce packets, they each contain 2.25 teaspoons of yeast.  So you will need slightly more than one packet to yield 1 tablespoon.
How to knead the dough by hand: If you do not have a stand mixer, no prob!  For step 5 (mixing the dough), simply stir the dry ingredients into the dough as much as possible.  Then turn the dough out onto a floured surface and knead by hand for 5 to 7 minutes until smooth, adding up to 1/4 cup of extra flour if the dough is too sticky.