This post may contain affiliate links. Please read my disclosure policy.
My favorite homemade cornbread recipe that's lightly sweetened with honey, made extra moist with buttermilk, and irresistibly fluffy and delicious. Easy to make in a basic baking dish or cast iron skillet — up to you!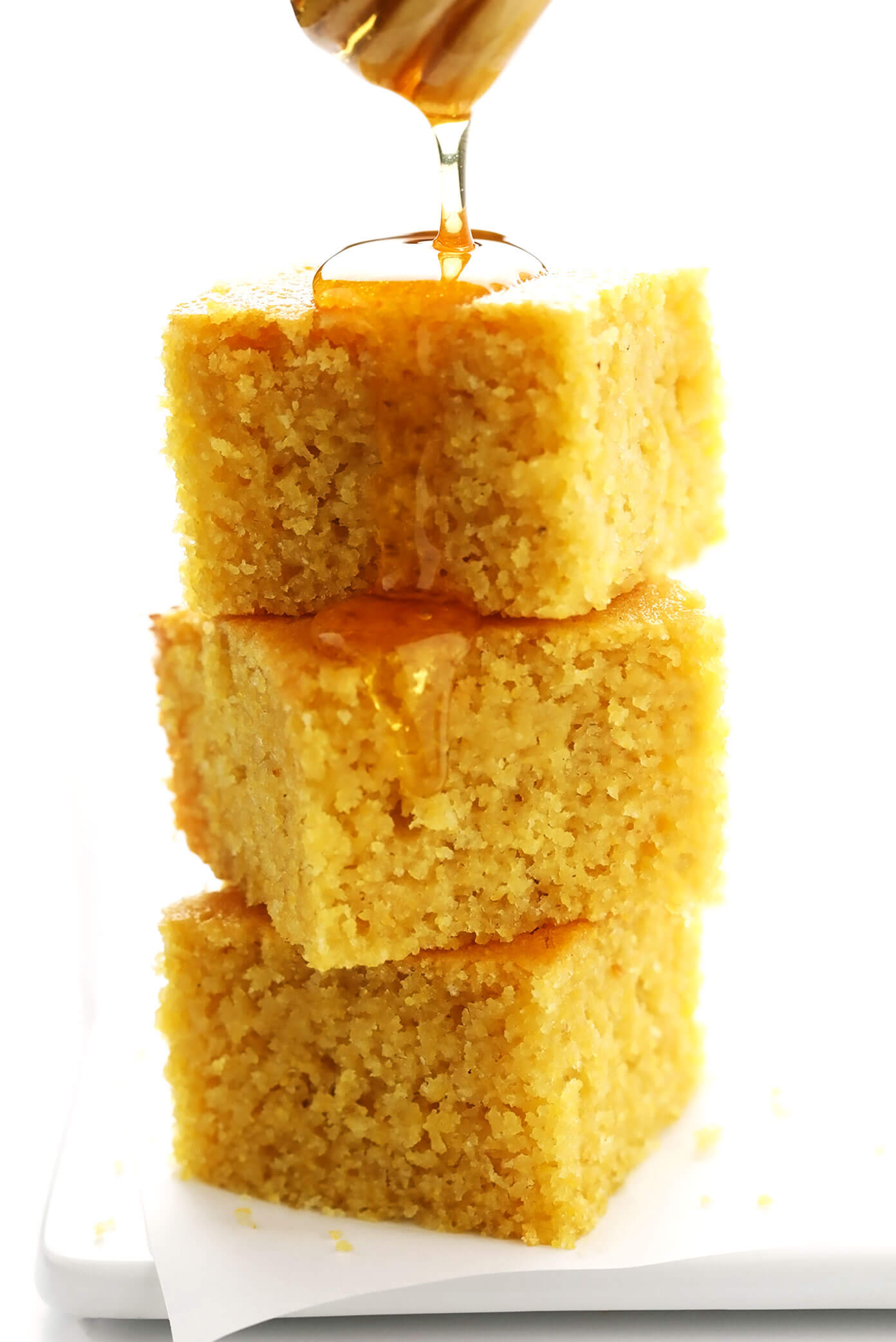 We're in the heart of soup and chili season right now, which means…
…it's also homemade cornbread season! ♡
Ok ok, I know that cornbread can be served and enjoyed anytime of year.  But for me, this sweet and buttery bread is absolute perfection served up on a chilly winter's day alongside a steaming bowl of chili.  Especially when it's fresh outta the oven and still warm, maybe served up with a pat of melty butter and a drizzle of honey just for good measure, a cozy batch of homemade cornbread simply can't be beat!
That said, I've learned over the years that people tend to have very strong feelings when it comes to exactly what defines "the best" cornbread.  There is the classic Northern/Southern debate about whether or not to add sweetener, strong opinions about which coarseness of cornmeal to use, the question of whether or not to add in chunks of whole kernel corn as well, and of course, deeply-held feelings about baking dish vs skillet cornbreads.  I happen to love all cornbreads.  But if I had to choose an all-time favorite cornbread, today's recipe would be it!
First off, I love this homemade cornbread recipe because it's super easy to make from start to finish in about 30 minutes (with just 10 or so minutes of actual hands-on prep time).  I also split the difference between Northern- and Southern-style cornbreads and like to moderately sweeten my cornbread, since I find the cornmeal to already be quite sweet on its own, and prefer to use honey because it adds such great flavor.  I'm also a big believer in making cornbread with buttermilk, which adds considerable moisture as well as a subtle tangy flavor to the bread.  And I also highly recommend taking the extra time to brown your butter before adding it to the batter, which adds the most irresistible hint of nutty, rich, caramelized flavor.
We usually make skillet cornbread in our house with a cast iron pan, which deepens the layer of golden, caramelized crust around the edges of the bread.  But that said, if you don't own a cast iron skillet (or oven-proof skillet), no prob at all, I've also included instructions for how to make cornbread using a traditional baking pan, which will still be delicious.
Let's make some cornbread together, friends!
Homemade Cornbread Ingredients:
Before we get to the full buttermilk cornbread recipe below, here are a few important notes about the ingredients you will need to make this recipe:
Cornmeal: I used finely-ground yellow cornmeal for this recipe, but a medium-grind cornmeal will work well too.  (Just be careful not to accidentally purchase corn flour, cornstarch or masa harina, which are different products altogether.)
Flour: I used basic all-purpose flour for this recipe, but you could also sub in white whole wheat flour if you would like.
Baking powder 

and

baking soda: We will use both to help this cornbread rise up to be extra fluffy and soft.
Fine sea salt: To bring out all of those delicious flavors.  (Although please note that if you only have iodized table salt on hand, you should use about half as much salt.)
Eggs: To serve as our binding agent and help keep the bread nice and moist, as well as prevent it from being too crumbly.  (A little bit crumbly is good though!)
Honey: I love the taste of naturally-sweetened honey cornbread, but prefer mine not too sweet.  So it's a bit of a compromise between Northern and Southern-style cornbreads with 1/3 cup of honey added.  If you prefer a sweeter cornbread, feel free to increase the amount to 1/2 cup.  Or if you prefer a less sweet cornbread, you can reduce the amount to 3 or 4 tablespoons.
Buttermilk: Which makes this bread extra rich and moist!  If you don't happen to have buttermilk on hand, feel free to make a homemade buttermilk substitute with milk and lemon juice.  Or if you're in a hurry, you can also just sub in whole milk instead, which will yield a slightly more dry and crumbly but still delicious bread.
Butter: I adore the nutty taste of lightly-browned butter in cornbread, which you can either brown

separately

before adding it to the baking dish version or brown

directly

in the skillet cornbread version, as explained below.  Or if you'd like to skip this step, you can just melt your butter like usual on the stovetop or in the microwave.

How To Make Cornbread:
So as I mentioned, I've included two options for how to make cornbread below — one using a 9- or 10-inch cast iron skillet (or any oven-proof skillet) and one using an 8- or 9-inch square baking dish.
Personally, I'm partial to that more deeply golden, crispy, caramelized crust that develops in skillet cornbread, thanks to preheating the skillet in the oven beforehand and that magical sizzle when the batter hits the hot pan.  But that said, we also love the basic baking dish version in our house, which is also wonderfully delicious and yields much more evenly-baked squares of fluffy bread.  So you choose whichever pan sounds best to you!
If you're using a cast iron skillet, you can also do some multi-tasking and let the butter melt and brown in the skillet as it preheats in the oven.  (To save time, let the skillet preheat while you mix the rest of the batter!)  Or if you're using a baking dish, you have the option of either browning the butter in a separate pan on the stove, or you can just skip the step of browning the butter altogether and add plain melted butter to your cornbread.  Again, whichever sounds best to you!
See the recipe below for full instructions for both methods.
Cornbread Recipe Variations:
If you'd like to incorporate some fun add-ins to your cornbread recipe too, feel free to…
Add whole kernel corn: Add in up to 3/4 cup (drained) whole kernel corn to the batter if you would like some chunky bits of corn mixed in there.
Add jalapeño: Add one or two jalapeños (cored and finely-diced) to the batter to make more of a spicy jalapeño cornbread.
Add cheese: Add up to 1 cup of shredded cheese (I recommend cheddar or pepperjack) if you would like to make more of a cheesy cornbread.
Add bacon: This is a bit of a non-traditional option, but a few finely-crumbled strips of crispy bacon also make a wonderful addition to a pan of cornbread.  (Feel free to swap in a tablespoon of bacon grease for a tablespoon of the melted butter too for extra bacon-y flavor.)
Make it gluten-free: If you would like to make this recipe gluten-free, just sub in a 1-for-1 gluten-free flour in place of the all-purpose flour.
Ways To Serve Cornbread:
Most of the time, we just love serving plain cornbread squares (or wedges) as a side dish in our house.  But you could also make…
Cornbread muffins: Instead of baking your bread in a skillet or baking dish, you can make cornbread muffins by filling standard muffin cups 2/3 full with batter and baking the muffins at 375°F for about 15 minutes, or until a toothpick inserted comes out clean.
Cornbread dressing: You can also crumble or dice this cornbread to make cornbread stuffing for Thanksgiving (or anytime of year).
Cornbread croutons: We also occasionally love dicing up leftover cornbread, brushing it with a bit of extra butter, seasoning it with salt and pepper, and baking a batch of cornbread croutons until crispy.  Perfect for salads and more!
Cornbread salad: You can also use this recipe to make Southern-style cornbread salad, which is typically layered in a trifle dish.
Cornbread crumbles: Crumble up leftover cornbread to sprinkle on fruit crumbles, soups, salads, pastas…you name it!  Many recipes that call for breadcrumbs would benefit from the extra flavor and texture of crumbled cornbread.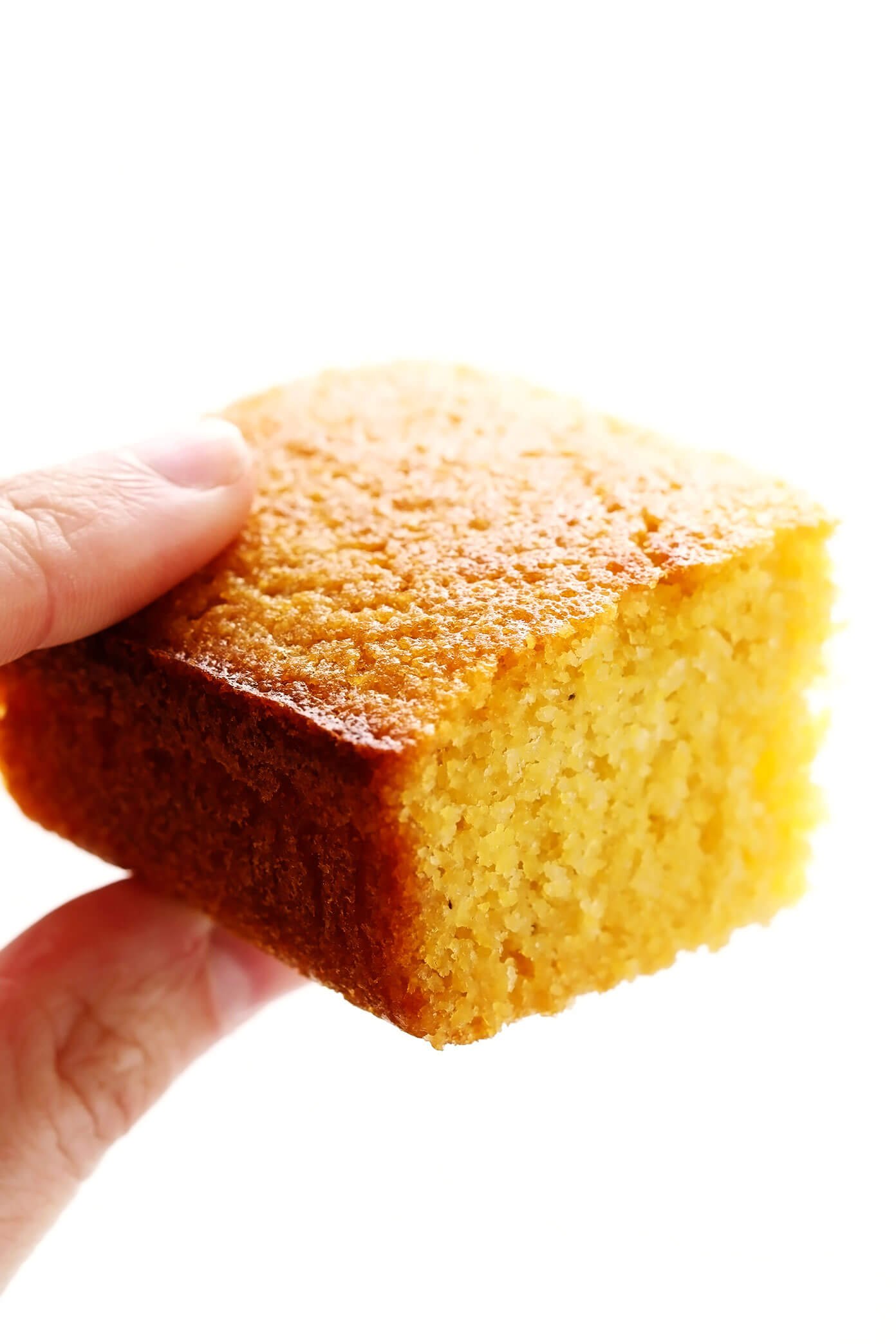 If you make this recipe, let me know in the comments below how it goes.  I hope you love it!
---
Description
My favorite homemade cornbread recipe that's lightly sweetened with honey, made extra moist with buttermilk, and irresistibly buttery and delicious. Options included below to make this recipe in either a pre-heated cast iron skillet or a basic baking dish.
---
Scale
Ingredients
1/2 cup

unsalted butter

1 cup

all-purpose flour

1 cup

yellow cornmeal

2 teaspoon

s baking powder

1/2 teaspoon

baking soda

1 teaspoon

fine sea salt*

2

eggs

1/3 cup

honey

1 cup

buttermilk, room temperature
---
Instructions
Prep the oven and skillet. Heat oven to 400°F.  Add the butter to a 9-inch or 10-inch cast iron skillet, then transfer the skillet to the oven.
Brown the butter.  While you prepare steps 3 and 4 (below), let the butter melt and simmer in the oven until it is lightly browned and smells toasty, keeping a very close eye on it so that the butter does not accidentally burn.  Use an oven mitt to remove the pan from the oven, then carefully swirl the melted butter to coat the edges of the skillet, and pour the browned butter into a separate bowl until ready to use.  (Or if you've already reached step 5, you can go ahead and just pour the browned butter directly into the batter after the buttermilk mixture.)
Combine the dry ingredients. Meanwhile, in a large mixing bowl, whisk together the flour, cornmeal, baking powder, baking soda and fine sea salt until combined.
Combine the wet ingredients. In a separate small mixing bowl, whisk together the eggs and honey until evenly combined.  Add the buttermilk and whisk until combined.
Finish the batter. Create a well in the center of the dry ingredient bowl, and pour the buttermilk mixture into the well.  Gently whisk the dry ingredients into the wet ingredients until just combined.  Pour the melted butter into the batter and stir until it is

just

combined, taking care not to over-mix the batter.
Bake. Pour the batter evenly into the cast iron skillet.  Bake for 20 to 25 minutes, until a toothpick inserted in the center of the cornbread comes out clean.
Cool. Carefully transfer the skillet to a wire cooling rack and let the cornbread cool for at least 10 minutes.  Then slice, serve, and enjoy!
---
---
Notes
Fine sea salt: Please note that this recipe uses fine sea salt.  If you only have iodized table salt on hand, I recommend using only 1/2 teaspoon.
Basic baking dish instructions: Heat oven to 400°F.  Grease an 8-inch or 9-inch square baking dish with cooking spray.  Brown the butter in a separate sauté pan (or you can just melt the butter in a pan or in the microwave without browning it) while you complete steps 3 and 4.  Then pour the butter into the batter and stir until it is just combined, taking care not to over-mix the batter.  Pour the batter into the prepared baking dish and bake for 20 to 25 minutes, until a toothpick inserted in the center of the cornbread comes out clean.
Storage instructions: Leftover cornbread can be stored in an airtight container at room temperature for up to 3 days, refrigerated for up to 5 days, or frozen for up to 3 months.  To freeze the cornbread, I recommend wrapping up the individual pieces and then placing them in a sealed freezer-safe food storage container.
Source: Recipe slightly adapted from Cafe Delites.