This post may contain affiliate links. Please read my disclosure policy.
This "Burnt" Basque Cheesecake recipe (known here in Spain as 'tarta de queso') is uniquely light, creamy, delicious, caramelized, and so easy to make that it's nearly foolproof!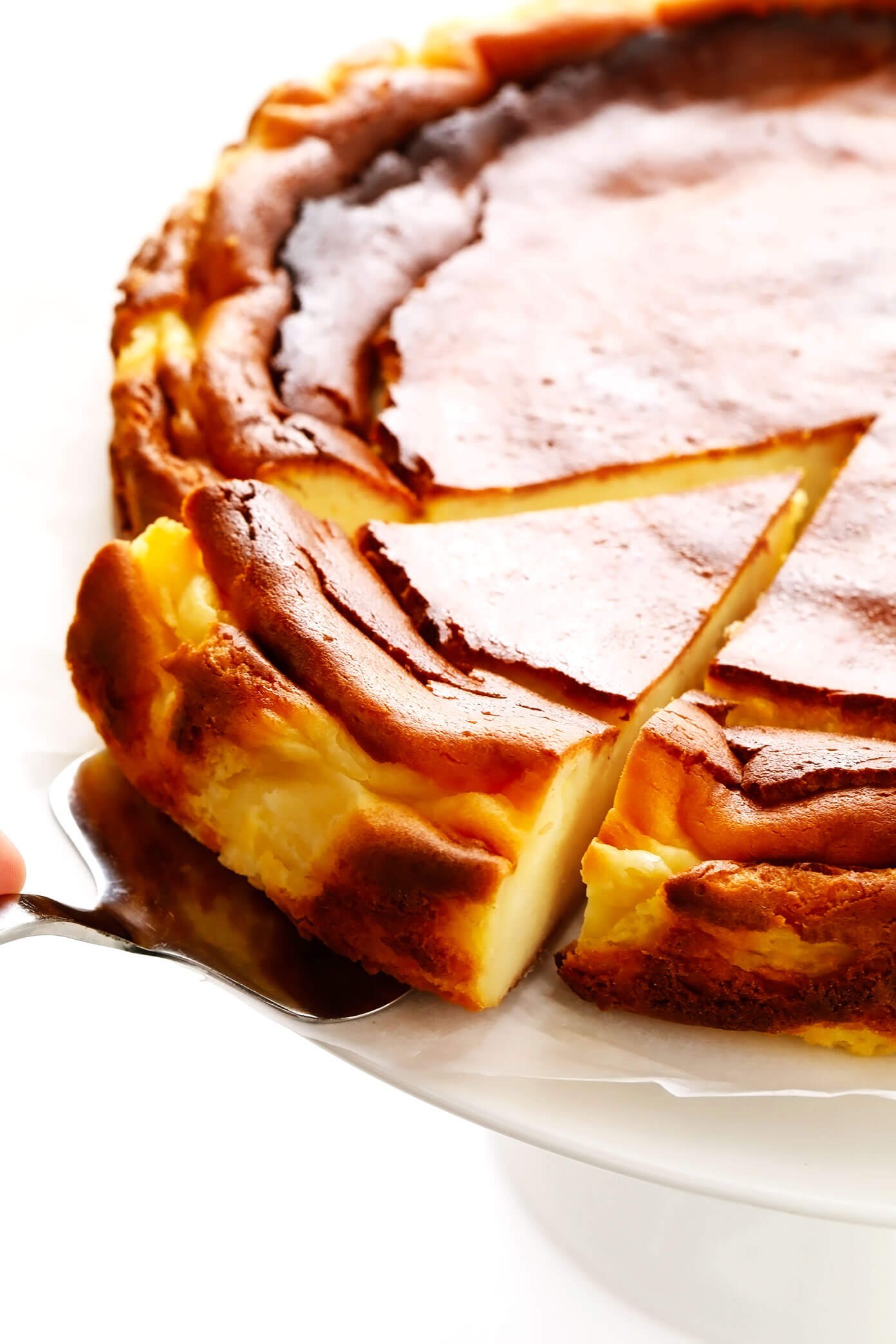 Basque "burnt" cheesecake definitely seems to be having its moment in the sun trending around the world right now.  But here in Spain, it has been a local fave for decades! ♡
Barclay and I finally got to try the real-deal, original, famous tarta de queso that inspired them all last year during a weekend getaway to San Sebastián.  We arrived in the city with a deliciously long list of recommended places to sample the various pintxos, txuletas, anchovies, cheeses, and wines for which this gastronomic capital of the world has become so famous.  But when it came to recommendations for where to try the Basque country's iconic cheesecake, everyone agreed there was one spot we absolutely had to go — La Viña.
This cozy local restaurant is credited with inventing Basque cheesecake back in the 90s, when chef-owner Santiago Rivera was looking for a new dessert to put on the menu.  By contrast to American-style cheesecakes that tend to be dense, firm, evenly-baked with (hopefully) zero cracks, and made with some type of cookie crust, Chef Rivera tweaked all of the proportions to create his own new style of Basque cheesecake that is uniquely light and airy, creamy yet a bit more egg-y, baked crustless in crisp parchment paper, rippling around the edges with beautiful cracks, and — famously — made with a deliciously "burnt" (more like caramelized) exterior.
It's a stunning cheesecake that breaks all of the rules and is outrageously delicious.  And best of all for home cooks, it's insanely easy (arguably foolproof) to make with just a simple list of ingredients!  Chef Rivera generously shared his original tarta de queso recipe with the world years ago, which simply calls for cream cheese, eggs, sugar, flour and heavy cream.  But he encourages home cooks to put their own spin on the recipe as they see fit.  "If you want salt, add salt; if you want vanilla, add vanilla; some people add lemon zest."
All of our friends here in Spain are major fans of this cheesecake, so we've had fun over time tasting different versions and tinkering around with the original recipe here at home to serve for various parties and gatherings.  So for anyone interested, here's our favorite slightly-tweaked spin on Chef Rivera's tarta de queso recipe.  We do, in fact, like to add vanilla and sea salt in our casa.  But as he said, feel free to experiment and have fun making the recipe your own!  The rules are meant to be broken here, which I must say is a fun change when it comes to usually-perfectionistic cheesecake making.
Let's make some Basque cheesecake!
"Burnt" Basque Cheesecake Ingredients:
Before we get to the full recipe below, here are a few notes about the ingredients you will need to make this Basque cheesecake recipe.  I have adjusted Chef Rivera's recipe down slightly to fit an 8- or 9-inch springform pan, since that is mainly what I use in my kitchen.  (If you have a 10-inch springform pan, however, that will work too — it will just need less baking time and will yield a thinner cheesecake.)
Cream cheese: It always makes me smile that this is always referred to here in Spain simply as "Philadelphia." 😉  I recommend using regular (full-fat) cream cheese for optimal flavor and texture.
Sugar: I follow Chef Rivera's lead and use basic white granulated sugar as the sweetener.
Eggs: Basque cheesecake is famously a bit more eggy, which some people love more than others.  I prefer a slightly less eggy cheesecake, so I've reduced the amount of eggs in this recipe to five.
Vanilla extract: This is optional, but I always love the flavor that it adds to cheesecake.
Heavy cream: No skimping on the fat here either.  You'll need to use heavy whipping cream (not half and half or whole milk) to achieve the right texture of these cheesecake.  (If you are located here in Spain, be sure to buy nata de montar, not the nata de cocinar.)
Sea salt: I like to add a little to the cheesecake itself, as well as sprinkle some flaky sea salt on the slices when serving.
Flour: Finally, I like to add a little extra flour in there to really help the cheesecake rise up in the oven.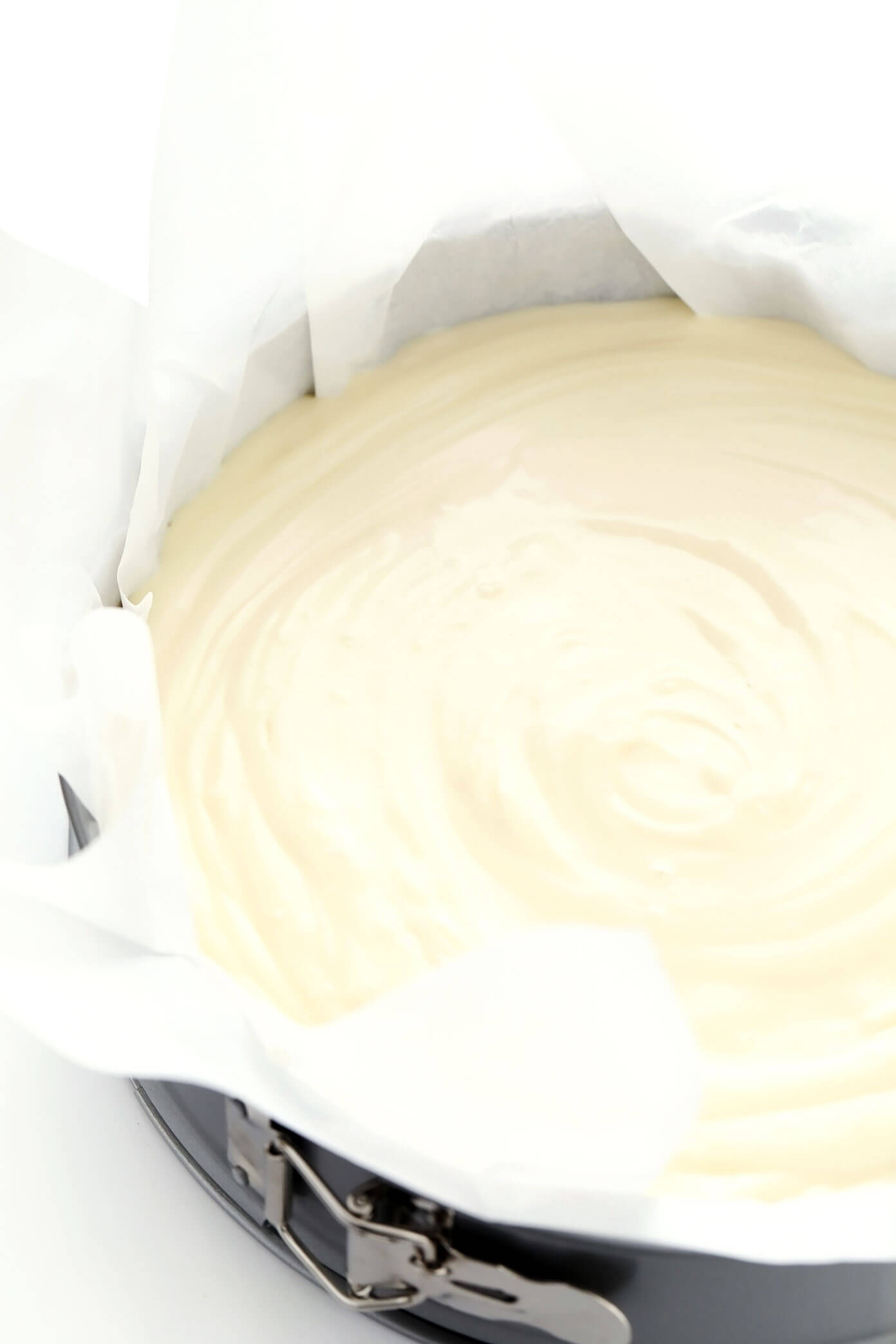 Tips for Making "Burnt" Basque Cheesecake:
Here are a few important tips I've learned over time for how to make Basque cheesecake:
Use room temperature ingredients: It really does help to yield a smooth and evenly-baked cheesecake, so plan ahead.  (Or there are a number of shortcut methods you can read about online to carefully and quickly warm the cream cheese, eggs and heavy cream.)
Use the correct pan: Because the cheesecake batter poofs up and rises so high during baking, it's essential that you use a pan with tall sides.  (Otherwise, the batter may spill out if you just use a 1-inch tall round cake pan.)  I recommend using an 9-inch springform pan.  Or if you slightly alter the baking time, you could alternately use an 8-inch or 10-inch springform pan.
Sift the flour: If you want the cheesecake to be nice and smooth, it really helps to sift the flour (I do so using a fine-mesh strainer) into the batter instead of just dumping it in.
Keep an eye on the top of the cheesecake: Different ovens will inevitably brown cheesecakes at slightly different rates.  So I recommend keeping a close eye on the cheesecake during the final 15-20 minutes of baking to be sure that the top reaches your desired level of golden color.  If it starts to get too dark, just gently lay a piece of aluminum foil over the cheesecake.  Or if it's not dark enough, switch the oven to broil the cheesecake ever-so-briefly once the center is cooked to your liking.  (Just be careful, broiling will darken the cheesecake very quickly!)
Choose your desired consistency: Most of the Basque cheesecakes I've tried here in Spain are still slightly soft and creamy in the middle, which means that the center of the cheesecake will need to still be fairly jiggly when you pull it from the oven.  But that said, feel free to bake yours longer if you prefer a more firmly-set cheesecake.  Or you can bake it for even less time if you prefer the center to be extra soft and creamy.
No te preocupes (don't worry!) about perfection: The whole point of a Basque cheesecake is that it's meant to look rustic and a bit uneven, so don't stress about the batter being perfectly even or the parchment being perfectly pressed into the edges of the pan.  It will taste amazing however it looks!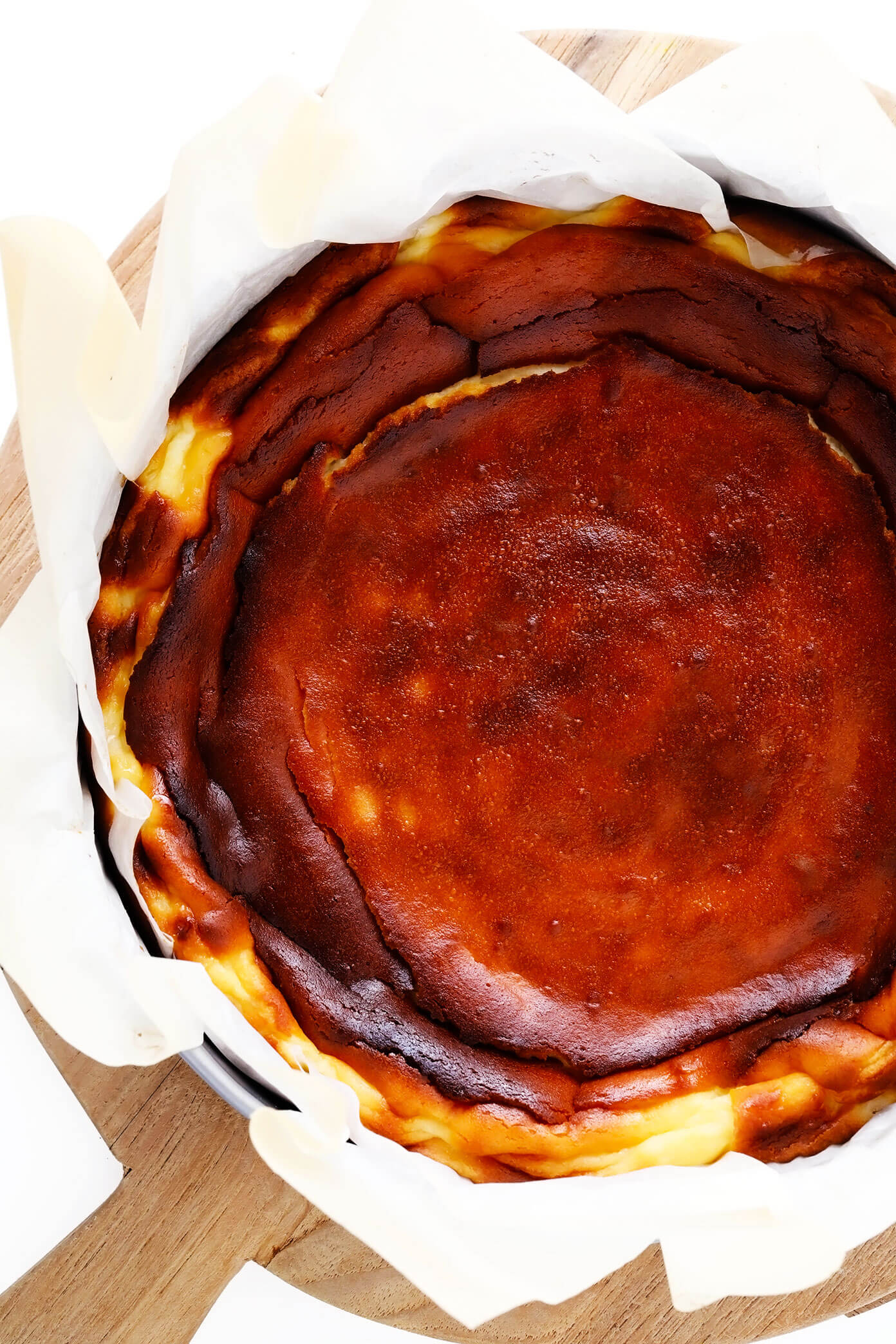 Basque Cheesecake Recipe Variations:
As mentioned above, feel free to tinker around with the ingredient amounts in this recipe to create a Basque cheesecake that is more creamy, sweet, eggy, or cheesy, if you prefer.  Or you could also…
Make it gluten-free: Just use a 1-to-1 gluten-free flour blend in place of the all-purpose flour.
Add citrus zest: Lemon or orange zest would be a delicious addition to this cheesecake batter.
Add bourbon: We've also made this recipe with bourbon — swapping 3 tablespoons of heavy cream for 3 tablespoons whiskey — and can vouch that it is another very delicious option.
Bake it for more/less time: I like the cheesecake to still be soft and a bit creamy in the center, but feel free to bake yours for less time if you like an even softer/creamier cheesecake or more time if you prefer a firmer/fully-cooked cheesecake.  And if the top isn't brown enough, you can very briefly turn the oven to broil to caramelize the top.  (Just keep a very close eye on it, as the top will darken rapidly!)  Or alternately, if the top seems too brown, just gently place a sheet of foil on top of the cheesecake as it finishes baking.
Add a topping: Basque cheesecake is typically served plain, but some type of fruit sauce, caramel sauce, or chocolate sauce on top would also be delicious!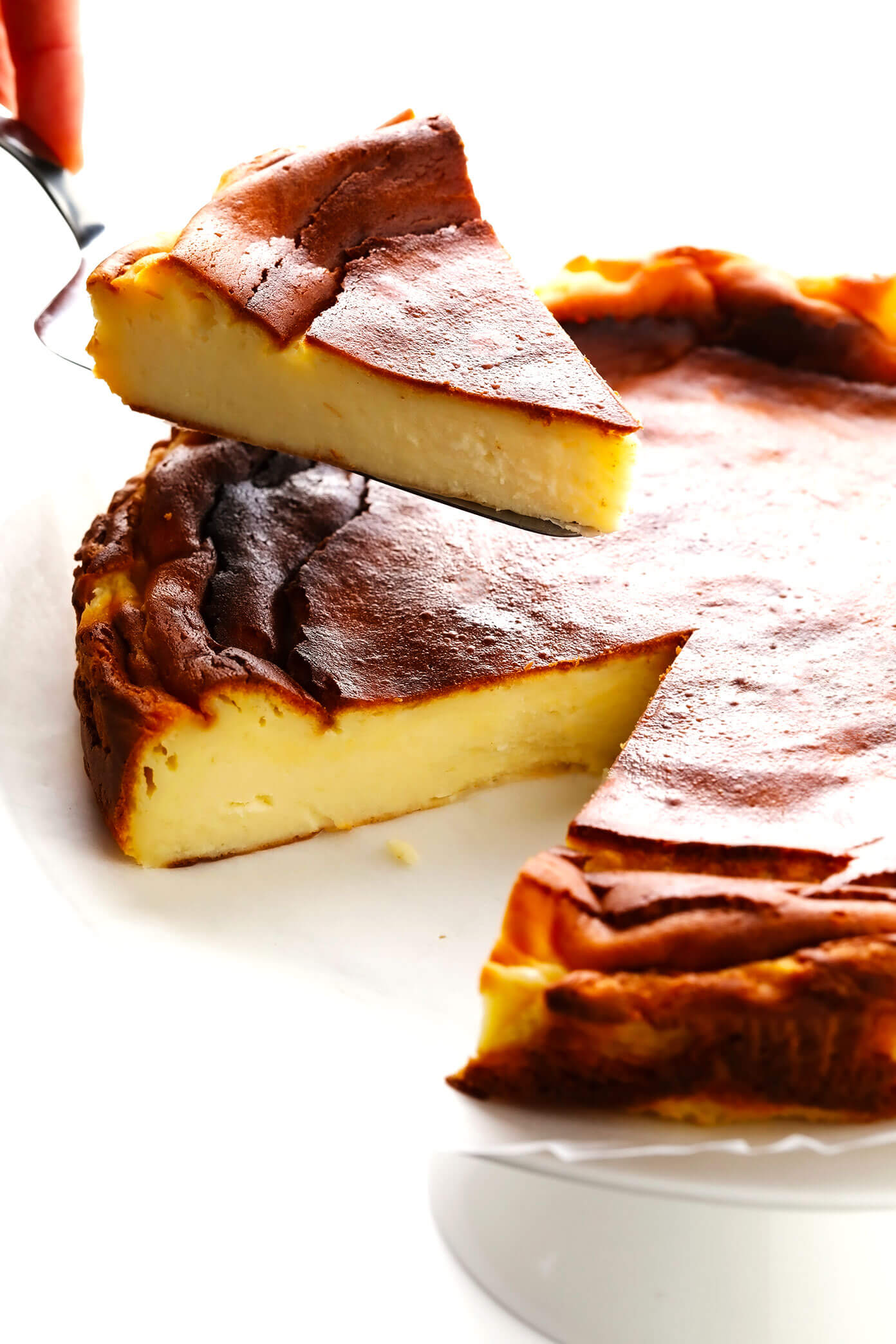 More Favorite Cheesecake Recipes:
Looking for more delicious cheesecake recipes to try?  Here are a few of my faves!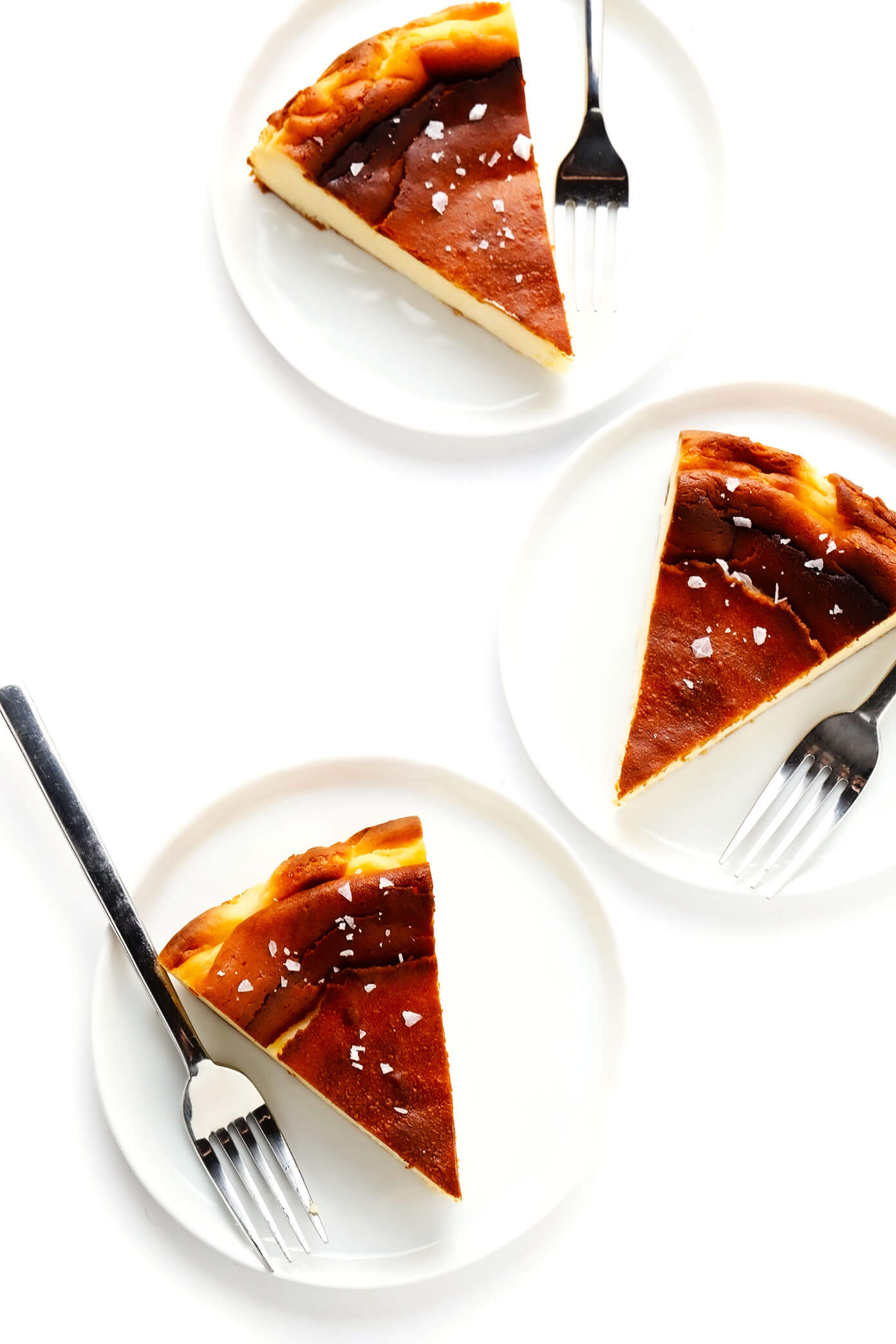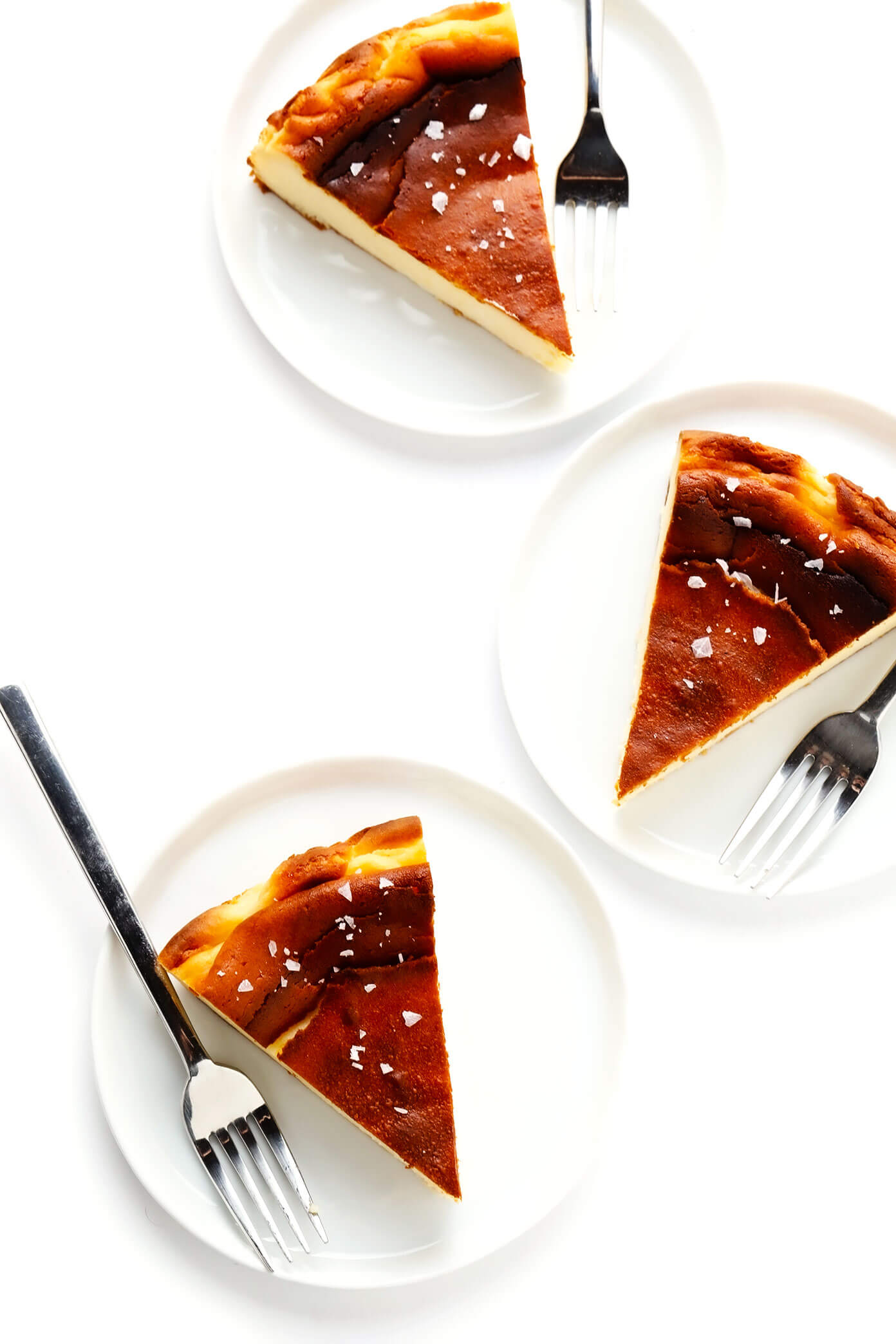 ---
Description
This "Burnt" Basque Cheesecake recipe is ultra-creamy and delicious and so easy to make that it's nearly foolproof!
---
---
Instructions
Prep oven and springform pan. Heat oven to 400°F.  Line a 9-inch springform pan with two large crisscrossed sheets of parchment paper, pleating and pressing the parchment into the bottom edges of pan so that it extends straight up (not folded down) a few inches above the sides of the pan.  Place the pan on a large baking sheet and set aside.
Make the batter. Add the cream cheese and granulated sugar to a large mixing bowl and use a handheld mixer (or a stand mixer) to beat the mixture on medium speed for 2 minutes, or until it is very smooth with no lumps remaining, scraping down the sides of the bowl as needed.  Add the eggs one at a time, beating on medium-low speed until each egg is combined before adding in the next. Add the cream and vanilla extract and mix on low speed until evenly combined.  Then sprinkle the flour evenly over the batter (it helps to sift it through a fine-mesh strainer to prevent lumps) and mix on low speed until evenly combined, scraping down the sides of the bowl as needed.
Bake. Pour the mixture into the parchment-lined pan.  Bake for 50 to 60 minutes, or until the top of the cheesecake has risen up high, the top is a deep golden brown, and the center is still slightly jiggly.  (Keep a close eye on it — if the top starts to get too browned or starts to burn, just gently lay a sheet of aluminum foil on top of the cheesecake until it has finished cooking.)
Cool. Transfer the cheesecake to a wire baking rack and let it cool completely to room temperature.  (You can also cover and refrigerate the cheesecake at this point for up to 3 days if you prefer.)
Serve. Once the cheesecake is no longer warm, remove the sides of the springform pan, peel back the parchment, and cut your desired size of slices.  Then serve, sprinkled with a pinch of flaky sea salt if you'd like, and enjoy!
---
---
Notes
Pan options: You can also bake this recipe in an 8-inch springform pan (baking time will need to be a bit longer and the cheesecake will be thicker) or a 10-inch springform pan (baking time will be less and the cheesecake will be thinner).
Source: Recipe slightly adapted from La Viña and Bon Appetit.