This post may contain affiliate links. Please read my disclosure policy.
All of the best tips we learned in Italy about how to make bruschetta!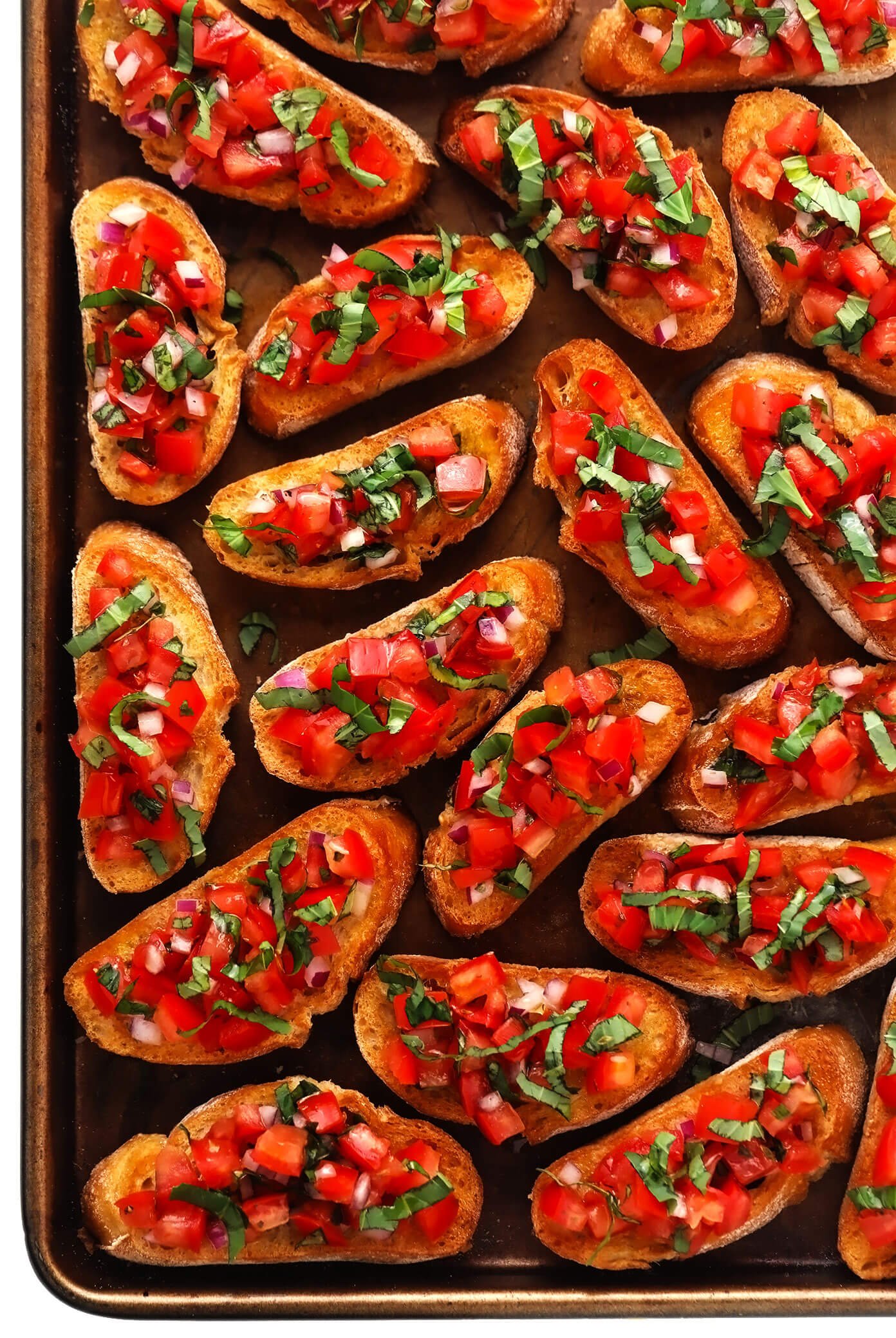 It's peak tomato season which means…it's bruschetta time! ♡
I've long been a big fan of this classic Italian antipasti. But a few years ago during our trip to Rome, my husband and I had the opportunity to take a mini-cooking class specifically on the art of making classic tomato bruschetta, during which we learned a few key facts and techniques that take this simple dish to the next level. So I figured that tomato season would be a good time to pop in here and share a bit of what we learned!
First off, it's important to note the dish's name is commonly mispronounced abroad and the Italian "ch" sound is actually pronounced like an English "k" — broo-skeh-tah. (Also, the plural of bruschetta is bruschette — broo-skeh-teh.) Its name is derived from the Roman verb meaning "to toast" or "to roast over coals," and accordingly, the dish is commonly regarded as one of the best uses for leftover bread. While there are countless regional variations of bruschetta recipes that can be found nowadays around Italy, it is believed that tomato bruschetta in general dates all the way back to the 16th century, back when tomatoes first arrived on the scene in Europe. (Yes, believe it or not, tomatoes are a relatively new addition to the long history of Italian cuisine!)
As with most classic Italian dishes, the ingredient list for tomato bruschetta is intentionally kept very minimal so that those vibrant, fresh flavors can really shine through. All you need are ripe tomatoes, good-quality olive oil, fresh basil, garlic, oregano, sea salt and crusty bread to make an excellent batch of bruschette di pomodoro. And by contrast to the bruschetta that I used to make simply by toasting bread and scooping a tomato mixture on top, we learned that there is in fact a specific Italian method for how to assemble the ingredients in such a way that promises to bring out the best of their flavors and textures. It's all very quick and easy to prep. And, if you'd like, you can even prep the crostini and tomato topping hours in advance and then assemble just before serving, making bruschetta a fabulous option for easy entertaining.
All of that said, the most important thing that our instructor repeated again and again is that amazing tomatoes make for amazing bruschetta. So while ripe tomatoes are overflowing in gardens and farmers markets galore right now, let's make the most of them and make some bruschetta!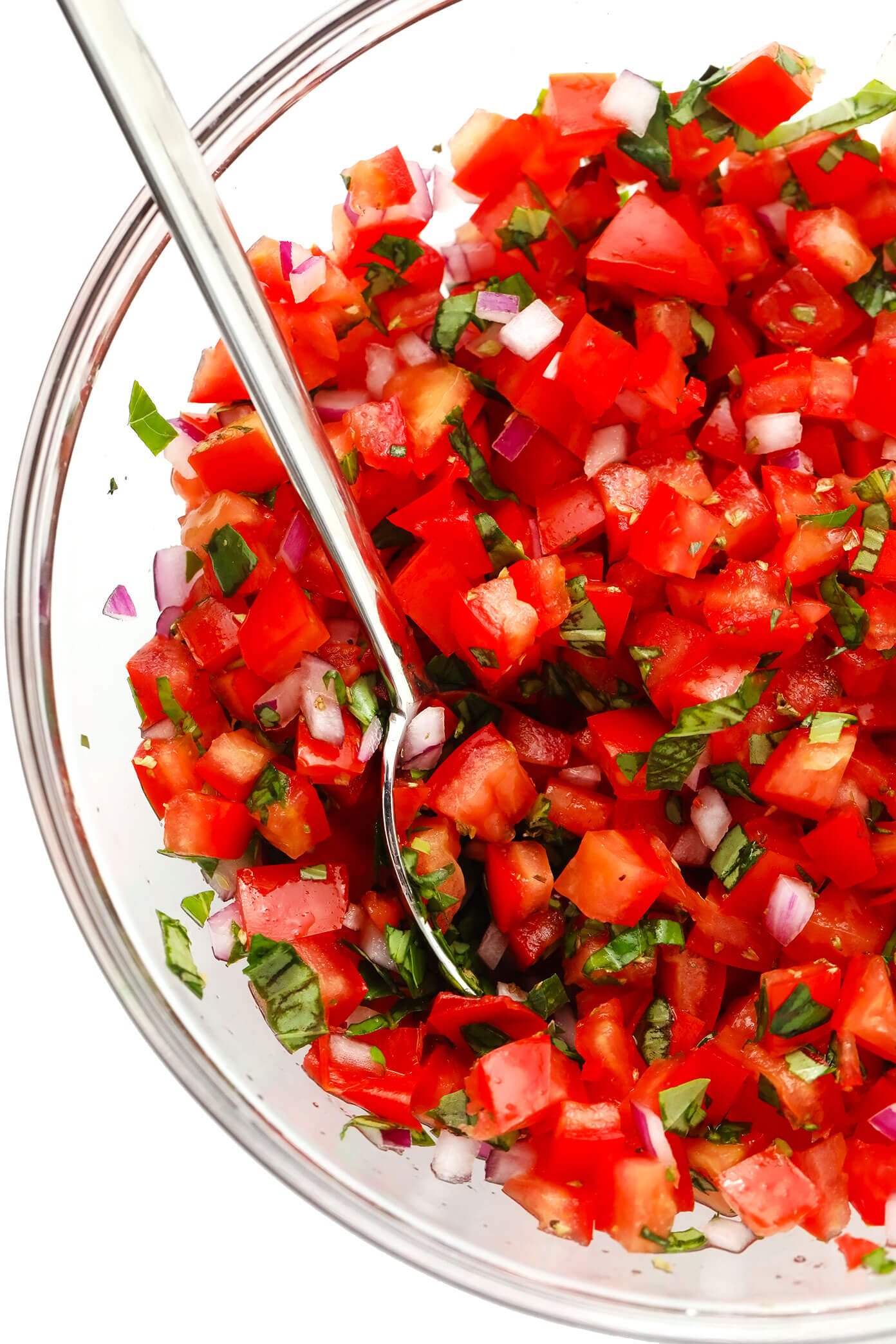 Bruschetta Ingredients
Before we get to the full recipe below, here are a few notes about the basic ingredients that you will need for this homemade bruschetta. I've also included options below for extra add-ins that you are welcome to use too (such as balsamic vinegar, cheese, etc). For the base recipe, you will need…
Fresh tomatoes: Hands-down the most important ingredient in your bruschette. ♡ Always use tomatoes that are as ripe and in-season as possible, and be sure to core (scoop out the seeds) and finely-dice the tomatoes (so that you don't have too large of chunks) before adding them to the recipe. I tend to prefer using smaller varieties of tomatoes, such as Roma, cherry or cluster tomatoes (a.k.a. tomatoes on the vine) to make bruschetta, which tend to be more sweet and tender. But just about any variety of fresh ripe tomato that you love best will work.
Crusty bread: Some variety of crusty bread — either a loaf or baguette that is preferably at least a day or two old, so that it is slightly dried-out — is typically used for bruschetta bread. We were taught in Italy that it's ideal to slice bruschetta bread approximately 1.5 cm thick so that it can toast up to be nice and crunchy, yet still be thin enough to easily bite into.
Good-quality olive oil: Keyword: good-quality. With so few ingredients in a classic bruschetta recipe, it's worth investing in a nicer-quality bottle of extra virgin olive oil since its flavor will really shine through. When shopping for olive oil, be sure to read the label to be sure that you are purchasing 100% extra-virgin olive oil (since many imported brands now often sneak in other additives and types of oils). Then I recommend tasting a few different varieties to learn what flavor profiles you love best. I'm quite partial to a medium-bodied peppery olive oil in bruschetta, but any mild or fuller-bodied olive oil that you love best will do.
Garlic: We'll slice off the ends of the cloves (as shown in the photo below) and rub them on the freshly-toasted bread to add some spicy fresh garlic flavor to each piece of bruschetta. Be sure to leave the garlic cloves peeled so that you can grasp them easily yet prevent your fingers from smelling like garlic. (By the way, this method is identical to how rub garlic onto pan con tomate here in Spain!)
Fresh basil: Here in our house, we love adding lots of fresh basil to our bruschetta topping. But feel free to add however much or little that you prefer.
Dried oregano: During our travels in Italy, I noticed that most of the bruschetta we sampled had a bit of dried oregano added to the tomato mixture, which I highly recommend.
Fine sea salt: Don't forget to season the bruschetta with a generous pinch of fine sea salt to bring out its best flavor!
Red onion (optional): Finally, I should note that onion is not traditionally added to most Italian bruschetta recipes. But I really love the extra pop of sweetness, crunch, and bite that it adds to tomato bruschetta topping. So feel free to add in some finely-diced onion (I prefer the mild taste of red onion) or leave it out entirely. And if you would like to mellow out its flavor, you can always rinse the diced onion with cold water briefly in a strainer before adding it to the recipe.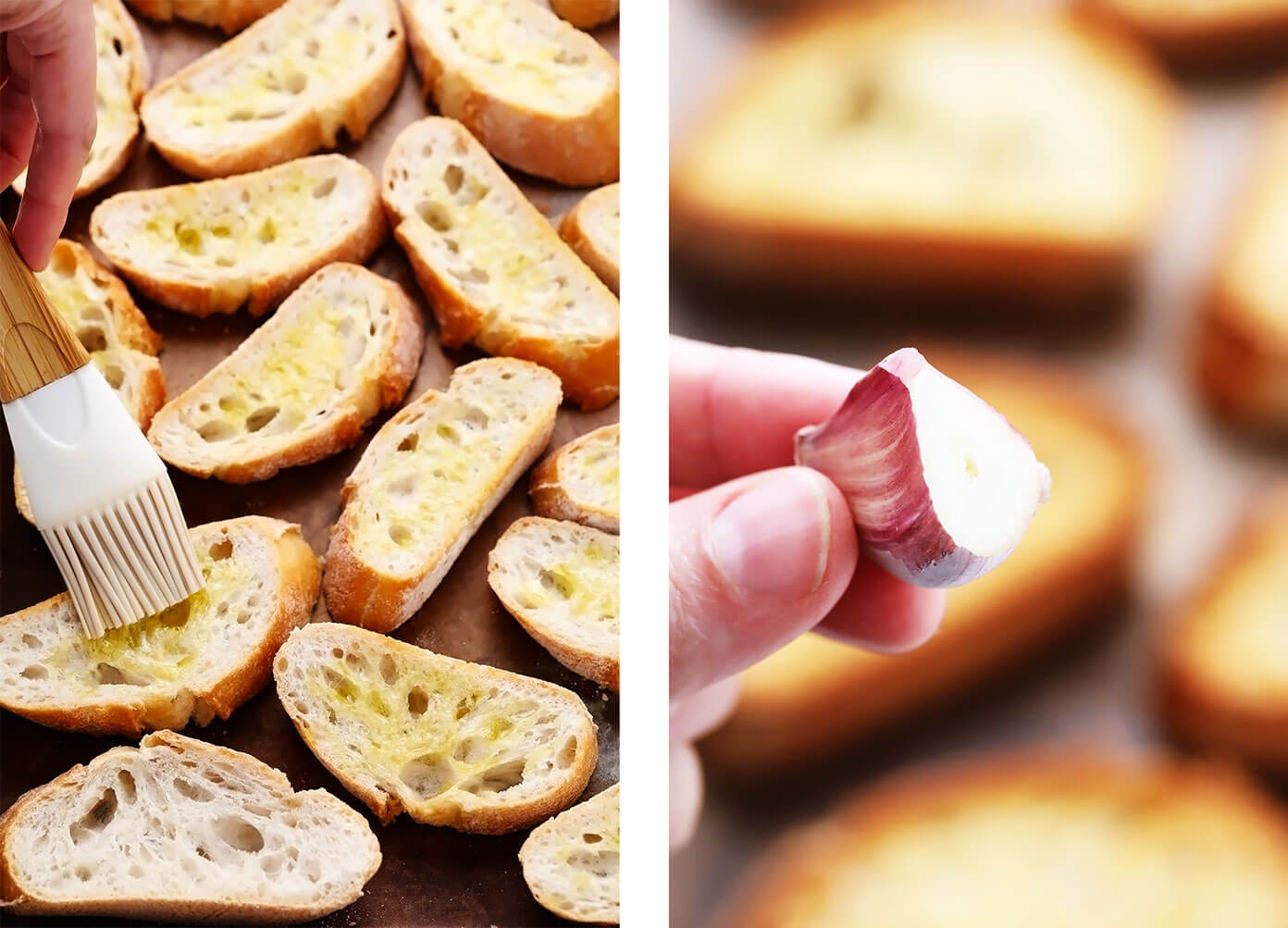 How To Make Bruschetta
Detailed instructions for how to make bruschetta are included in the recipe below, but here are a few extra tips to keep in mind…
Toast the bread until it is nice and crispy. The crostini will naturally soften a bit once the tomato topping (with all of its juices) are piled on top. So it's important to toast the bread until it is nice and crispy so that it doesn't get soggy under the weight of the topping. I prefer to go the easy route and just bake a large batch of bread in the oven, but you are welcome to toast it on the grill or in a toaster if you prefer. I also typically brush or mist the bread with a bit of olive oil before toasting to give it some extra flavor and crispness, but this step is optional and isn't traditionally done in Italy.
Don't overdo the garlic. A little bit of rubbed garlic goes a long way with bruschetta. So I recommend giving the first piece a quick taste test along with the tomato topping to learn how much garlic you prefer.
Let the tomato topping marinate for at least 15 minutes. Or ideally — up to a few hours! This will allow the flavors to meld and really taste their best.
Feel free to prep the tomato topping in advance. It can be refrigerated in a sealed container for up to 24 hours before serving, which can come in especially handy when entertaining. You can also toast the bread in advance if you'd like, although I love serving it just out of the oven when it's still nice and warm.
Add the tomato topping just before serving. To prevent soggy bread, I also recommend adding the tomato topping to the crostini immediately before serving.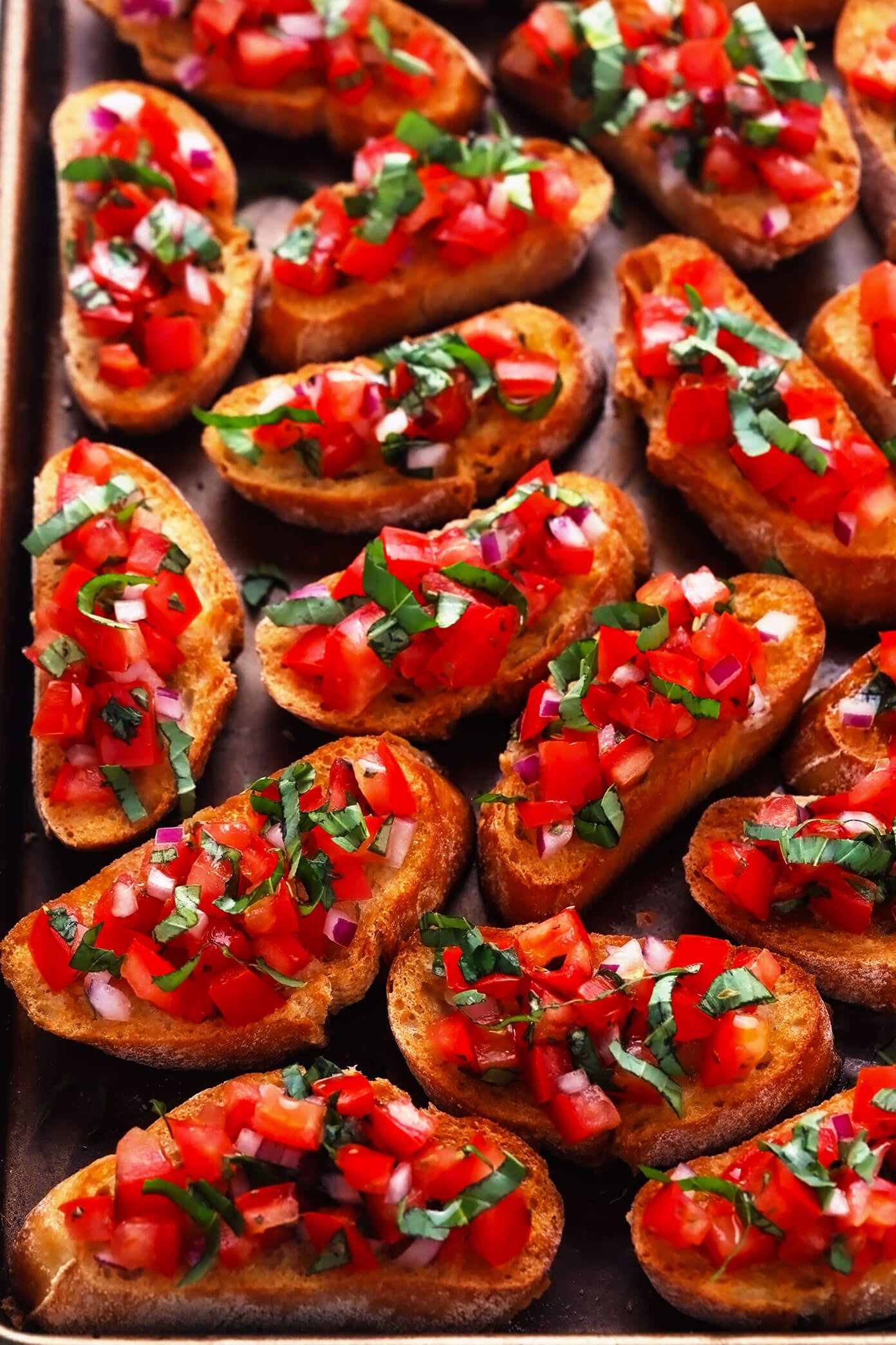 Bruschetta Recipe Variations
There are, of course, endless variations that you can make with this easy bruschetta recipe. But here are a few of some more classic faves…
Add balsamic vinegar: We often love mixing some balsamic vinegar into the tomato topping. Or alternately, you can drizzle some balsamic glaze (a simple balsamic reduction made by simmering vinegar until thickened) on top of each piece just before serving.
Add cheese: Bruschetta with mozzarella is one of my personal favorite variations on the classic! You can use either fresh balls of mozzarella sliced into rounds and placed below the tomato topping, or small pearls mixed into the tomato topping, or torn burrata layered on top. We also often like to sprinkle some freshly-grated (or shaved) Parmesan on top of each piece of bruschetta too.
Add salami: If you'd like to add some meat, any favorite type of salami would also be delicious layered in.
Add different herbs: Feel free to also experiment with different fresh (or dried) Italian herbs in the tomato topping.
Add fruit: I also occasionally love adding in some type of juicy fruit (such as fresh peaches, strawberries, cherries, etc) to the tomato topping for a sweet twist.
Make it gluten-free: Just use some variety of crusty gluten-free bread to make gluten-free bruschetta.
Make it spicy: Feel free to add a teaspoon of crushed red pepper flakes to the tomato topping to give it a bit of heat.
Grill or toast the bread: Instead of baking a large batch of crostini in the oven, you're welcome to use a toaster or a grill to toast the bread and give it a bit more char.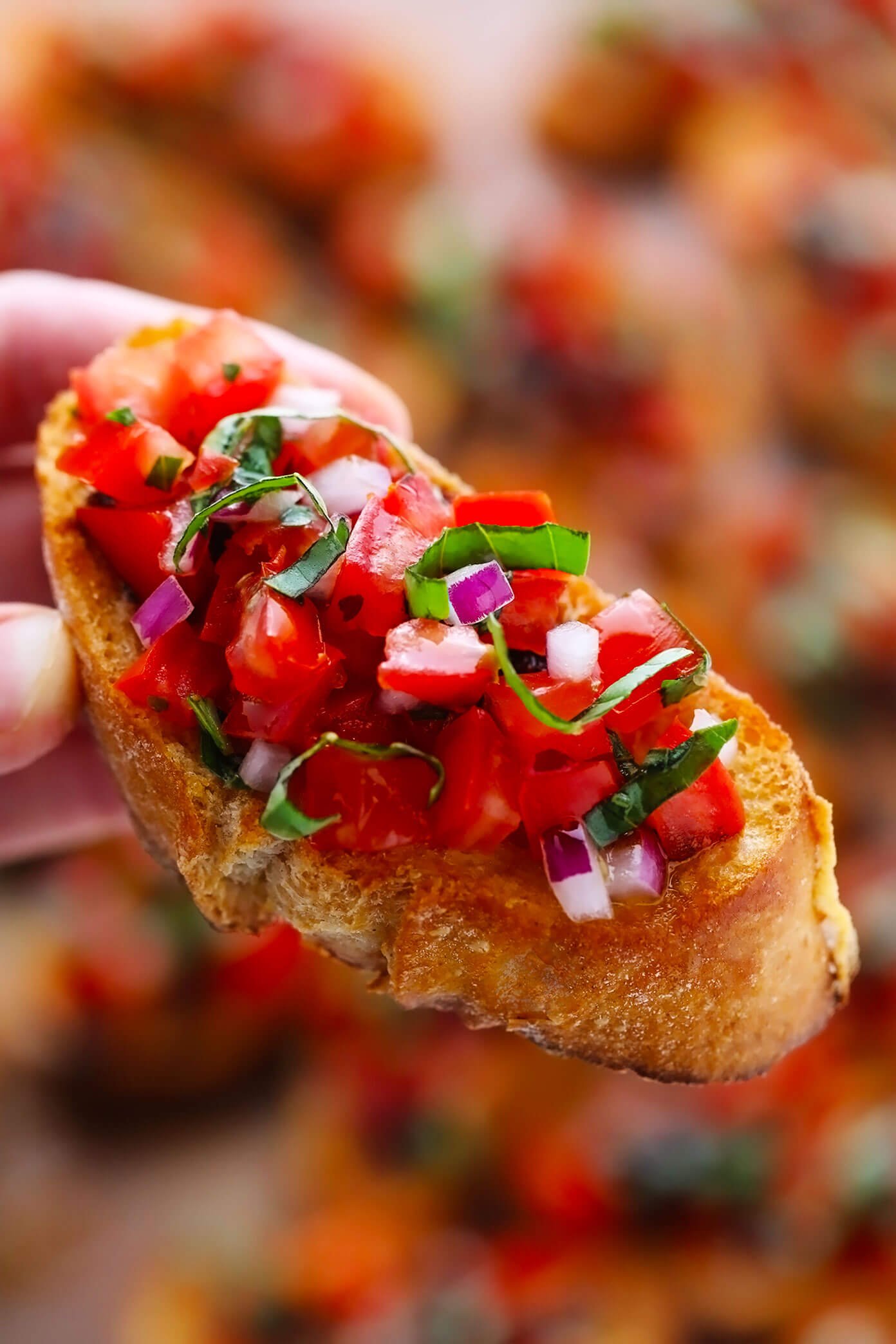 More Favorite Tomato Recipes:
Looking for more ways to put summer's abundance of ripe tomatoes to use? Here are a few of my favorite tomato recipes…
---
Description
All of the best tips we learned in Italy about how to make classic tomato bruschetta!
---
1

pound ripe tomatoes*, cored and diced

1/2 cup

chopped fresh basil leaves

1/3 cup

finely-diced red onion (optional)

2 tablespoons

extra-virgin olive oil, plus extra for brushing/drizzling
fine sea salt and freshly-cracked black pepper

1

large baguette or a small loaf of crusty bread, thinly sliced*

2

large cloves garlic, unpeeled
---
Prep the tomato topping. Stir together the diced tomatoes, basil, red onion, olive oil and a pinch of salt together in a mixing bowl until evenly combined. Cover and refrigerate for at least 15 minutes or up to 24 hours.
Toast the bread. Heat oven to 400°F. Arrange the bread slices on a large baking sheet in an even layer. If you would like, brush the bread lightly with olive oil (or you can skip this step). Bake for 7 to 10 minutes — keeping a close eye on the bread so that it doesn't over bake — until it is toasted and crispy. Transfer baking sheet to a wire cooling rack.
Add garlic. Slice off the ends of the garlic cloves (without removing the papery skins). Then rub the cut end of the garlic evenly over the tops of the bread slices to add as much or as little garlic flavor as you prefer, to taste.
Assemble. Taste the tomato topping and season with additional salt (and black pepper, if you'd like) to taste. Add a spoonful of the tomato topping mixture to each slice of bread, then drizzle a hint of olive oil over the tomato topping.
Serve. Serve immediately and enjoy!
---
Notes
Tomatoes: Always use the ripest fresh tomatoes that you can find. I typically use cluster tomatoes (a.k.a. tomatoes on the vine), Roma tomatoes or cherry tomatoes.
Bread slices: I recommend slicing the bread approximately 1.5 cm thick to give it the best texture.