This post may contain affiliate links. Please read my disclosure policy.
These fun Caga Tió cupcakes celebrate the famous "pooping" log that brings children presents each Christmas here in Catalonia, Spain.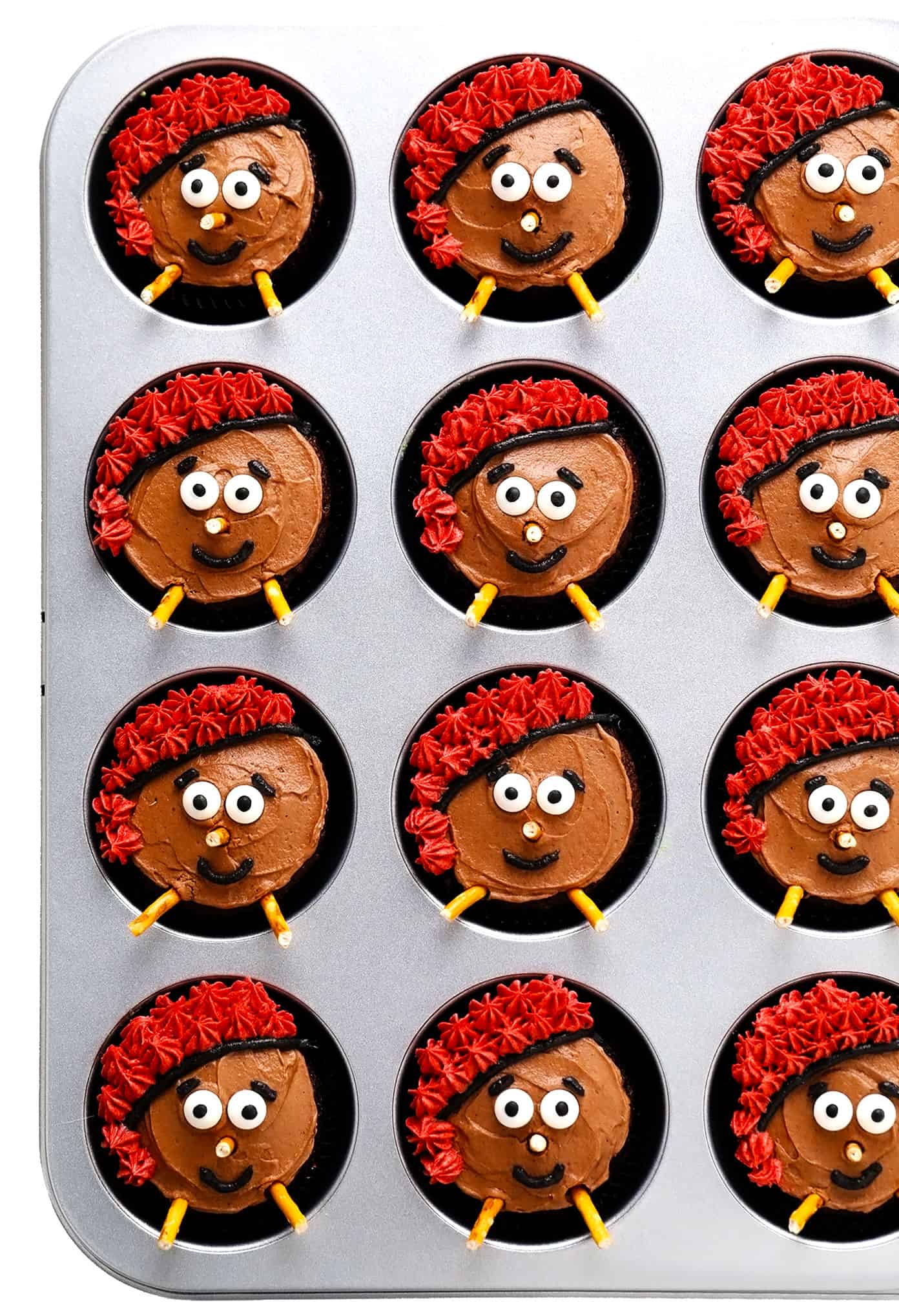 Christmas cupcakes…but make them Catalan. ♡
This December marks our fifth holiday season living here in Barcelona…and Teo's very first! We had such a fun time this past weekend taking him to the central Christmas market, buying his first tree, adding to our nativity set, and watching his eyes light up seeing all of the twinkly lights around the city. But of course, it wouldn't be the Christmas season here without one of the best and quirkiest Catalan traditions that we absolutely love…the arrival of Caga Tió, the famous Catalan pooping log.
If you've never heard of Caga Tió, Barclay and I actually recorded a video learning about the tradition when we first moved here (see below). But in a nutshell, kiddos across Catalonia spend the month of December feeding their Caga Tió oranges and food scraps each day, while trying to be on their best behavior under his watch all month long. Then on Christmas Day, the kids all gather to sing a song and (yes) whack Tió repeatedly with a stick. Then if they were good and their Tió is nice and full…he "poops" out presents for everyone.
It's a centuries-old tradition that everyone here still has so much fun celebrating. (As our friends say, is it really that much weirder than a dude from the North Pole sliding down your chimney?) So this weekend, we had a great time finally introducing our Teo to our Tió. And together, we started feeding him early so that he'll be ready to do some excellent pooping this Christmas. Then I got a little carried away…and made cupcakes to celebrate.
So for anyone here in Catalonia or around the world who wants to celebrate Caga Tió in an extra sweet way this year, here's a quick tutorial for how to make these cupcakes!
Caga Tió Cupcake Supplies
Here are the supplies you will need to make your own Caga Tió cupcakes:
Then, of course, you will also need your favorite cupcake and frosting recipes! I used Cupcake Project's famous vanilla cupcake recipe here (made without vanilla beans because I can never seem to keep them on hand), topped with a simple chocolate buttercream. But feel free to use make whatever flavor of cupcakes and frosting that you love best.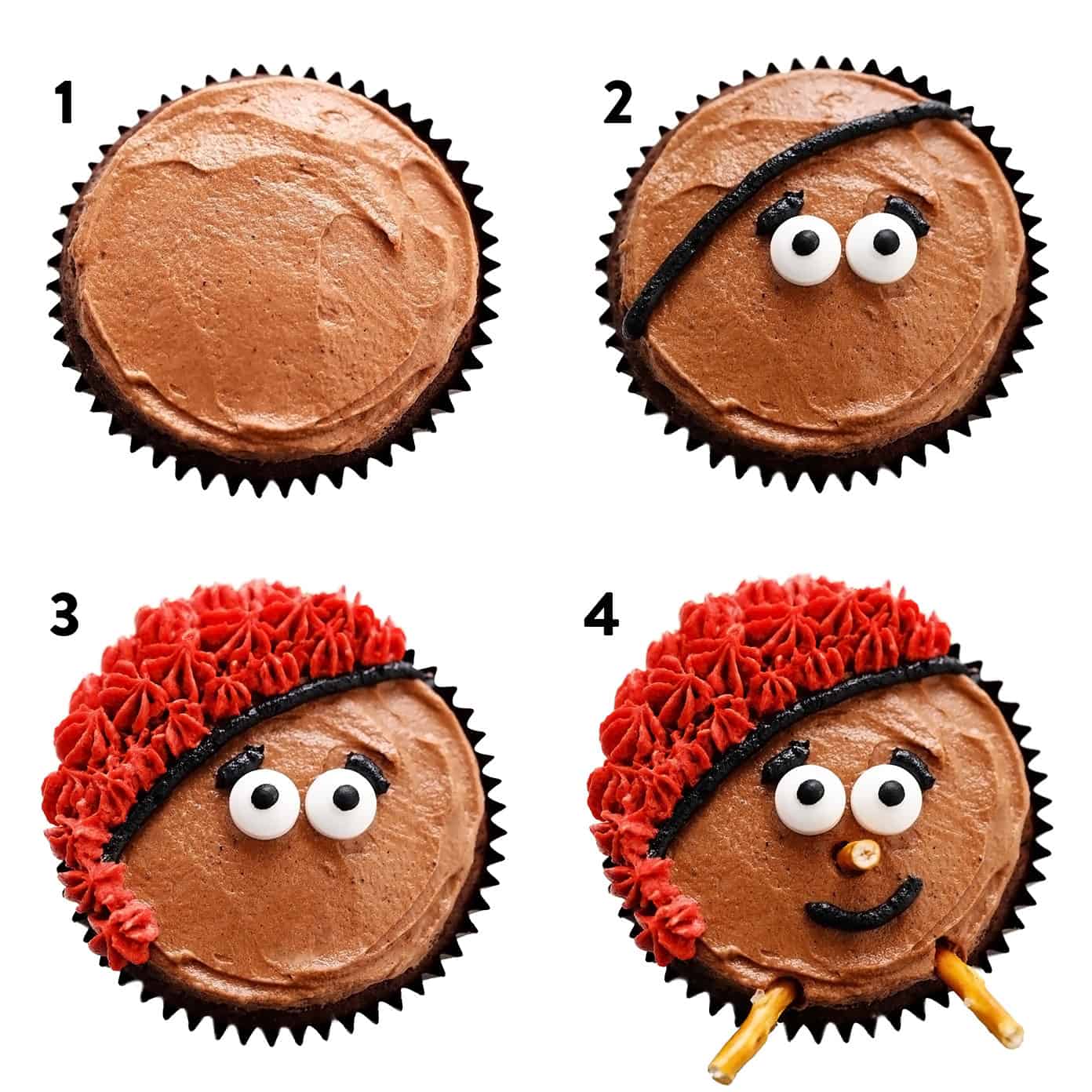 How To Decorate These Cupcakes
First, bake the chocolate cupcakes as instructed below and let them cool completely to room temperature. Make the buttercream, then portion out 2/3 cup of the frosting to dye it black. Halve the remaining frosting, and dye half of it red and half of it brown.
Create the face. Use an offset spatula (or a knife) to spread a thin base layer of brown frosting on top of each cupcake.
Add the black cap band, eyes and eyebrows. Use a small round piping tip to pipe the black frosting in a line to create the band for the cap. Add the candy eyes and pipe on small black eyebrows.
Add the red cap. Use a small star tip to pipe the red frosting to fill in the red cap.
Add the nose, legs and smile. Break off small pieces of pretzel sticks and poke them into the cupcake to create the nose and two legs. Finally, use the black frosting to pipe on a smile. Then serve and enjoy!
If you do not have piping tips, you can snip off a small corner of a ziplock bag to make a simple round tip that you can use to pipe the black frosting. Then feel free to do the same with a separate bag for the red frosting, or you can spread it on with a butter knife.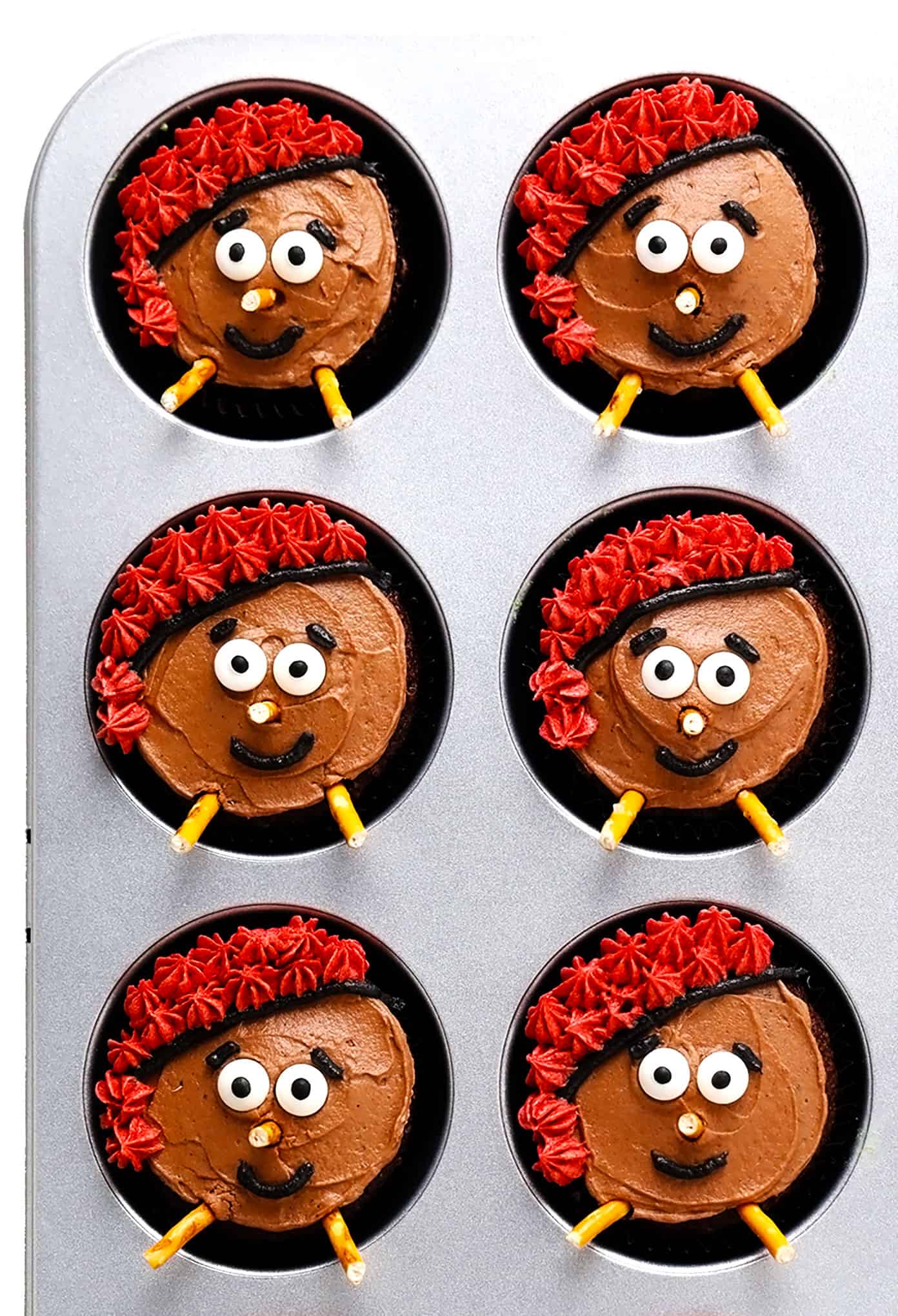 Cupcake Decorating Tips
Here are a few basic cupcake decorating tips (<– hehe, decorating pun!) to keep in mind while decorating your Christmas cupcakes…
Let the cupcakes cool to room temperature before frosting. If you frost the cupcakes while they are still warm, the butter in the frosting will heat and cause the frosting to melt. So be sure to let the cupcakes cool completely before frosting. (If you need to speed up the process, you can carefully remove the cupcakes from the baking pan, transfer them to a wire rack, and place them in the refrigerator until cooled.)
Double-check the consistency of the buttercream before frosting. In general, I recommend that the buttercream be stiff-peak consistency for piping. (If you dip in a spoon then turn it right-side-up, the frosting should hold its shape.) But before you go ahead and fill an entire piping bag with buttercream, I recommend adding just a spoonful or two so that you can test piping it with your desired piping tip, just to ensure that the buttercream isn't too thin or too thick.
Practice piping. I always practice piping the design once or twice on a clean plate (or piece of parchment paper) before trying it on the actual cupcake. Then you can just scoop up the practice icing and add it back to your piping bag so that it's not wasted.
Add the sprinkles right away. Be sure to add the candy eye sprinkles within 30 minutes of frosting the cupcakes. Otherwise, the frosting may harden and the sprinkles may not adhere well to the frosting.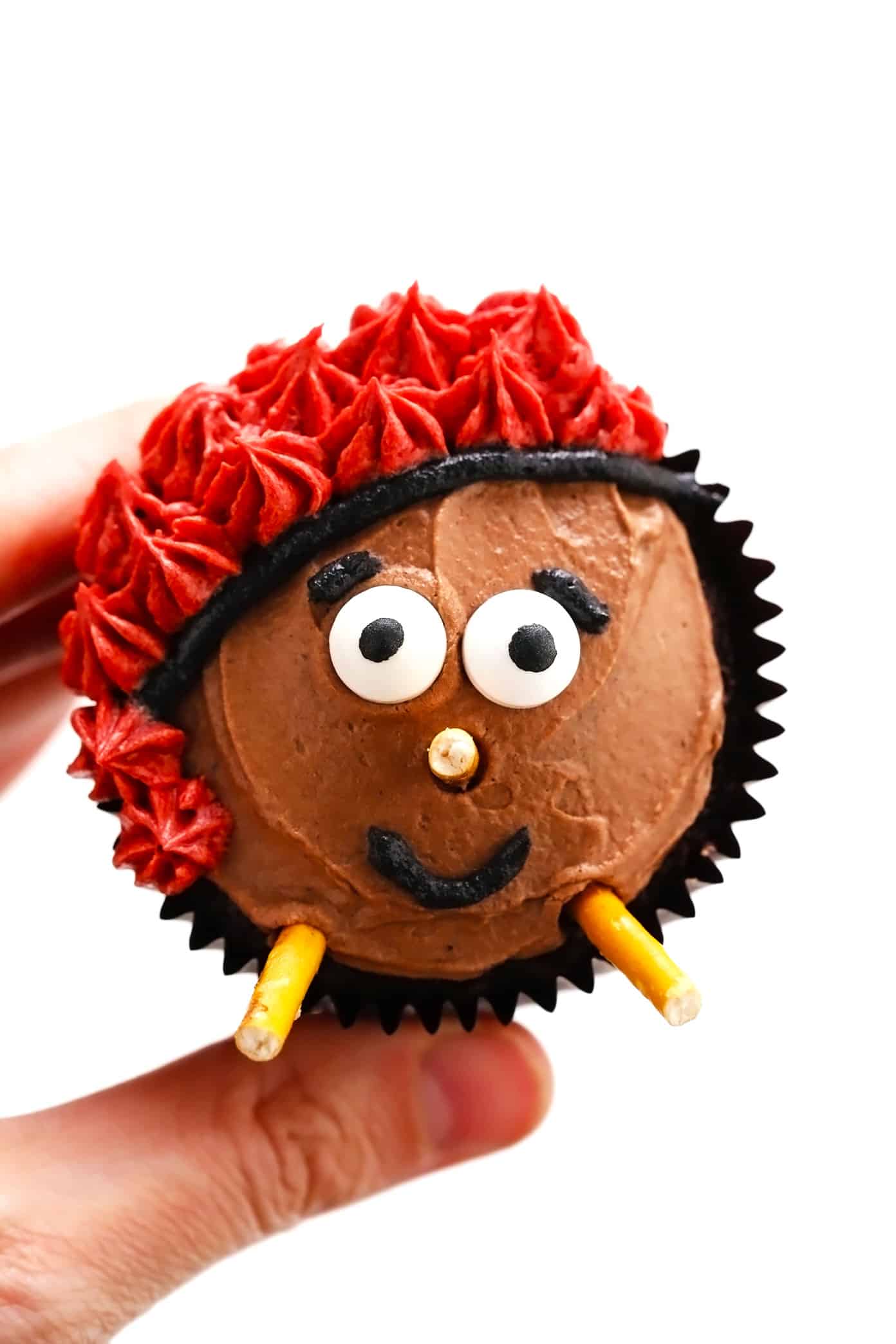 More Christmas Dessert Recipes
Looking for more fun treats to bake this holiday season? Here are a few of my faves…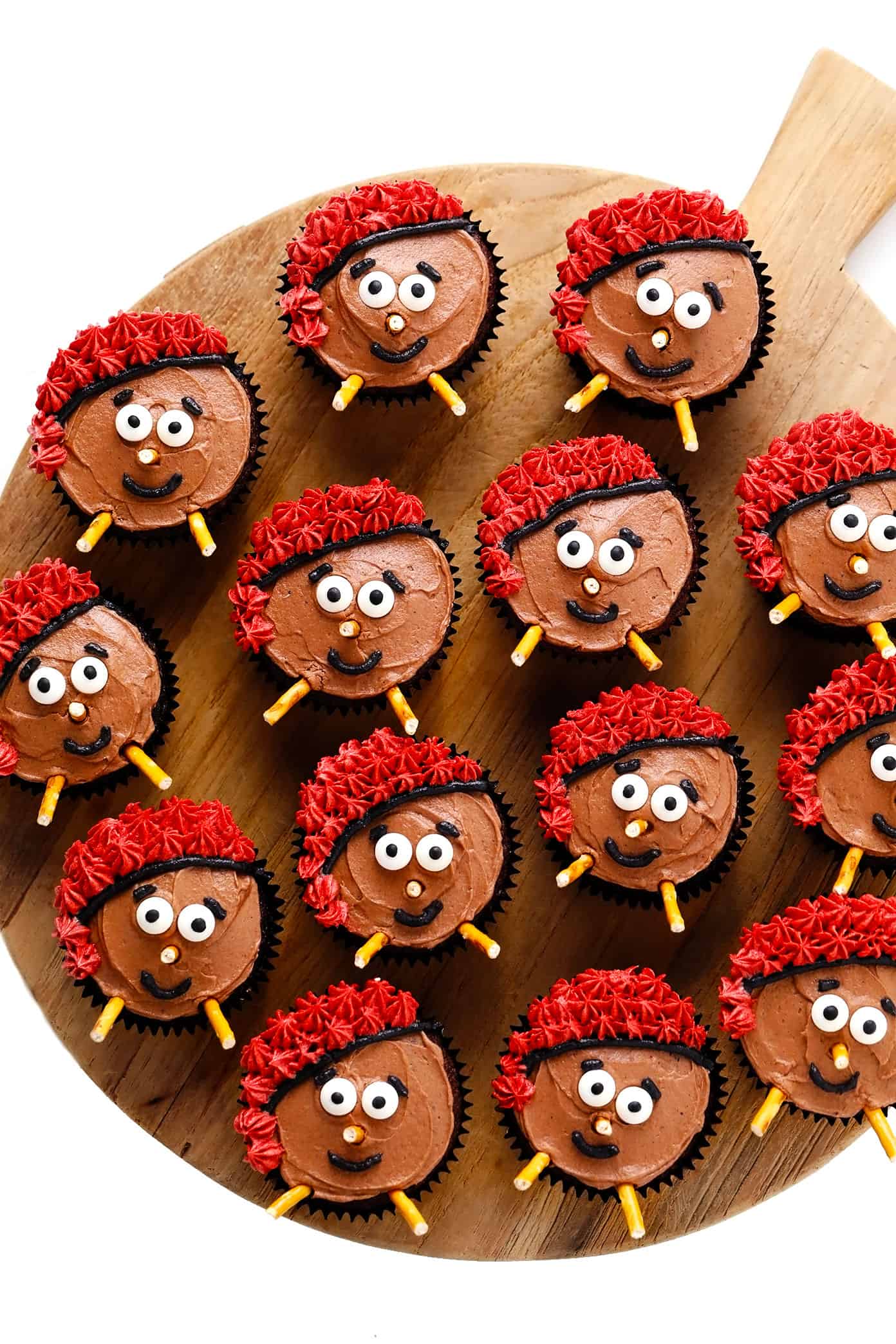 ---
Description
These fun Caga Tió cupcakes celebrate the famous "pooping" log that brings children presents each Christmas here in Catalonia, Spain. See notes above for step-by-step decorating instructions.
---
Chocolate Cupcake Ingredients:
1 cup

all-purpose flour

1 cup

granulated sugar

1/3 cup

unsweetened cocoa powder

1 teaspoon

baking soda

1/2 teaspoon

salt

1

large egg

1/2 cup

buttermilk

1/2 cup

coffee (or water), room temperature

1/2 cup

vegetable oil (or canola oil)

1 teaspoon

vanilla extract
Chocolate Buttercream Ingredients:
1 cup

 salted butter, room temperature

4 cups

 powdered sugar

1/4 cup

 heavy cream

1 tablespoon

 vanilla extract
Decoration Ingredients:
28

candy eyes
handful of pretzel sticks
red and black food coloring
---
To Make The Cupcakes:
Prep the oven and cupcake liners. Heat oven to 300°F (148°C). Line two cupcake pans with about 16 liners total (or you can bake multiple batches with one pan).
Combine the dry ingredients. Add the flour, sugar, cocoa powder, baking soda and salt to a large mixing bowl and whisk to combine. Set aside.
Combine the wet ingredients. In a separate medium mixing bowl, whisk together the egg, buttermilk, coffee, oil and vanilla until evenly combined.
Mix the batter. Add the wet ingredients to the dry ingredients and stir until just combined. The batter will be thin.
Bake. Fill the cupcake liners so that they are just over halfway full. (You should have between 14 to 16 cupcakes.) Bake for 18 to 23 minutes, or until a toothpick inserted in the middle of a cupcake comes out clean. Transfer the pan to a wire rack and let the cupcakes cool completely to room temperature. See step-by-step decoration instructions in the notes above.
To Make The Buttercream: 
Beat the butter. Add the butter to a large mixing bowl or the bowl of a stand mixer and beat on medium speed for 2 to 3 minutes until it is light and fluffy.
Add the remaining ingredients. Add the powdered sugar, heavy cream and vanilla extract and beat on low speed for 1 minute until combined. Scrape down the sides of the bowl, then beat on medium speed for 2 more minutes until completely smooth.
Adjust consistency if needed. If the buttercream seems too thin, add in 1 to 2 cups of additional powdered sugar and beat until smooth. If the buttercream seems too thick, add in 1 tablespoon of heavy cream (or more, if needed) and beat until smooth. Dye about 2/3 cup of the frosting black. Then halve the remaining amount of frosting and dye one half red and one half brown. (I used cocoa powder as the brown "food coloring.")
---
---
Notes
Storage instructions: Unfrosted baked cupcakes can be stored in a sealed container at room temperature for up to 3 days. Plain buttercream can be refrigerated in a sealed container for up to 1 week. To be safe, frosted cupcakes should be refrigerated in a sealed container where they can be stored for up to 5 days.
Prep time: The prep time listed in the recipe above approximates the amount of time that it may take to decorate the cupcakes, but does not include the additional time needed for the cupcakes to completely cool to room temperature, which can take anywhere from 30-60 minutes. I typically make the buttercream while the cupcakes are in the oven to save time.
Source: Chocolate cupcakes recipe slightly adapted from Life, Love and Sugar.