This post may contain affiliate links. Please read my disclosure policy.
These cheesy pesto rolls are swirled with fresh basil pesto, mozzarella and Parmesan cheese and easy to make in about 1 hour!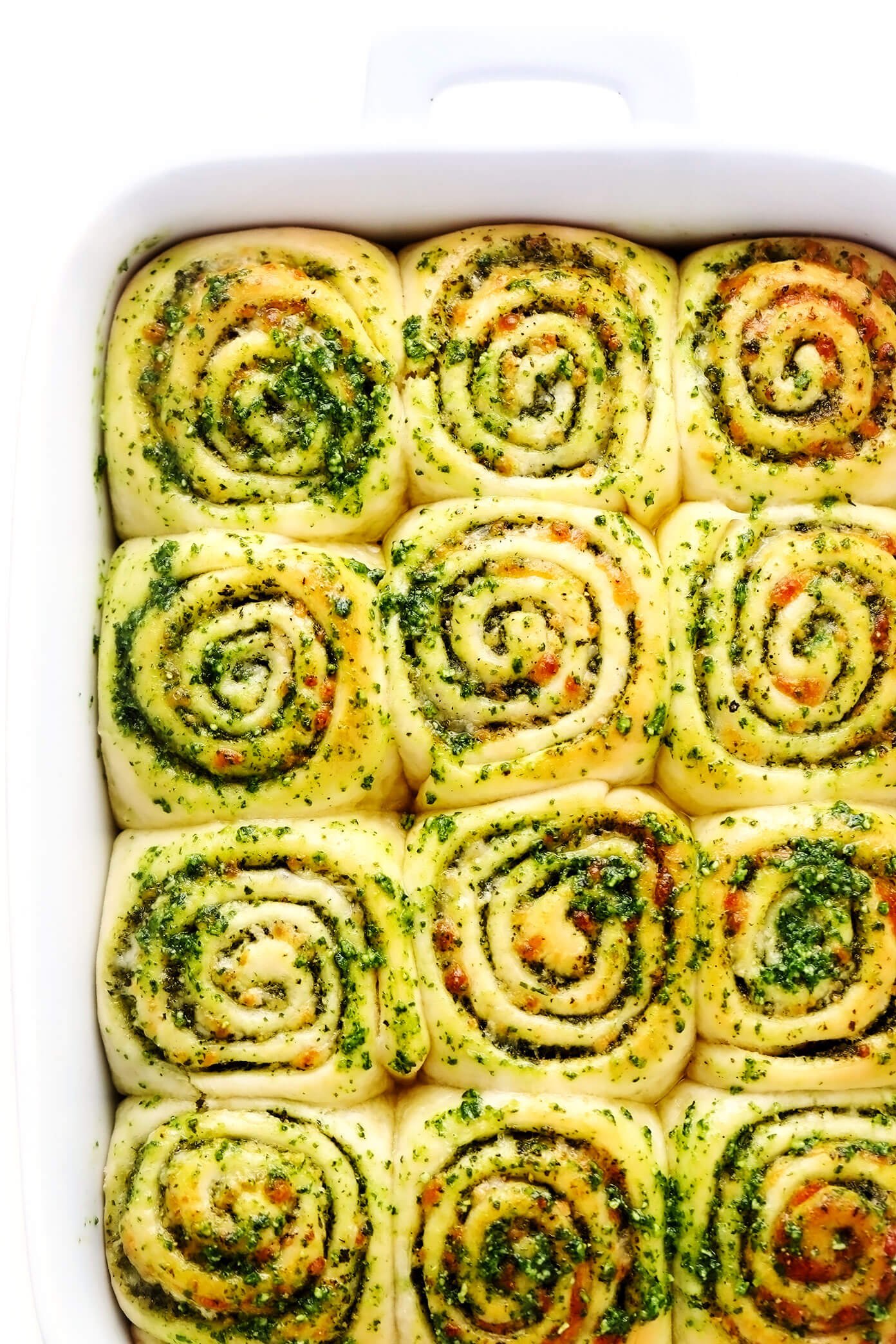 Say hello to savory swirl rolls! ♡
While making my favorite 1-hour cinnamon rolls recipe for the millionth time, it occurred to me that the soft and buttery dough could be just as delightful swirled with a cheesy, garlicky, herb-y filling. So I decided to make a test batch one night for dinner, filled with lots of fresh basil pesto, mozzarella, and Parmesan. And oh my goodness, they were such a success — even more delicious than I had imagined. And so vibrant and pretty too!
The dough recipe itself is impressively quick and easy to make either by hand or with a stand mixer. And while we completely loved the Italian-inspired cheese and pesto combination (especially right now while fresh basil is exploding in our garden), the sky would honestly be the limit here with any type of cheese, pesto, tapenade, nuts, herbs, or other savory fillings that might sound good.
So have fun with these and let me know how they turn out!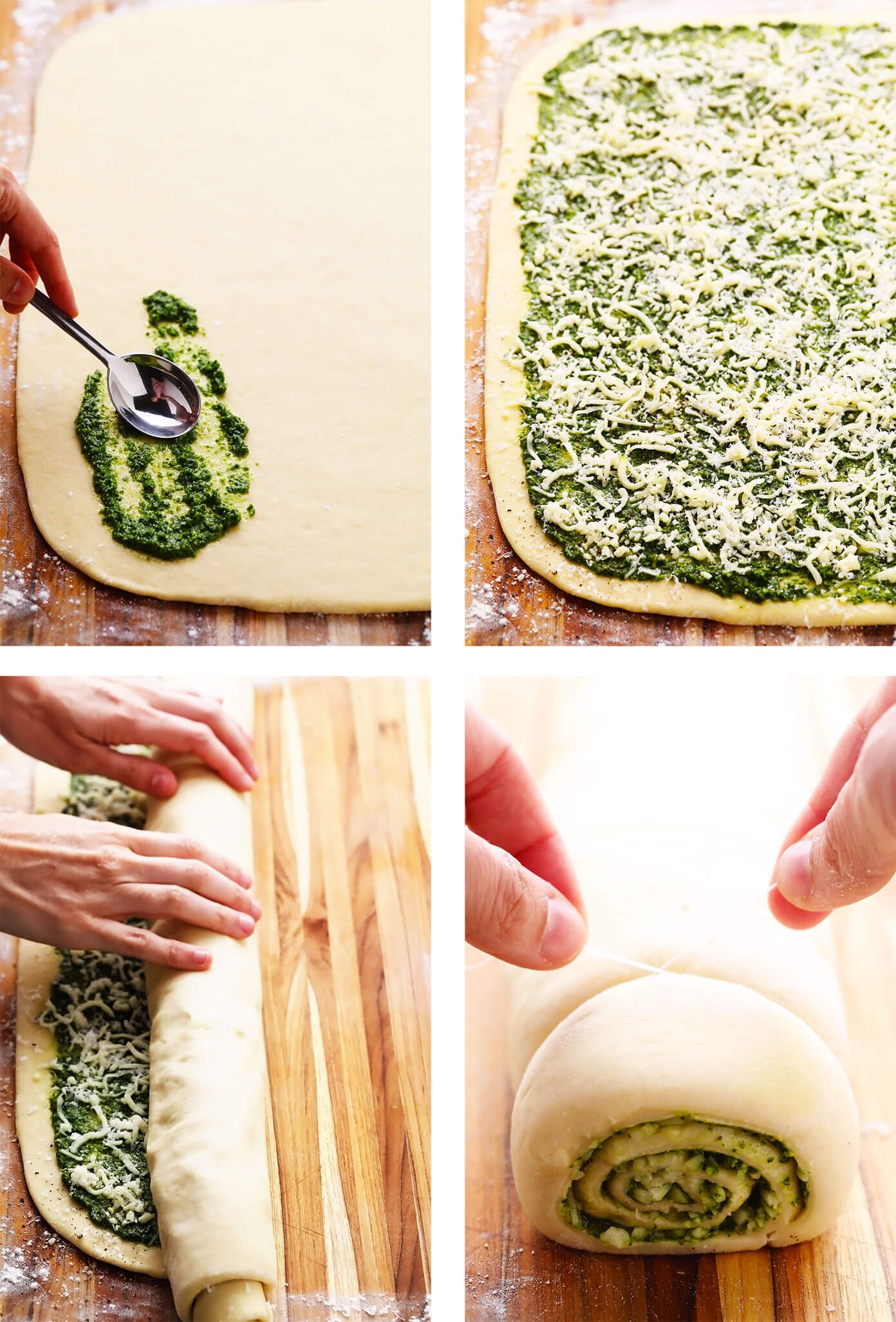 Cheesy Pesto Rolls Ingredients
Before we get to the full recipe below, here are a few notes about the ingredients you will need to make these cheesy pesto rolls…
Milk: I typically use either whole or 2% cow's milk to make this dough, but skim milk, plain oat milk or even water (in a pinch) will also work just fine.
Butter: We will melt and add some butter to the dough. But if you would like these rolls to be extra buttery, feel free to also brush some on top of the finished rolls.
Sweetener: You are welcome to use either honey, brown sugar or granulated (white) sugar as the sweetener in this dough.
Yeast: I usually make these rolls with instant yeast in order for them to be done in an hour. But if you only have active dry yeast available, it will work just fine — you will just need to wait an extra 10-15 minutes with each rise for the dough to double in size.
Flour: I always make this dough recipe with basic all-purpose flour. If you decide to experiment with any other types of flours, though, please let us know how it goes in the comment section below.
Eggs: We will use two large eggs for the dough to make it extra flavorful and soft.
Pesto: I used my go-to homemade basil pesto recipe in these rolls, which I highly recommend. But feel free to use any good-quality brand of store-bought pesto instead.
Cheeses: We've really enjoyed stuffing these rolls with a mixture of both shredded mozzarella and freshly-grated Parmesan cheese. But feel free to experiment with whatever types of cheese that sound good to you!
Sea salt and black pepper: Finally, please note that this recipe calls for fine sea salt. (If you only have iodized table salt on hand, you will need to use less.) And I also like to add a few twists of black pepper to the cheesy pesto filling too.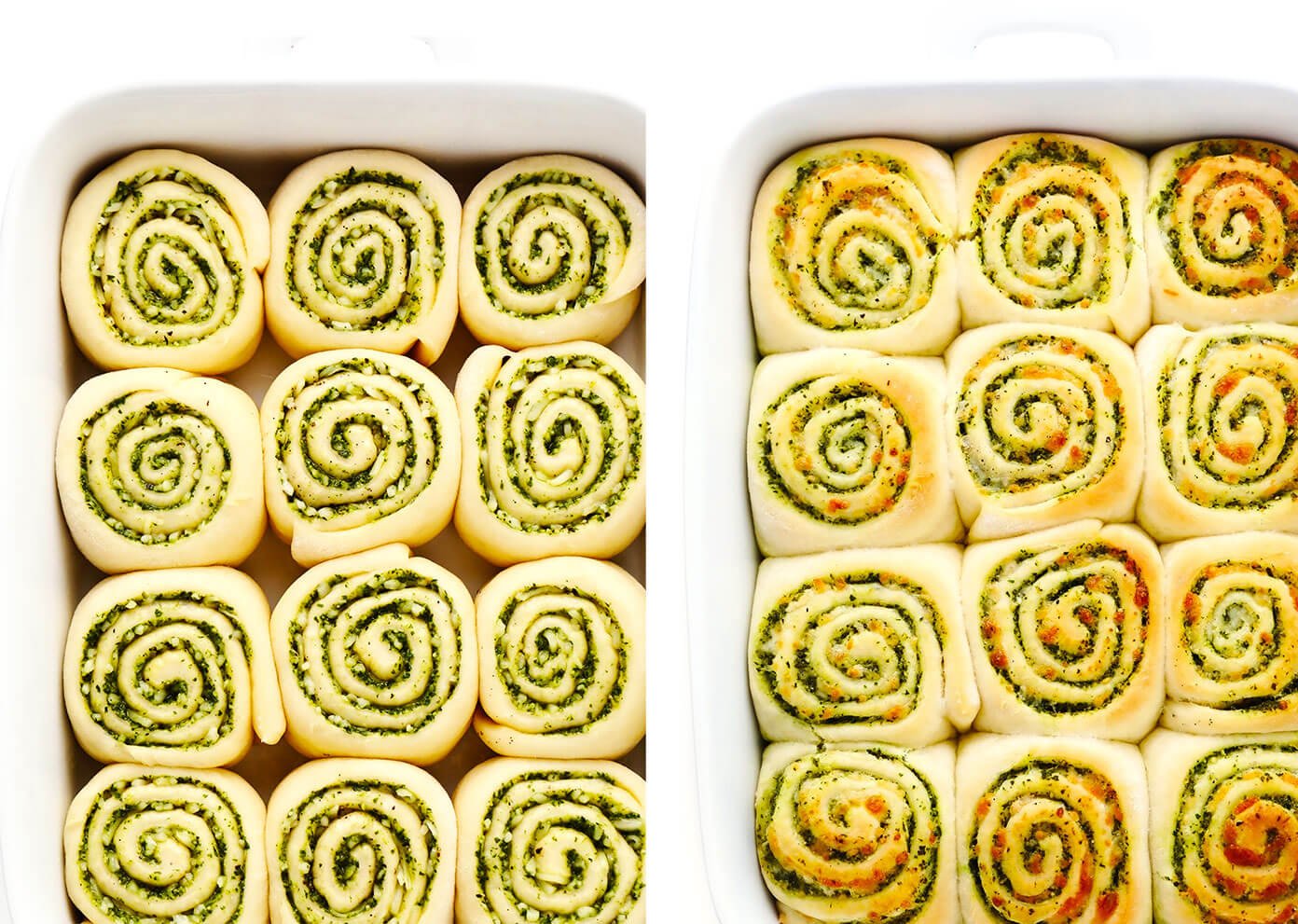 Tips For Making These Rolls
The full recipe is included below, but here are a few extra tips for making these rolls…
Don't overwork the dough: #1 tip — avoid adding in too much flour and overworking the dough! If you add too much flour, it will dry out. And if you overwork the dough, it will toughen up and not be as soft. So try to just add however much flour is needed to help the dough hold together and not be sticky, and knead it until smooth.
Check the temperature of the milk mixture: Just to be safe, I recommend checking the temperature of the milk mixture before adding the yeast to be sure that it is around 110°F. If it is considerably warmer or cooler, the yeast may not activate.
Leave a 1-inch border on one side of the dough: In order for pesto to not spill out as you are rolling up the dough, I recommend leaving a 1-inch border on the left side of the dough (as pictured above). Feel free to also slice off the top and bottom ends of the dough (also as pictured above) if you would like the rolls to be more evenly-sized.
Use dental floss to cut the rolls: If you want to avoid smooshing the rolls with a knife, just use a piece of dental floss to cut the rolls as shown in the photo above. It's my favorite method and works great every time!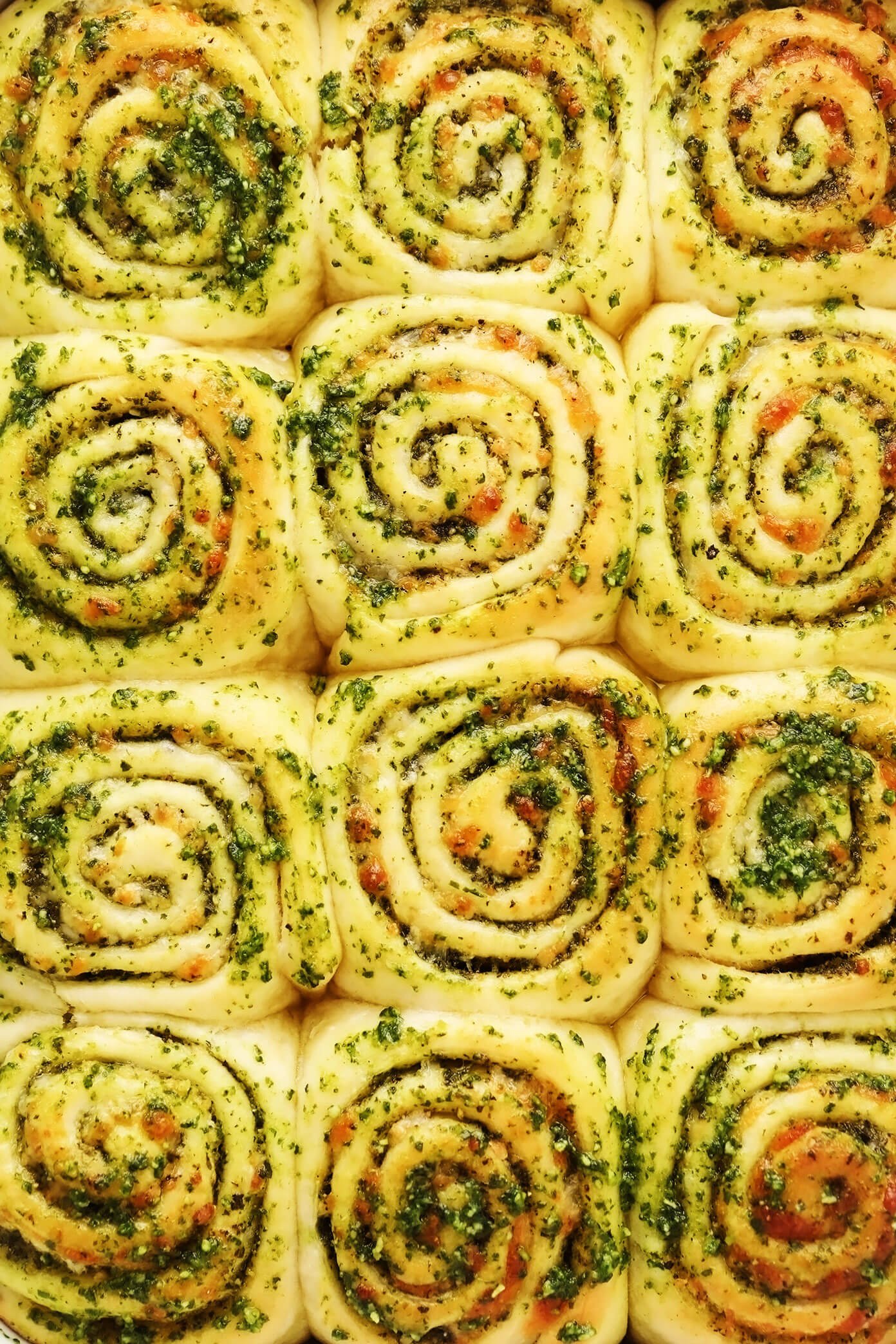 Optional Variations
Here are a few other options to consider when making this recipe…
Use a different kind of pesto: Feel free to swap in any other type of pesto (or tapenade, or sauce) that you love best.
Use a different kind of cheese: This recipe should accommodate most types of cheeses, so feel free to experiment with whatever cheese(s) sounds good to you.
Add extra garlic: You can also sprinkle some finely-minced into the filling if you would like these rolls to be more garlicky. Or as I've noted in the recipe below, you can also brush the rolls with garlic butter once they have finished baking (which we've tried and is delicious).
Add crushed red pepper flakes: We also sprinkled some crushed red pepper flakes into one batch of these and loved the subtle heat that they added.
Add nuts: You could also easily sprinkle in some chopped nuts into the filling too.
Add salami or ham: These rolls would also be delicious with some thinly-sliced salami or ham layered into the cheesy pesto filling.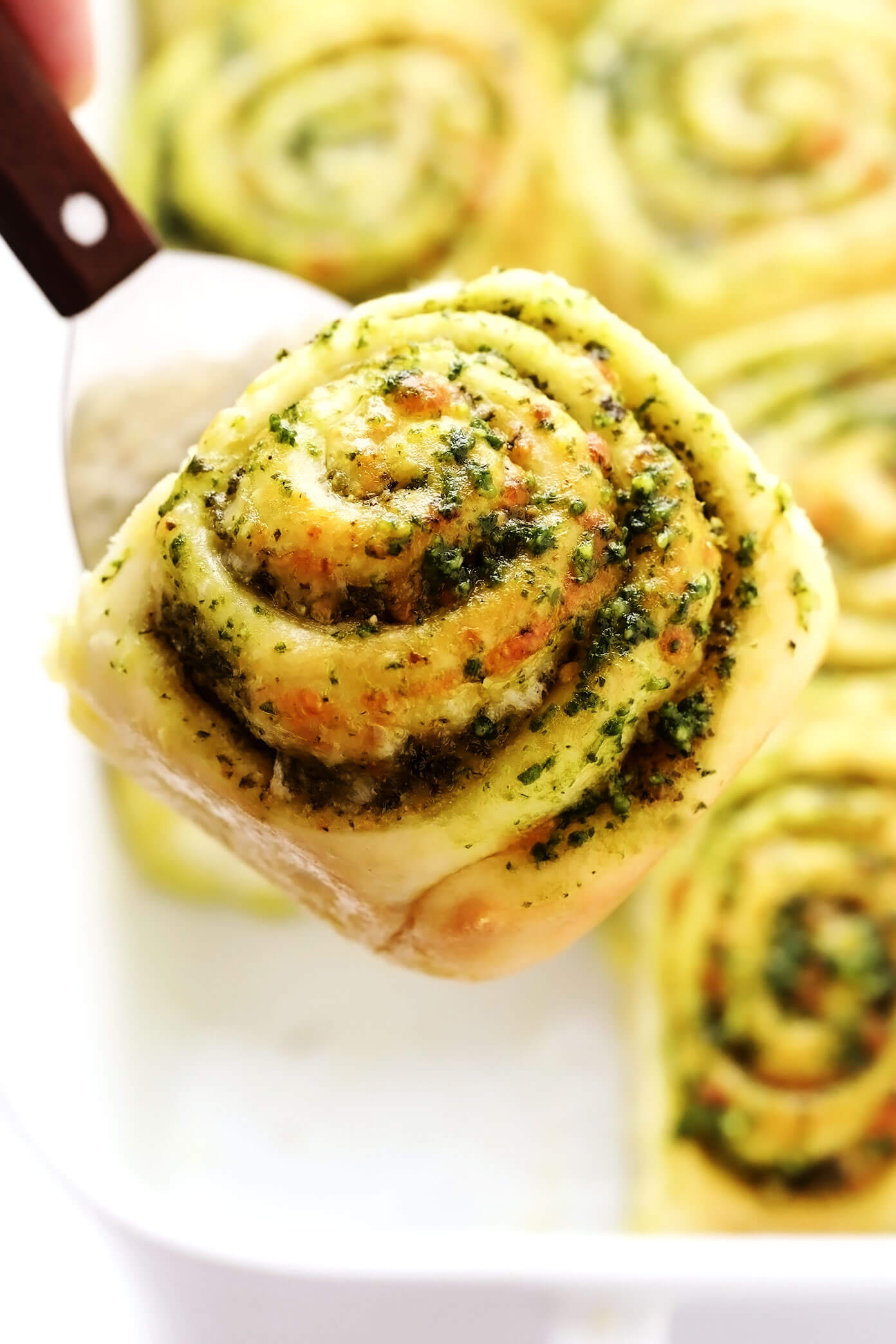 Favorite Bread Recipes
Looking for more easy bread recipes to try? Here are a few of my faves…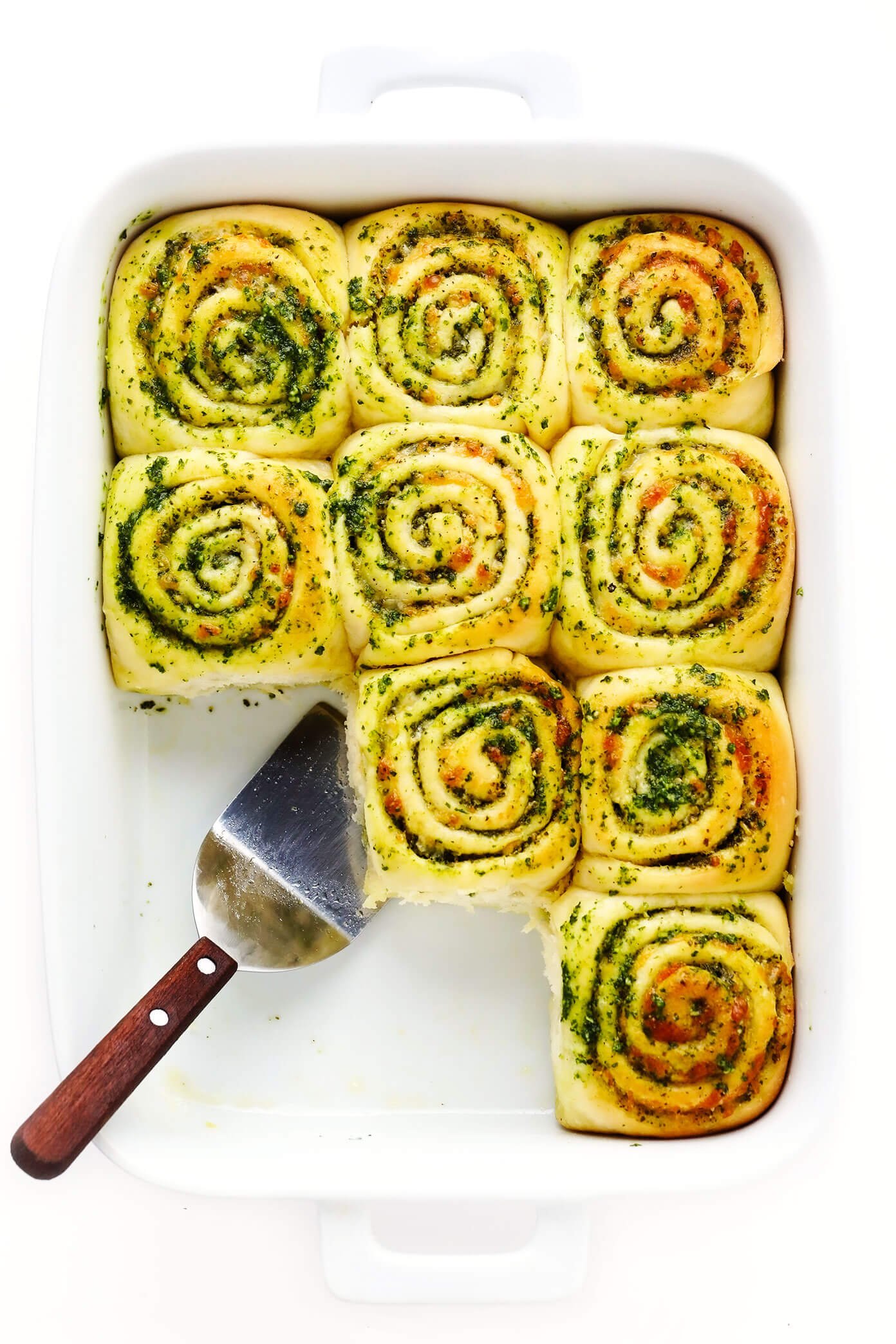 Print
---
Description
These cheesy pesto rolls are swirled with fresh basil pesto, mozzarella and Parmesan cheese and easy to make in about 1 hour!
---
Dough Ingredients:
1 cup

milk

1/4 cup

 salted butter

2 tablespoons

honey (or granulated sugar)

1

envelope (2 1/4 teaspoons) instant ("rapid rise") yeast

3 1/2 cups

all-purpose flour

2

eggs

1 teaspoon

 fine sea salt
Pesto Filling Ingredients:
3/4 cup

(

6 ounces

) basil pesto, plus extra for brushing on top

2 cups

(

8 ounces

) shredded mozzarella cheese

1/2 cup

freshly-grated Parmesan cheese
fine sea salt and freshly-cracked black pepper
---
Heat the milk mixture. Combine milk, butter and honey in small saucepan. Heat over medium heat stirring frequently until the butter is melted and the mixture is 110°F. (It should feel warm but not hot to the touch — I recommend measuring the temperature with a cooking thermometer.) If the mixture is too hot, just wait a few minutes for it to cool.
Mix the dough. In the bowl of a stand mixer fitted with the dough-hook attachment (or see notes below for how to knead the dough by hand), add the warm milk mixture. Sprinkle the yeast on top, then give the mixture a brief stir. Add 3 1/2 cups of flour, eggs and salt, and beat on medium-low speed until combined. If the dough is sticking to the sides of the bowl, add more flour (up to an additional 1/2 cup), until the dough begins to form a ball and pulls away from the sides of the bowl. (Use no more than 4 cups of flour total.)  Continue beating for 5 minutes on low speed. Remove dough and form it into a ball with your hands. Place it in a greased bowl and cover with a damp towel. Let rest for 10 minutes.
Roll the dough (1st stage).  Once the dough is ready, turn it out onto a floured work surface. Use a floured rolling pin to roll the dough out into a large rectangle, about 12 x 18 inches in size. Spread the pesto evenly over the top of the dough, leaving a 1-inch border on the left side (as shown in the photos above). Sprinkle the mozzarella and Parmesan evenly over the pesto, followed by a few extra twists of freshly-cracked black pepper and a pinch of sea salt.
Roll out the dough (2nd stage). Beginning at the 18-inch edge, tightly roll up the dough and give the final seam a little pinch so that it seals. Use a piece of dental floss or a knife to slice off the top and bottom ends of the roll (just 1/2-inch or so on each end, which you can discard) so that the ends are even. Cut the remaining dough into 12 equal rounds.
Let the dough rise. Place the rolls into a lightly-greased 9 x 13-inch baking dish. Cover the dish with a damp towel, and leave it in a warm place to rise for 25 minutes. Heat the oven to 350°F.
Bake. Once the rolls have risen, uncover the dish and place it on the center rack of the oven. Bake for 15-20 minutes, or until the rolls are very lightly golden on top and cooked through. Transfer the baking dish to a wire rack. Lightly brush the tops of the rolls with some extra pesto.
Serve. Then serve the rolls while they're nice and warm…and enjoy!
---
Notes
Garlic butter topping option: Instead of (or in addition to) brushing the tops of the rolls with pesto, feel free to make garlic butter by simmering 2 cloves of finely-minced garlic in 3-4 tablespoons of melted butter for a few minutes until fragrant. Then once the rolls come out of the oven, brush them with the garlic butter while hot.