This post may contain affiliate links. Please read my disclosure policy.
This homemade granola recipe can be crumbled into large or small clusters, it's easy to make with just 10 minutes of prep time, and it's perfectly crunchy and delicious. (Gluten-free + vegan too!)
Anyone else love those extra-chunky clusters that usually hang out at the top of a bag of granola?
I say let's make an entire batch of them! ♡
With just a few simple tricks, it's actually easy to make just about any granola recipe extra-clustery. But I'm especially partial to this granola recipe, which has been our go-to at home as of late. It's easy to crumble into whatever size of large-and-clumpy or fine-and-crumbly pieces that you prefer. It's naturally sweetened with maple syrup, features a perfectly-balanced blend of crunchy nuts and seeds (plus any other add-ins you prefer), and seasoned with just the right amount of cinnamon, vanilla and sea salt. And best of all, this recipe only requires about 10 minutes of prep time and yields a deliciously big batch!
After enjoying countless bowls of this granola over the past few months, my husband and I can vouch that it pairs perfectly with berries, almond milk (him) or Greek yogurt (me), a good cup of coffee. But pro tip — don't limit this granola to just breakfast time! Those irresistibly crunchy clusters would be perfect sprinkled on ice cream, fruit crisps, pudding, salads and more. Or of course, just grabbing a few clusters on the go as a quick snack! Yum.
Let's make some granola!
Granola Cluster Ingredients
Before we get to the full recipe below, here are a few notes about the ingredients you'll need to make this homemade granola recipe:
Maple syrup: This is my favorite natural sweetener to use with this recipe, but honey would work well too.
Coconut oil: Feel free to use any neutral-flavored oil in this recipe. I typically turn to coconut oil, but avocado oil, grapeseed oil or olive oil would be great options too.
Vanilla, cinnamon and fine sea salt: We'll use one teaspoon each to lightly season the granola. And as always, please note that if you are using iodized table salt instead of fine sea salt, you will only want to include about half as much salt.
Oats: Be sure to use old-fashioned (a.k.a. rolled) oats instead of quick oats. And if you are wanting this granola to be gluten-free, double-check the label to be sure that your brand of oats is certified gluten-free.
Coconut flakes: I love the texture of adding larger coconut flakes to granola, but feel free to use 1/2 cup shredded coconut instead. Or if you're not a fan of coconut, no worries, just omit it entirely.
Nuts and seeds: Finally, feel free to use whatever combination of nuts and seeds that you love in granola! I love this combo of sliced (or slivered) almonds, chopped pecans and sunflower seeds, but the nuts/seeds here are entirely up to you.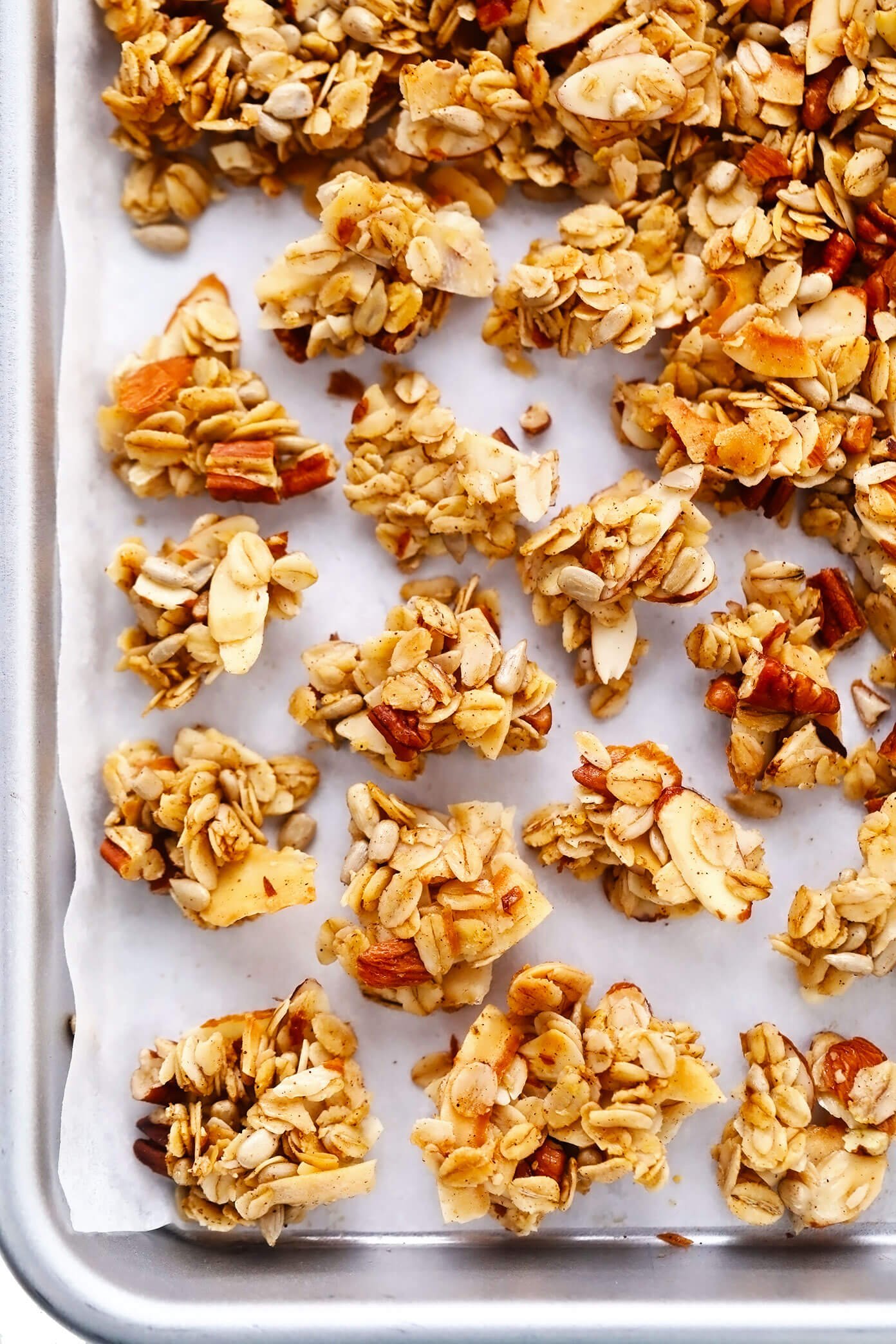 Tips For Making Granola Clusters
You're of course completely welcome to crumble this granola into tiny pieces if you'd like. But if you're interested in larger clusters, here are my best tips to make that happen!
Press the granola before baking: Once you have spread the granola out in an even layer on the baking sheet, use a rubber spatula to gently press the granola down into the sheet pan a bit so that it is a bit more compact.
Use a half sheet pan: For the amount of granola that the recipe below will yield, I found that it worked best to spread it out evenly in a parchment-lined half sheet pan (18 x 13 inches). This thickness of granola baked up perfectly into those crunchy clusters!
Bake at low heat: Then bake the granola low and slow at 300°F (150°C), rotating the pan once while it's in the oven so that the granola will cook evenly from front to back.
Avoid stirring: Perhaps most importantly — do not stir the granola once it has begun baking! Assuming your oven cooks fairly evenly, the entire pan of granola should be cooked through and crumbly without needing to stir it partway through.
Let it cool completely: Finally, be sure to let your granola cool completely on a wire rack until it reaches room temperature before breaking it up into clusters.
Possible Granola Variations
This homemade granola recipe is super flexible, so feel free to customize it however you'd like. For example, you are welcome to…
Use honey: Swap equal parts honey for maple syrup if you would like to use that as your sweetener.
Use different nuts/seeds: Feel free to use any mixture of chopped nuts/seeds that you prefer in this recipe. (You will need approximately 2 cups in total.) Pistachios, cashews, macadamia nuts, peanuts or pepitas would all be great options too.
Add dried fruit: Feel free to mix any dried fruit that you love into this granola after it has been cooked and cooled to room temperature. Dried berries, bananas, or raisins would be delicious!
Add chocolate: Of course, any type of chocolate (chocolate chips, chopped dark chocolate, etc) would always been a good idea too.
Add extra spices: Ground ginger, cardamom, and/or nutmeg would also be delicious along with (or in place of) the cinnamon.
Omit the coconut: If you're not a fan of coconut, just omit it entirely from the recipe. (And if you'd like, feel free to add in an extra handful of nuts or oats in its place.)
More Favorite Granola Recipes
Here are a few more of our other favorite homemade granola recipes to try!
---
Description
This crunchy granola recipe can be crumbled into large or small clusters, it's naturally sweetened with maple syrup, and it's easy to make with just 10 minutes of prep time!
---
---
Prep the oven and baking sheet. Heat oven to 300°F (150°C). Line a half sheet pan (18 x 13 inches) with parchment paper and set aside.
Heat the wet ingredients. Combine the maple syrup, coconut oil, sea salt, cinnamon and vanilla extract in a small saucepan. Heat the mixture for 4-5 minutes over medium heat until warm (the coconut oil should be completely melted) but not simmering, whisking until evenly combined. Remove from heat.
Add the dry ingredients. In a large mixing bowl, add the oats, almonds, coconut flakes, pecans and sunflower seeds. Drizzle the maple syrup mixture over the dry ingredients. Gently toss until evenly combined.
Bake. Spread the granola out evenly on the sheet pan and then gently press it down with a spatula. Bake for 25 minutes, then without stirring, remove the pan and rotate it 180° (so that it will cook evenly from front to back). Bake for 15-20 more minutes until the granola is lightly golden on top. Transfer the pan to a wire baking rack and let it cool completely. If the granola seems a bit loose when it comes out of the oven, don't worry, it will dry and harden as it cools.
Serve. Once the granola has cooled, use your hands to break it up into your desired size of chunks. Then serve and enjoy! Leftover granola can be stored in an airtight container for up to 2 weeks.
---
Notes
Salt: Please note that if you only have iodized table salt on hand, you will need to use 1/2 teaspoon (instead of 1 teaspoon).