This post may contain affiliate links. Please read my disclosure policy.
My go-to everyday salad dressing recipe that's quick and easy to make, full of zippy fresh flavors, and versatile enough to go with just about any type of salad!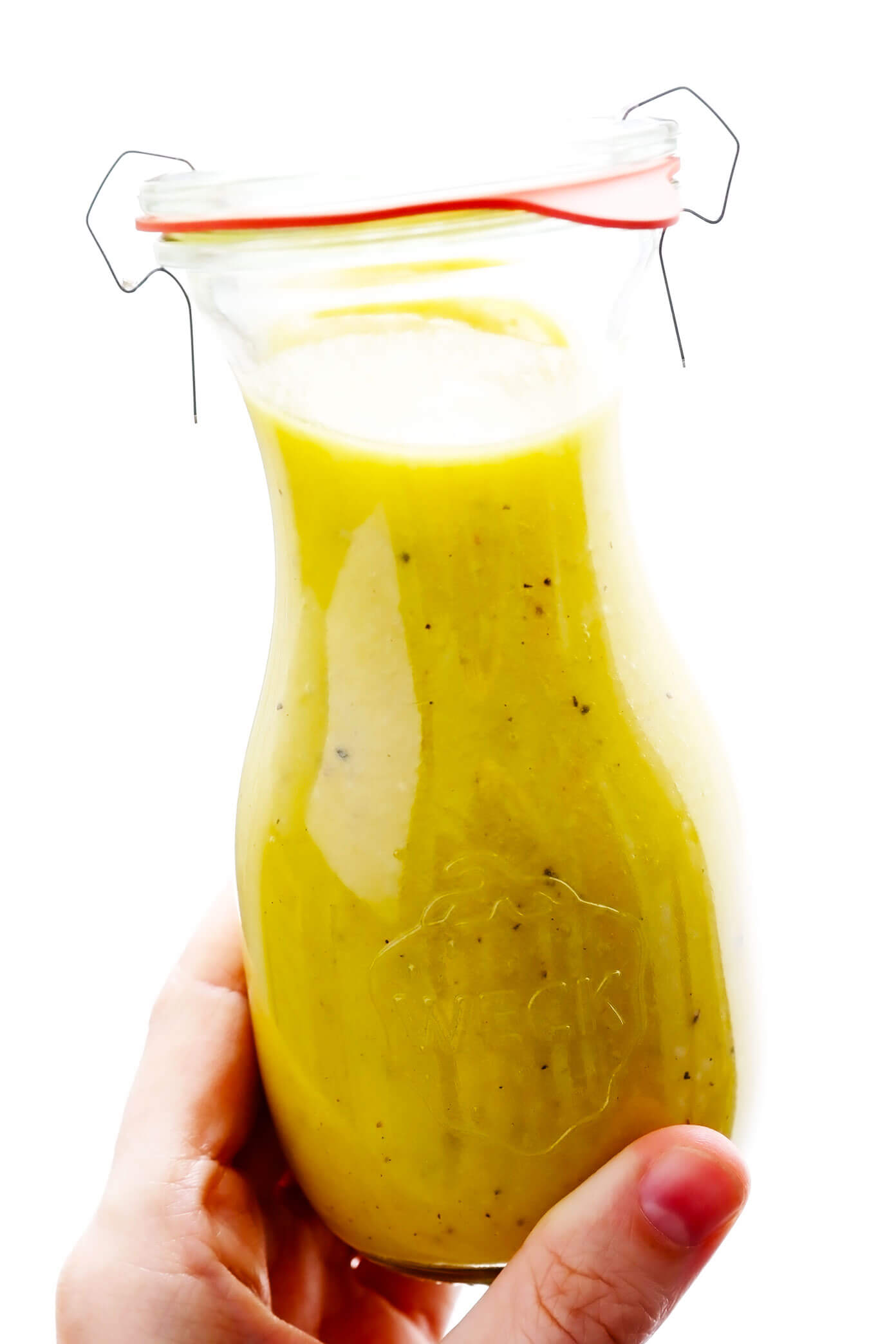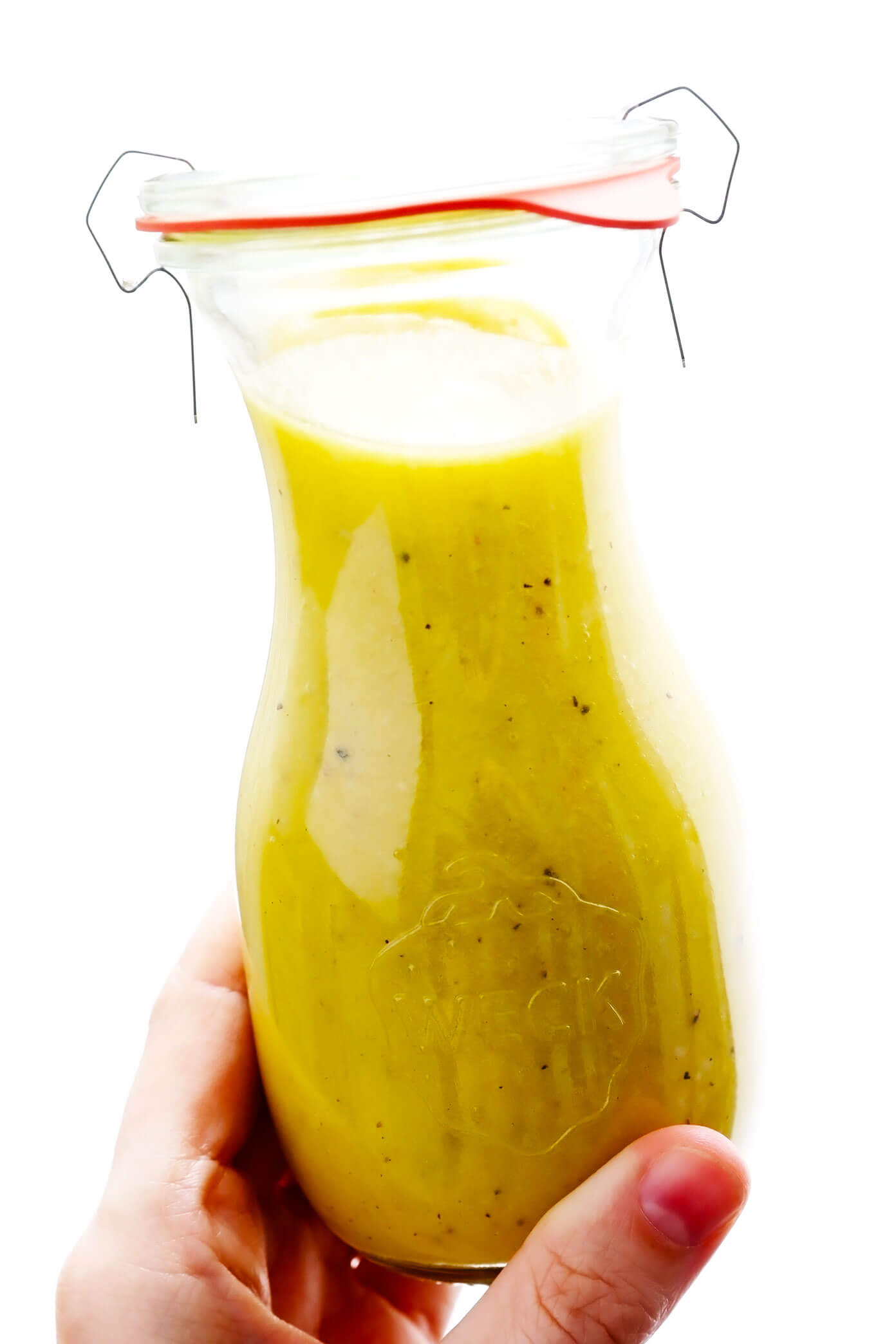 Friends, do you have a go-to homemade salad dressing recipe that you love?
If not, bookmark mine! ♡
I've been in the habit of making my own salad dressings for years — partly because I prefer to avoid the additives found in many store-bought salad dressings, but mostly because delicious salad dressing is super quick and easy to make from scratch, and it always tastes extra fresh and flavorful!
We fondly call this particular recipe my "everyday" salad dressing in our house, because we quite literally make some version of it nearly every day of the week.  (Yes, we eat a lot of salads in our casa.)  It's a basic recipe made simply with olive oil, lemon juice (or vinegar), garlic, Dijon, salt and pepper that can be whipped up in just 5 minutes.  And I'm telling you — this salad dressing somehow magically works with just about any type of salad you might be craving!
It's also an incredibly versatile base recipe that can be easily tweaked and customized, if you would like to play around with using different types of vinegar, mustards, added herbs, or added sweeteners too.  Leftovers also keep well in the fridge, if you would like to make a larger batch to stretch out over the course of a week.  (Which I find to be excellent motivation to eat more salad — it's always easier to toss one together when you have some delicious dressing ready to go!)  And this salad dressing recipe just so happens to be naturally gluten-free, vegetarian and vegan too.
Anyway, I first introduced this dressing a few years ago when I shared our favorite everyday side salad recipe, and many of you have shared since that it has become a regular staple in your homes as well.  So for anyone who may have missed that other post or would just like a stellar salad dressing recipe to bookmark, I promise this one won't let you down.  Let's make a quick batch!
Everyday Salad Dressing Ingredients:
Before we get to the full recipe below, here are a few quick notes about the salad dressing ingredients you will need for this recipe:
Olive oil: It's important to use good-quality olive oil for salad dressings because its flavor is quite prominent in the dressing.  I always recommend shopping for olive oil that is certified extra-virgin and really love this brand for salad dressings.
Garlic: I prefer to press or mince a small clove of fresh garlic for this salad dressing.  But if you're in a hurry, a 1/2 teaspoon of garlic powder will work too!
Lemon juice (or vinegar): Most of the time, we make this recipe in our house with freshly-squeezed lemon juice, which I find is super versatile and works with nearly any kind of salad.  But if you prefer to turn this recipe into a vinaigrette, you can opt instead to use any type of vinegar that you choose.  (I would recommend red wine vinegar as the most versatile option, but balsamic, sherry, white wine, apple cider, or other types of vinegars would work too.)
Dijon mustard: I also almost always add a teaspoon of creamy Dijon mustard to my salad dressings.  (If you don't love mustard, don't worry, its flavor is not overpowering and really just serves to round out all of the other flavors.)  But that said, if you would like a more mustard-y dressing, feel free to double or triple the amount of Dijon.  Or if you prefer a grainy mustard, whole-grain Dijon will work great too.
Fine sea salt: To bring out all of those delicious flavors.
Black pepper: And however much freshly-cracked black pepper you prefer!  (I often double or triple the amount in the recipe, as we love lots of black pepper in our house.)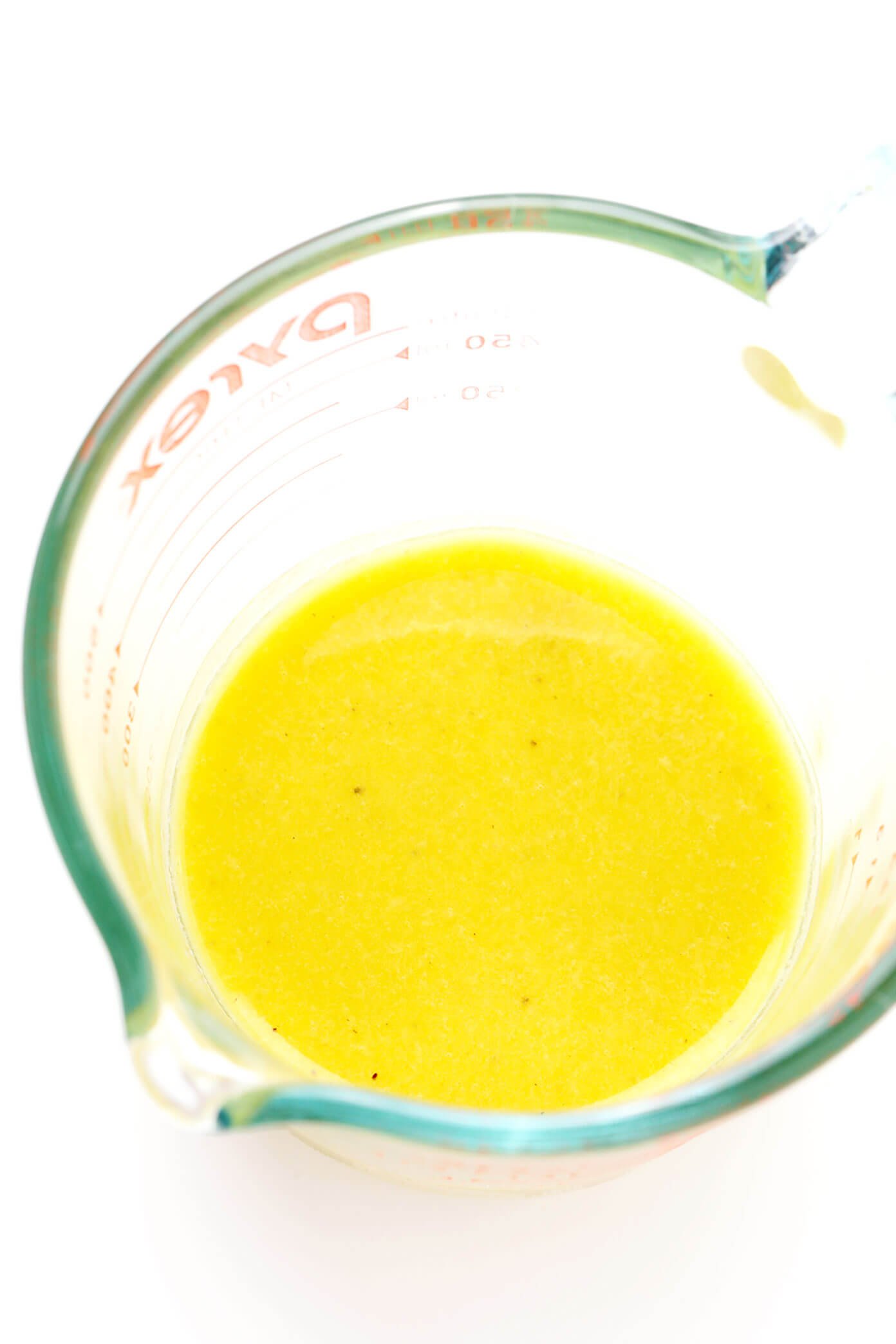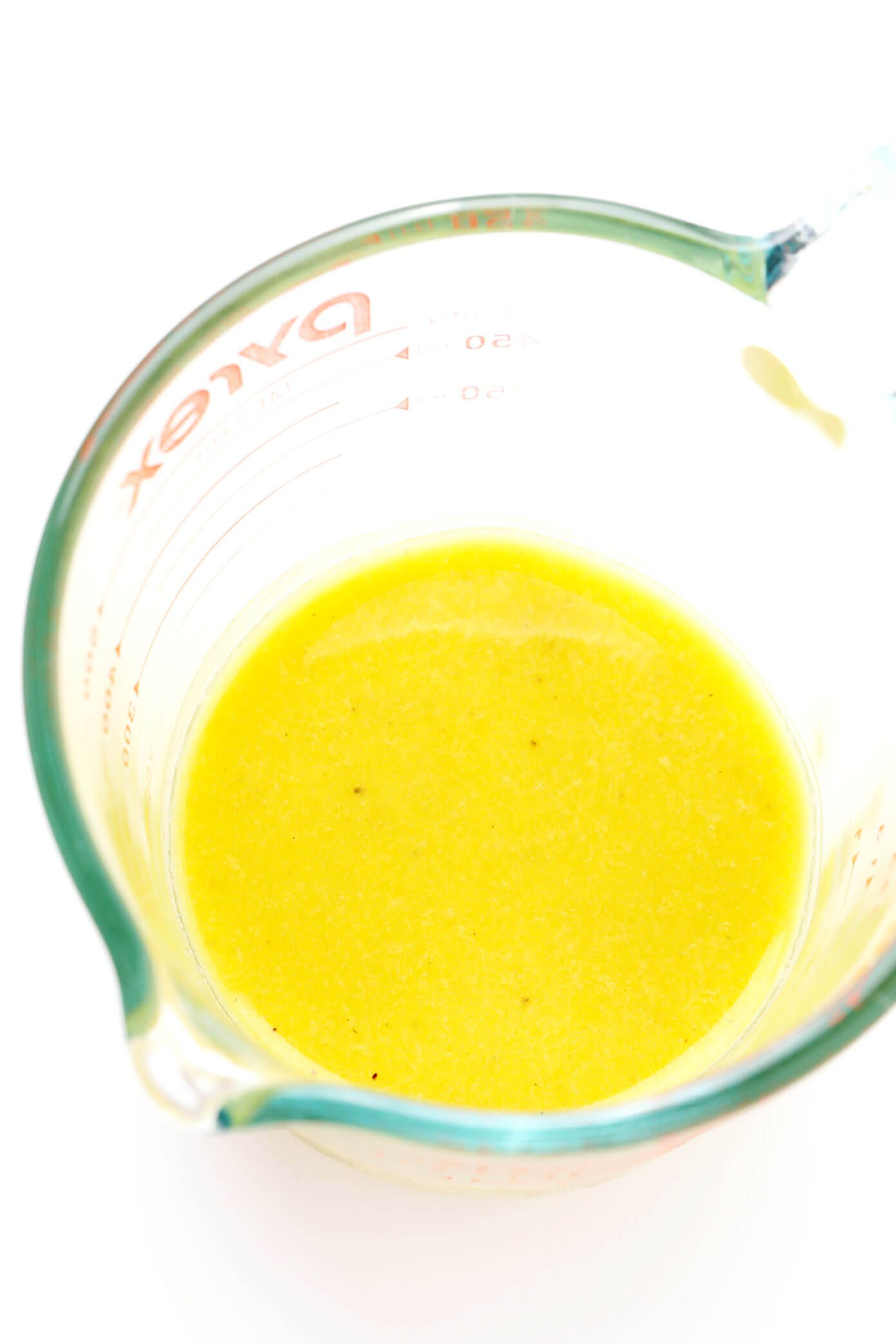 How To Make Salad Dressing:
Easy!  All you really need to do to make this salad dressing recipe is stir or shake all of the ingredients together until combined.  You can either accomplish this…
In a bowl or measuring cup: Combine all of the ingredients and whisk until combined.
In a mason jar: Combine all ingredients, cover with a lid, and shake vigorously until combined.
In a blender: Combine all ingredients and pulse until combined.  (This method is especially nice if you are making a larger batch, plus you do not need to press or mince the garlic cloves.)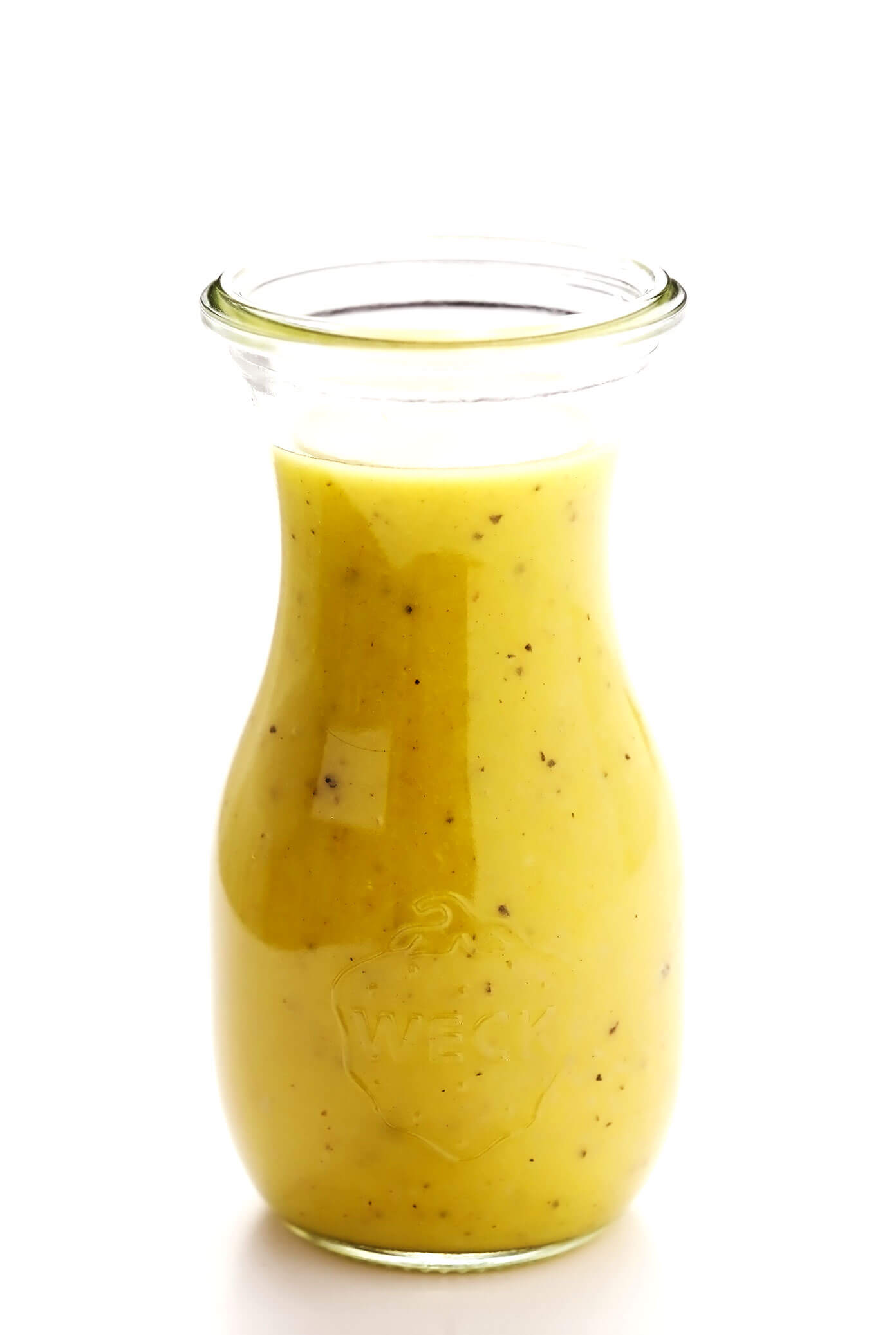 Possible Recipe Variations:
This basic salad dressing recipe is incredibly versatile, so please feel free to play around with different ingredients and customize whatever dressing will best suit your salad!  For example, you could…
Use a different kind of vinegar: As mentioned above, feel free to substitute any type of vinegar that you would like in place of the olive oil (such as red wine vinegar, white wine vinegar, balsamic vinegar, sherry vinegar, apple cider vinegar, champagne vinegar, etc).
Use a different kind of mustard (or add more!): You can also opt for a grainy Dijon mustard (instead of creamy Dijon) if you prefer.  And if you would like this recipe to taste even more mustard-y, just increase the amount of mustard to taste.
Add a sweetener: If you would like a sweeter dressing, just add in a teaspoon or two of your desired sweetener.  (I recommend either honey or maple syrup.)
Add herbs: You can also add in any dried or fresh herbs you would like too.
Add crushed red pepper flakes: If you would like to give this dressing some subtle heat, feel free to add in a pinch of crushed red pepper flakes as well.  (I especially love this when using this dressing for an Italian salad.)
---
Description
My favorite everyday salad dressing recipe that goes with just about anything!  Feel free to double or triple the batch size if needed.
---
---
Instructions
Combine ingredients. Whisk all ingredients together in a small bowl (or shake all ingredients together vigorously in a sealed jar) until completely combined.
Serve. Serve immediately or store in the refrigerator for between 1-7 days.  (See notes on storage times below.)  If you choose to refrigerate the dressing, it will need to be stirred or shaken again prior to serving.
---
---
Notes
Acid options: This salad dressing recipe also works wonderfully with just about any kind of vinegar — red wine vinegar, white wine vinegar, balsamic vinegar, apple cider vinegar, sherry vinegar, etc.  So feel free to use whatever will work best for your salad!
Sweetener options: Feel free to add in 1 to 2 teaspoons of honey (or your desired sweetener) if you would like to make this dressing a bit sweeter.
Storage instructions: I find that the lemon juice version of this dressing doesn't taste so great after more than 24 hours in the fridge.  So if you would like to make a larger batch of the dressing to store for up to 1 week, I recommend using vinegar in place of the lemon juice.