This post may contain affiliate links. Please read my disclosure policy.
My favorite "everyday" salad recipe is quick and easy to make, tossed with a simple and delicious lemony dressing, and so versatile that it goes with just about everything!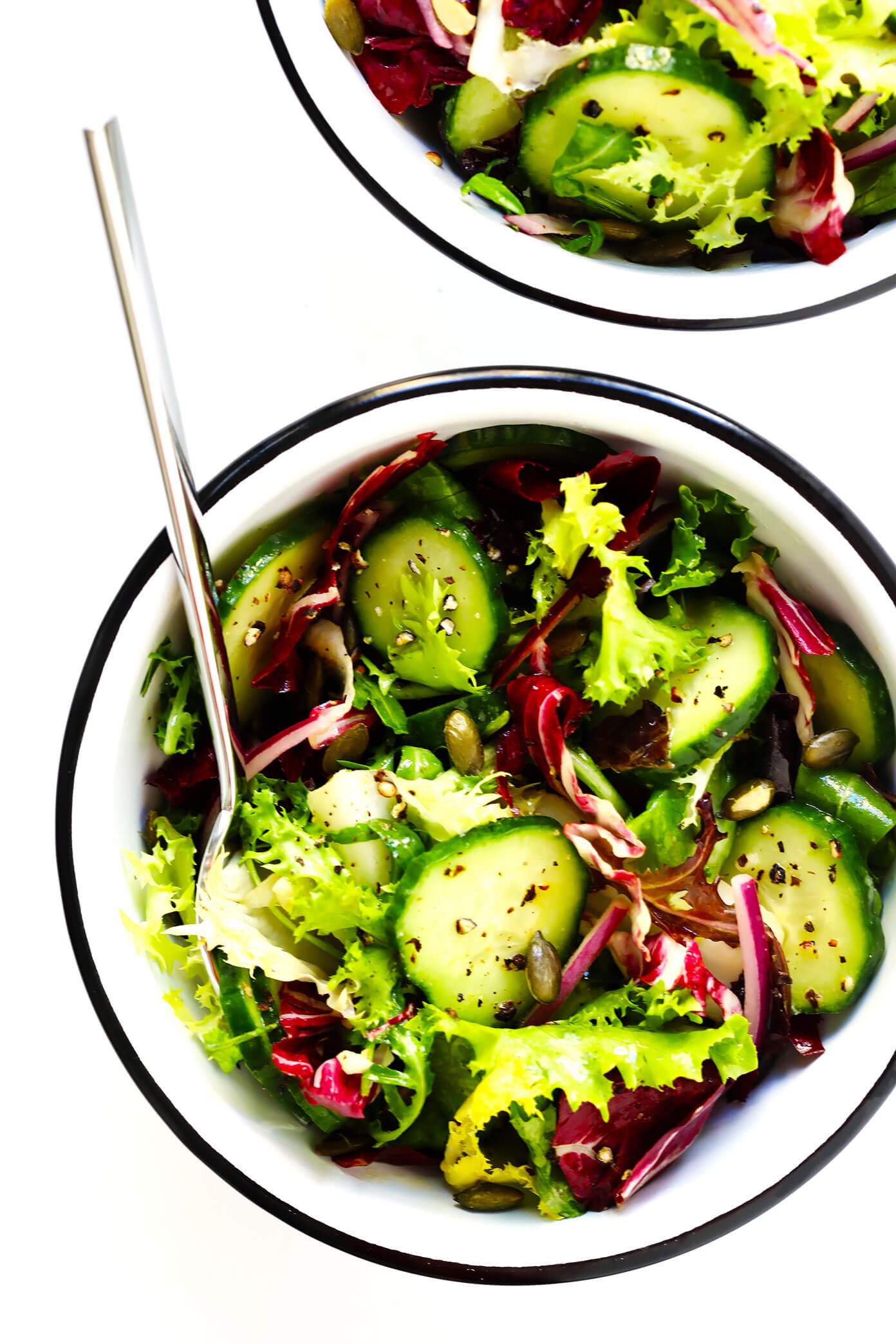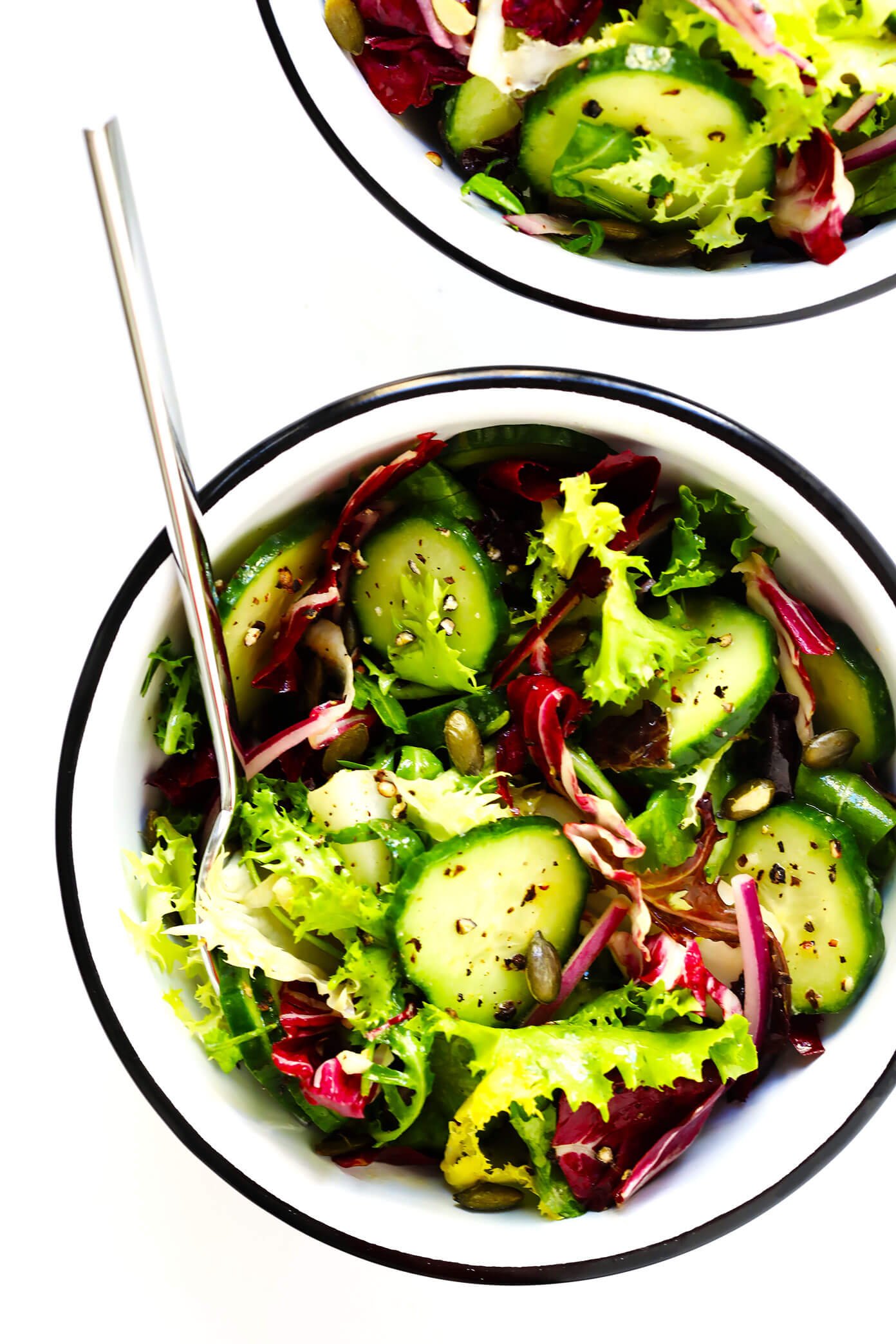 Friends! Do you have a go-to side salad recipe in your repertoire that you absolutely love? This simple green salad — which we fondly call our "everyday" salad here in our house — is mine. ♡
It's the no-frills, easy-breezy, fresh-and-flavorful, always-a-winner green salad recipe that we make most often here in our house behind the scenes. And even after eating it literally hundreds of times, it's one of those staple recipes that we somehow never grow tired of. It's incredibly quick and easy to make with a bag of greens (we most often use spring greens), a veggie or two (we usually add red onion, plus cucumber, bell pepper, carrot, or whatever's in the crisper drawer), a sprinkling of nuts/seeds for protein and crunch (we're partial to pepitas or sunflower seeds), and my favorite "everyday" salad dressing (that's super-simple to whip up). Best of all, this tossed salad comes together in less than 10 minutes and always tastes wonderfully light and fresh and flavorful. And it also happens to be naturally gluten-free and vegan — and somehow magically goes with just about any meal!
The sky's the limit, of course, when it comes to customizing this recipe with whatever greens, veggies, nuts, or even dressing ingredients that you happen to have on hand. And if you feel like making a meal out of this salad, it also tastes delicious with an extra protein (such as chicken or shrimp) and/or some croutons added in too.
Anyway, if you're interested in working more salads into your weekly lunch and dinner rotations, I hope you'll give this salad recipe a try. It is definitely a favorite here in our house!
Everyday Salad Recipe | 1-Minute Video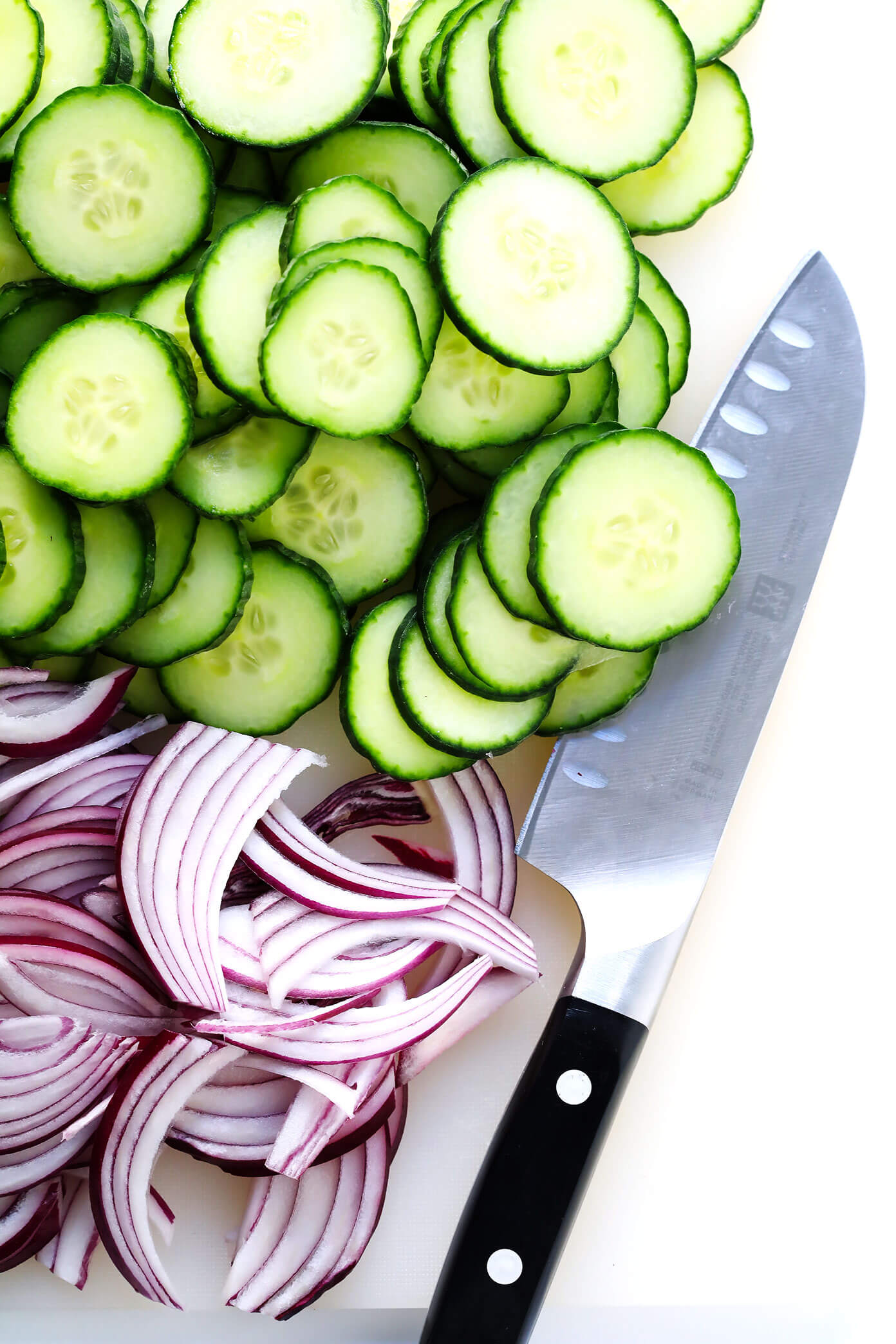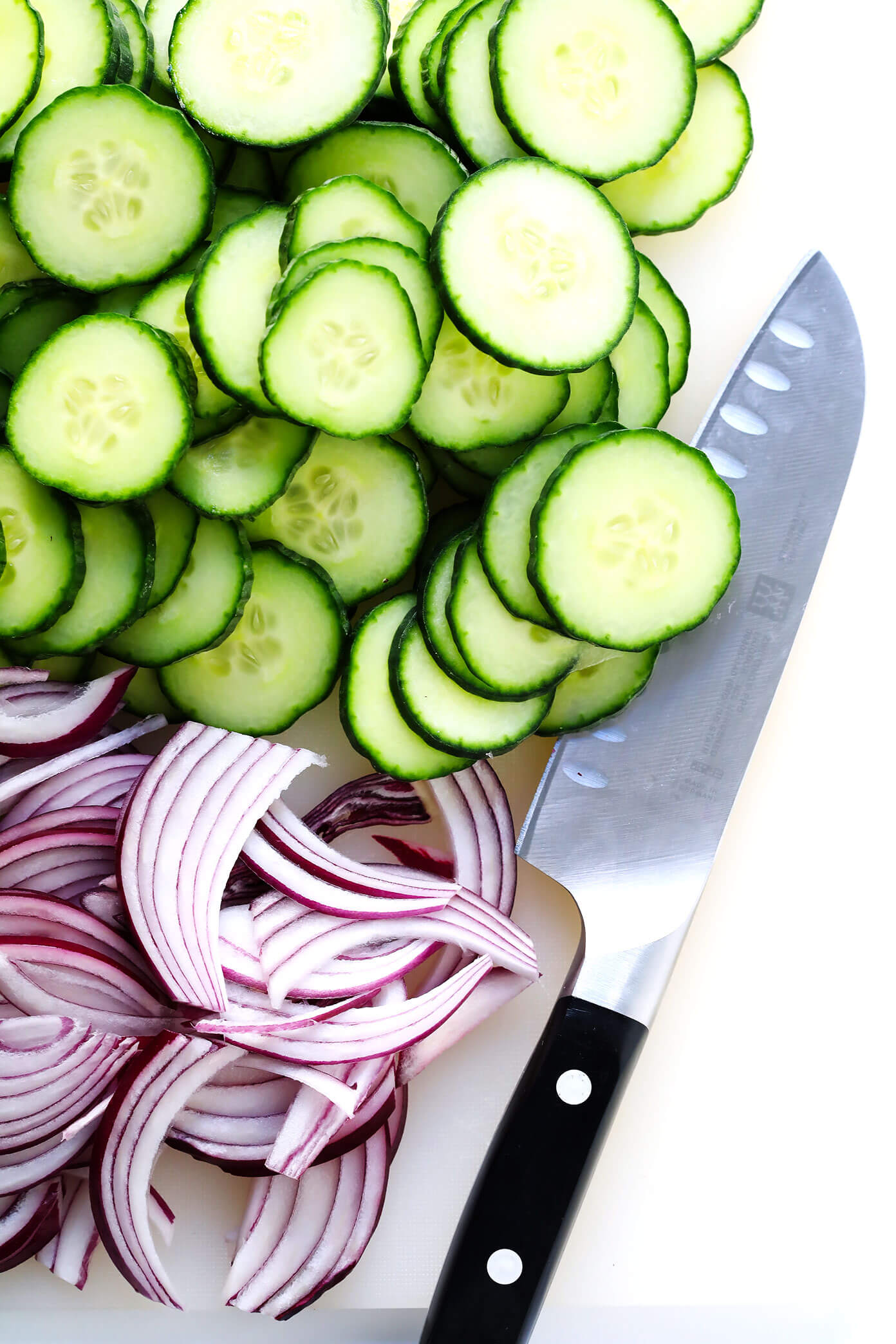 Everyday Side Salad Ingredients:
As I mentioned above, the base ingredients in this salad are all incredibly flexible. So feel free to use whatever you love best or have on hand! You will just need some type of…
Fresh greens: I tend to go with spring greens, baby arugula, or some sort of mixed greens for this salad. But any greens that you love best will work.
English cucumber: We always keep a few English cucs in the refrigerator because they are easy to work with (you don't have to mess with removing the seeds), they last for quite awhile in the crisper drawer (yay!), and they always taste so delicious with this salad! That said, feel free to use any type of cucumber that you prefer for this salad, or see other fresh veggie ideas below too.
Red onion: If you've followed this blog for any amount of time, you know that I can never resist adding some thinly-sliced fresh red onions to my salads. But if you don't love them as much as I do, feel free to leave them out (or use sliced shallots as a milder alternative instead). Or to take the edge off of the red onion flavor, you can also briefly rinse the sliced onions in water before adding them to the salad.
Nuts/seeds: Feel free to add in whatever nuts or seeds that you love best to give this tossed salad some extra crunch and protein! We're partial to salty pepitas, toasted pine nuts, or sunflower seeds in our house. But toasted almonds, walnuts, pecans, pistachios, or any other favorite nuts/seeds would be delicious options too.
Everyday dressing: See below!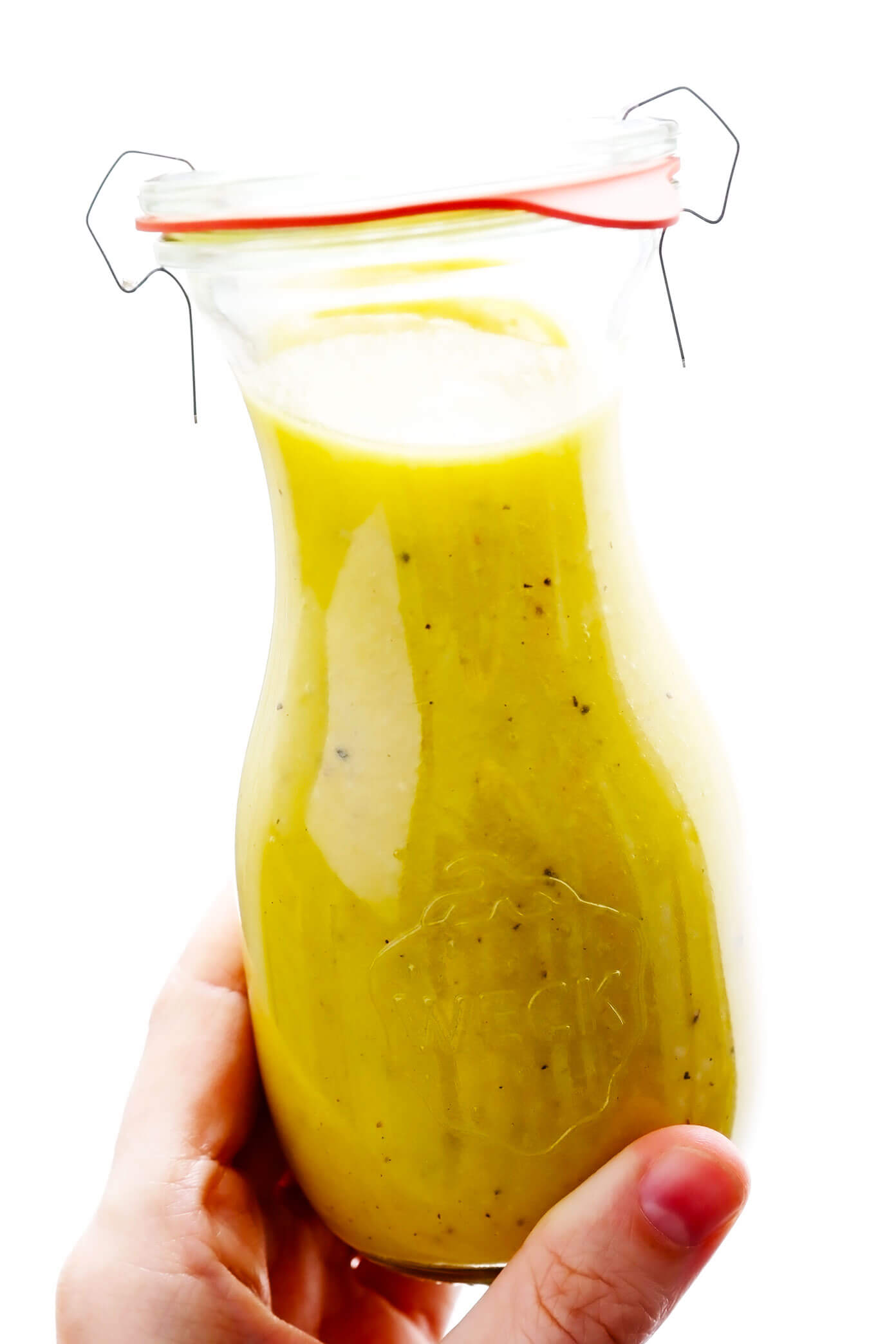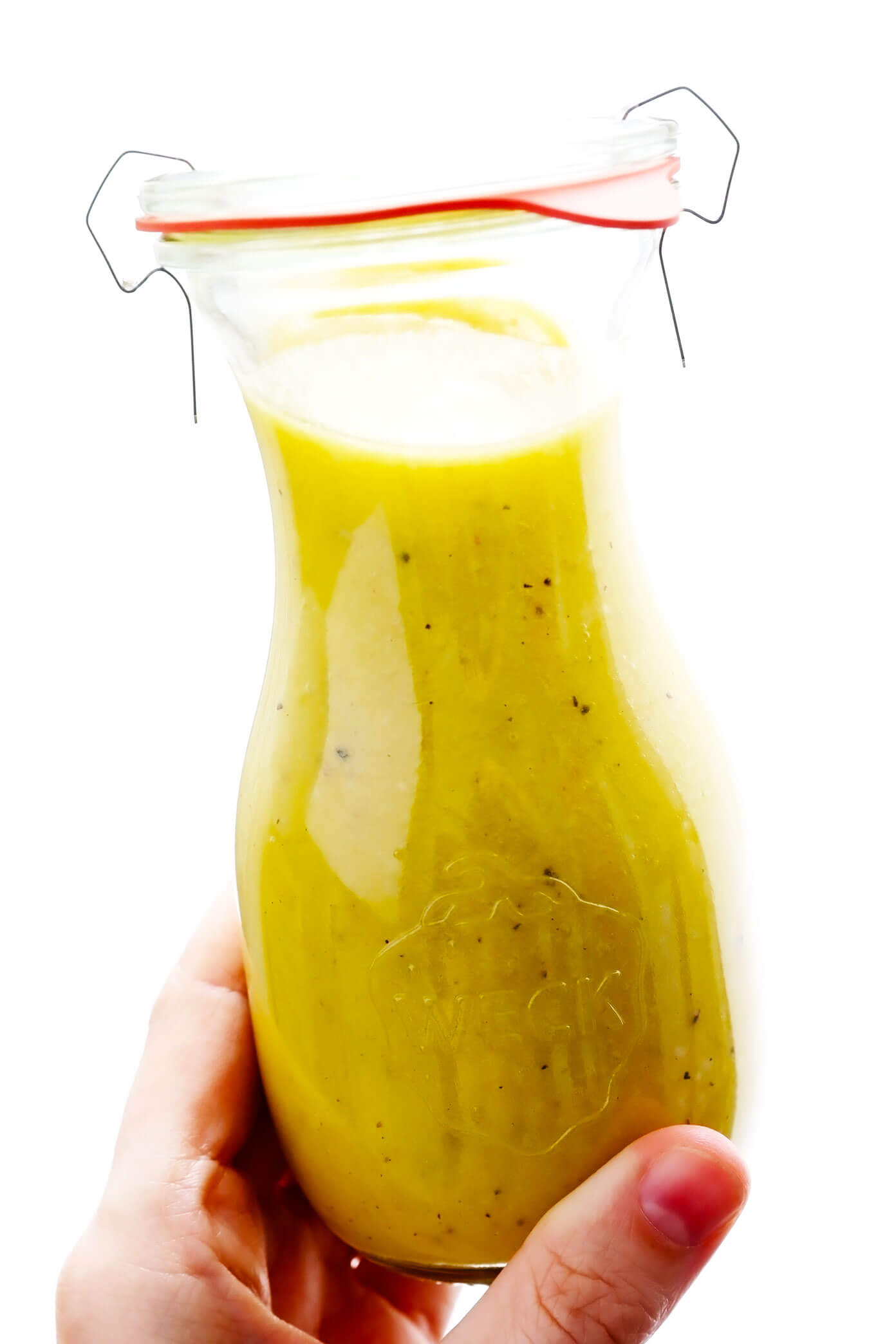 Everyday Salad Dressing Ingredients:
So many of you have made and loved my "everyday" salad dressing recipe over the past few years that I've since created a separate recipe post completely devoted to it if you would like to read more. ♡ But it's basically just a great all-purpose salad dressing that comes together in minutes and goes with just about everything! To make it, you will need the following salad dressing ingredients:
Olive oil: As always, I recommend using good-quality extra virgin olive oil when it comes to salad dressing recipes, since its flavor will really shine through.
Lemon juice (or vinegar): We usually use freshly-squeezed lemon juice for this dressing. But if you don't happen to have any fresh lemons on hand, you can sub in red wine vinegar instead.
Dijon mustard: Which just adds some subtle flavor here and helps to round all of the flavors out. (Don't worry, it won't make it taste too mustard-y!)
Garlic: I prefer to use minced or pressed fresh garlic in this dressing, but you can also sub in garlic powder if you prefer.
Salt and black pepper: And finally, we will use fine sea salt and freshly-cracked black pepper to season the dressing.
*The recipe included below makes a small amount of salad dressing, which we find works great with the portions listed in the recipes. But some readers prefer to double the amount of dressing, or you can make a considerably larger batch (as shown in the photo above) if you would like to have some pre-made salad dressing ready to go in the fridge for later in the week.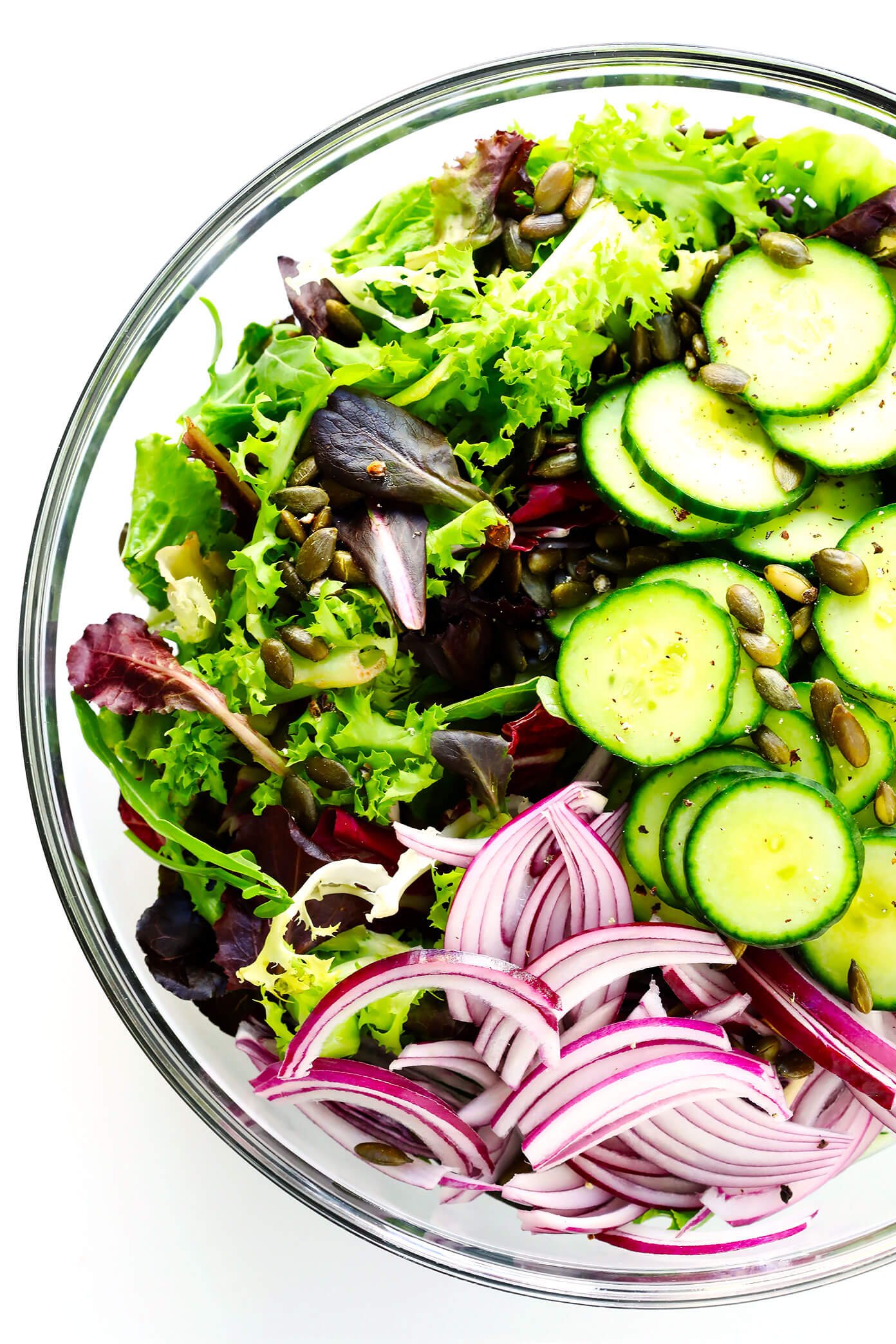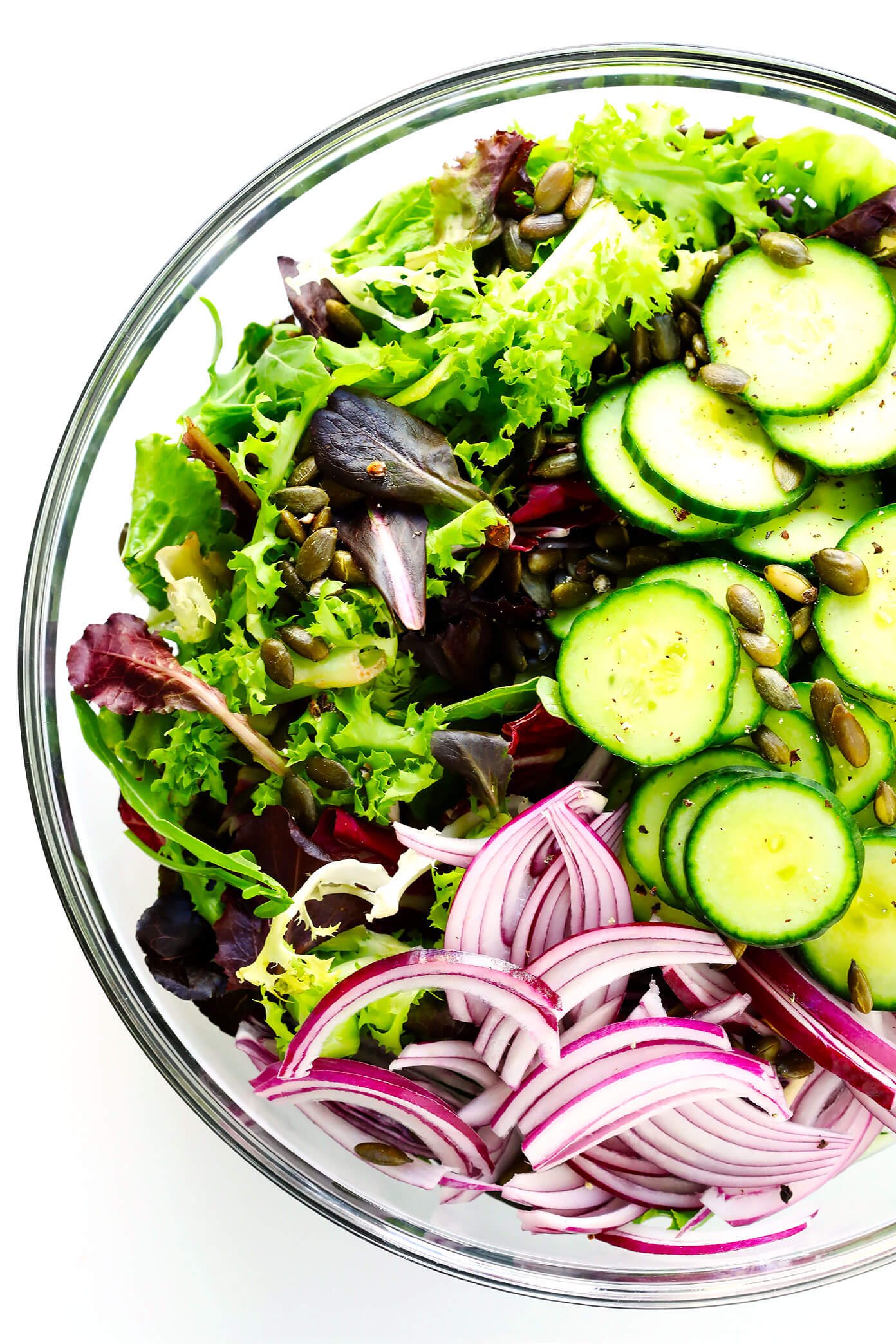 Optional Salad Add-Ins:
Beyond the base ingredients mentioned above, there are all sorts of extra add-ins and variations you can try out with this salad. So please feel free to customize this salad recipe and make it your own!  For example, you could…
Add a protein: Cooked chicken, steak, pork, shrimp, salmon (or other kinds of fish), scallops, or tofu would all be delicious additions to this salad.
Add cheese: A variety of hard cheeses (such as shaved Parmesan, Pecorino, or Manchego), soft crumbled cheeses (such as goat cheese, feta, or gorgonzola), or soft mozzarellas (such as burrata or mini mozzarella) would all be delicious in this salad too.
Add extra fresh veggies: In addition to (or in place of) the sliced English cucumbers, feel free to add in any other fresh veggies that you love, such as sliced bell peppers, carrots, radishes, celery, corn, etc.
Add jarred veggies or olives: Feel free to also toss in any jarred veggies that you love, such as roasted red peppers, marinated artichokes, pepperoncini peppers, or olives.
Add tomatoes: Fresh or sun-dried tomatoes would also be delicious in this salad.
Add beans: And of course, you're also welcome to add in any beans for extra protein too, such as chickpeas, lentils, white beans, or red kidney beans.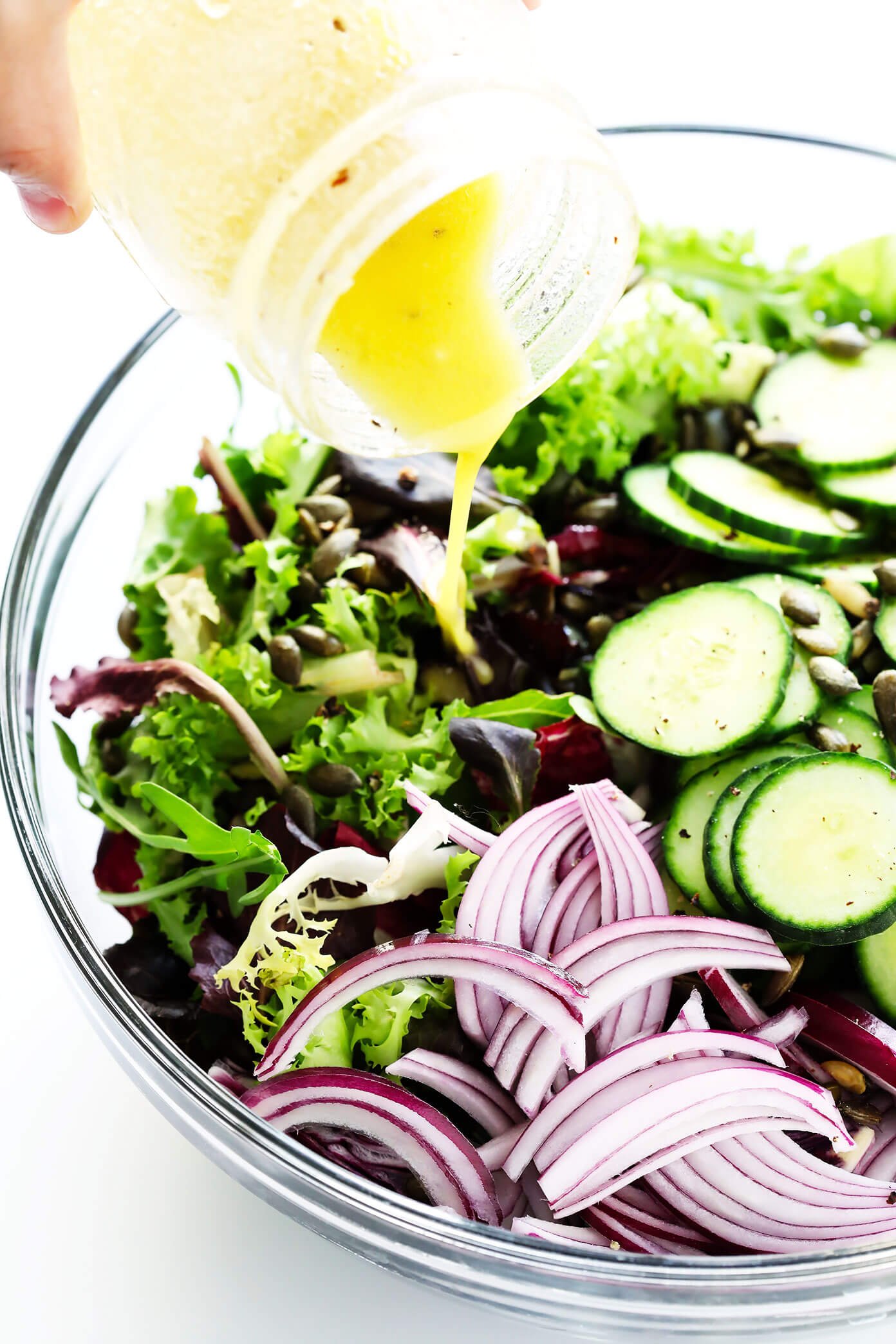 More Side Salad Recipes:
If you're looking for more side salad inspiration, check out the rest of our simple "everyday" salad recipe collection, which includes simple recipes for Kale Salad, Italian Salad, Mexican Salad, Mediterranean Salad, and Sesame Slaw. Or feel free to check out some of our readers' other favorite green salad recipes, including…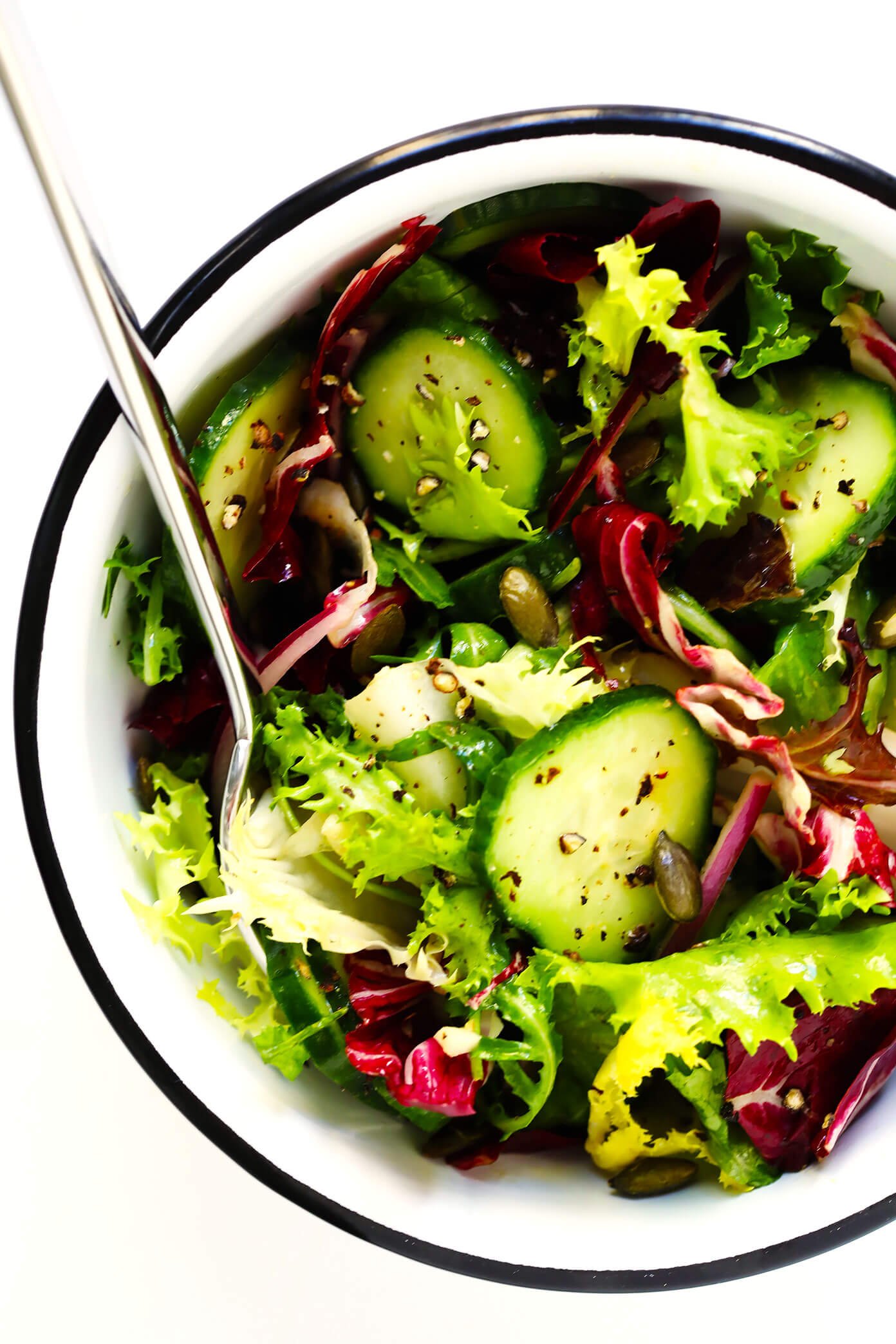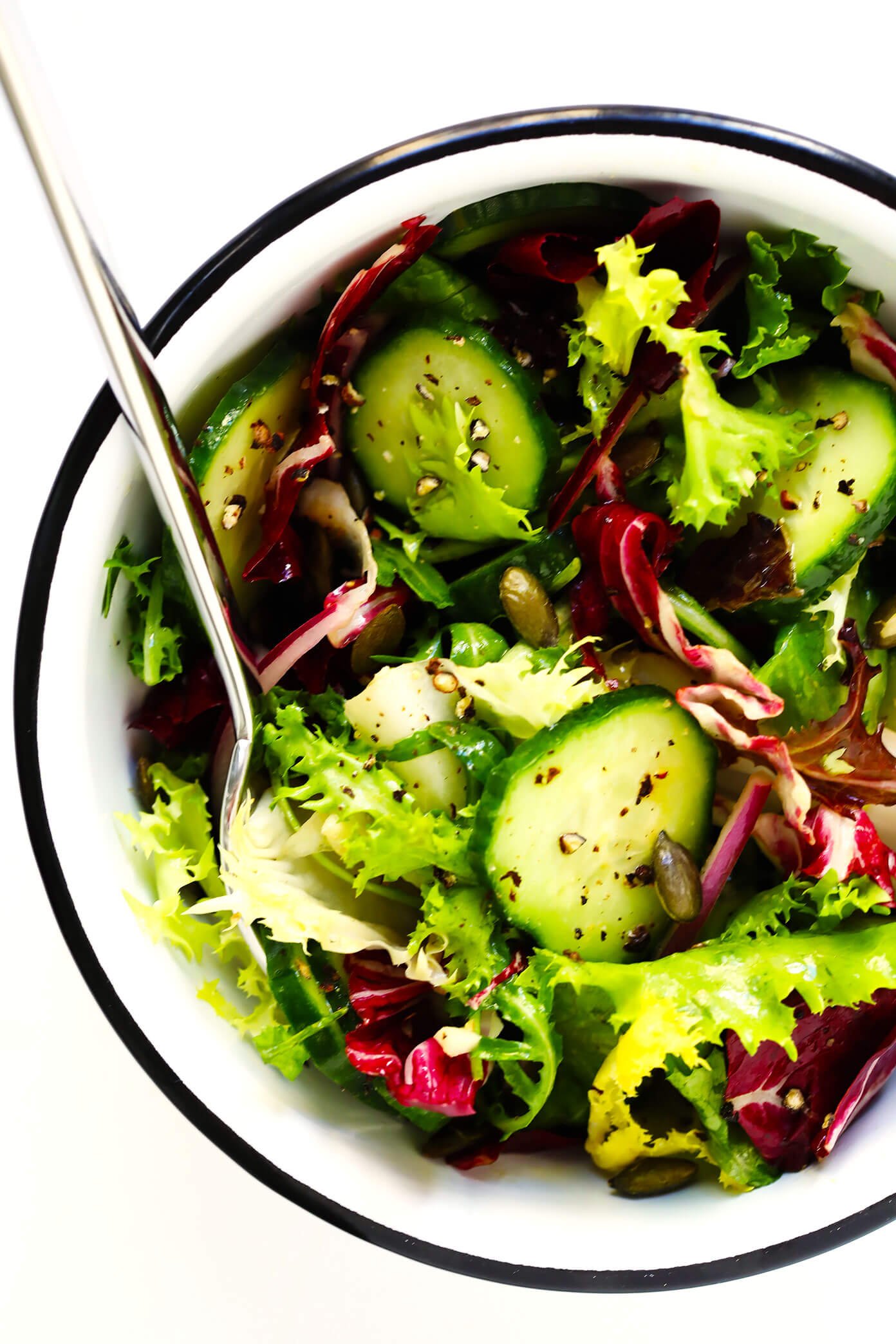 ---
Description
My favorite "everyday" salad recipe is quick and easy to make, tossed with a simple and delicious lemony dressing, and so versatile that it goes with just about everything!
---
Scale
Ingredients
Salad Ingredients:
5 ounce

s spring greens mix (or any salad greens you prefer)

half of an

English cucumber, very thinly sliced

half of a

 medium red onion, peeled and very thinly sliced

1/2 cup

pepitas or toasted pine nuts (or any other nuts or seeds you prefer)
Everyday Salad Dressing Ingredients:
---
Instructions
To Make The Dressing: Whisk all ingredients together in a bowl (or shake together in a mason jar) until combined.
To Make The Salad: Combine all ingredients in a large salad bowl and toss with the dressing until evenly combined.  Serve immediately and enjoy!
---
---