This post may contain affiliate links. Please read my disclosure policy.
This one-pan sautéed green beans recipe is quick and easy to make and tossed with the most irresistible crispy rosemary-garlic-almond bacon breadcrumbs.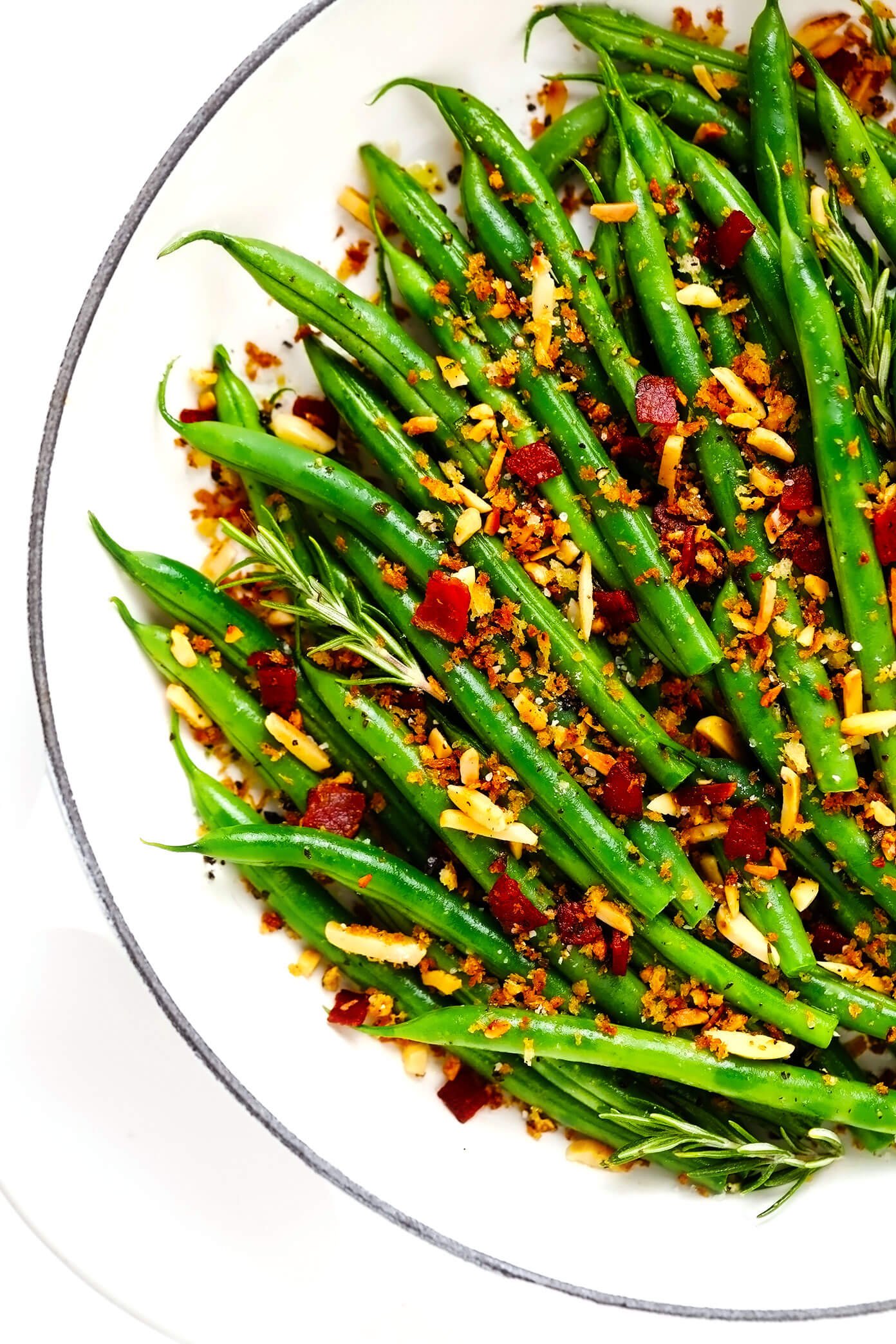 Oh my goodness, you guys…these green beans. ♡♡♡
I've had this recipe idea jotted down on my list of Thanksgiving side dish possibilities for awhile now, and figured they would be pretty tasty with all of these delicious flavors included.  But once I finally gave the recipe a test, they ended up being ten times more delicious (and downright addictive, lookout) than I had even imagined!  Like, so good that I would wager even the most green-bean-suspicious family members around your table may very well end up going back for seconds.
The magic of this recipe is, of course, lies completely in these fabulous bacon breadcrumbs.  They are sautéed with bacon grease, garlic, almonds, rosemary, and crispy panko breadcrumbs until they are golden brown and toasted.  And then once tossed with crispy bacon and sprinkled over crisp-tender green beans, the combination of all of those savory ingredients tastes like a batch made in vegetable side dish heaven.
The great news, too, is that this recipe is quick and easy to make and requires just one pan…which is always a bonus when you happen to be juggling space with multiple recipes around the holidays.  It's also easy to make gluten-free if you would like.  And if you fall in love with these bacon breadcrumbs, as I'm pretty certain you will, you could also totally use this recipe with any other veggies that you love too (such as Brussels sprouts, asparagus, potatoes, cauliflower, you name it).
Bottom line, this green beans recipe is a total winner and would be a great option for your winter and holiday menus this year.  So let's make some green beans together!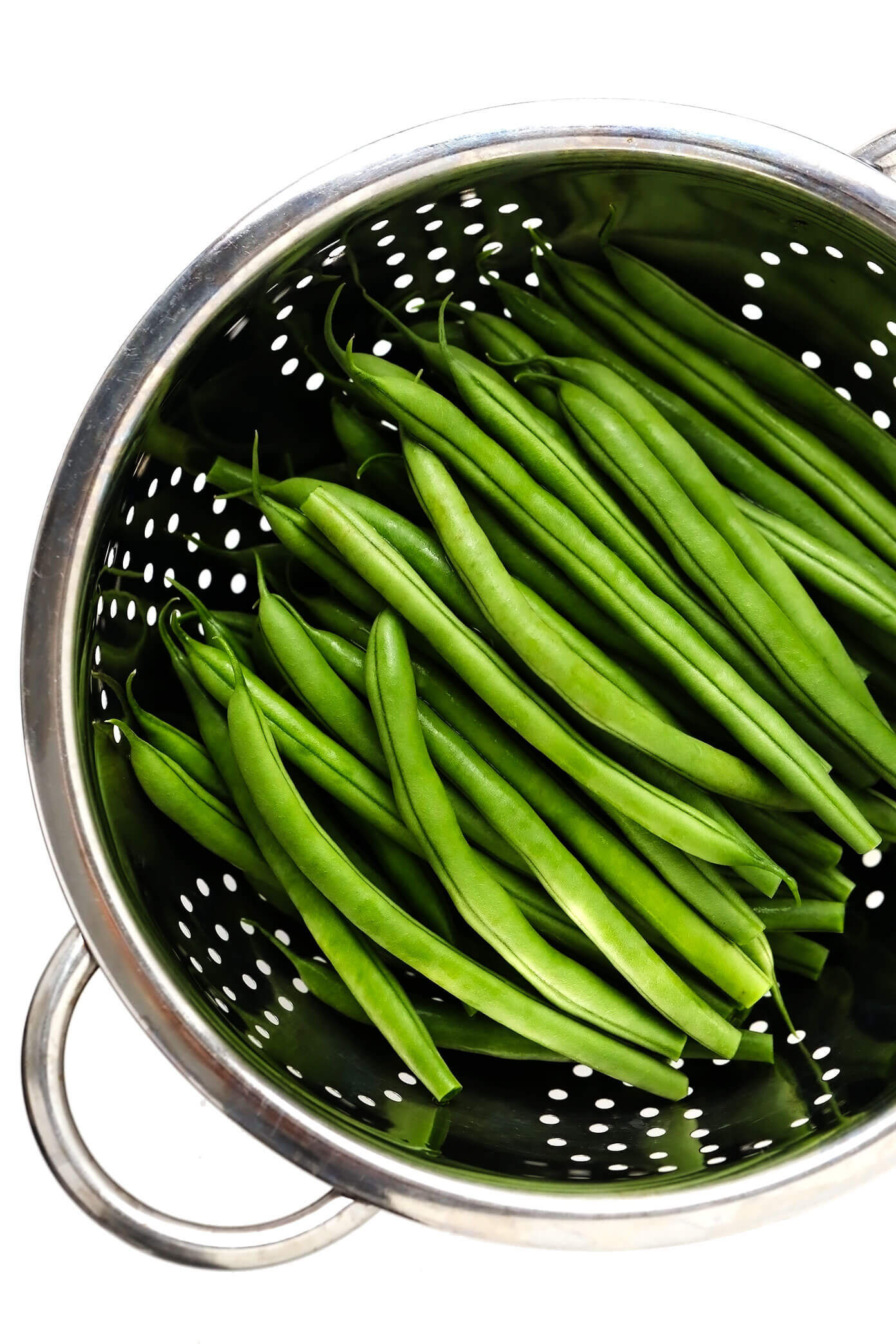 Green Beans with Bacon Breadcrumbs Ingredients:
Before we get to the full recipe below, here are a few notes about the ingredients you will need to make these green beans with bacon:
Fresh green beans: This recipe calls for fresh green beans (any variety of long, thin, fresh green beans will work), whose root ends you will need to trim off and discard before cooking.  I also love the look of the serving the green beans in long strands, but feel free to chop your green beans into smaller bite-sized pieces if you prefer.
Bacon: Which we will finely dice and fry until crispy, and then use the leftover bacon grease to sauté the breadcrumb mixture and the green beans.
Garlic: I loved making the breadcrumb mixture quite garlicky, but feel free to reduce the amount of garlic if you would prefer a less-intense garlic flavor.
Almonds: I opted to use slivered almonds, but sliced or finely-chopped almonds would work well too.
Panko breadcrumbs: I recommend using Panko breadcrumbs for optimum crispiness, but any breadcrumbs that you have on hand should also work.  (You are also welcome to make your own homemade breadcrumbs or use gluten-free breadcrumbs if you prefer.)
Fresh rosemary: Finally, we'll use a tablespoon or so of finely-chopped fresh rosemary to add an earthy herb note to the breadcrumb mixture.  (If you don't have fresh rosemary on hand, you can substitute a teaspoon or so of dried rosemary.)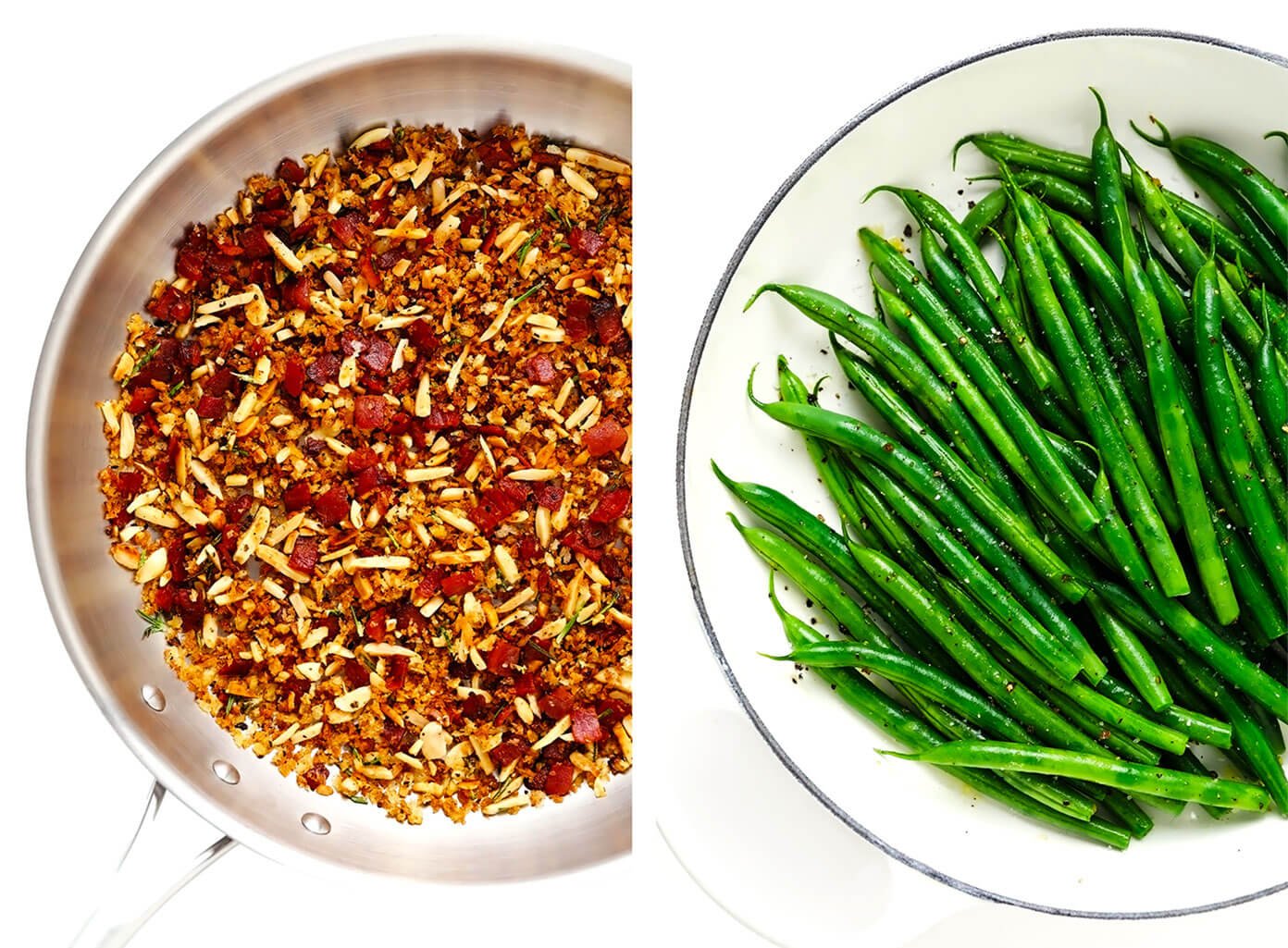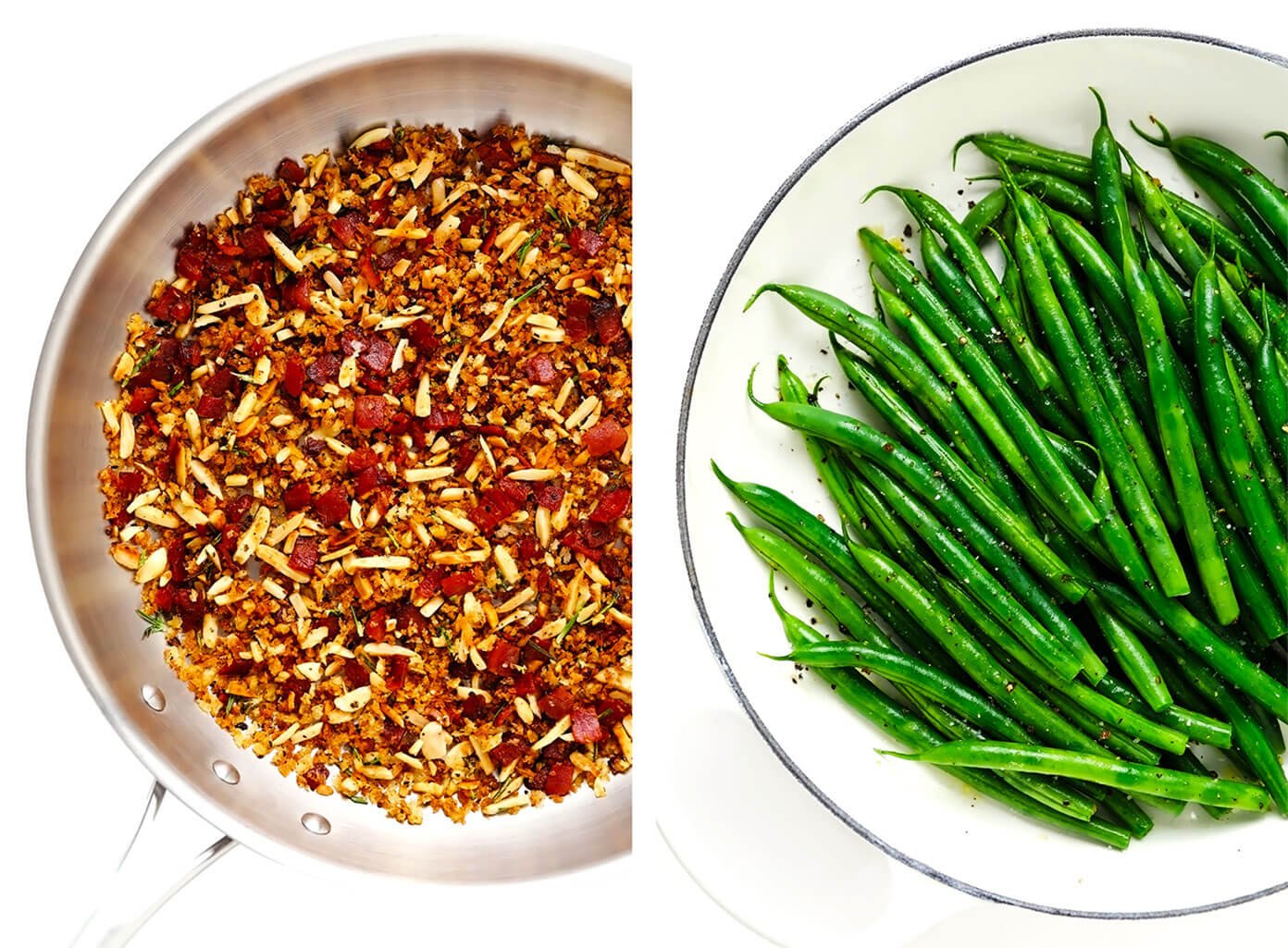 How To Cook Green Beans with Bacon Breadcrumbs:
Detailed instructions are included in the full recipe below, but here's a quick overview for how to cook these green beans with bacon…
Fry the bacon. First up, we will dice the bacon and fry it in a sauté pan (it's always best to start with a cold pan and then heat the bacon along with the pan) until crispy.  Then we will set the bacon aside, along with a tablespoon of grease for later, and leave the remaining grease in the pan to sauté the breadcrumbs.
Sauté the breadcrumb mixture. Next, we'll sauté the garlic, almonds, Panko, rosemary, salt and pepper together until the breadcrumbs are crispy and golden brown, and then combine the mixture with the cooked bacon and set it aside for later.
Steam-sauté the green beans. Using the same sauté pan (just briefly wipe it down to remove any remaining breadcrumbs), add the green beans along with 1/3 cup of water and a pinch of salt.  Cover and cook (steam) for about 5 minutes until the beans are nearly tender.  Remove the lid and continue cooking until the water has evaporated.  (Thanks to Pam Anderson for this easy steaming method that doesn't require an extra pan!)
Season the green beans.Then toss the beans with the remaining tablespoon of bacon grease (or butter) and season with salt and pepper.
Serve. You can either then toss the beans with the breadcrumb mixture in the pan, or transfer the beans to a serving plate and sprinkle the breadcrumb mixture on top, serve and enjoy!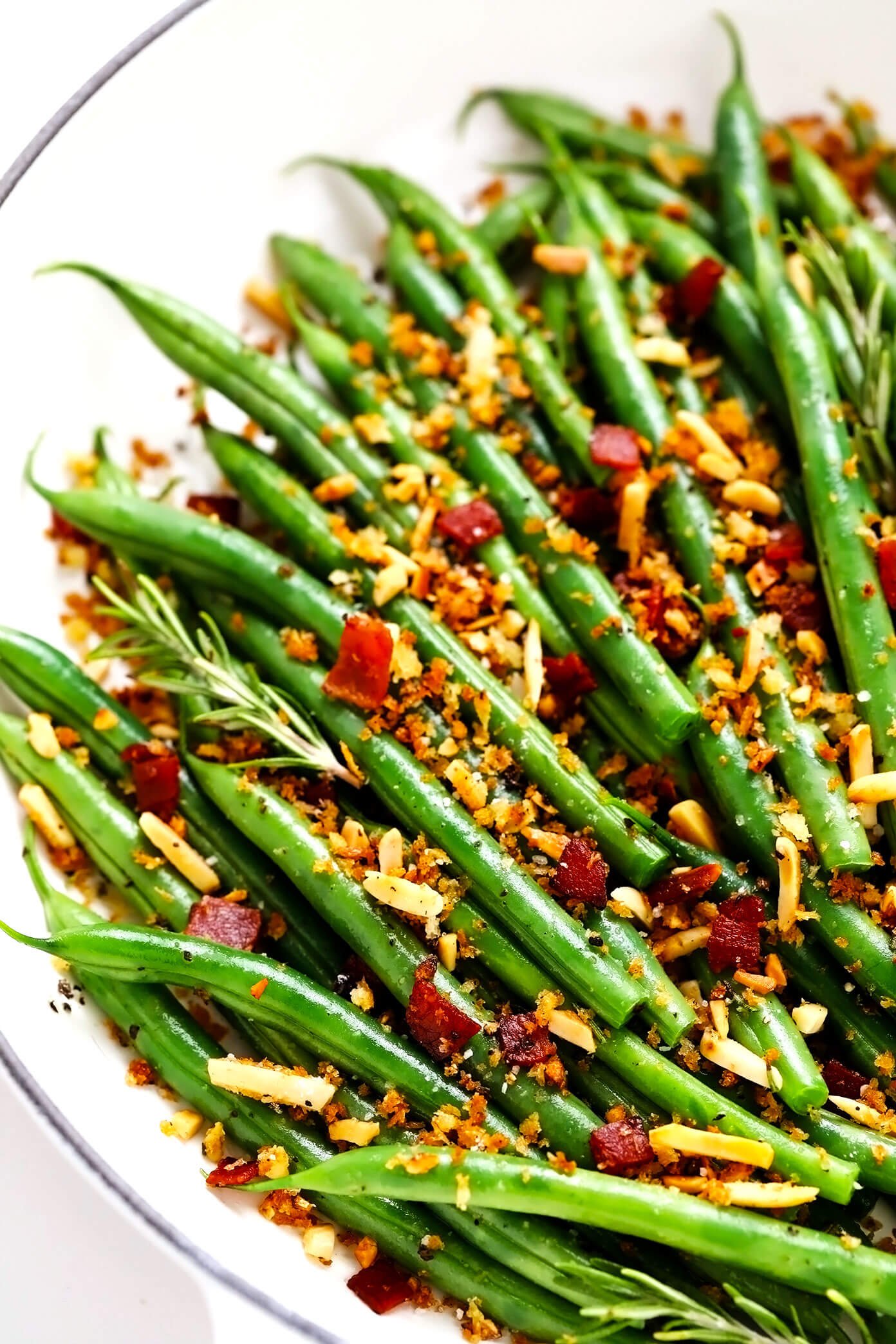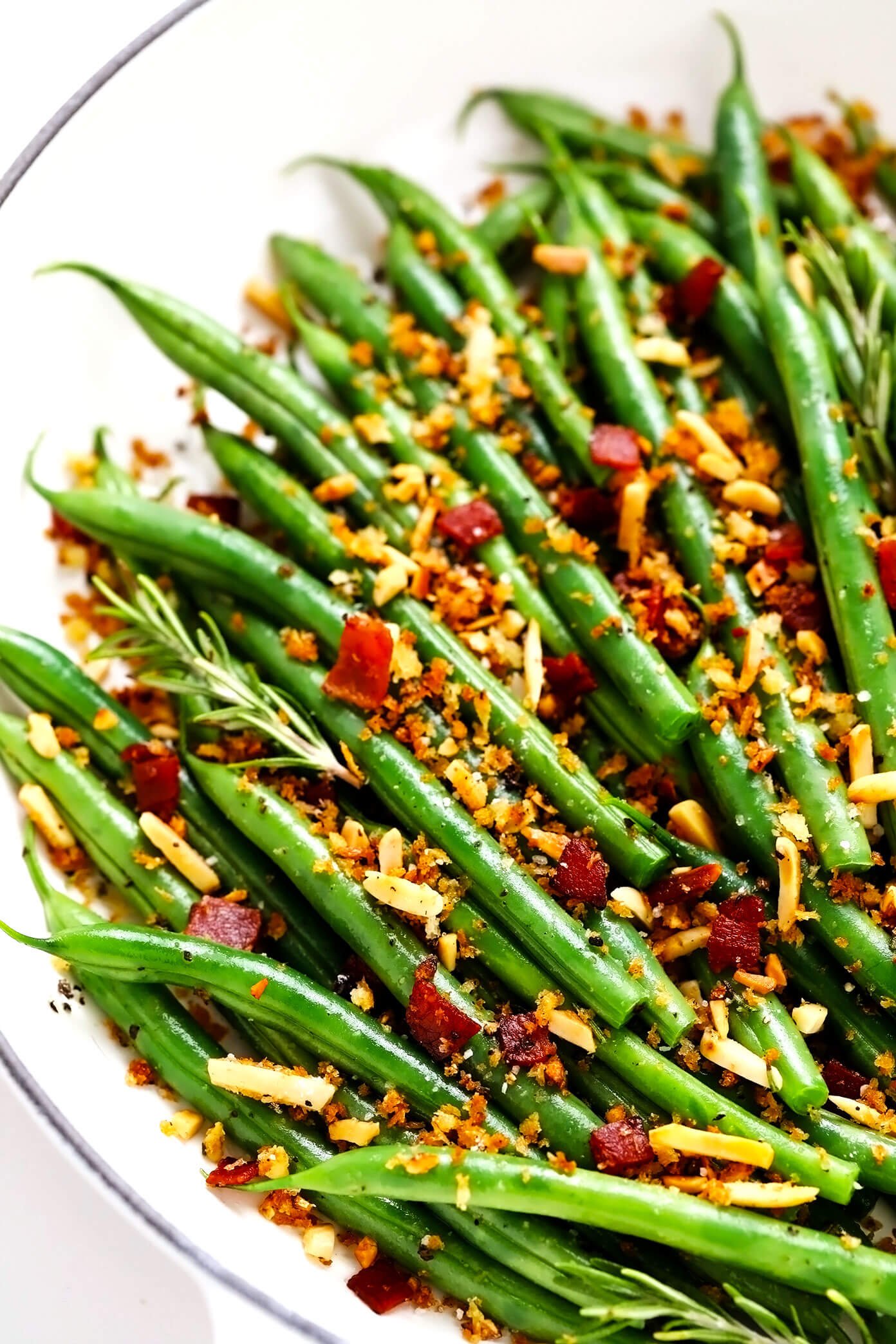 Possible Recipe Variations:
If you would like to customize this green beans recipe a bit, you are welcome to…
Roast or steam the green beans: The green beans in this recipe can be cooked however you prefer!  If you don't love the sauté-steam method, you can opt to instead use roasted green beans or cook them in a steamer basket instead.
Use different veggies: The recipe for these bacon breadcrumbs would also be awesome tossed with roasted Brussels sprouts, asparagus, cauliflower, sweet potatoes…you name it.  The options are pretty limitless, so have fun with the recipe!
Use different nuts: The breadcrumbs would also be delicious tossed with chopped pecans, walnuts, pine nuts, hazelnuts, pepitas, or whatever other kinds of nuts might sound good.  (Just note that the cooking time for different types of nuts may vary slightly, so keep an eye on them.)
Use different herbs: Feel free to also add or sub in any other fresh herbs with the breadcrumbs that sound good to you.  For example, fresh sage or tarragon would also be delicious.  Or if you don't happen to have any fresh herbs on hand, you can add in a teaspoon or so of dried herbs, or just omit the herbs altogether.  (The garlicky-bacon seasoning on the breadcrumbs will still be plenty flavorful.)
Use gluten-free breadcrumbs: To make this recipe gluten-free, feel free to either use store-bought gluten-free breadcrumbs.  Or you could also just blitz some gluten-free bread in a food processor and make your own.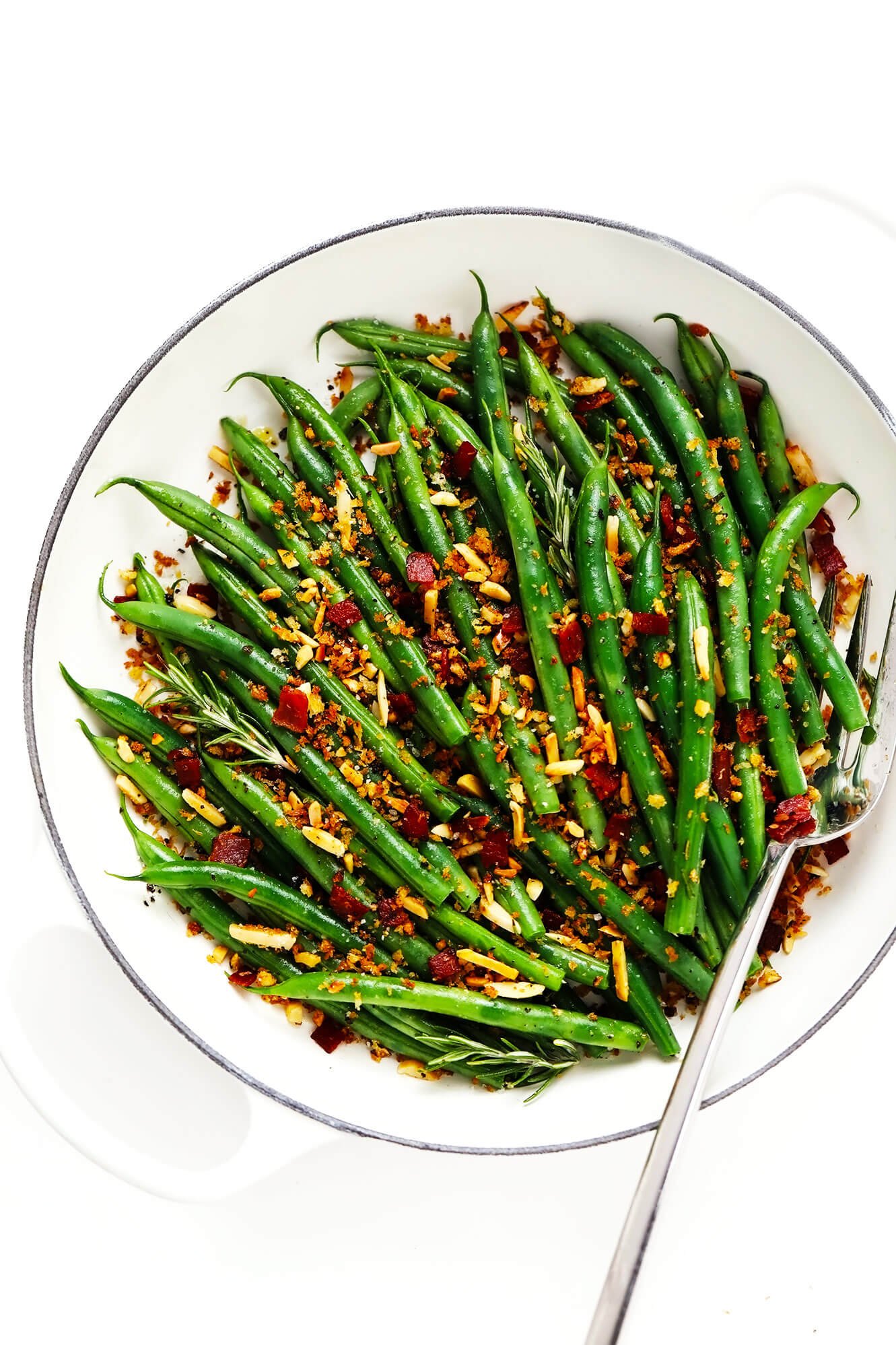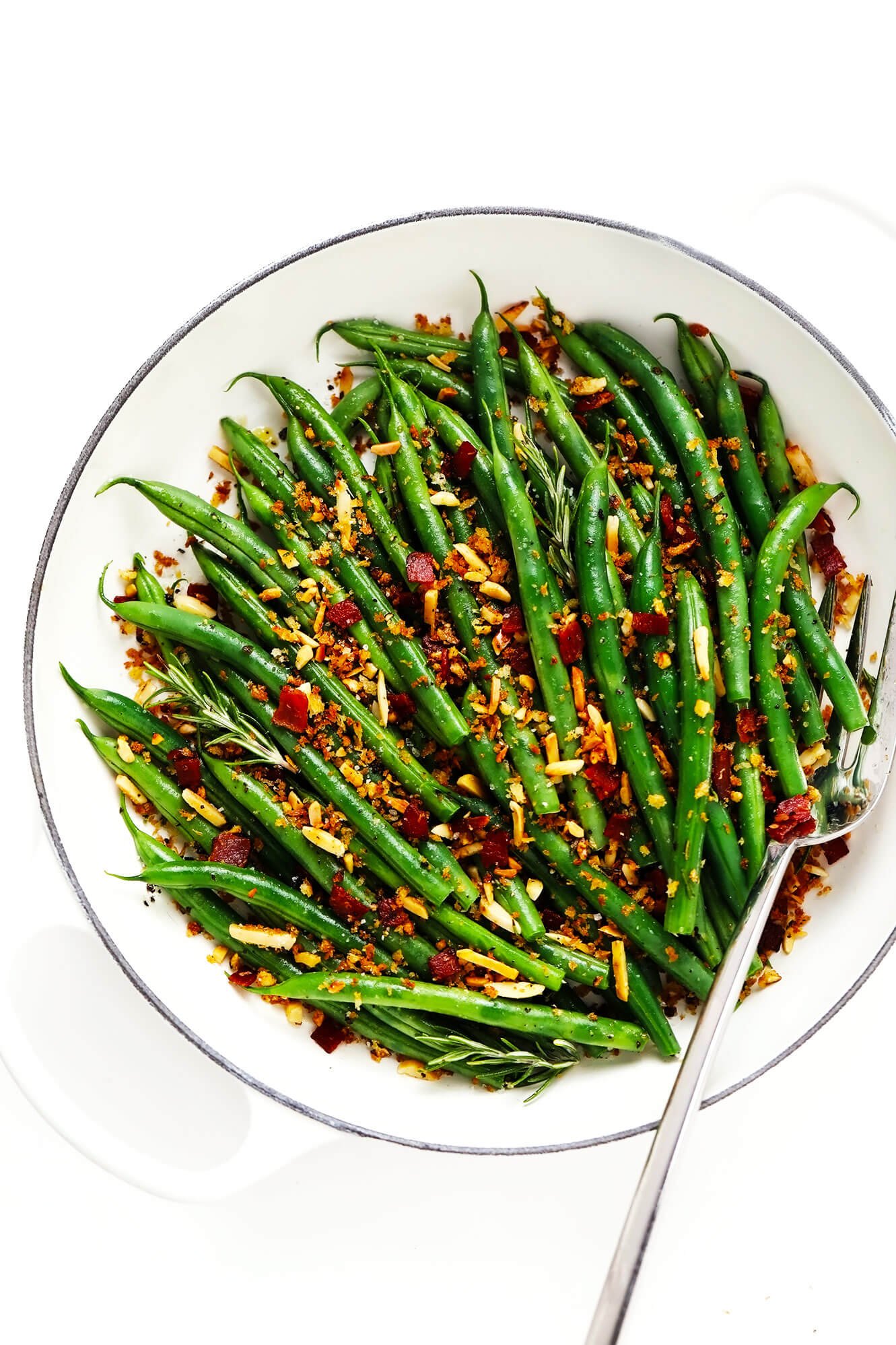 More Favorite Vegetable Side Dishes:
Looking for more awesome vegetable side dishes?  Here are a few of my faves!
---
Description
This one-pan sautéed green beans recipe is quick and easy to make and tossed with the most irresistible rosemary bacon breadcrumbs.
---
---
Instructions
Fry the bacon. In a large sauté pan (one that has an accompanying lid, or see alternatives below*), add the bacon.  Turn the heat to medium and cook, stirring occasionally, until the bacon reaches your desired level of crispiness.  Transfer the cooked bacon to a clean bowl and set aside.  There should be around 2 to 3 tablespoons of bacon grease remaining in the pan — scoop out 1 tablespoon to reserve for later in the recipe, and leave the rest of the grease in the pan.
Sauté the breadcrumb mixture. Add the garlic and slivered almonds to the pan and sauté for 1 minute, stirring occasionally.  Add in the Panko, rosemary, a pinch of salt and pepper and continue cooking for 4 to 5 minutes, stirring occasionally, until the Panko has turned an even golden color.  Transfer the mixture to the bowl with the bacon and toss to combine.  Give the mixture a quick taste, and season with extra salt and/or pepper if needed.
Steam-sauté the green beans. Briefly wipe any crumbs off of the sauté pan, then return it to the stove and increase the heat to medium-high.  Add the green beans, 1/3 cup water and a pinch of salt to the pan and give the green beans a quick toss.  Cover the pan securely with a lid and continue cooking the green beans until steam begins to seep out from the lid, then set the timer and continue cooking (steaming) the beans for 5 minutes.  Remove the lid and continue cooking for 1 to 2 minutes, stirring occasionally, until the remaining liquid has evaporated and the green beans are crisp-tender.  (If the beans reach your desired level of doneness earlier, just drain off the remaining water.)
Season the green beans. Add the reserved 1 tablespoon of bacon grease (or butter) to the pan and toss for 1 minute, until the green beans are evenly coated, and season the green beans with salt and pepper to taste.  Remove pan from heat.
Serve. Transfer half of the green beans to your serving dish and sprinkle evenly with half of the breadcrumb mixture.  Then add the remaining green beans on top, sprinkled with the remaining half of the breadcrumb mixture.  Serve warm and enjoy!
---
---
Notes
Sauté pan options: If you do not own a sauté pan with a lid, you can either cook this recipe in a stockpot with a lid instead.  Or you can use a large baking sheet to cover the sauté pan instead.
Source: I used the steam-sauté method for cooking these green beans developed by Pam Anderson, which is my favorite way to perfectly sauté green beans without needing to use an additional steamer.