This post may contain affiliate links. Please read my disclosure policy.
This quick and easy Green Curry Salmon recipe is made with tender salmon, fresh baby bok choy, and the most delicious Thai-inspired lime coconut green curry sauce.  Ready to go in less than 30 minutes!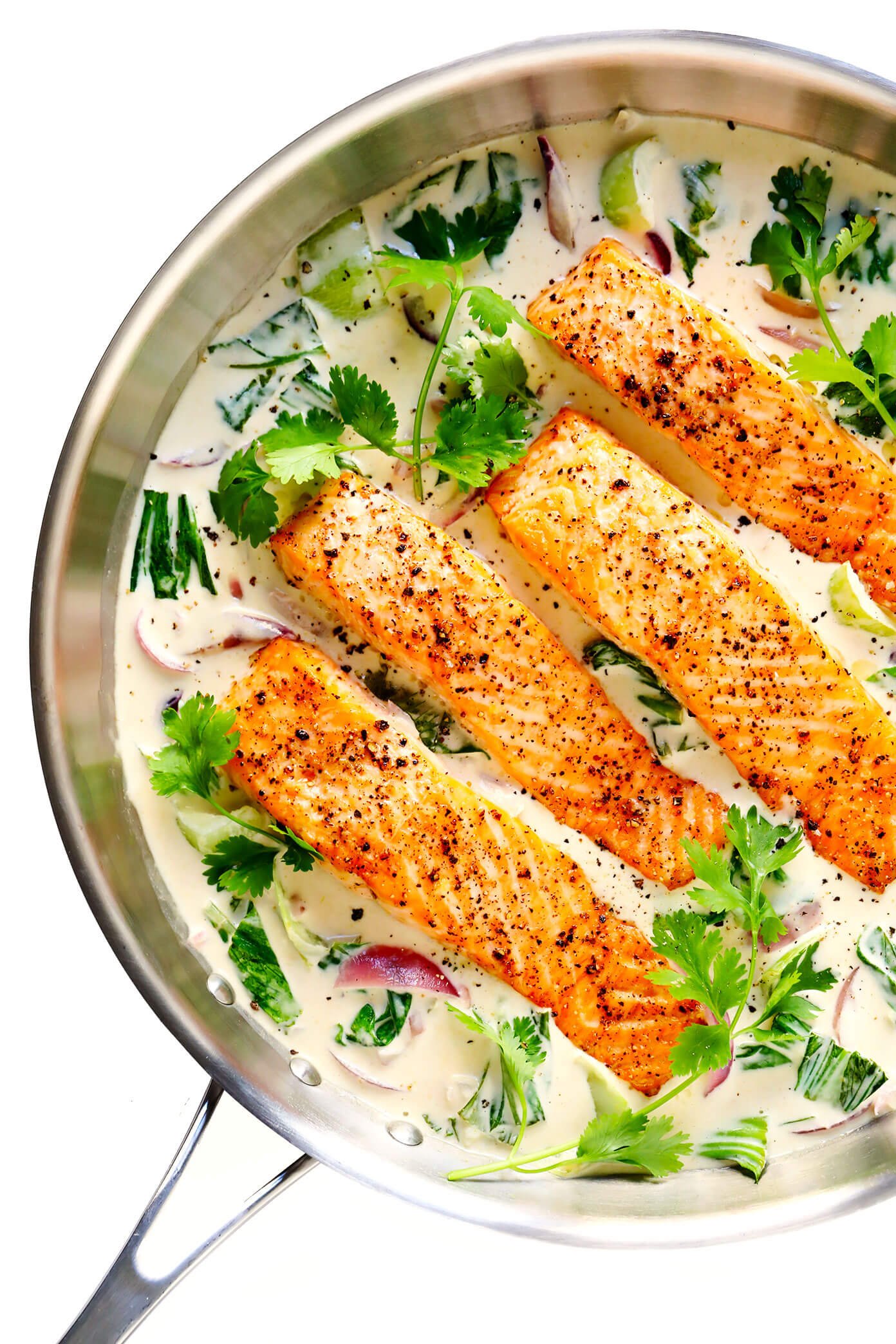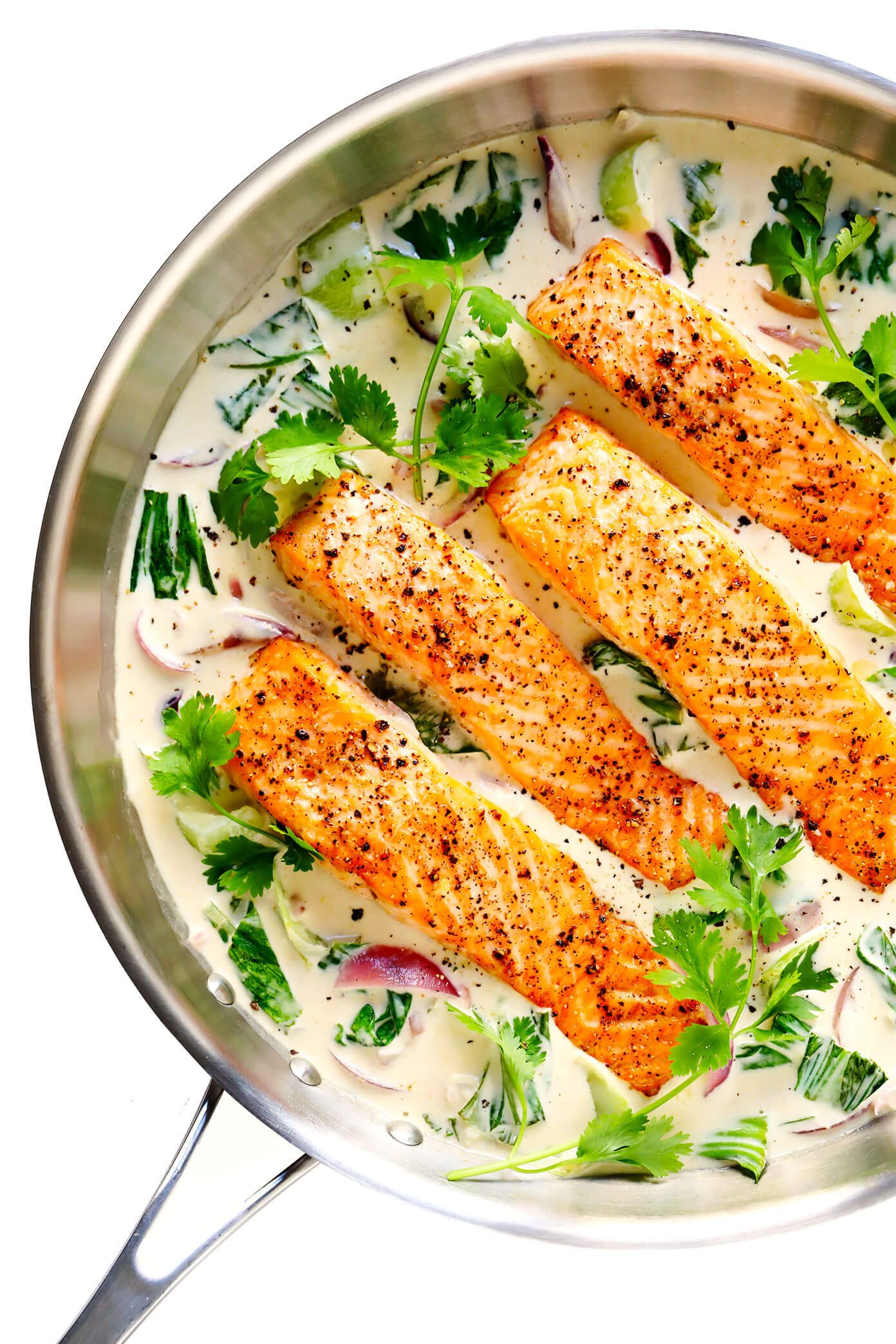 New favorite salmon recipe alert! ♡
We've been making riffs on this green curry salmon recipe all summer long and have agreed that it has now totally earned a permanent spot in our regular dinner rotation.  It's impressively quick and easy to whip up in just a half hour or so.  And oh my goodness, you guys, the coconut-lime green curry sauce we're working with here is downright divine.
Just roast up some salmon filets (or you could opt for shrimp, chicken or tofu), sauté some fresh baby bok choy and red onions (or whatever veggies you happen to have in the crisper drawer), stir in some coconut milk and seasonings to bring together this ultra-fresh, bold and zesty curry sauce.  And then serve it all up over rice or noodles, garnished with lots of fresh cilantro and an extra squeeze of lime juice.  And enjoy every last bite!
We've decided it's the perfect healthy comfort food to start transitioning us all from the cool citrusy flavors of summer cuisine to the warmth and coziness of winter ahead.  So bring home some salmon and give it a try!
Green Curry Salmon Ingredients:
Here are the ingredients you will need to make this Thai-inspired green curry salmon recipe:
Salmon filets: Whatever type of salmon filets you love best.
Veggies: I use a mix of red onion and baby bok choy in the coconut green curry sauce, but feel free to use whatever stir-fry-friendly veggies you love best.
Seasonings: A zesty mix of green curry paste, garlic and fresh ginger (or ground ginger).
Coconut milk: I love using full-fat coconut milk to make this sauce extra-creamy, but you are welcome to use low-fat coconut milk instead if you prefer.
Limes: I recommend going big on the amount of lime juice (and zest) that you use here.  It really brightens up the flavors and makes the sauce taste so fresh!
Cilantro: And finally, I recommend garnishing each serving with lots of chopped fresh cilantro.
Ingredient amounts included in the recipe box below.
How To Make Green Curry Salmon:
To save time, I recommend prepping all of your ingredients while the broiler heats up.  Then I recommend adding the salmon to the oven around the time that you begin sautéing the bok choy, in order for the salmon to finish cooking around the time that the sauce is ready.  If you don't already own a cooking thermometer, I also highly recommend purchasing one to ensure that your salmon is perfectly cooked every time. ♡ Here is a quick overview of the steps to make this salmon curry:
Roast the salmon. Brush your filets with a bit of oil, season with S&P, then roast until cooked.
Sauté the veggies. Meanwhile, sauté the red onion in oil, followed by the chopped bok choy stalks (we'll save the leaves for later), garlic, ginger and curry paste.
Finish the sauce. Next, add in the coconut milk and continue heating the sauce until it almost reaches a simmer.  Then reduce heat to low, stir in the dark green bok choy leaves and lime juice, and season the sauce with extra S&P if needed.
Serve. Serve the salmon, veggies and sauce over rice, garnished with lots of fresh cilantro and an extra lime wedge.  And enjoy!!
Detailed instructions included in the recipe box below.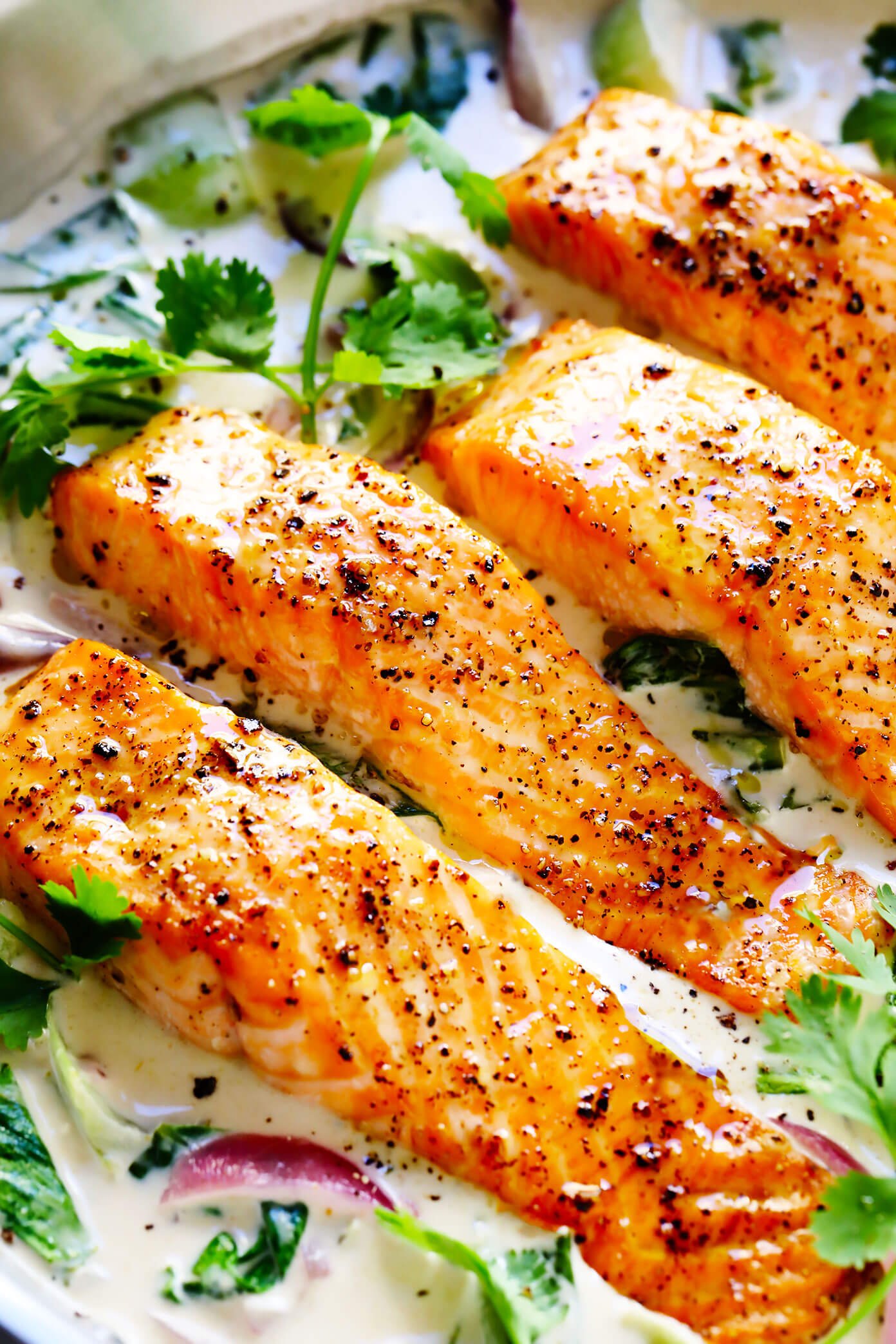 Possible Variations:
Here are a few possible variations to this recipe that you are welcome to consider too!
Pan-sear (instead of roast) the salmon: If you prefer not to heat up the oven, you could opt to pan-sear the salmon in a (separate) non-stick skillet while cooking the coconut curry sauce.
Use a different protein: If salmon isn't your thing, you could sub in a different kind of fish that you prefer.  Or you could opt instead for chicken, steak, shrimp or tofu.
Use different veggies or greens: Just about any stir-fry friendly veggies or greens would work in this recipe in place of (or in addition to) the bok choy and red onions, so feel free to use whatever you have in the crisper drawer!
Make it milder: If you are averse to heat, I recommend starting with just 1 tablespoon of the green curry paste.  Then you can always add more later when you are seasoning the sauce, if you would like.
Make it even spicier: The green curry paste already adds a notable kick to this recipe.  But if you would like to make yours even spicier, feel free to add a few slices of Thai bird chiles or serrano pepper to the coconut curry sauce.
Serve with noodles or bread: This green curry would also be delicious served over rice noodles or with some crusty bread.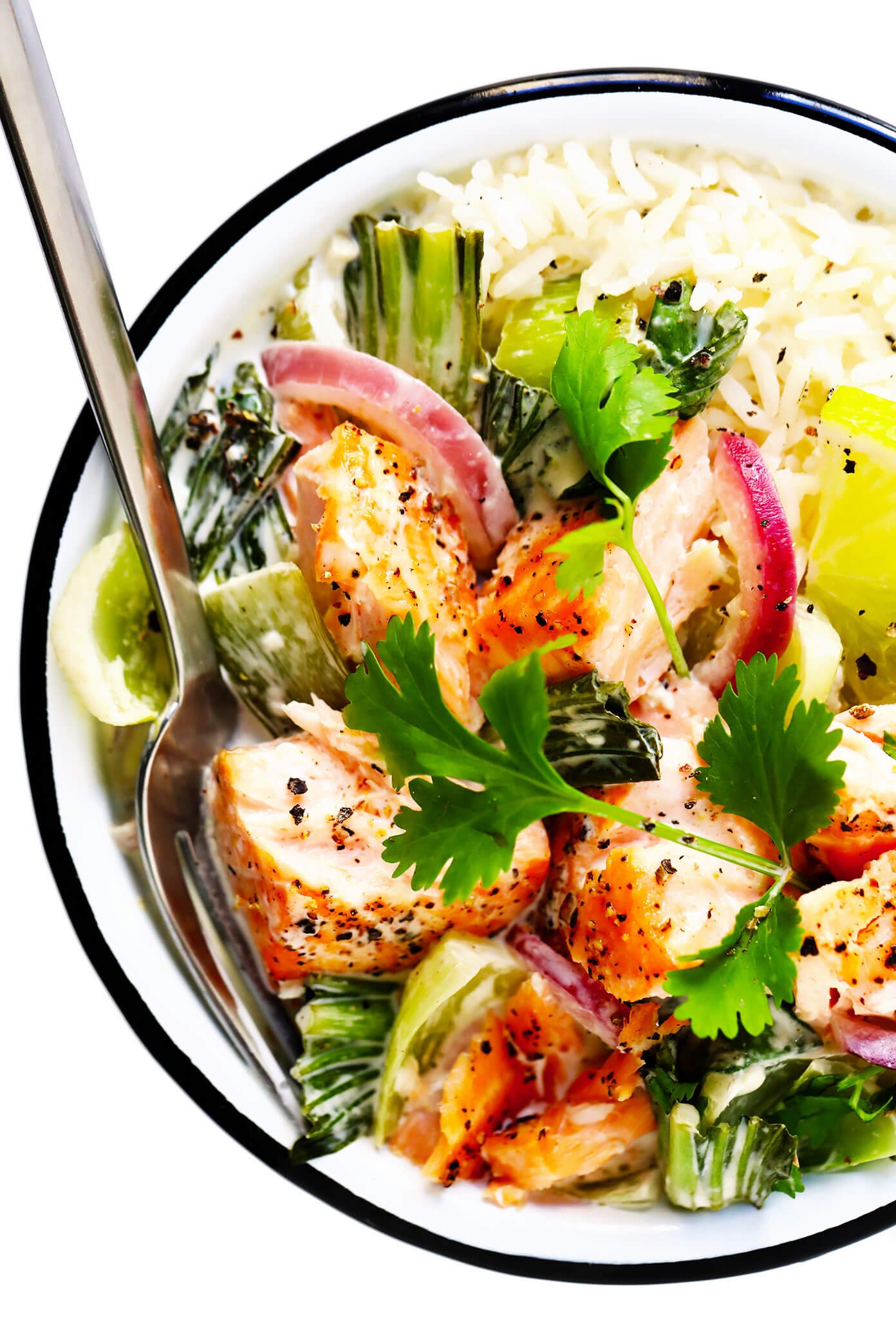 More Favorite Salmon Recipes:
Looking for more easy salmon recipes?  Here are a few of my all-time faves: