This post may contain affiliate links. Please read my disclosure policy.
This Mediterranean grilled halloumi salad is easy to make with pan-grilled halloumi cheese, chewy farro, fresh veggies and herbs, and a zippy lemon dressing. Feel free to add in chicken or shrimp if you'd like, too!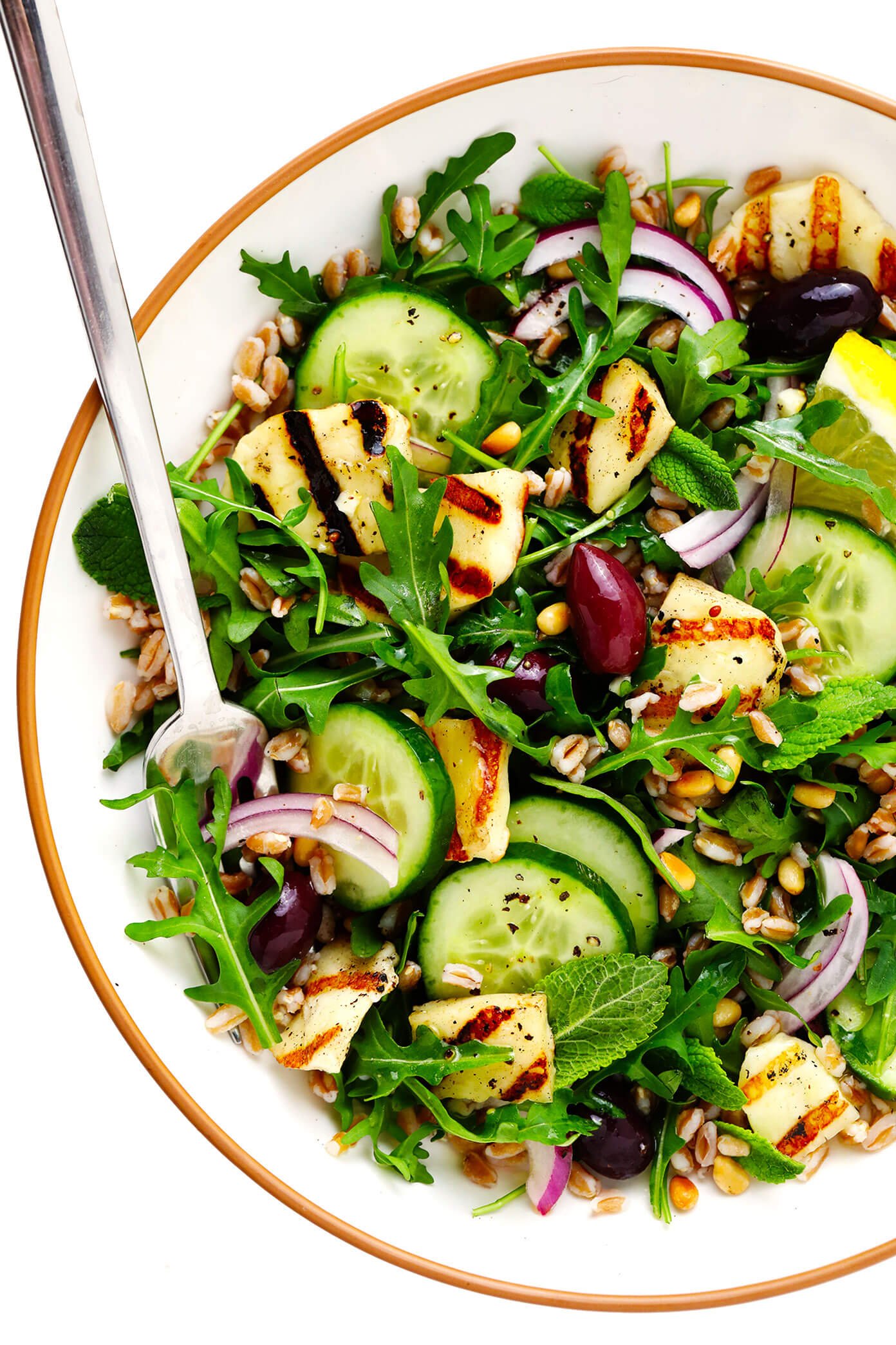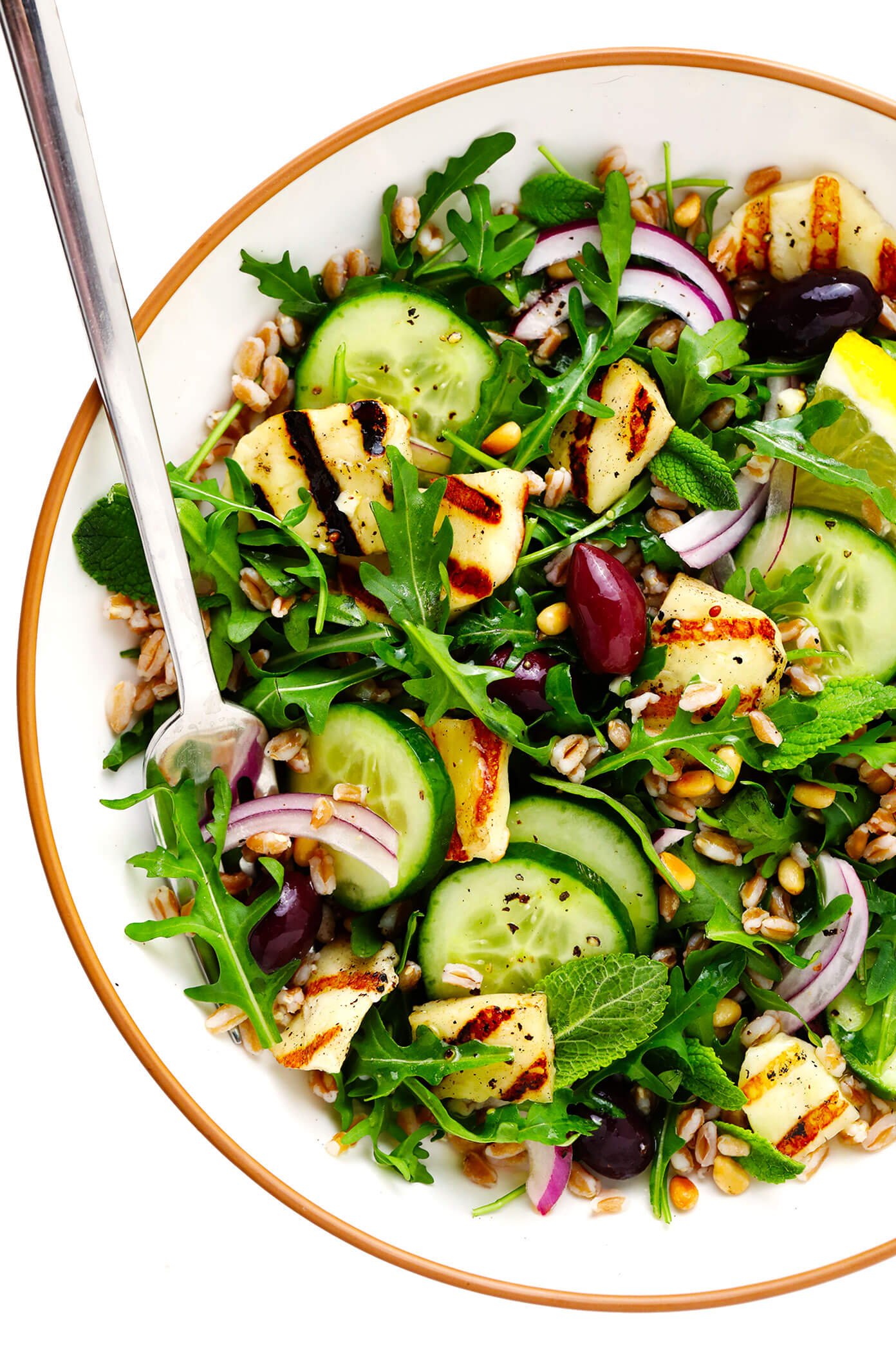 We've been on a grilled halloumi cheese kick here in our house this past year, so I figured it was high time to finally share a few of our favorite halloumi recipes here with you…
…beginning with this vibrant grilled halloumi salad. ♡
It's made with the most delicious blend of fresh and flavorful ingredients inspired by the Mediterranean, including grilled halloumi, cool crisp cucumber, rich Kalamata olives and toasted pine nuts. Then it's brightened up with lots of fresh greens, mint and my favorite zippy lemony dressing, and made extra hearty with some chewy farro added in. When you put everything together, this salad is just downright delicious.
If you're new to working with halloumi cheese, it is super-easy to cook indoors in just a few minutes with a grill pan (or really, any sort of sauté pan), or you're of course welcome to fire up the grill outside if you prefer. Feel free to add in any other extra proteins, veggies, beans, or greens that you might like too. And while I personally love this salad served immediately while the grilled halloumi is still nice and warm, we've also enjoyed this salad for leftovers on more than one occasion and can vouch that it holds up well in the fridge if you would like to prep it in advance. (See my notes on that below.)
Bottom line, if you love grilled cheese and salad, this salad is going to be right up your alley. So pick up some halloumi the next time you're at the market and let's make a batch together!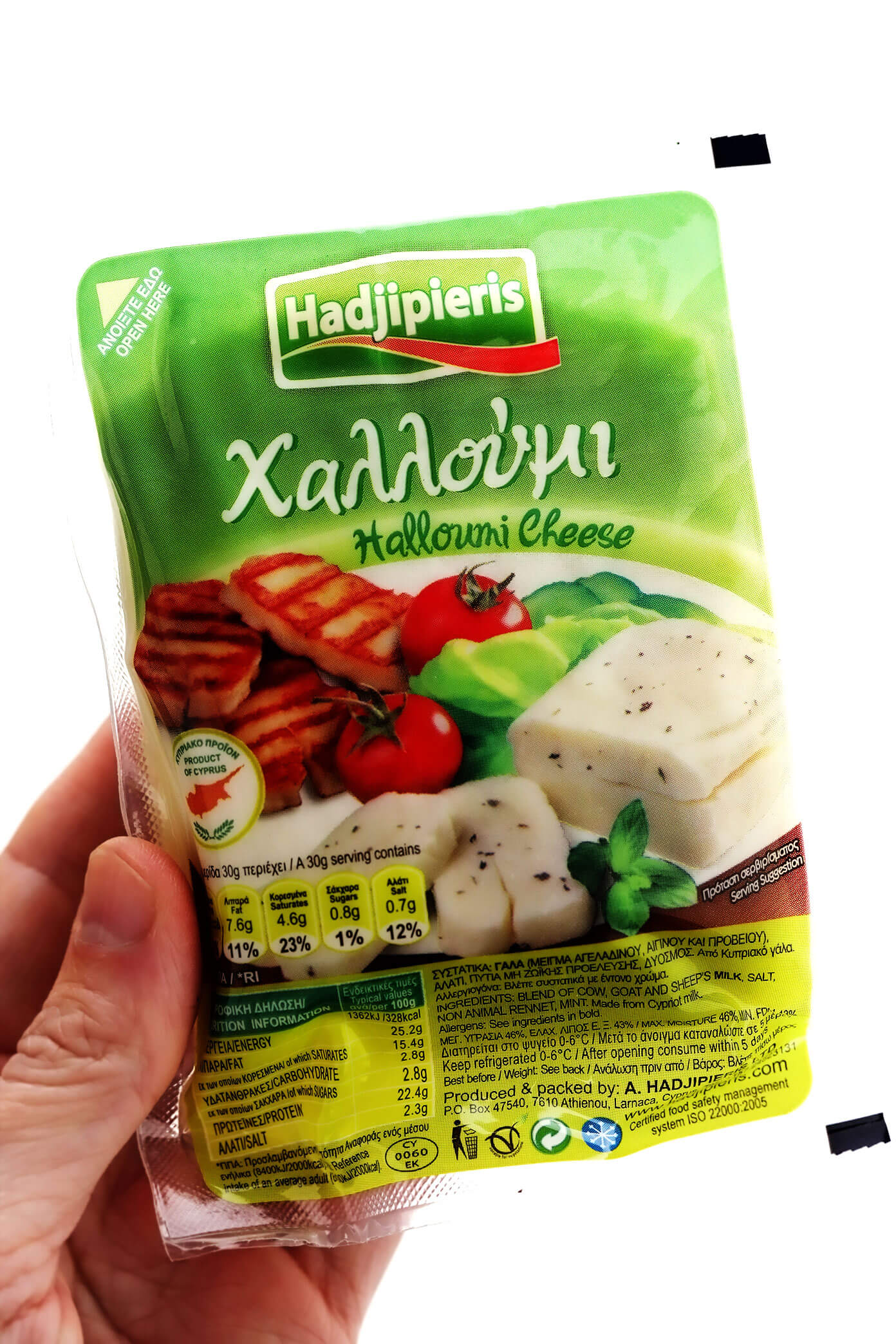 Grilled Halloumi Salad Ingredients
Before we get to the full recipe below, here are the ingredients you will need to make this grilled halloumi salad…
Halloumi: This semi-hard Cypriot cheese, made with goat's and sheep's milk (and sometimes cow's milk), has the most deliciously mellow salty and tangy flavor. And its high melting point makes it perfect for grilling! We typically just cook ours in a grill pan (or any sauté pan will do) with a drizzle of olive oil. But feel free to cook yours outdoors on an actual grill if you prefer.
Farro: I loved the nutty flavor and chewy texture of farro in this salad, which you can cook in either water or vegetable stock (for even richer flavor). Here is my full tutorial for how to cook farro, using either pearled, semi-pearled or whole farro. Or alternately, you are welcome to sub in quinoa, bulgur or orzo pasta instead of farro if you prefer.
Greens: I really love the peppery flavor of baby arugula in this salad, but baby spinach, spring greens, kale, or any other salad greens that you prefer would work well too.
Veggies: I went with a simple mix of thinly-sliced English cucumber and red onions in this salad. But feel free to add in any other favorite veggies that you love best. (See suggestions below.)
Fresh mint: I also highly recommend adding in a generous handful of fresh mint leaves, which add such a delicious burst of fresh flavor to this salad and pair beautifully with the lemony dressing.
Kalamata olives: We love the rich, briny, fruity flavor that Greek Kalamata olives add to this salad. But feel free to add in any other olives that you love best.
Toasted pine nuts: I also adore the buttery toasty flavor that pine nuts contribute here, or we also really enjoy sprinkling this salad with pepitas.
Everyday salad dressing: We also kept things simple and just tossed this salad with our "everyday" dressing — so named because we make this simple lemony dressing on major repeat here in our house! It's quick and easy to make with lemon juice (or red wine vinegar), olive oil, garlic, Dijon, salt and pepper. And I love how it livens up this salad, but doesn't overpower the other ingredients so that the halloumi flavor, especially, can really shine through.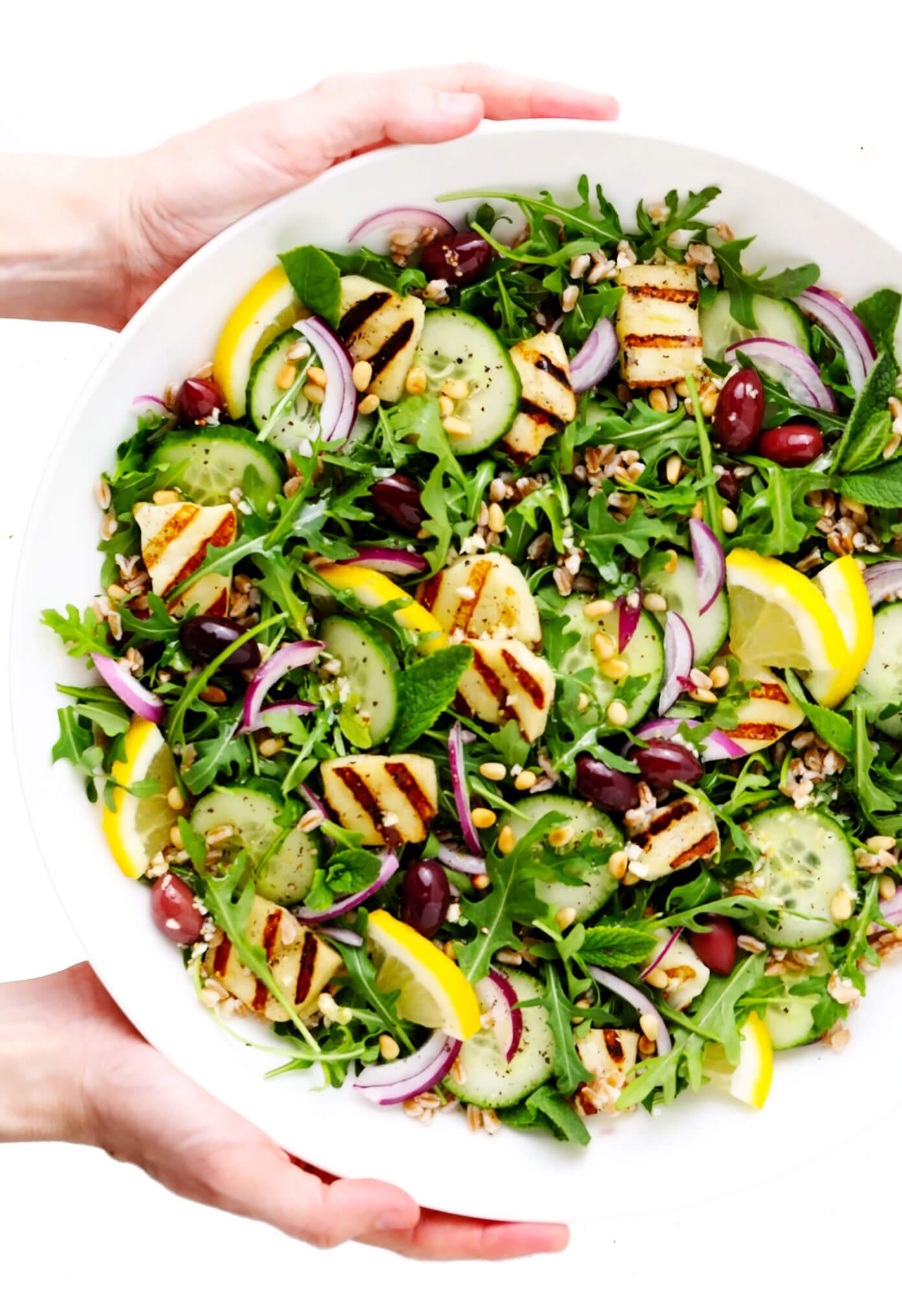 Possible Recipe Variations
As I mentioned above, there are plenty of ways that you can customize this salad to your liking! For example, you are welcome to…
Add a protein: If you would like to add some meat or seafood to this salad, it would be delicious served with cooked chicken, steak, fish, shrimp or scallops.
Add beans: You could also add in some chickpeas, white beans, or kidney beans to add some vegetarian protein.
Add extra veggies: We've also made this salad with different veggies added in, such as thinly-sliced bell pepper, quartered artichoke hearts, sliced radishes, chopped tomatoes (or sun-dried tomato) and/or pepperoncini peppers.
Add capers: If olives aren't your thing but you would still love to add that briny flavor note, capers would be a delicious alternative.
Make it gluten-free: To make this salad gluten-free, replace the farro with a gluten-free grain (such as quinoa), rice or gluten-free orzo.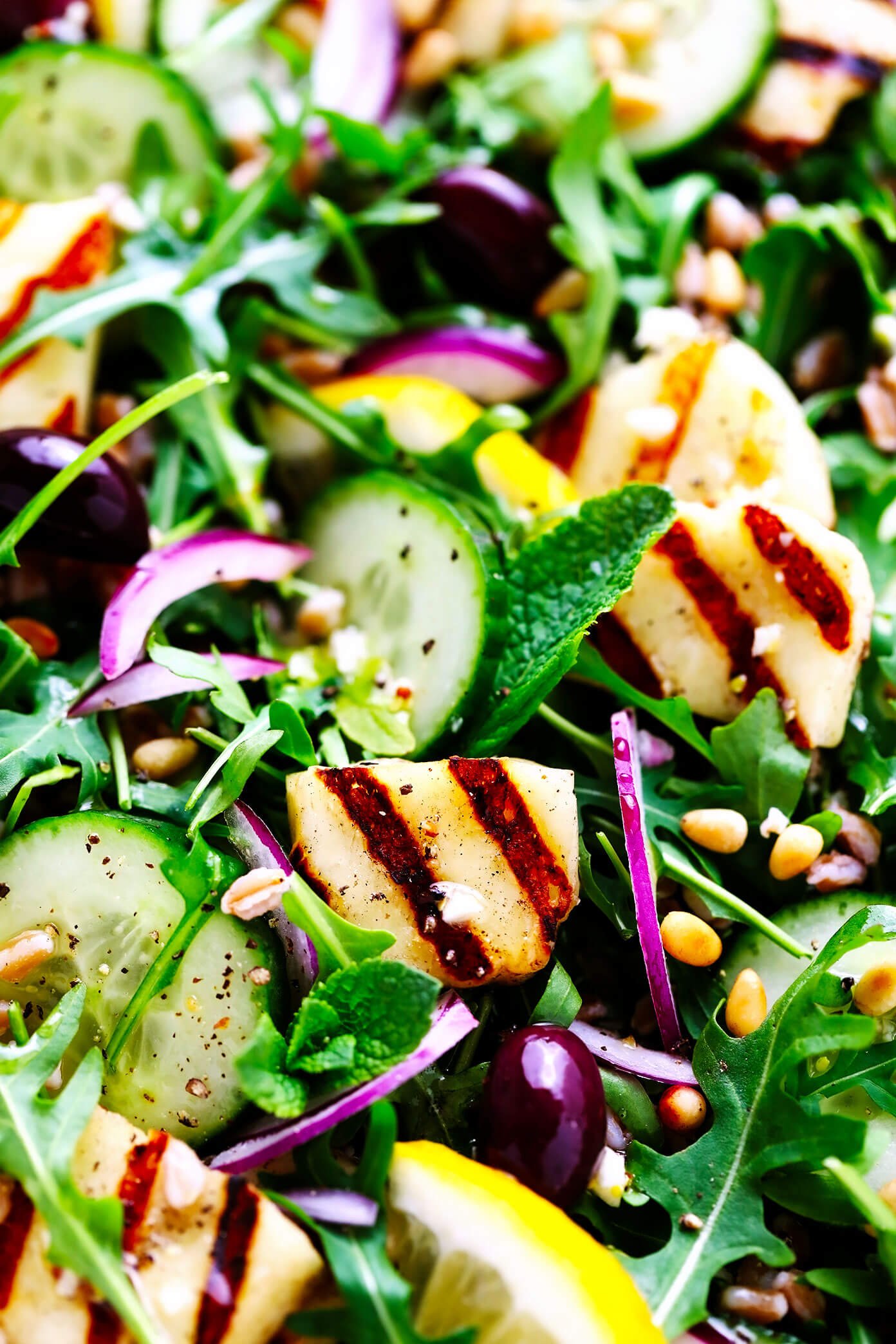 More Mediterranean Salad Recipes
Looking for more Mediterranean-inspired salad recipes to try? Here are a few of my faves…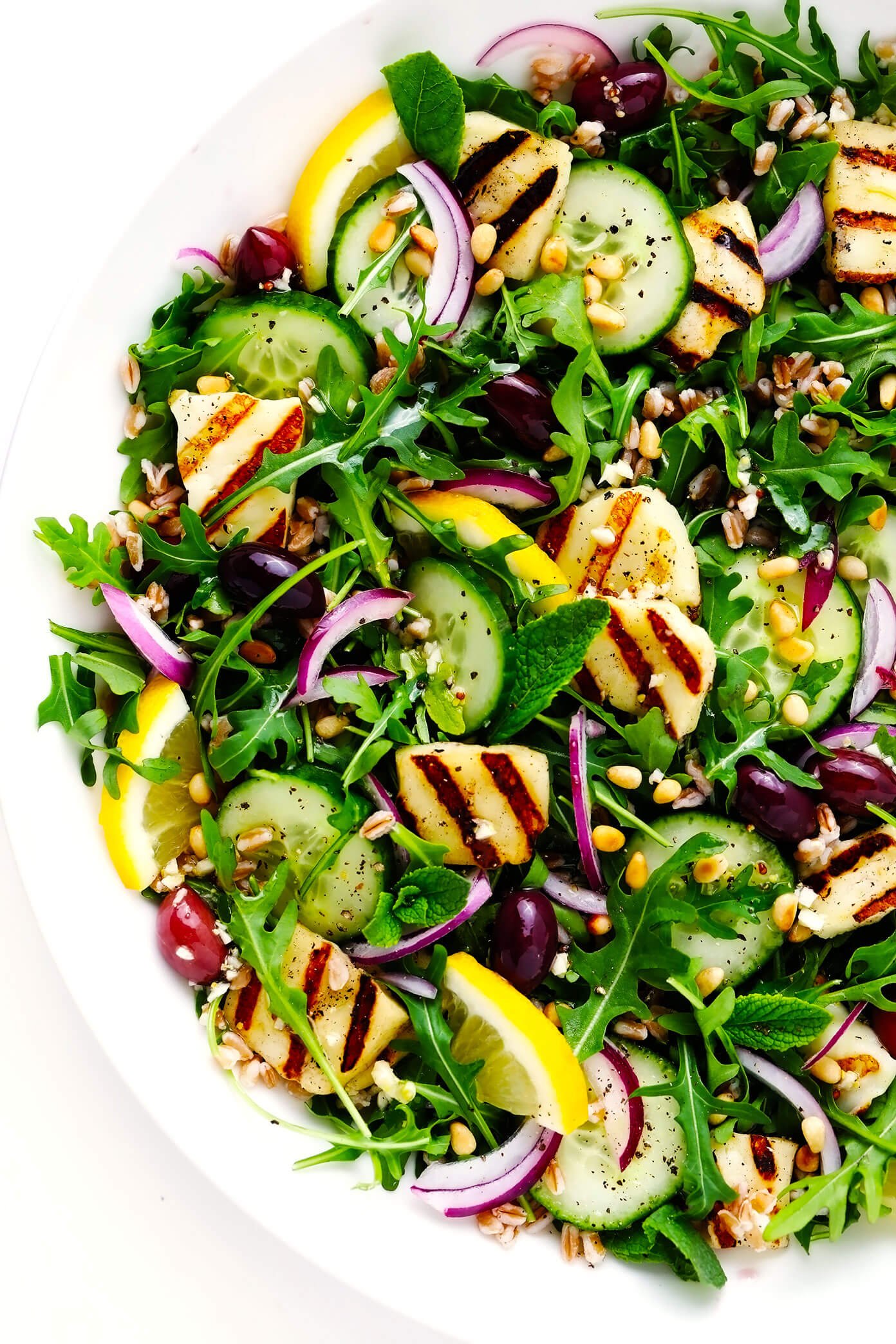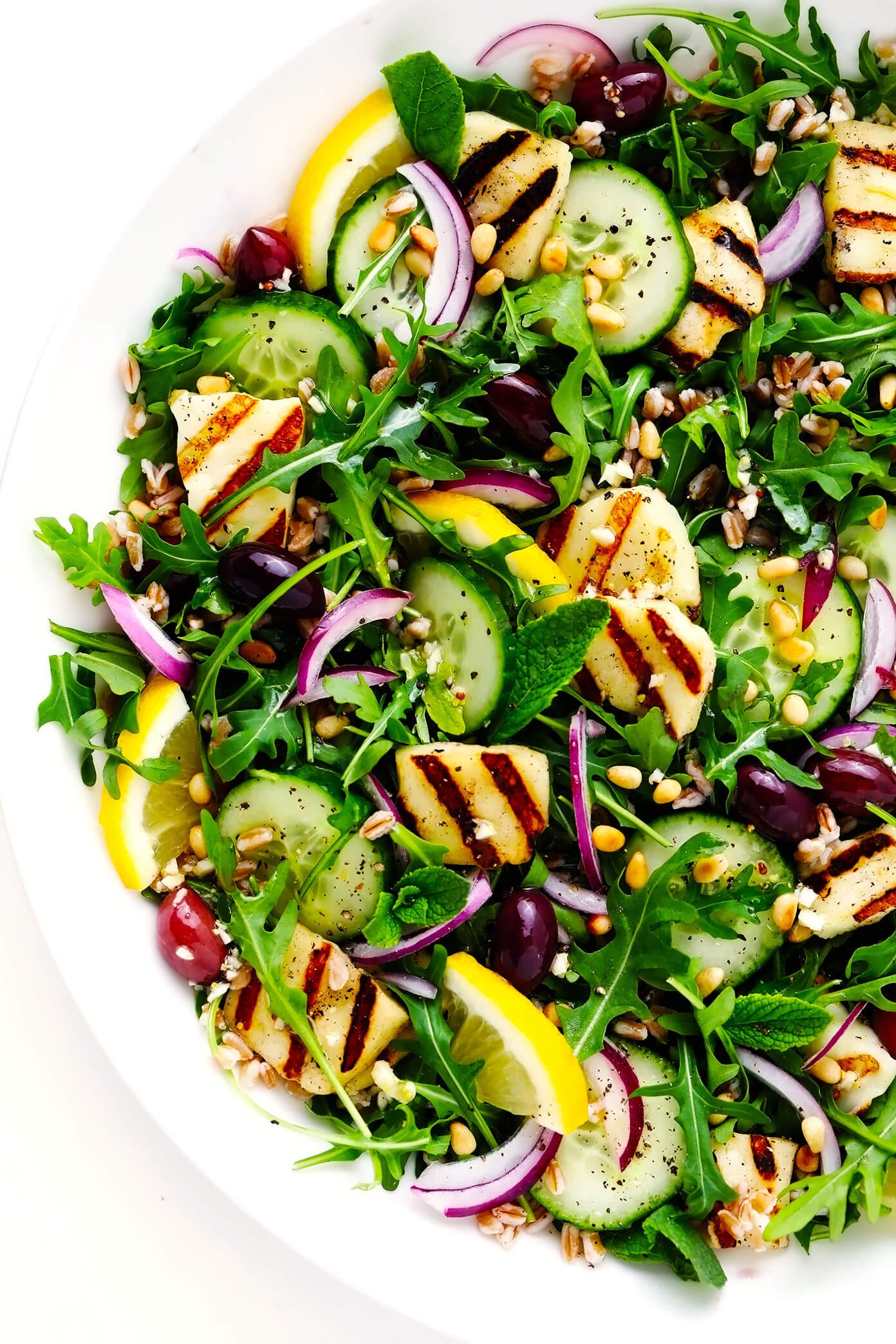 ---
Description
This Mediterranean-inspired grilled halloumi salad is made with pan-grilled halloumi cheese, chewy farro, fresh cucumber and greens and herbs, and a zippy lemon dressing. See notes above for optional add-ins too!
---
Scale
Ingredients
Grilled Halloumi Salad Ingredients:
1 cup

uncooked farro

1 tablespoon

olive oil

8 ounce

s halloumi cheese, sliced into

1/4

-inch-thick strips

5 ounce

s fresh arugula or baby spinach

1

English cucumber, thinly sliced

1

small red onion, peeled and thinly sliced

1 cup

fresh mint leaves, loosely packed

1 cup

Kalamata olives

2/3 cup

toasted pine nuts
---
Instructions
Cook the farro. Cook the farro in 3 cups of water or vegetable stock according to these instructions until it is chewy and tender. (Cooking time will vary depending on what type of farro you use.) Drain the farro in a fine-mesh strainer and add it to a large mixing bowl.*
Make the dressing. Meanwhile, whisk all ingredients together in a small bowl (or shake in a covered mason jar) until completely combined. Set aside until ready to use.
Pan-grill the halloumi. Meanwhile, heat the olive oil in a large grill pan or sauté pan over high heat. Add however many halloumi strips that you can fit in an even layer, then cook for about 30 seconds per side or until the cheese is lightly browned. Transfer the halloumi to the large mixing bowl with the farro, then repeat with the remaining strips until all of the halloumi has been cooked.
Toss the salad. Add the remaining ingredients (arugula, cucumber, red onion, mint, Kalamata olives and pine nuts) to the large mixing bowl. Drizzle evenly with the dressing, and then toss until the salad is completely combined.
Season. Taste and season the salad with extra salt, black pepper and/or lemon juice, if needed.
Serve. Serve immediately and enjoy!
---
---
Notes
Farro temperature: If you prefer the farro to be a bit more chilled — or if you are prepping the salad more than 20 minutes before serving it — I recommend rinsing the farro with cold water in a fine mesh strainer to cool it off before combining it with the other ingredients. (This will especially help to prevent the farro from wilting the arugula.)