This post may contain affiliate links. Please read my disclosure policy.
My favorite Iced Pumpkin Spice Latte recipe is made with real pumpkin, your choice of milk (dairy or plant-based), and naturally sweetened with just a hint of maple syrup.  So tasty and ready to go in 5 minutes!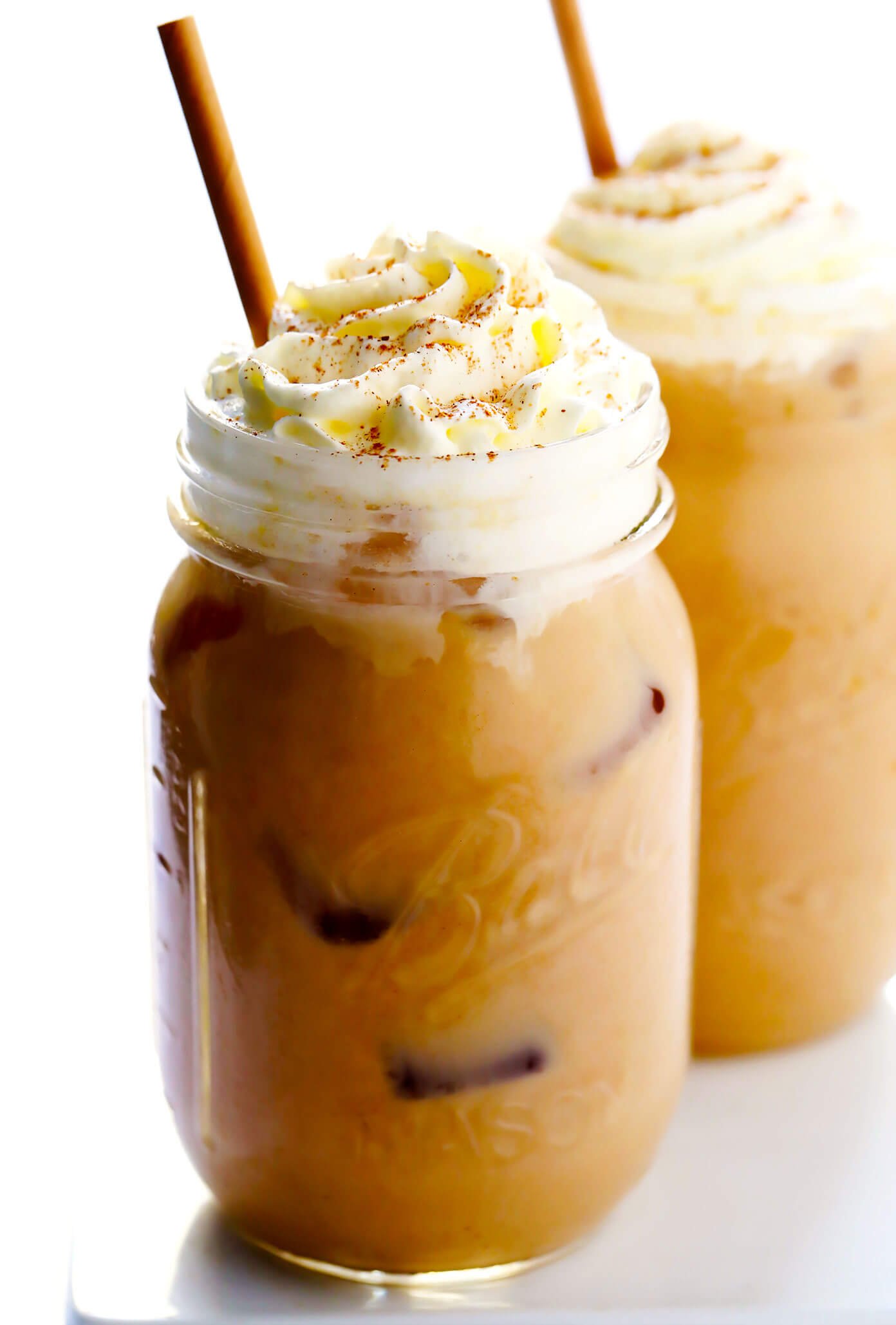 It's that time of year again! ♡
Okay okay, I know that we're still officially a few weeks away from the beginning of fall.  But this past weekend, the weather majorly cooled off here in Barcelona and it seemed like the perfect time to break into my inaugural can of pumpkin purée for the season.  And the first thing that I found myself craving was none other than…a nostalgic pumpkin spice latte.  Well, make than an iced pumpkin spice latte, because while I'm apparently ready for pumkin season, I can't quite let go of my iced summery drinks quite yet.
I have to admit, though, that I have become quite picky over the years when it comes to PSLs.  As much as I credit Starbucks with the introducing us all to this now infamous drink, the original version is far too sugary for me to handle nowadays.  And while Sbux' version was modified in 2015 to finally include (granted, a very tiny amount of) actual pumpkin purée in the drink, I like making my drink with a legit spoonful of pumpkin in there, plus a hint of vanilla, pumpkin pie spice and (yes) sea salt to bring out the pumpkin's coziest flavors. Together, the combo yields my idea of the perfect iced pumpkin spice latte that's full of nostalgic fall vibes without the usual subsequent sugar crash.  And, of course, the homemade pumpkin spice latte has the added bonus of being considerably more affordable than the coffee shop version.
Feel free to customize your own with whatever type of coffee (espresso or brewed coffee), milk (dairy or plant-based), and whipped cream (optional but delish) you prefer.  And in less than 5 minutes, this delicious drink can be yours to enjoy in no time.
Cheers and enjoy, everyone!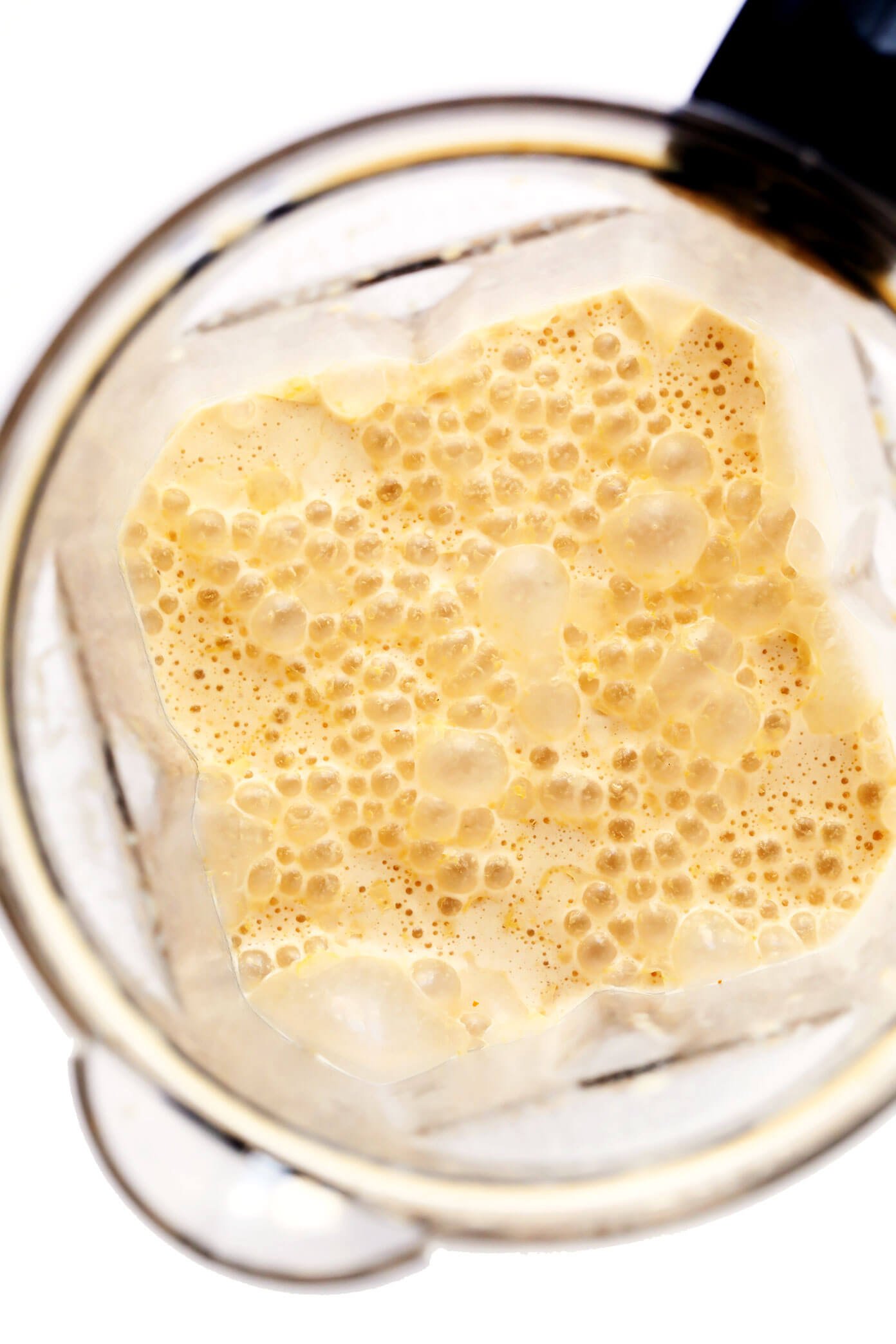 Iced Pumpkin Spice Latte Ingredients:
Here's a quick overview of the pumpkin spice latte ingredients that I like to use to make this recipe:
Espresso: Either two shots of espresso or about 1/2 cup of extra-strong brewed coffee.  Caffeine or decaf is up to you!
Milk: Feel free to use whatever kind of milk you prefer here.  I usually make my lattes with oat milk nowadays, but just about any milk will work.
Pumpkin purée: I just use canned pumpkin purée, but you can use homemade pumpkin purée if you happen to have some on hand.  (Please note, though, that this is different than canned pumpkin pie filling, which includes extra sweeteners and spices.)
Maple syrup: This is also my preferred natural sweetener for this recipe, the amount of which you can adjust to taste.  That said, feel free to use whatever sweetener you prefer in this recipe.
Vanilla extract: Just a little hint to add some warm vanilla flavor to your latte.
Pumpkin pie spice: Which you can either purchase store-bought or mix up yourself.
Sea salt: Just a tiny pinch of sea salt, which will help to bring out all of these delicious flavors.
Ice: To make that PSL iced! 😉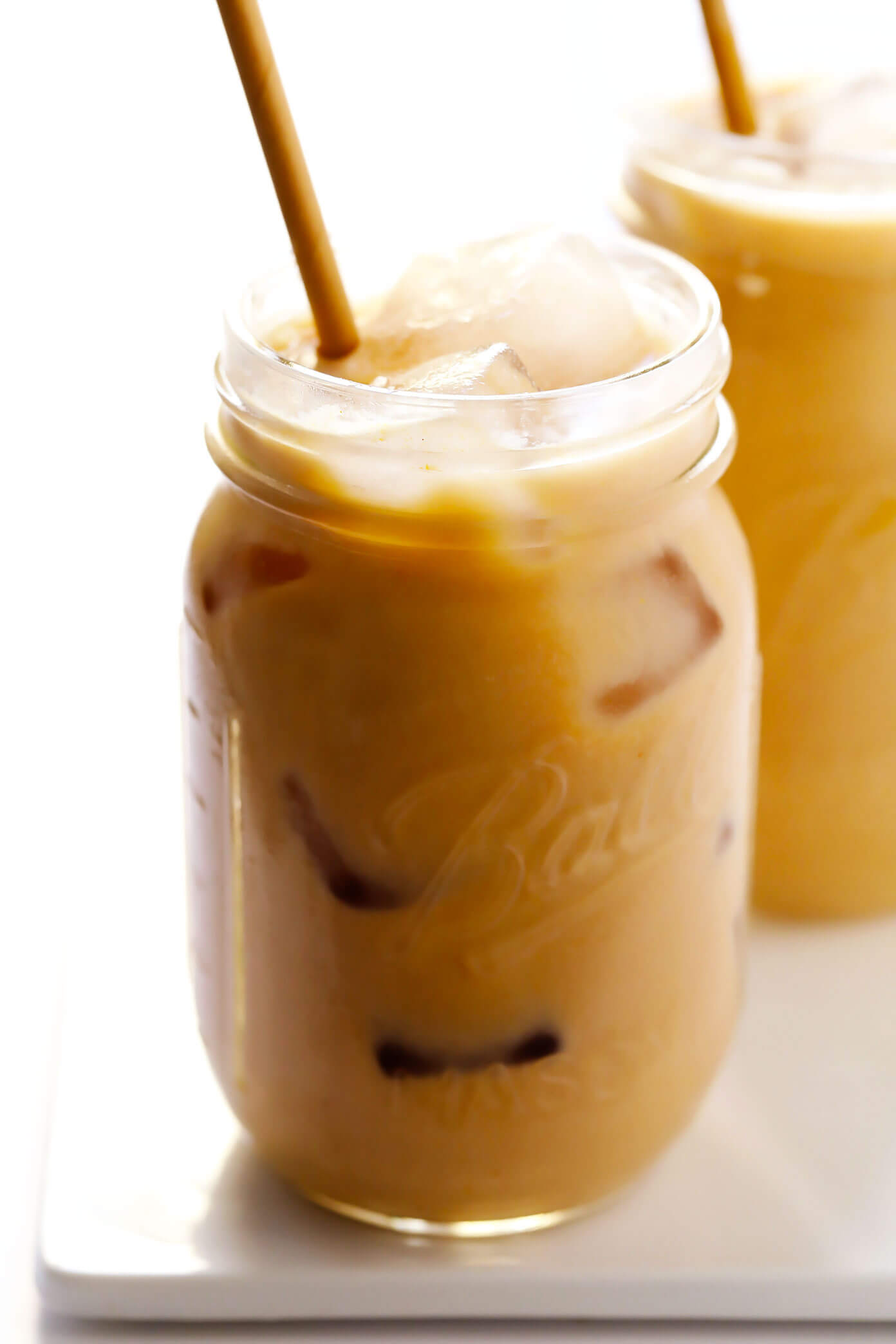 How To Make An Iced Pumpkin Spice Latte:
I like to blend all of the ingredients for this iced pumpkin spice latte together briefly in a blender so that the pumpkin purée is extra smooth and well-combined.  But if you prefer to skip that step (and save washing your blender), you can alternately just whisk all of the ingredients together in your glass, add in your ice, and serve!  Be sure to give your latte a quick taste too, before adding the ice, so that you can add extra maple syrup if needed.  Full instructions included in the recipe below!
More Favorite Iced Drinks:
Looking for some more fun iced drinks to try?  Here are a few of my faves:
---
Description
My favorite Iced Pumpkin Spice Latte recipe is made with real pumpkin, your choice of milk (dairy or plant-based), and naturally sweetened with just a hint of maple syrup.  So tasty and ready to go in 5 minutes!
---
---
Instructions
Blend*: Combine all ingredients (minus the ice) in a blender and pulse until bubbly and frothy.
Taste: Give the latte a taste and add extra sweetener, if desired.
Serve. Serve immediately over a glass of ice, topped with whipped cream and an extra sprinkle of pumpkin pie spice if desired.  Enjoy!
---
---
Notes
Alternate method: I find that the blender method really helps to smooth out the pumpkin purée in the latte.  But if you would like to skip the blender, you can just whisk all of the ingredients together in a measuring cup or your serving glass until combined, then serve over ice.