This post may contain affiliate links. Please read my disclosure policy.
This Instant Pot Mashed Potatoes recipe is incredibly easy to make (no draining required), perfectly creamy and fluffy, and always so delicious!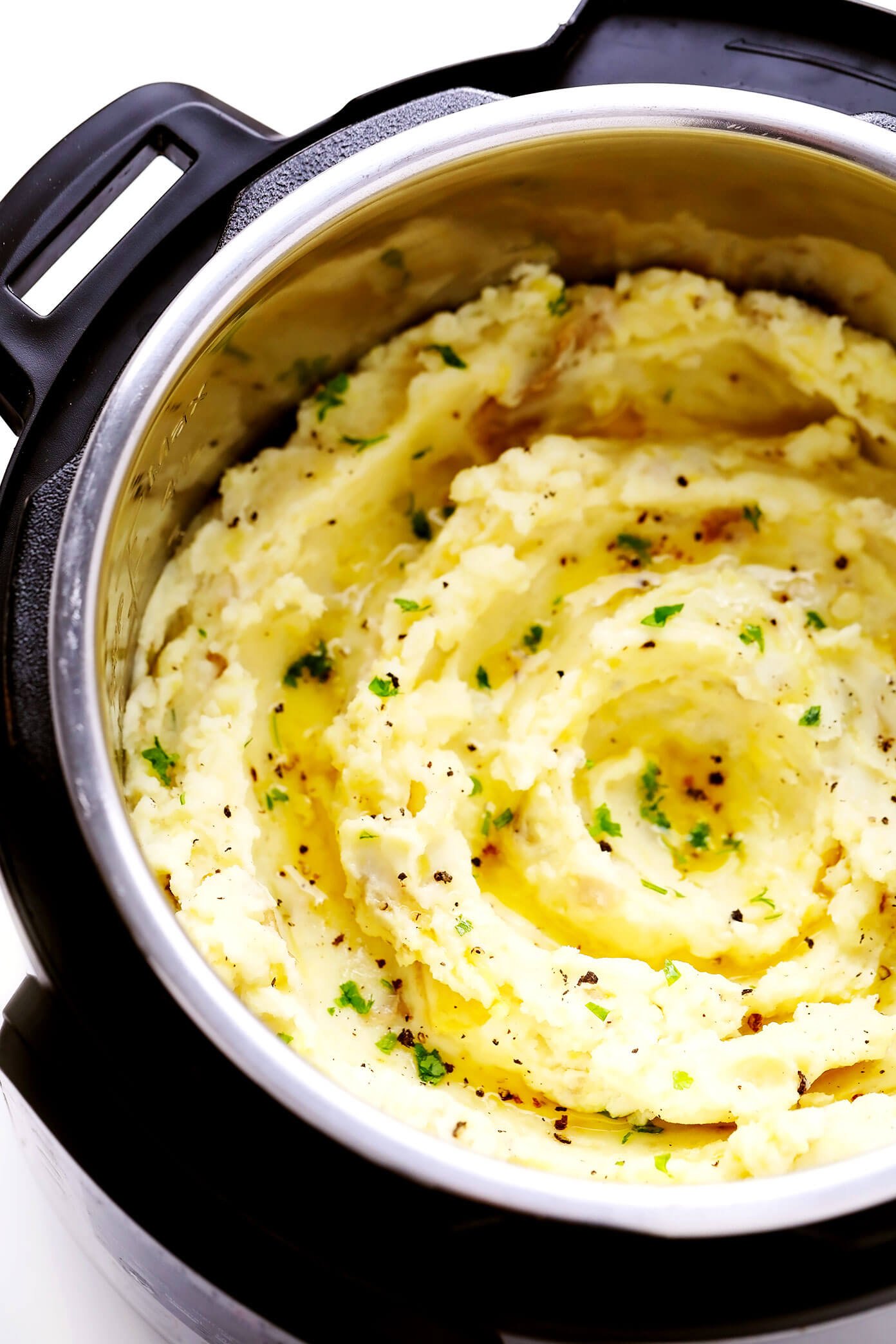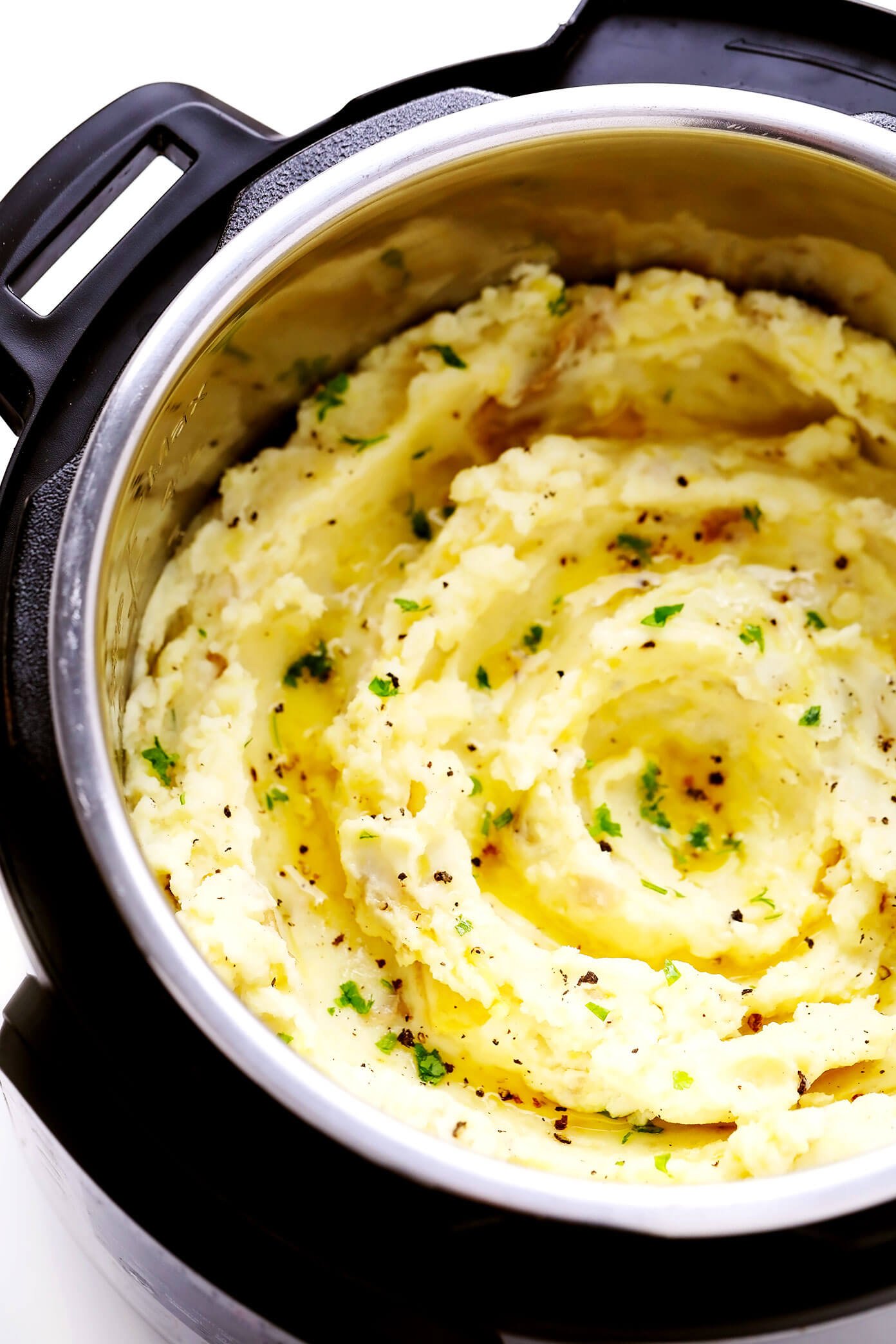 So many of you have made and loved my favorite stovetop mashed potatoes recipe.  But for those of you looking to put your pressure cookers to work this Thanksgiving (or any day of the year), I've been testing out various methods for how to make mashed potatoes in the Instant Pot and have finally landed on a good one to share with you today!
These Instant Pot mashed potatoes are made with the same list of ingredients that I always use to make my mashed potatoes perfectly creamy, fluffy and flavorful — including two types of potatoes (Yukon Golds and Russets, for optimal texture and flavor), cream cheese and milk (to make them extra creamy), a generous amount of butter (because…mashed potatoes), however much garlic you prefer (to make yours more or less garlicky), and sea salt and pepper to season.
But instead of boiling and then draining a huge stockpot full of water to cook your potatoes on the stovetop, the Instant Pot makes it easy by doing everything for us with the push of a few buttons!  No draining required!  All the potatoes need are 6 minutes of high pressure-cooking, followed by a quick release.  Then to eliminate some of the excess water that remains, simply use the "Sauté" function to briefly boil off about half of the remaining liquids, and then mash the potatoes right there in the same pot with all of your favorite creamy mix-ins until they reach your desired level of chunkiness or smoothness.
This method is one-pot cooking at its best and even a step easier than the stovetop version.  So if you own a pressure cooker, I highly recommend giving Instant Pot mashed potatoes a try!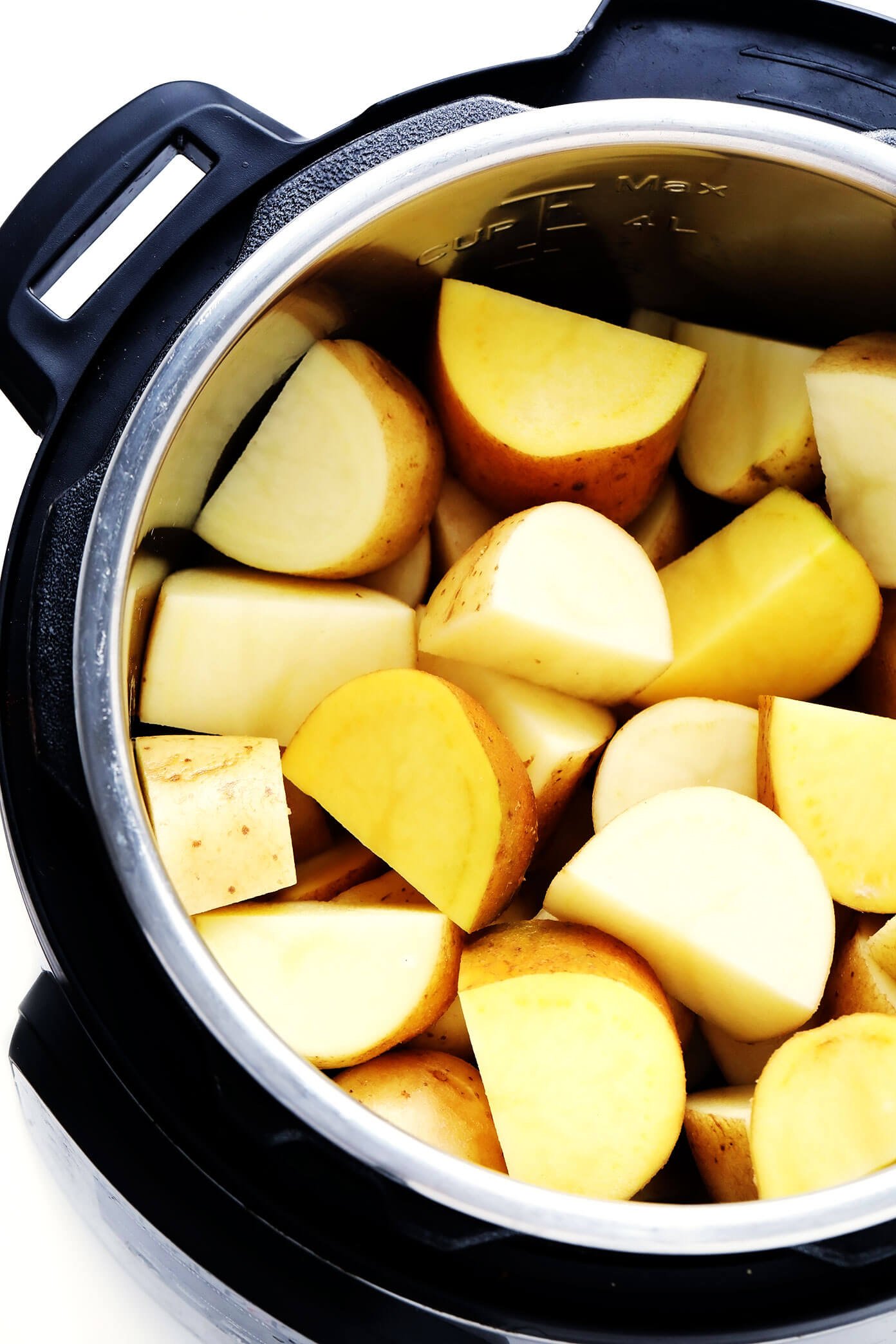 Instant Pot Mashed Potatoes Ingredients:
Before we get to the full recipe below, here are some quick notes about the ingredients you will need to make this Instant Pot mashed potatoes recipe:
Potatoes: I always like to use a 50/50 blend of Yukon Gold and Russet potatoes when making mashed potatoes, so that you get the perfect blend of buttery and creamy + fluffy and starchy flavors and textures.  But feel free to use whatever kind of potatoes you prefer.
Garlic: This recipe is written with a mild amount of garlic.  So if you would like to make garlicky mashed potatoes, I recommend doubling the amount.  (Or alternately, you could roast some garlic in the oven while the potatoes pressure cook and add it in later.)
Cream cheese: My go-to ingredient to make mashed potatoes perfectly tangy and creamy.
Butter: Also a must.  Feel free to add in more if you would like your potatoes to be even more buttery.
Milk: I typically make my potatoes with whole milk, which makes them plenty creamy.  But if you would like even richer mashed potatoes, feel free to add in your desired amount of half and half or heavy cream instead.
Sea salt and black pepper: I can't stress enough how important it is to generously salt and pepper your mashed potatoes!  If they taste bland, you definitely need more salt.
Toppings: If you would like to sprinkle some fresh herbs on your potatoes as a garnish (or mix them in), you can't go wrong with some chopped fresh chives (or green onions) or fresh parsley.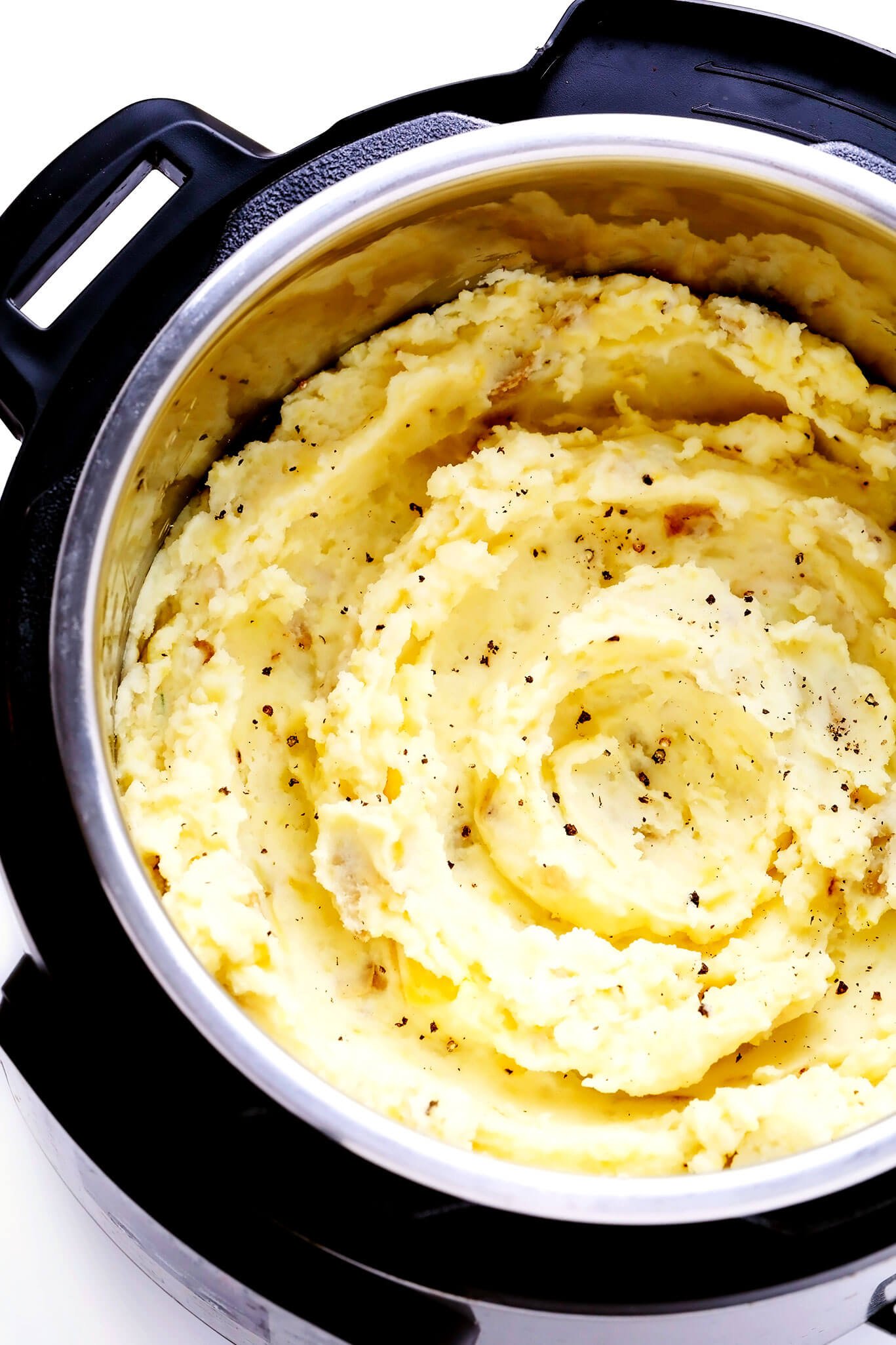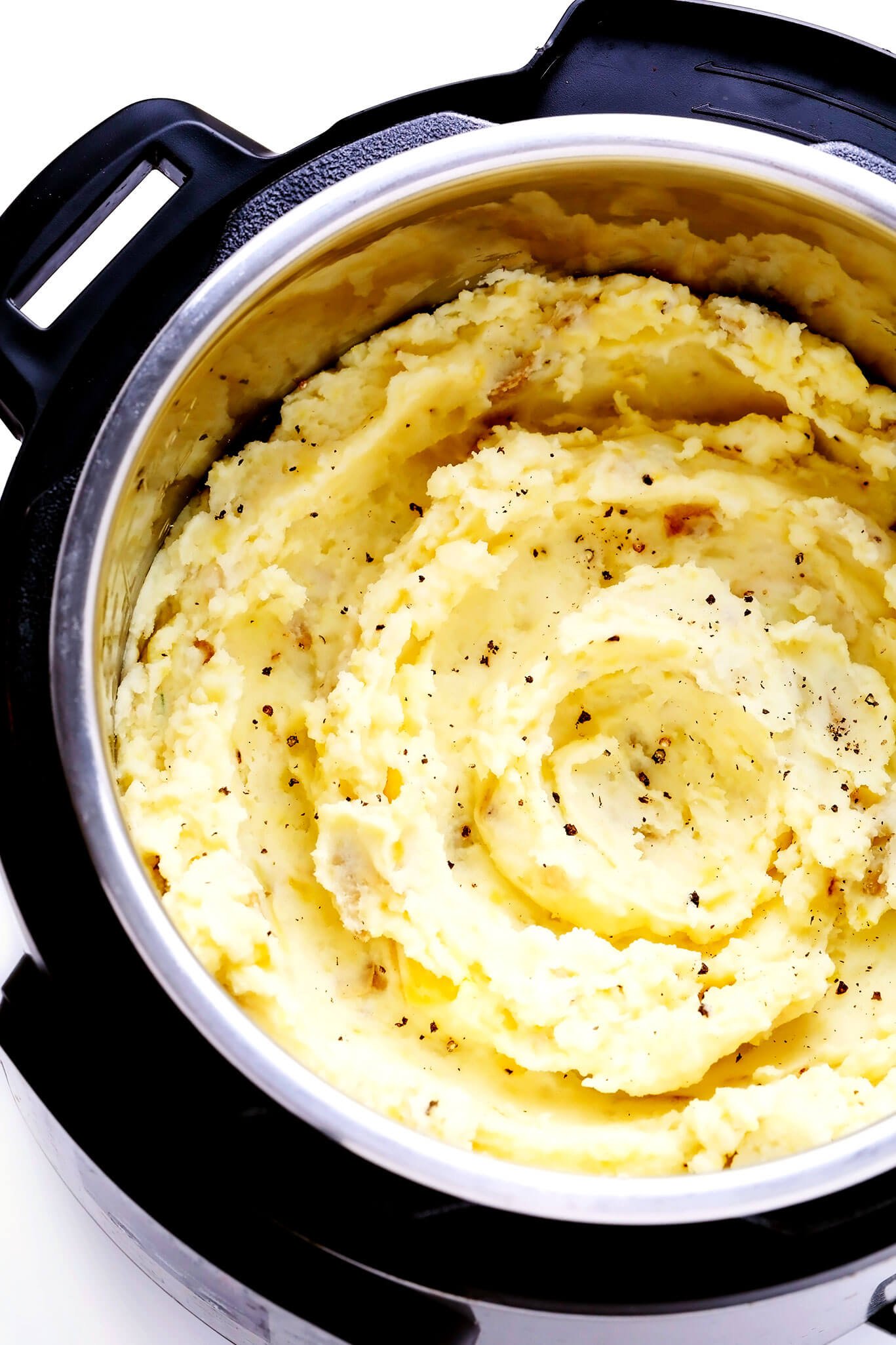 How To Make Instant Pot Mashed Potatoes:
Full instructions are included in the recipe below, but here is a basic overview plus a few important tips for how to make mashed potatoes in the instant pot:
Prep the potatoes. In order to avoid unevenly-cooked potatoes, I recommend slicing them into 1-inch-thick chunks so that they will cook uniformly.
Pressure cook. We will cook the potatoes in the Instant Pot, along with garlic and a cup of water, on high pressure for 6 minutes, followed by a quick release.
Boil off the excess water. Instead of draining all of the excess water from the pot, simply press the "Sauté" button on the Instant Pot, which will quickly bring the water to a simmer and help it to boil off.  I recommend boiling off

about half of the water

, in order to retain some of its nutrients and prevent the potatoes from accidentally burning on the bottom of the pan.  Hit "Cancel" to stop the boiling.
Add remaining ingredients. Then immediately add in the cream cheese, butter, warm milk, and salt (I recommend starting with 2 teaspoons, and then you can always add more), and mash until your desired texture is reached.  If the potatoes seem too dry to your liking, you can add in extra milk as needed.
Season. Don't forget to give the mashed potatoes a taste and add however much extra salt and black pepper that you think they need.
Serve. Then serve them nice and hot…and enjoy!
Possible Recipe Variations:
There are endless variations that you can make with this basic Instant Pot mashed potatoes recipe, so please feel free to customize yours to taste!  For example, you could…
Add gravy: If you're love mashed potatoes and gravy as much as I do, you've gotta try my favorite mushroom gravy! It's easy to make, naturally vegan, and full of the best, rich, savory flavors.
Add extra garlic: As mentioned above, the amount of garlic included in this recipe is pretty mild.  So if you want to make (extra) garlic mashed potatoes, feel free to double or triple the amount of garlic added to this recipe.  Or, feel free to roast a head of garlic in the oven while the potatoes are cooking to stir in afterwards.
Add extra herbs and/or seasonings: Feel free to also add in whatever other fresh herbs or seasonings you love!  I'm often love adding in some fresh parsley, rosemary, sage or thyme.  Or I also love adding in some Cajun seasoning (or Old Bay) to give the potatoes a more zesty kick.
Add cheese: To make cheesy mashed potatoes, add in whatever shredded or soft cheeses you love best.  I'm partial to a good sharp cheddar, but Parmesan, smoked gouda, goat cheese, or blue cheese are also great options.
Add bacon: To make bacon mashed potatoes, fry up some diced bacon on the stovetop while the potatoes are pressure cooking to stir in once they are mashed and ready to go.
Make them vegan: To make vegan mashed potatoes, sub in vegan butter, plain plant-based milk (such as oat milk), and vegan cream cheese (or you can omit the cream cheese entirely).
Use sweet potatoes: To make mashed sweet potatoes, just swap in sweet potatoes in place of Yukon Golds or Russets.
---
Scale
Ingredients
5

 pounds potatoes (I use half Yukon Gold, half Russet potatoes)

2

large cloves garlic, peeled and minced

4

 ounces cream cheese, room temperature

6 tablespoon

s butter, cut into

1

-tablespoon pieces

1 cup

whole milk, warmed
fine sea salt and freshly-cracked black pepper
toppings: chopped fresh chives, green onions, and/or parsley
---
Instructions
Prep the potatoes. Cut the potatoes (peeled or unpeeled) into evenly-sized chunks, about an inch or so thick, and transfer them to the bowl of your Instant Pot.  Add the garlic and 1 cup of cold water.
Pressure cook. Cover and set the lid to "Sealing."  Pressure cook on high heat for 6 minutes, followed by a quick release.
Boil off the excess water. Once the pressure has released, carefully remove the lid.  Press the "Sauté" button, and let the remaining water in the bottom of the pot boil off for about 3 minutes, until

about half of the remaining water

has evaporated.  (You can push the potatoes to one side of the pot to keep an eye on the water level, and also to ensure that the potatoes on the bottom of the pot do not accidentally burn.)  Press "Cancel" to stop the Instant Pot from cooking.
Add remaining ingredients. Immediately add in the cream cheese, butter, warm milk, and

2 teaspoons

salt.  Use a potato masher to mash everything together until the potatoes reach your desired level of smoothness and the ingredients are evenly combined.  If the potatoes seem too dry, add in extra milk until they reach your desired level of creaminess.
Season. Taste the potatoes and season with extra salt (I usually add in quite a bit more) and black pepper as needed, to taste.
Serve. Serve warm, garnished with any toppings that sound good.
---
---