This post may contain affiliate links. Please read my disclosure policy.
This 5-ingredient creamy jalapeño salsa recipe is easy to make, customizable to your heat preferences, and one million percent addictive. SO GOOD!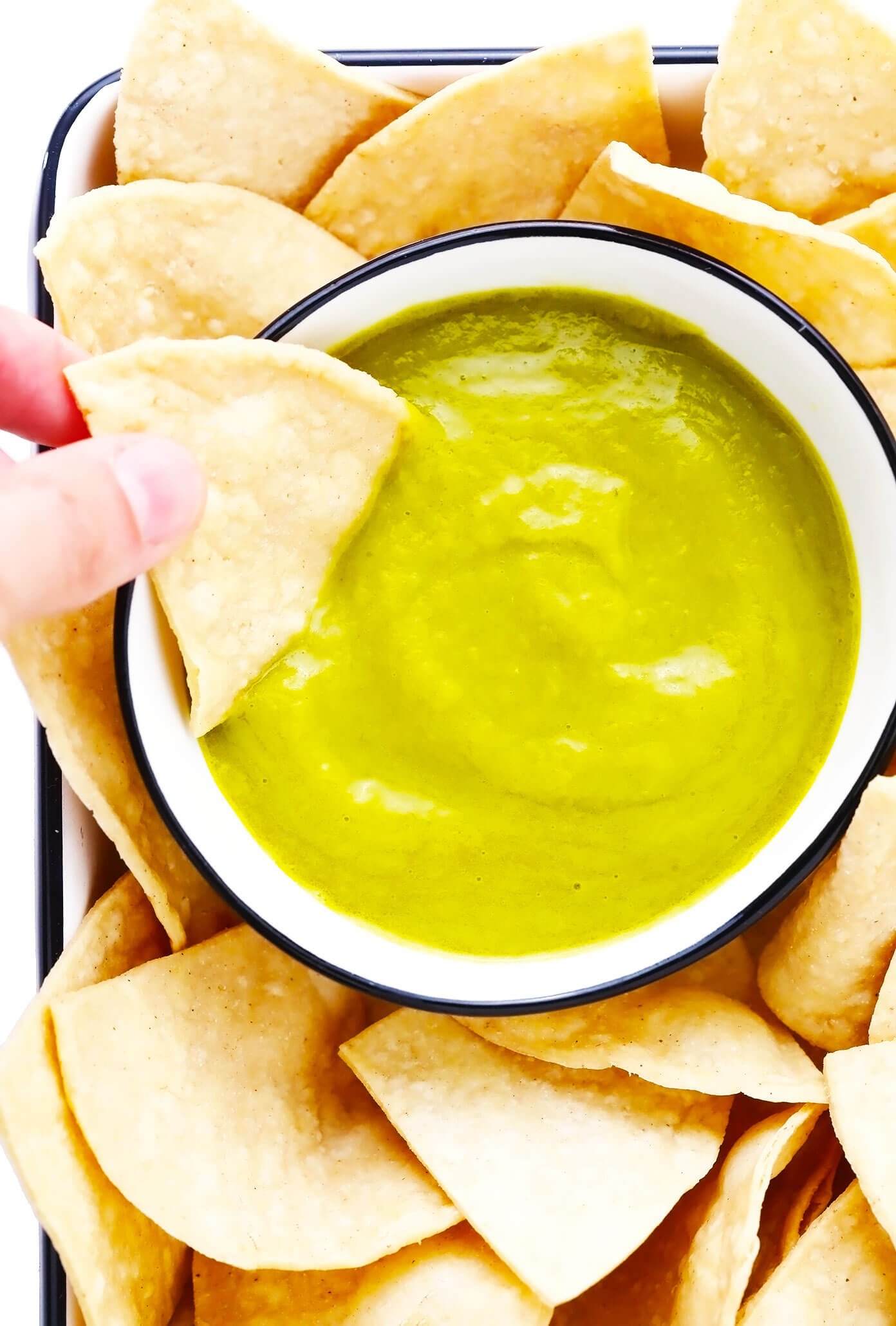 To say that I'm obsessed with this jalapeño salsa would be an understatement. ♡
It is inspired by the legendary "Salsa Doña" from Tacodeli, which I fell in love with years ago when my friend Kathryne and I spent a month in Austin. And ever since we left Texas, I have been missing that salsa something fierce and have been been on a mission to create my own creamy jalapeño salsa recipe that I love just as much. (Or dare I say, even more!)
The Tacodeli version is famously made with just 4 ingredients — jalapeños, garlic, salt and oil — all of which combine to make an emulsion that is magically creamy, moderately spicy, and surprisingly rich and flavorful. And after testing about a million different ways to prepare the jalapeños (boiled vs roasted vs raw, peeled vs unpeeled, cored vs uncored), garlic (cooked vs raw), oil (vegetable vs avocado vs others), and even toss in some extra ingredients (lime juice, onion, cumin, cilantro and more), I've finally landed on my favorite own favorite version of jalapeño salsa that I absolutely adore.
It's mercifully low-fuss, with no need to core the jalapeños while they are raw (a messy and risky process when handling hundreds of spicy seeds). It comes together quickly with just 5 ingredients (yes, I added one!) in just 30 minutes from start to finish. It's easy to customize to your preferred level of spiciness, anywhere from a moderately low heat level to very, very spicy. It's made, believe it or not, entirely on the stovetop with no need to fire up a blazing hot oven. It's perfect for dipping with tortilla chips or it can be drizzled on any number of other dishes. And it is just unbelievably, irresistibly, one million percent delicious.
You all know that I take my Mexican-inspired salsa recipes very seriously here on this blog and only recommend the ones I absolutely love. And this one now easily ranks as one of my all-time faves. So round up a big batch of jalapeños while they are still in season and let's make some jalapeño salsa!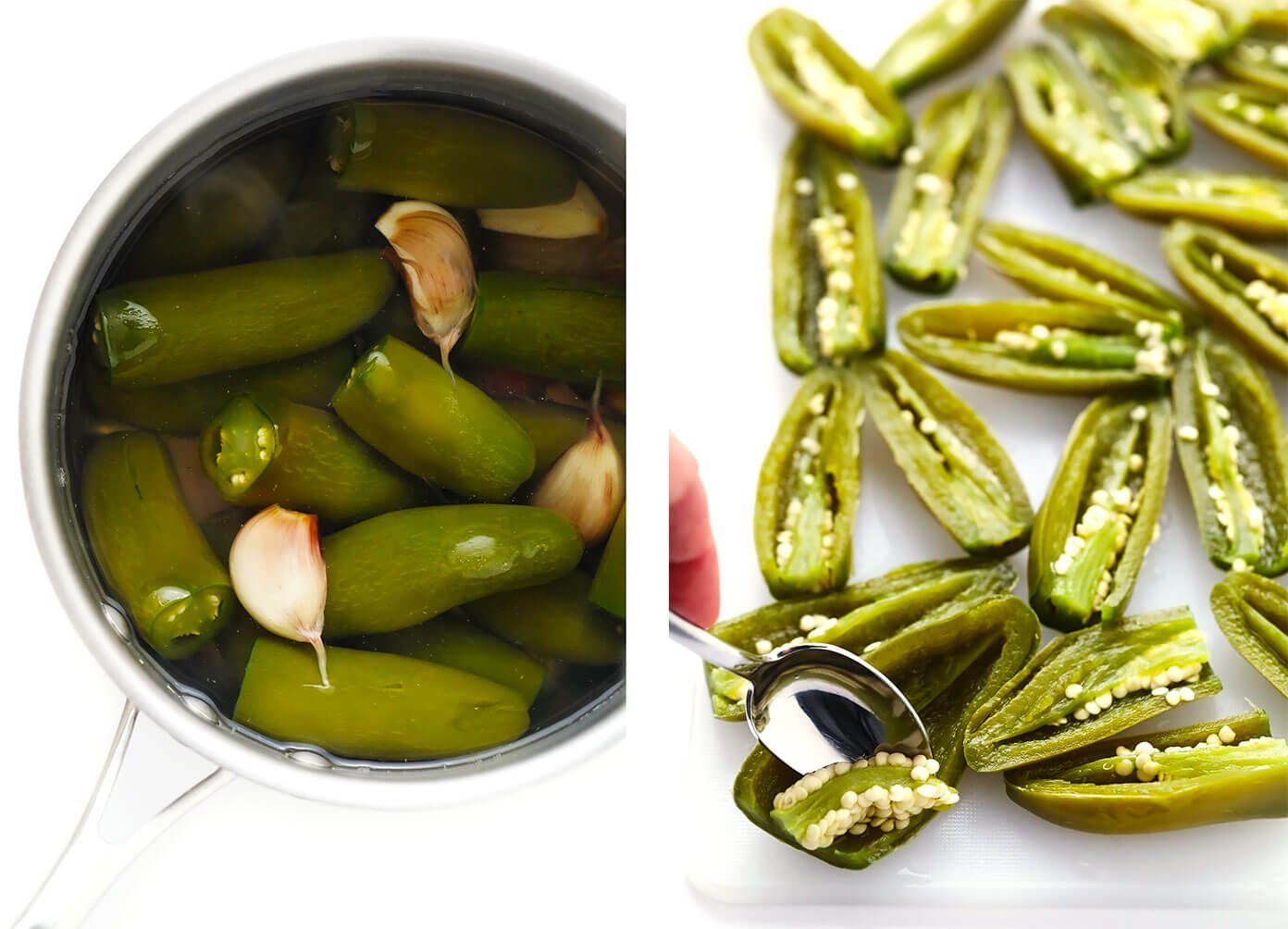 Jalapeño Salsa Ingredients
Before we get to the full jalapeño salsa recipe listed below, here are a few notes about the 5 ingredients you will need to make it:
Fresh jalapeños: You will need a full pound of fresh jalapeño peppers to make a batch of this salsa. As noted below, I prefer to slice off the stems, boil the jalapeños whole, and then halve and core (scoop out the seeds/ribs) the softened jalapeños before puréeing. But if you would like an even milder sauce, you are welcome to halve and core the raw jalapeños before boiling.
Garlic: We will also use 12 large cloves of garlic (about 1 head of garlic) for this salsa, 11 of which we will boil to mellow and sweeten their flavor, 1 of which we will leave raw for a pop of spicy, bright, fresh flavor.
Avocado oil (or another mild oil): I've tested out this salsa recipe with various kinds of oil and really prefer the taste of avocado oil. But feel to use any other mildly-flavored oil that you happen to have on hand.
Lime juice: My husband and I couldn't agree on the amount of lime juice to include in this salsa recipe — I prefer one tablespoon, but he loves two tablespoons or more. So feel free to make yours as lime-y as you'd like! 😉
Fine sea salt: And finally, don't forget to season the salsa with however much salt you believe it needs to really bring out those delicious flavors.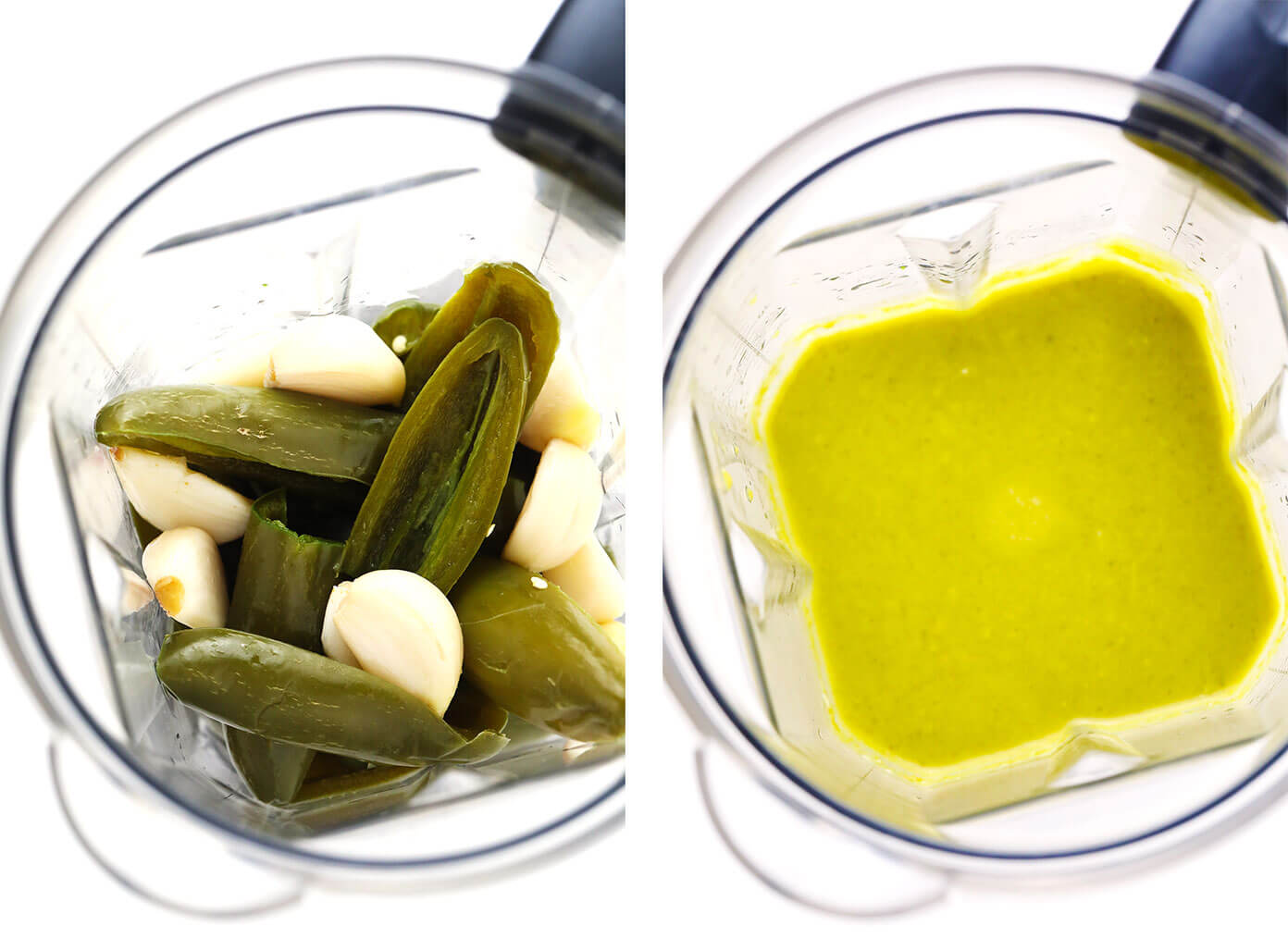 Tips For Making This Salsa
Use gloves while working with the jalapeños: If you happen to have a pair of food-safe gloves on hand, I would recommend using them when working with this quantity of fresh jalapeños. But if you don't have gloves, just be sure to wash your hands thoroughly with soap after touching the jalapeños and always, always avoid touching your eyes and nose.
Use a small spoon to core the jalapeños. Once the jalapeños have been boiled, they should be super easy to halve and core. I recommend using a small spoon to scoop out their ribs and seeds.
Reserve the boiled jalapeño water: Be sure to save the saucepan full of water in which the jalapeños are boiled! We will use it to thin out the salsa and add a bit of extra flavor. That said, if you prefer a milder salsa, you are welcome to thin it out using plain hot water instead.
Add lime juice and salt to taste: Everyone will have different preferences with how lime-y and salty they prefer this salsa to be, so I recommend starting with small amounts and then adding more of these ingredients to taste.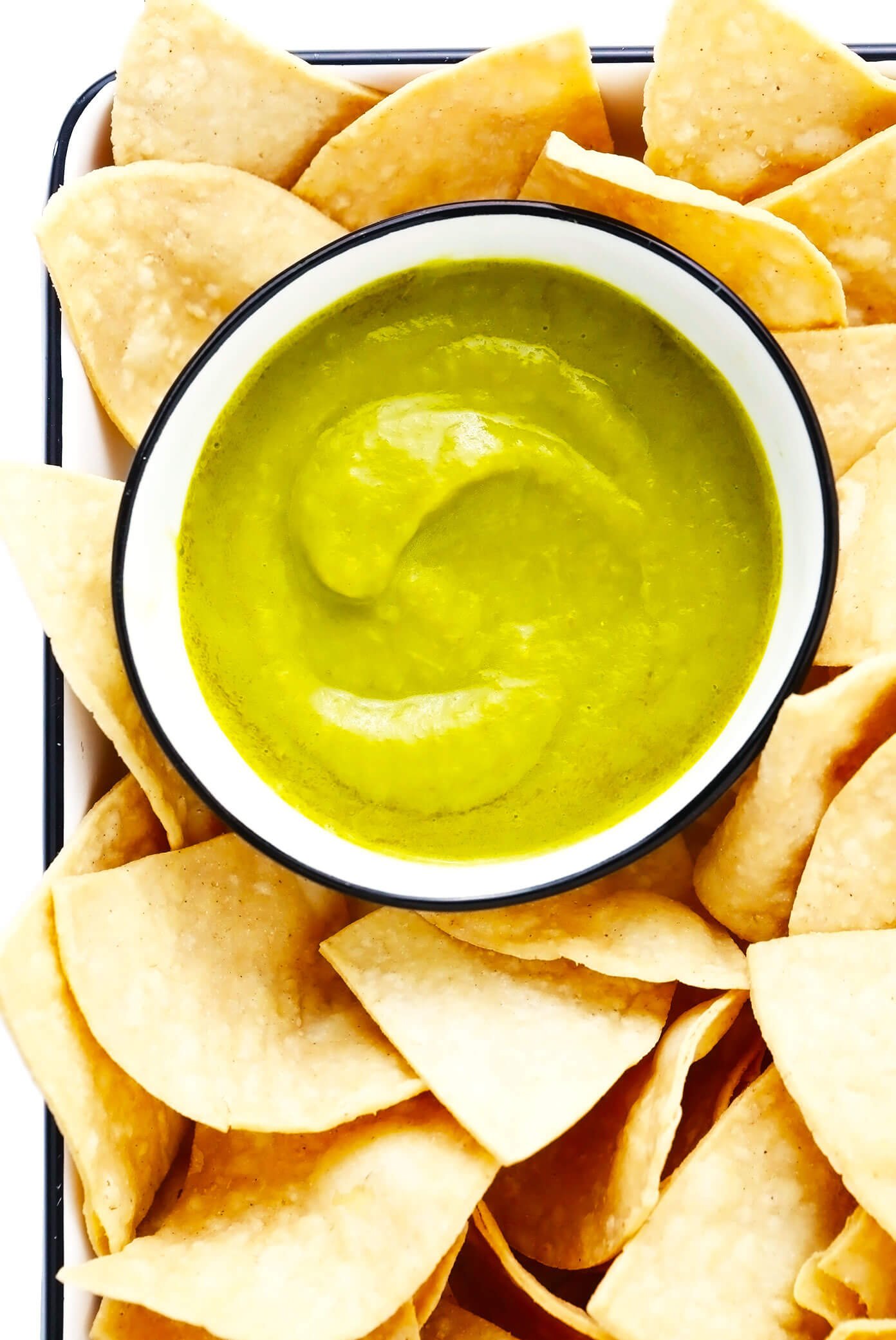 Optional Recipe Variations
Here are a few ways you are welcome to customize your own jalapeño salsa recipe…
Roast the jalapeños and garlic: To make roasted jalapeño salsa, stem and halve the jalapeños and place them cut-side-down on a baking sheet along with the unpeeled garlic cloves. Roast at 425°F for about 20 minutes until softened. Scoop out the jalapeño cores (ribs and seeds) and peel the garlic cloves, then transfer the jalapeños and garlic to the blender along with 1/2 cup of hot water and blend until smooth. You may need to add extra water to achieve your desired consistency.
Add optional extras: I've also made batches of this jalapeño salsa with onion, cilantro, and/or a hint of ground cumin added in — all of which are delicious extra ingredient options!
Make it spicier: To make this salsa spicier, feel free to leave in part or all of the jalapeño cores.
Make it milder: To make this salsa milder, core part or all of the jalapeños before boiling.
Make it sweeter: If you would like to sweeten this salsa a bit, I recommend using the roasting method above and/or adding in a drizzle of honey or agave nectar.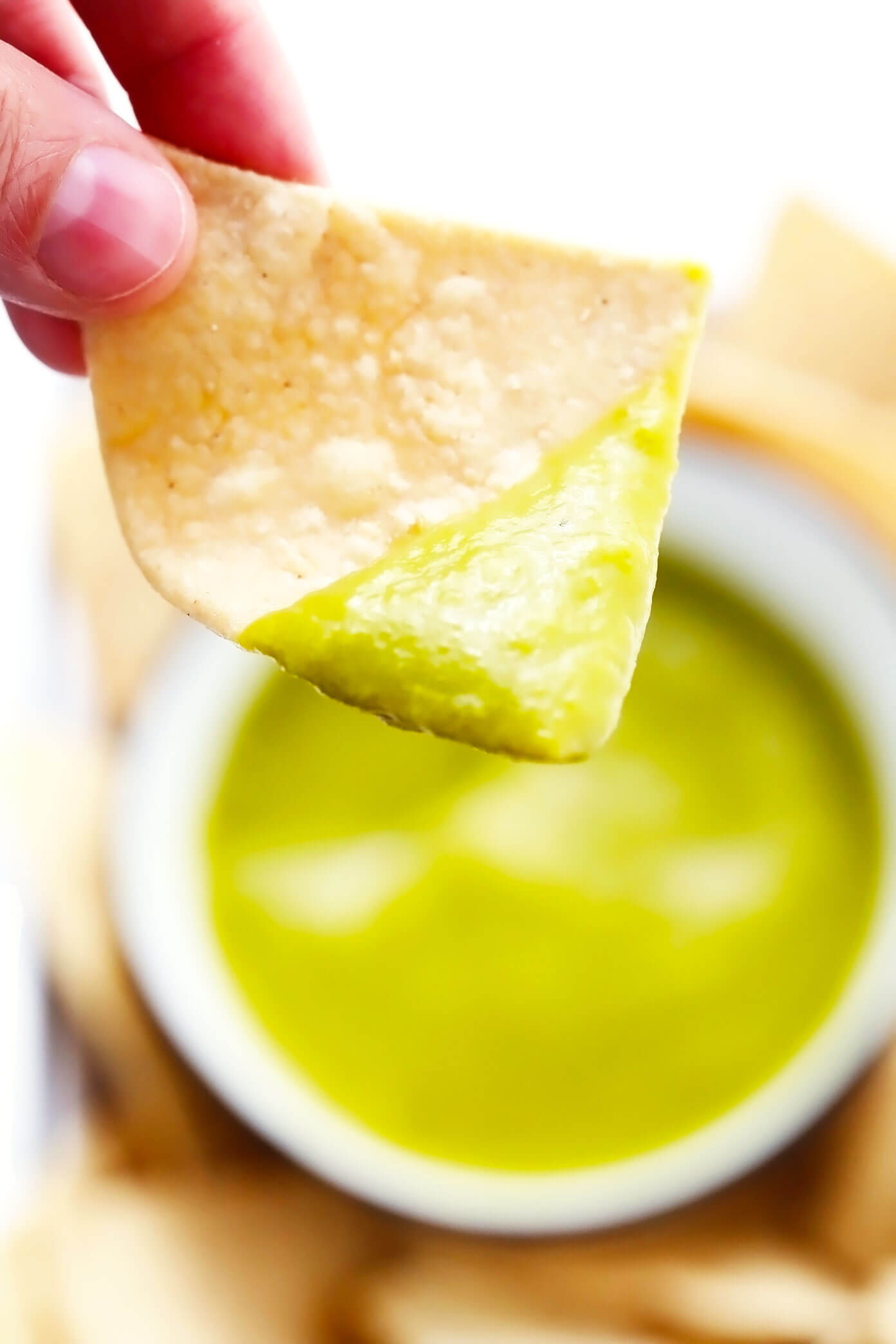 More Favorite Salsa Recipes:
Here are a few of my other all-time favorite Mexican-inspired salsa recipes…
---
Description
This 5-ingredient creamy jalapeño salsa recipe is easy to make and one million percent addictive. See notes above regarding optional recipe variations, including how to make the salsa milder or spicier.
---
1

pound fresh jalapeños, stems removed

12

cloves garlic, unpeeled

1/4 cup

avocado oil (or any mild-flavored oil)

1

to

2

tablespoons fresh lime juice (optional)

1 1/2 teaspoons

fine sea salt
---
Boil the jalapeños and garlic. Place the jalapeños and 11 cloves of the garlic (we will save one for later) in a large saucepan. Add water to the pan so that the jalapeños are completely covered. Bring to a high simmer over high heat, then reduce the heat to medium to maintain the simmer for about 15-20 minutes, until the jalapeños and garlic cloves have completely softened.
Core the jalapeños and peel the garlic. Reserve 1 cup of the jalapeño cooking water, then drain off the rest. Carefully use tongs to transfer the jalapeños to a cutting board. Then slice each jalapeño in half lengthwise and use a spoon to scoop out and discard the veins and seeds. (Or if you would like a spicier salsa, you can skip this step.) Gently squeeze the cooked garlic cloves out of their peels, and peel the remaining one raw garlic clove.
Blend. Add the cored jalapeños, cooked garlic cloves, raw garlic clove, oil, lime juice (if using), 1 teaspoon sea salt, and 1/4 cup of the reserved jalapeño cooking water* to a high-speed blender. Purée for 2 to 3 minutes until the sauce is completely smooth. If you would like it to be a bit thinner, add in a tablespoon at a time of the reserved jalapeño cooking water until your desired consistency is reached.
Season. Taste and season with extra salt and/or lime juice, if desired.
Serve. Serve immediately and enjoy!
---
---
Notes
Reserved jalapeño water: This water definitely packs a bit of heat. So if you would like to make a milder salsa, just add in 1/4 cup of plain hot water instead.
Source: Inspired by the legendary Salsa Doña from Tacodeli, recipe adapted from Brisket & Bagels.