This post may contain affiliate links. Please read my disclosure policy.
My favorite gumbo recipe is made with a richly-flavored dark roux, your choice of proteins (chicken, sausage and/or seafood), lots of veggies, and served with rice.  So hearty and delicious!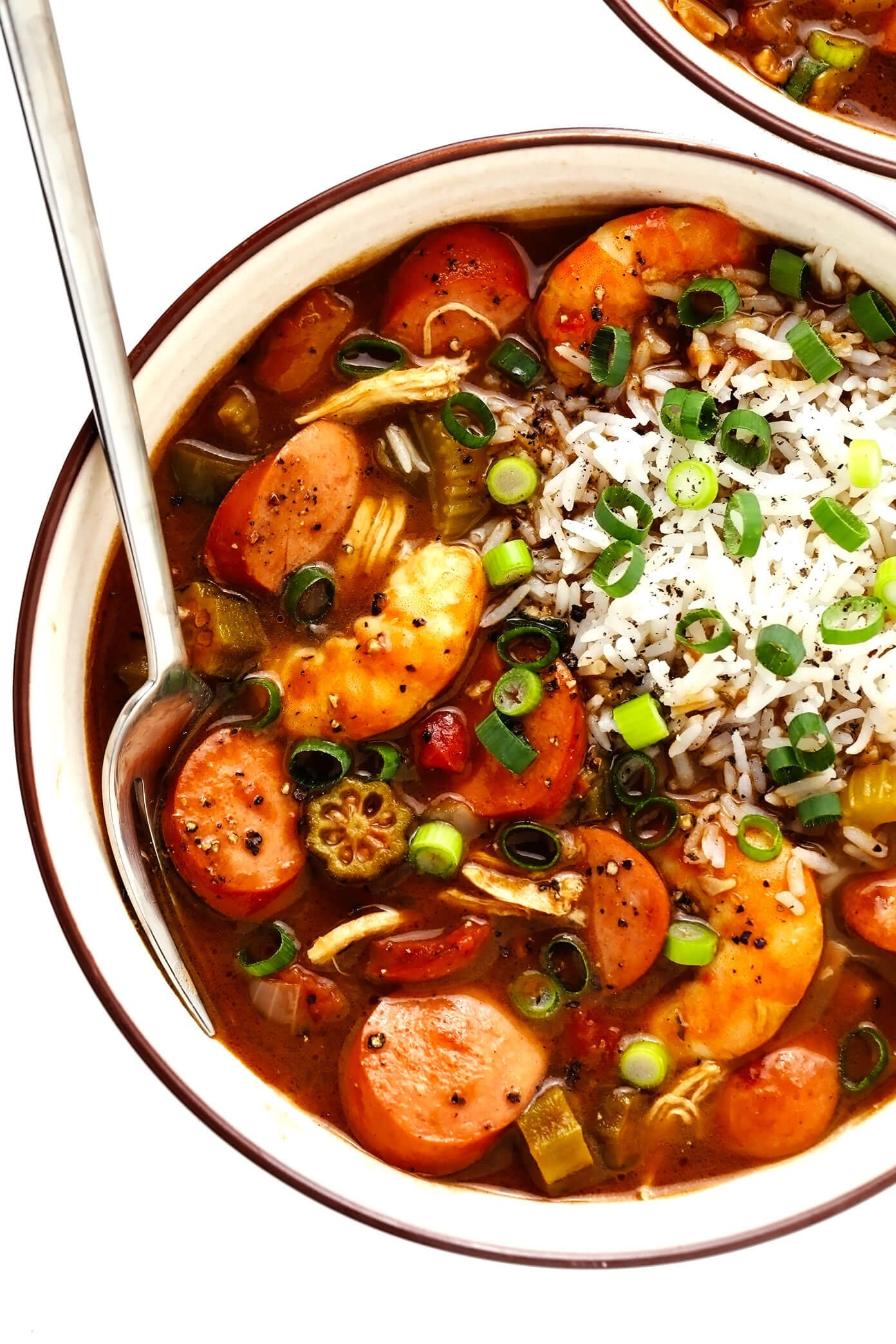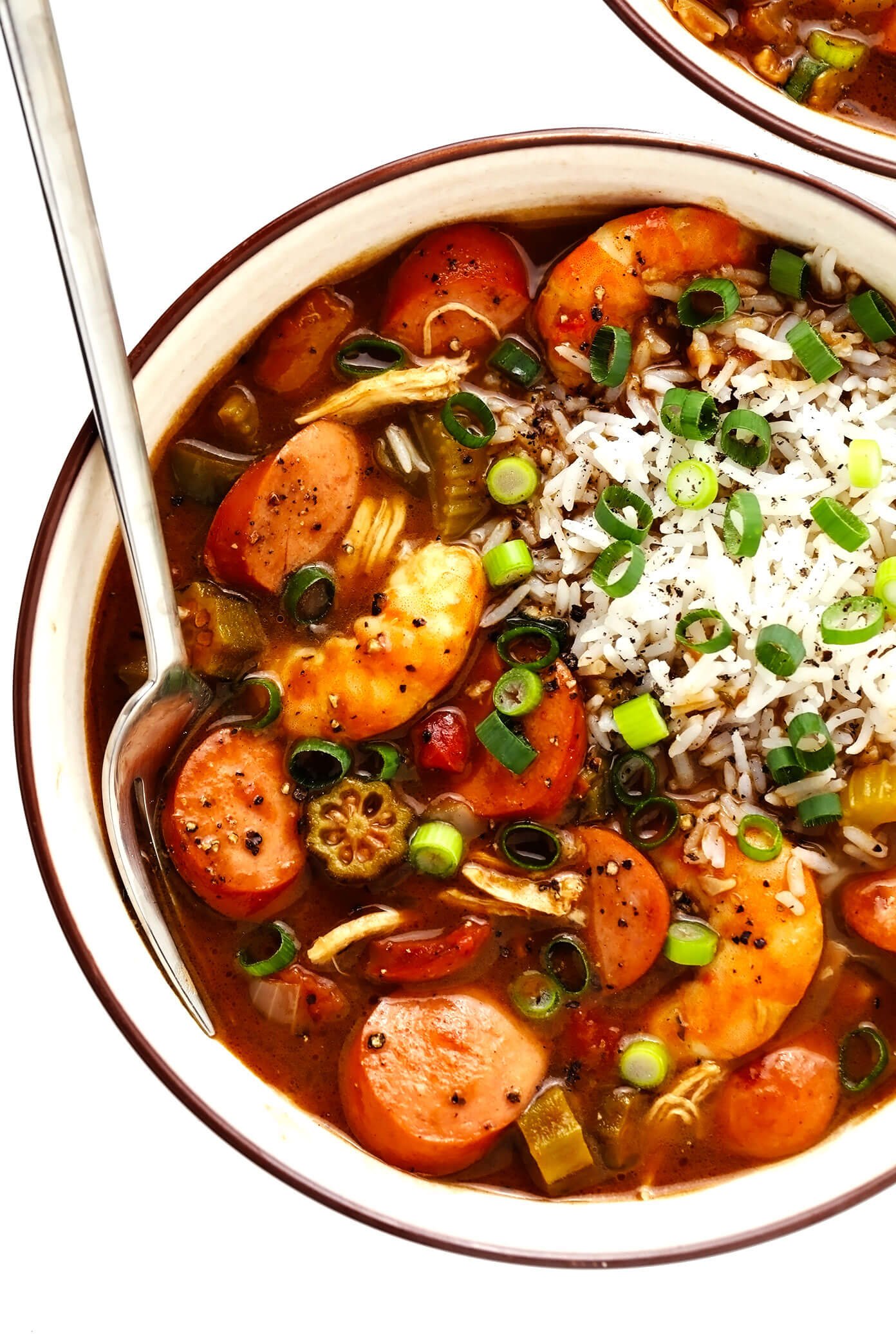 Mardi Gras is tomorrow…which means it's time to cook up a big pot of my favorite gumbo! ♡
I first shared this New Orleans-inspired gumbo recipe here on Gimme Some Oven about five years ago.  And while I have definitely enjoyed other versions over the years (my vegetarian gumbo recipe, for example, is surprisingly satisfying), nothing beats a classic dark roux-based gumbo made made with good Andouille sausage in my book.  It's one of those special-occasion meals that requires a bit of extra time and tlc to prepare.  But it features some of my all-time favorite zesty Creole flavors and always tastes like such a treat.  So if you've never tried making a batch of homemade gumbo before, I say this week is the perfect time to give it a try!
Granted, there are lots of strong opinions and regional differences out there when it comes to how to make "authentic" gumbo, including variations in thickening techniques (using a roux vs filé powder vs okra vs a combo), whether or not to include tomatoes (I happen to love them), which seasonings to use (and how spicy to make the broth), proteins to include (chicken, sausage, various kinds of seafood, etc), and on and on.  So while I can't guarantee that this gumbo recipe is necessarily authentic, I can vouch that it is absolutely delicious and always a favorite with friends and family whenever I cook up a big batch.  And I'm delighted that so many of you have loved it over the years too!
You are, of course, welcome to make any tweaks to the ingredients that you prefer.  (Especially when it comes to proteins — feel free to choose either chicken, sausage or shrimp, or you can follow my lead and use all three!)  The one thing that I strongly recommend is using a dark brown roux as the base for this recipe.  Its rich, deep, nutty flavor adds so much flavor to this recipe and is worth the extra time it takes to make.
So round up all of your favorite gumbo ingredients, settle in for a lot of stirring, and let's cook up a delicious pot of gumbo together!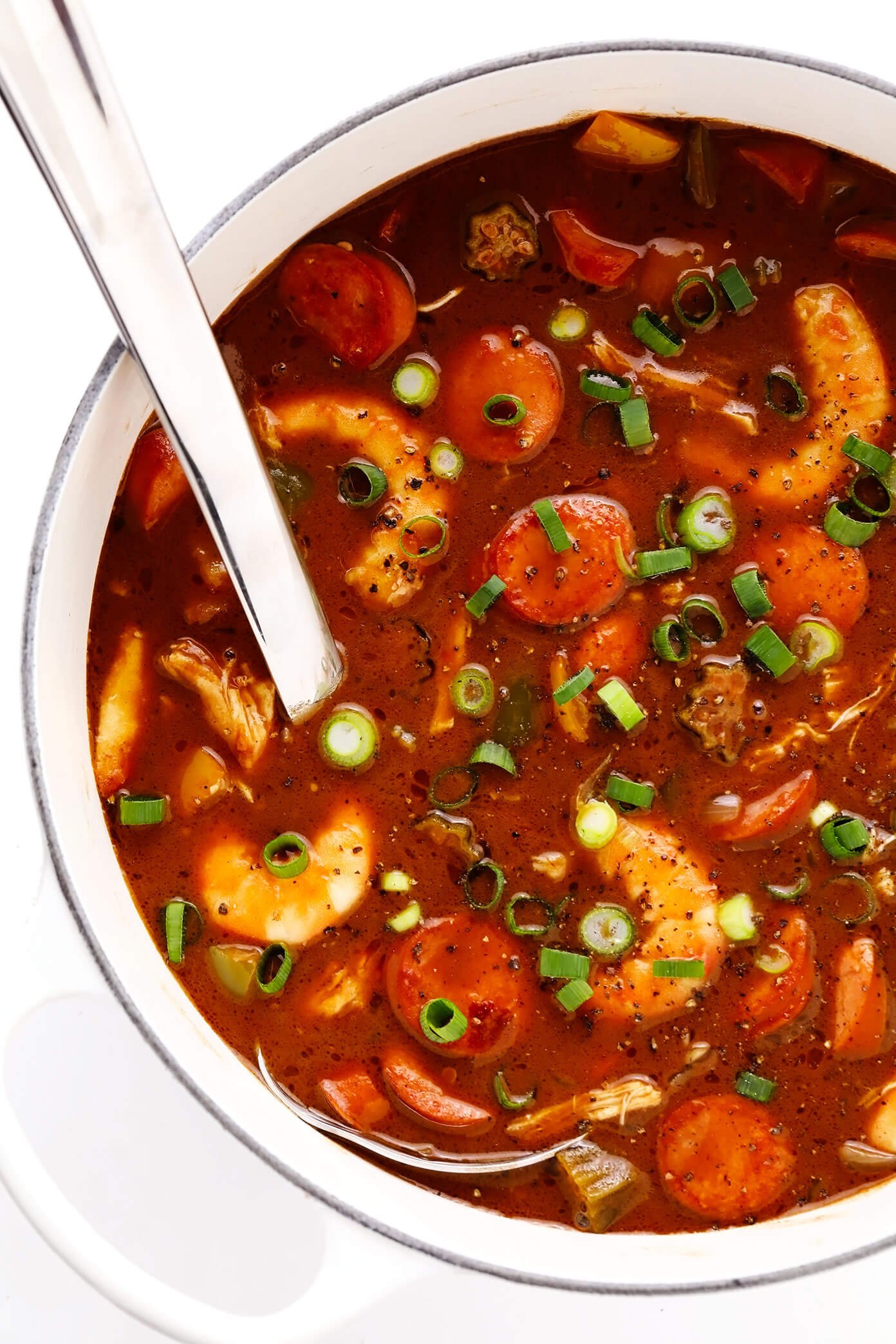 Gumbo Ingredients:
Before we get to the full recipe below, here are a few notes about the ingredients that you will need to make this chicken, sausage and seafood gumbo recipe…
Proteins: Feel free to use whatever proteins you love best in your gumbo!  I've made this one with my favorite trio of Andouille sausage, chicken and shrimp.  But feel free to choose just one or two of those options, or add in some extra crawfish, crab, and/or oysters to make more of a seafood gumbo.
Roux: To make the roux for this recipe, I recommend the classic combination of vegetable oil (or any neutral-flavored oil) and all-purpose flour.
Veggies: We will use the Louisiana "holy trinity" of celery, onion and bell pepper as the veggie base for our gumbo, plus some extra garlic for seasoning.
Chicken stock: To serve as the base for our broth.
Fire-roasted tomatoes: I know that tomatoes can be a bit controversial in gumbo, but I happen to love them in this recipe and recommend adding in a can (fire-roasted, if possible).
Okra: Likewise, okra can also be a controversial addition to this dish, but I love the extra flavor it adds and always add at least one cup of fresh okra (or you can use frozen okra that has been thawed) to the gumbo during the last 15 minutes of cooking.  I find that 15 minutes is about the ideal amount of time that okra needs to cook to reach its best texture.
Seasonings: We will use a classic mix of Creole seasoning, dried thyme, cayenne, bay leaves, salt and pepper to season the soup.  (Or if you don't have Creole seasoning on hand, you can sub in some Cajun seasoning.  Just note that Cajun seasoning is usually significantly spicier, so you may want to use a bit less and also wait to taste the gumbo and see if you still want to add extra cayenne.)
Rice: Either white or brown rice for serving.
Toppings: And finally, I always recommend some thinly-sliced green onions for topping your bowls of gumbo.  Plus you're also welcome to add some chopped fresh parsley and/or a dash of hot sauce, if you'd like.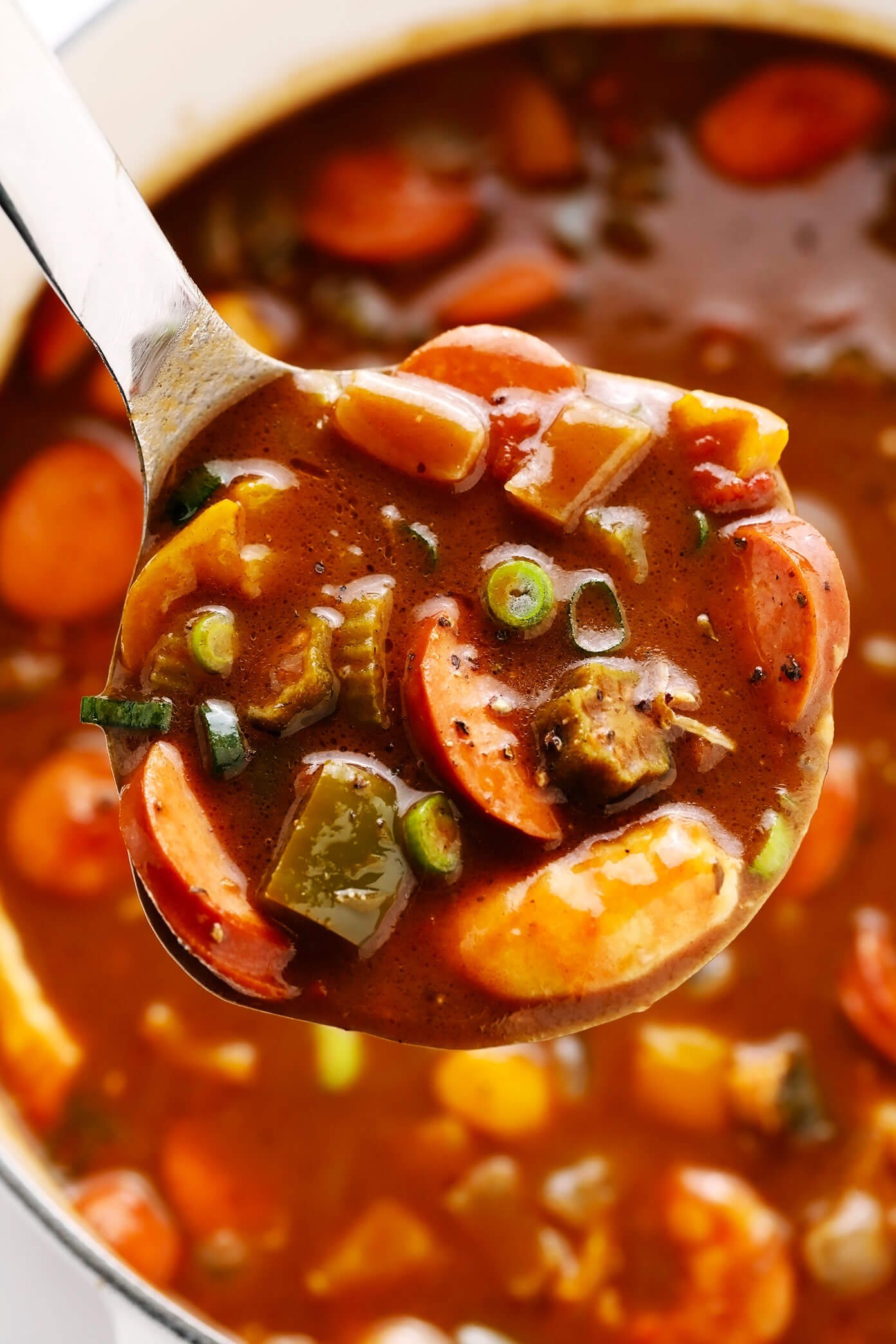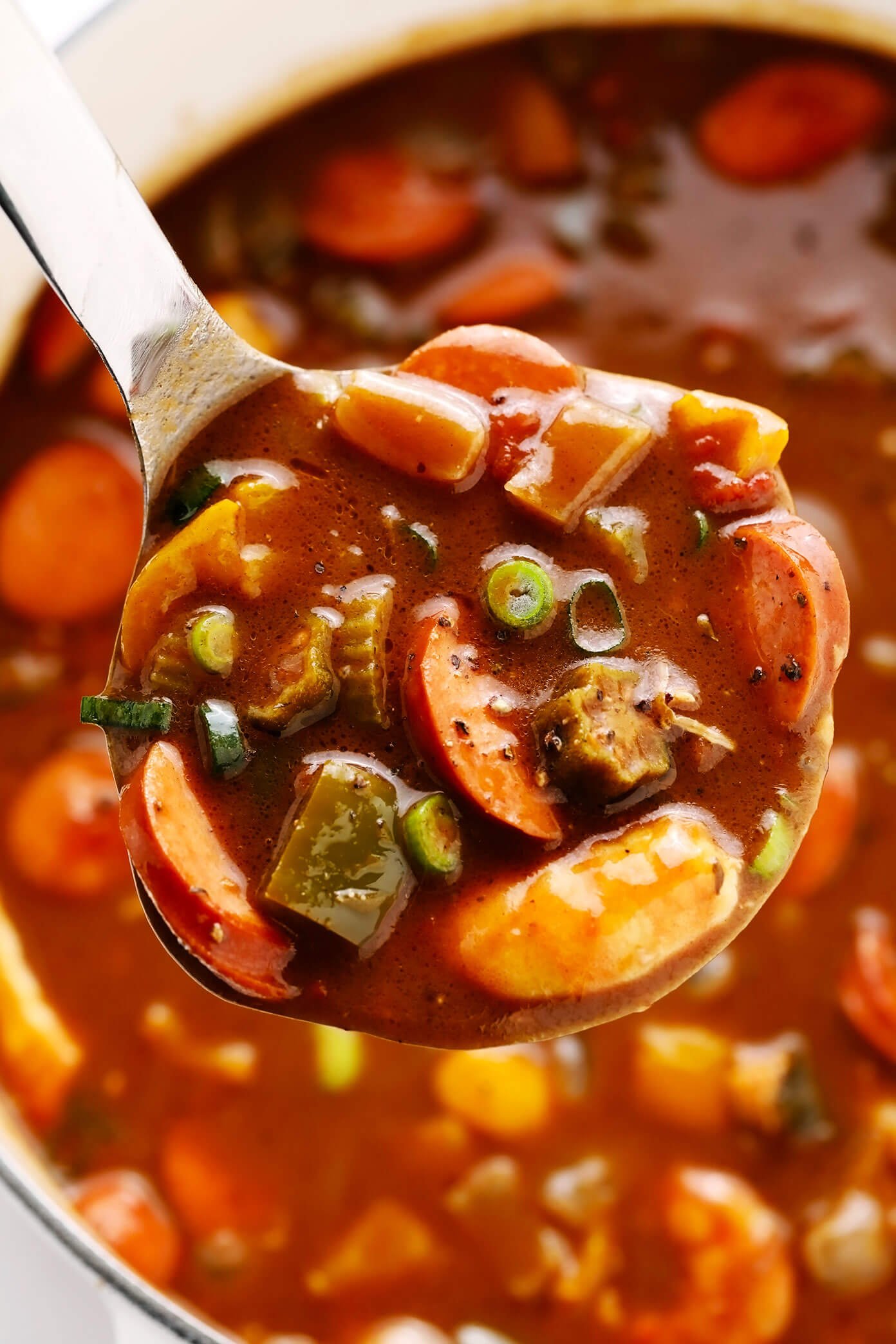 Tips for How To Make A Roux:
The roux is unquestionably the star of this gumbo recipe, lending the most delicious, rich, nutty depth of flavor to the stew.  It's easy to make, but does require some extra time, attention, and a few important techniques.  So here are my best tips for how to make a good roux!
Prep your other ingredients in advance: First off, as much as I typically like to multi-task while cooking, it's important here that you give the roux your undivided attention.  So go ahead and have the next round of ingredients in the recipe prepped and ready to go before you begin making the roux.
Use a wooden spoon/spatula: I really like to use this wooden spatula for making a roux, because the flat edge makes it easy to stir the edges of the pan well.  But any large wooden or silicone spoon will also work, or you can also use a whisk.
Go low and slow: The process of making a good roux unfortunately cannot be rushed.  So as tempting as it might be to crank up the heat to move the process along, it's best to maintain a consistent medium heat and let the roux cook steadily and slowly until it reaches your desired color.  And if you notice that the roux seems to be browning too quickly or starts to smell ever-so-subtly burnt, immediately turn down the heat a bit.
Stir constantly (really): It's easy to accidentally burn the roux if it is not being stirred constantly, especially in the later/darker stages.  In the earlier stages, I will stir the roux every 15-30 seconds.  But by the end, I'm slowly stirring the entire time so that it does not burn.
Aim for a milk chocolate color: Different cooks prefer different colors of roux for gumbo, but I recommend cooking yours until it darkens to somewhere between a copper penny and milk chocolate brown color for optimum flavor.
If it burns, start over: If you follow the tips above, the roux should not burn.  But if it does and you notice that there are little black flecks floating around and the roux smells burnt, unfortunately there is no salvaging it.  You'll need to start over.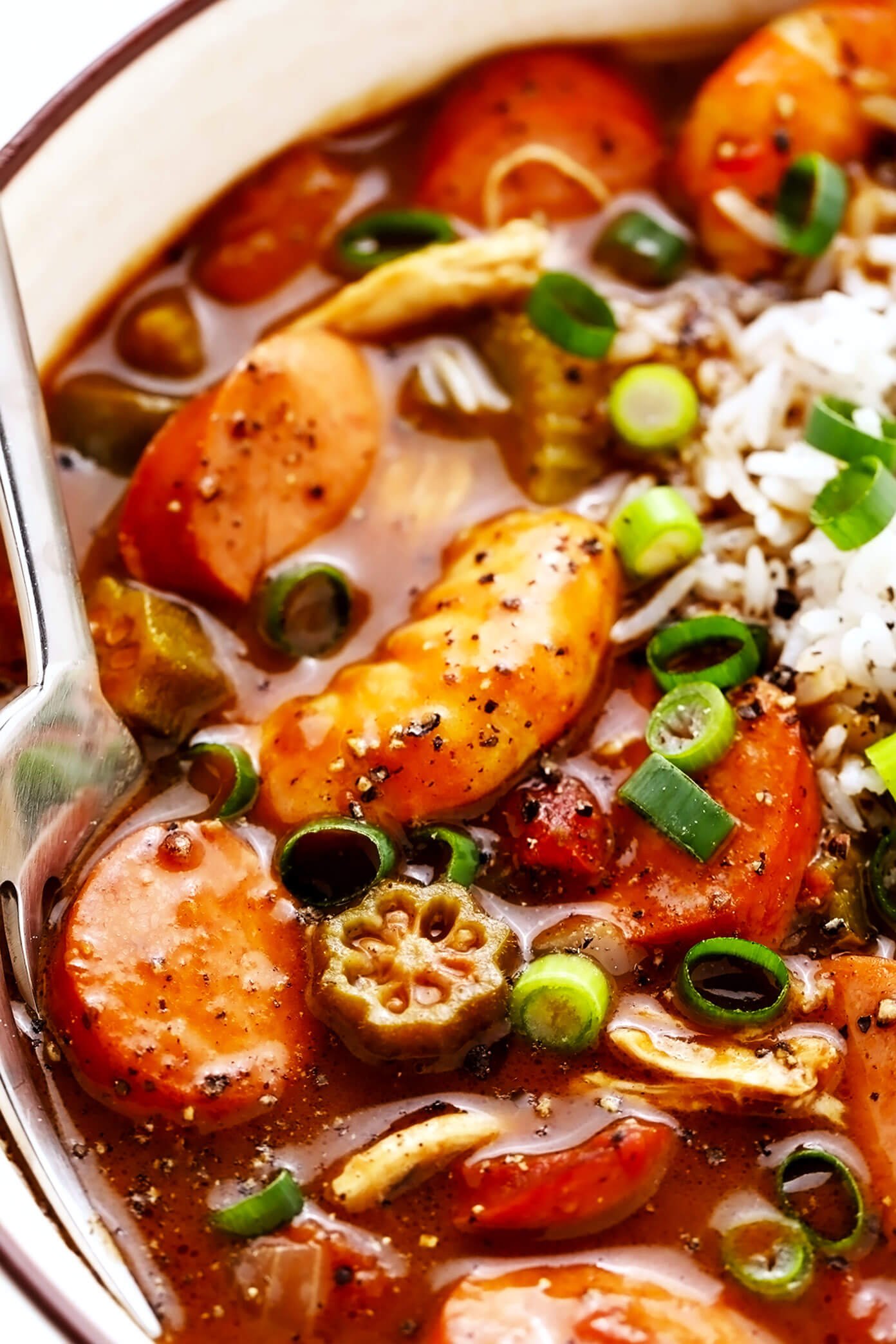 More Favorite Creole & Cajun Recipes:
Looking for more Creole and Cajun-inspired recipes to try?  Here are a few of my faves: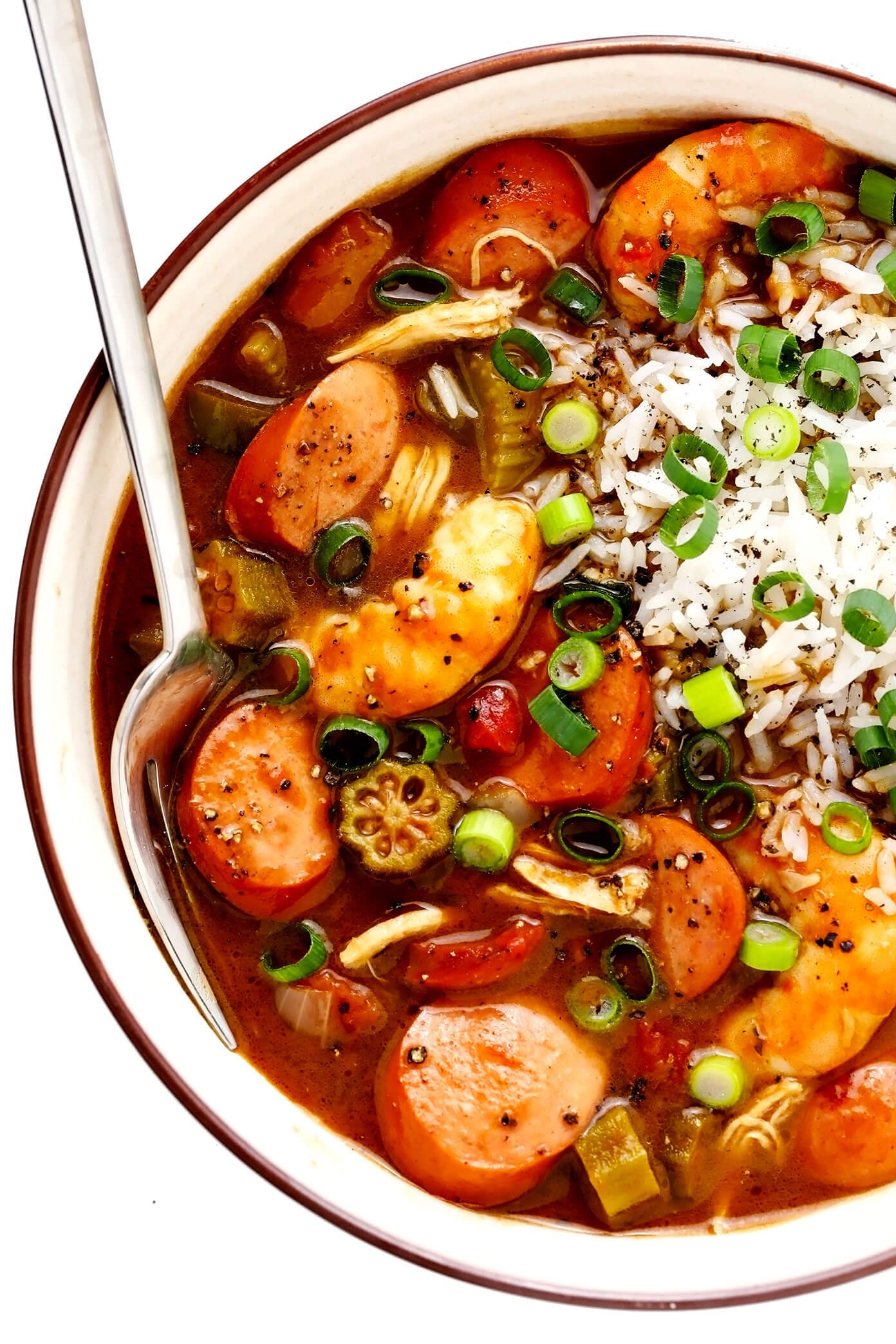 ---
Description
My favorite gumbo recipe is made with a richly-flavored dark roux, your choice of proteins (chicken, sausage and/or seafood), lots of veggies, and served with rice.  So hearty and delicious!
---
Scale
Ingredients
1

pound andouille sausage, sliced into coins

2/3 cup

vegetable or canola oil

1 cup

all-purpose flour

2

large bell peppers, cored and diced

2

large celery stalks, diced

1

small white onion, peeled and diced

5

cloves garlic, minced

6 cup

s chicken stock

1

(14 ounce) can fire-roasted tomatoes

2 cup

s shredded cooked chicken

1 cup

fresh or frozen chopped okra

1 tablespoon

Creole seasoning

1 teaspoon

dried thyme

1/2 teaspoon

cayenne

1

pound peeled and deveined raw large shrimp (optional)
white or brown rice, for serving
toppings: thinly-sliced green onions and/or chopped fresh parsley
---
Instructions
Brown the sausage. Heat a large heavy-bottomed stockpot over medium-high heat.  Add the sliced sausage in a single layer and briefly cook for 1 to 2 minutes per side, until lightly browned.  Transfer the sausage to a clean plate and set aside for later.
Make the roux. Add the oil to the stockpot and whisk in flour until combined. Continue to cook, stirring constantly, until the mixture reaches a dark brown color (similar to milk chocolate), about 20 to 30 minutes. Keep a very close eye on the roux as it cooks, adjusting the heat if it seems to be browning too slowly or too quickly, and whisk it constantly to be sure that it does not burn.
Sauté the veggies. Once the roux reaches the dark brown color, immediately stir in the bell peppers, celery, and onion until combined.  Continue to cook, stirring every 10 to 15 seconds, until the vegetables have softened, about 6 to 8 minutes. Add in the garlic and cook for 1 more minute, stirring constantly.
Add in the broth. Gradually add in the chicken stock, stirring in a few cups at a time so that the broth can thicken. Then add in the tomatoes, cooked chicken, okra, Creole seasoning, thyme, cayenne, bay leaves, cooked sausage, and stir to combine.
Simmer. Continue cooking until the gumbo just barely reaches a low simmer, then reduce heat to medium-low and continue simmering the soup for 5-10 minutes.  (Or if the broth is too thick for your liking, continue simmering a bit longer to reduce it down.)
Add the shrimp. Stir in the shrimp and cook for 2 to 3 minutes until they are opaque and cooked through.
Season. Remove and discard the bay leaves. Taste the gumbo and season with however much salt and pepper it may need, to taste.  (Feel free to also add extra Creole seasoning and/or cayenne too.)
Serve. Serve warm with a big scoop of rice, sprinkled with your desired toppings.
---
---
Notes
Recipe update: Recipe updated slightly in 2021 to decrease the amount of roux, slightly adjust the seasonings, and include the option to use either chicken, sausage, and/or shrimp.