This post may contain affiliate links. Please read my disclosure policy.
This Pesto Pasta Salad recipe is loaded up with the most delicious mix of Italian-inspired ingredients. Easy to prep up to a few days in advance and sure to be a crowd fave!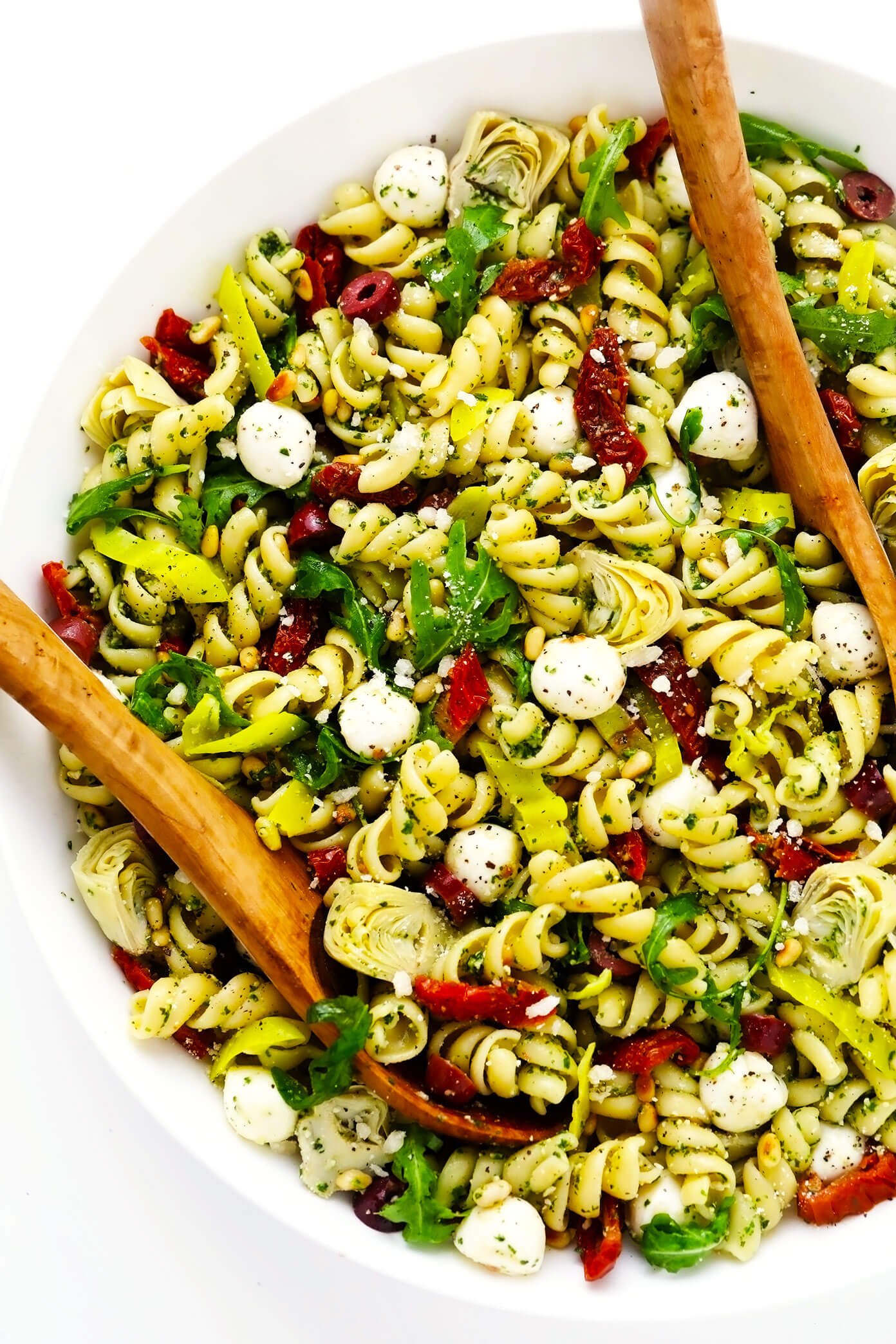 Anytime there's a summer potluck happening, I call dibs on bringing the pasta salad!
And this summer, this fabulous pesto pasta salad is my new go-to. ♡
It's loaded up with all of my favorite Italian-inspired pasta salad ingredients, from sun-dried (or fresh!) tomatoes to tender artichoke hearts, fresh arugula, tangy pepperoncini peppers, mini mozzarella balls, rich Kalamata olives and toasted pine nuts. Everything is generously tossed with fresh basil pesto (I highly recommend using basil while it's in season to make a batch homemade!) and served up with a generous sprinkle of Parmesan. So basically, with this all-star ingredient lineup, it's impossible not to love this one!
That said, this recipe is super flexible, so feel free to also add in some meat (salami, chicken, shrimp, pepperoni) or any of the other ingredient suggestions listed below. It's also easy to adapt this pasta salad to be gluten-free and/or vegan if you'd like. And this recipe also holds up really well in the fridge for a few days, so feel free to make it in advance of a gathering or use it as easy meal prep for the week ahead.
Bottom line, everyone who has tried this pasta salad absolutely raves about it and can't stop going back for more. So whip up (or buy!) a batch of pesto and let's make some pasta salad together!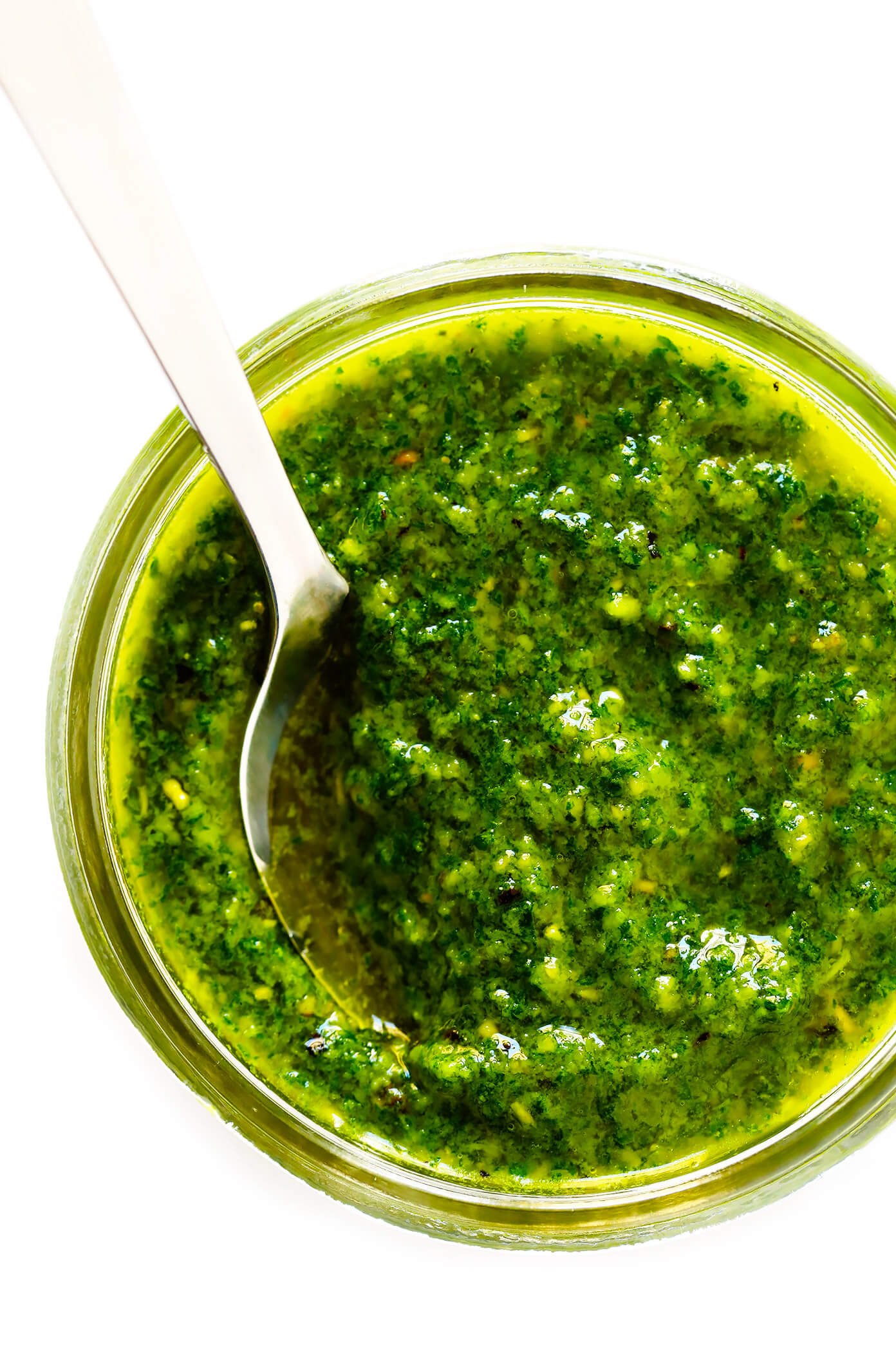 Pesto Pasta Salad Ingredients:
Before we get to the full pesto pasta salad recipe below, here are a few notes about the ingredients you will need…
Pasta: I used rotini, but any bite-sized pasta shape or noodle will also work here.
Basil pesto: You guys know that I'm especially partial to my homemade basil pesto recipe! But let's be real, if you're going for speed here, feel free to toss in some good quality store-bought pesto.
Artichoke hearts: One jar of quartered artichoke hearts — either plain or marinated in herbs.
Mozzarella: I used mini (also sometimes called "pearl") mozzarella balls in this pasta salad. But feel free to dice up a large mozzarella ball, use shredded mozzarella, or kick things up an extra notch with some burrata.
Arugula: I love the peppery flavor that fresh baby arugula adds in here, plus its texture holds up well for a few days in the fridge if you make this salad in advance.
Olives: Kalamatas, Gaetas, manzanillas, black olives, or whatever type of olives you prefer.
Pepperoncini peppers: I'm a big fan of tossing in a handful of tangy sliced pepperoncinis to give the salad an extra kick.
Sun-dried tomatoes: The rich layered flavor of sun-dried tomatoes really shines in this pasta salad. But of course, if. you are preparing it during tomato season, feel free to add in a few handfuls of halved fresh cherry tomatoes instead!
Pine nuts: Finally, I highly recommend adding in some toasted pine nuts for crunch and an extra dose of that rich buttery flavor. Or if you don't happen to have pine nuts on hand, sliced almonds are delicious here too!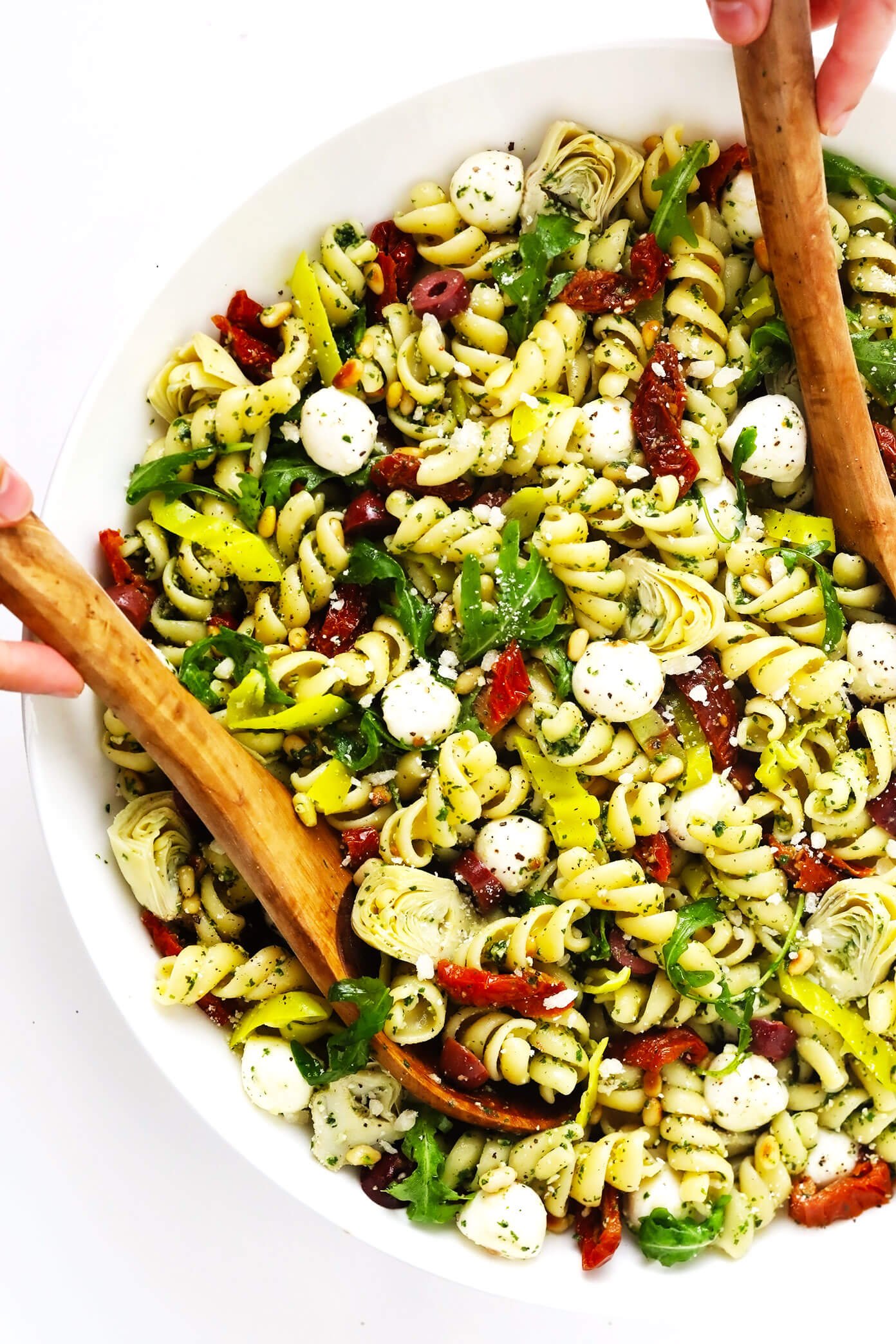 Possible Recipe Variations
As I mentioned above, this Italian pasta salad recipe is incredibly flexible so please feel free to customize it however you would like! For example, you could…
Add meat: Chopped salami, shredded chicken, grilled shrimp or even pepperoni would all be delicious additions to this pasta salad.
Add in other fun stuff: Roasted red peppers (or fresh bell peppers), sliced red onion, cucumber, broccoli, chickpeas, and/or capers would also be fun additions.
Use basil vinaigrette: This simple basil vinaigrette would also be a delicious (and vegan) alternative to pesto.
Use a different cheese: Feel free to use crumbled feta or goat cheese in place of the mozzarella.
Make it gluten-free: Just be sure to use gluten-free pasta.
Make it vegan: Omit the mozzarella and be sure to use a pesto recipe that is dairy-free.
Make it spicy: Feel free to add in a few shakes of crushed red pepper flakes to kick up the heat a bit.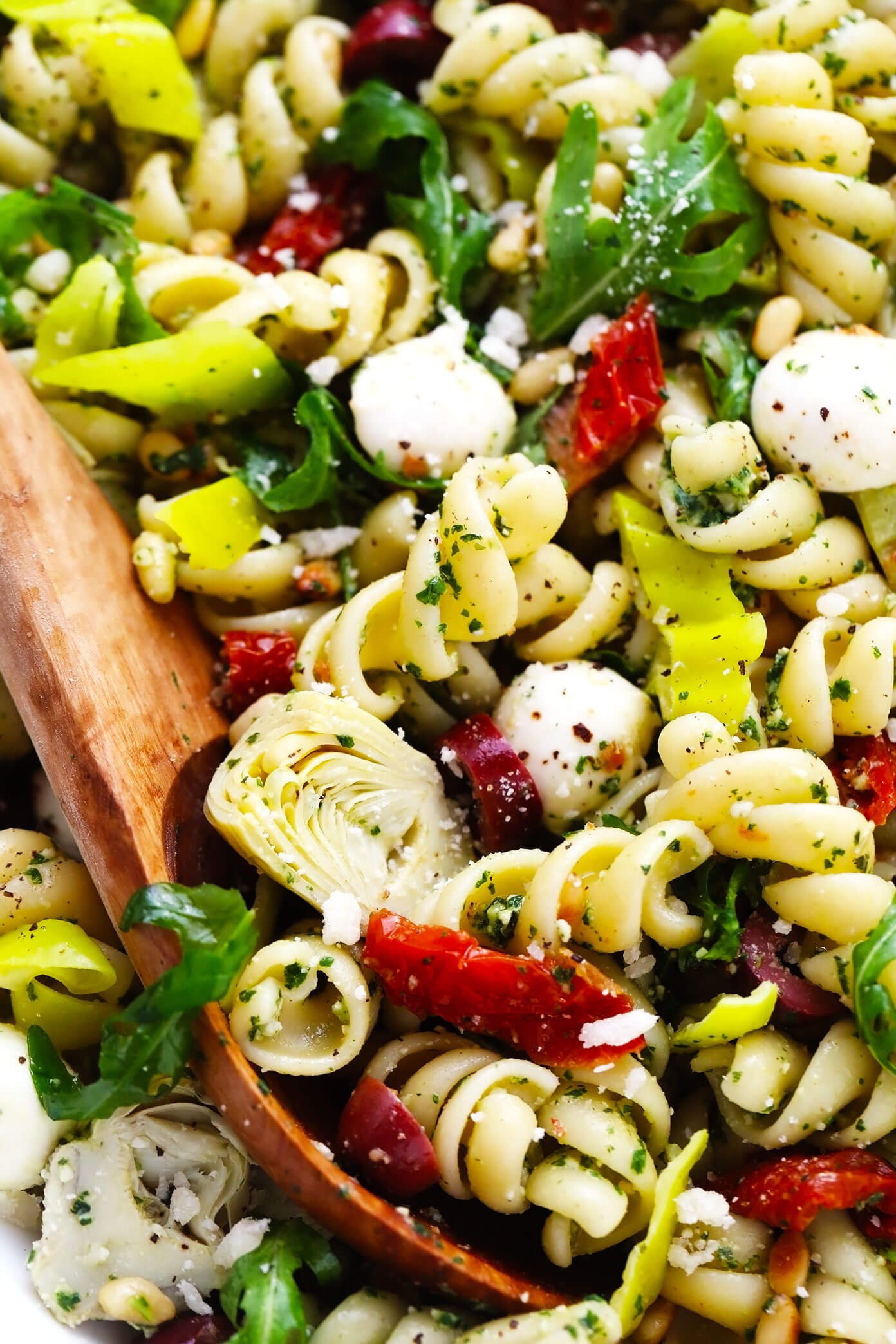 More Pasta Salad Recipes
Looking for more great pasta salad recipes to try? Here are a few of my faves…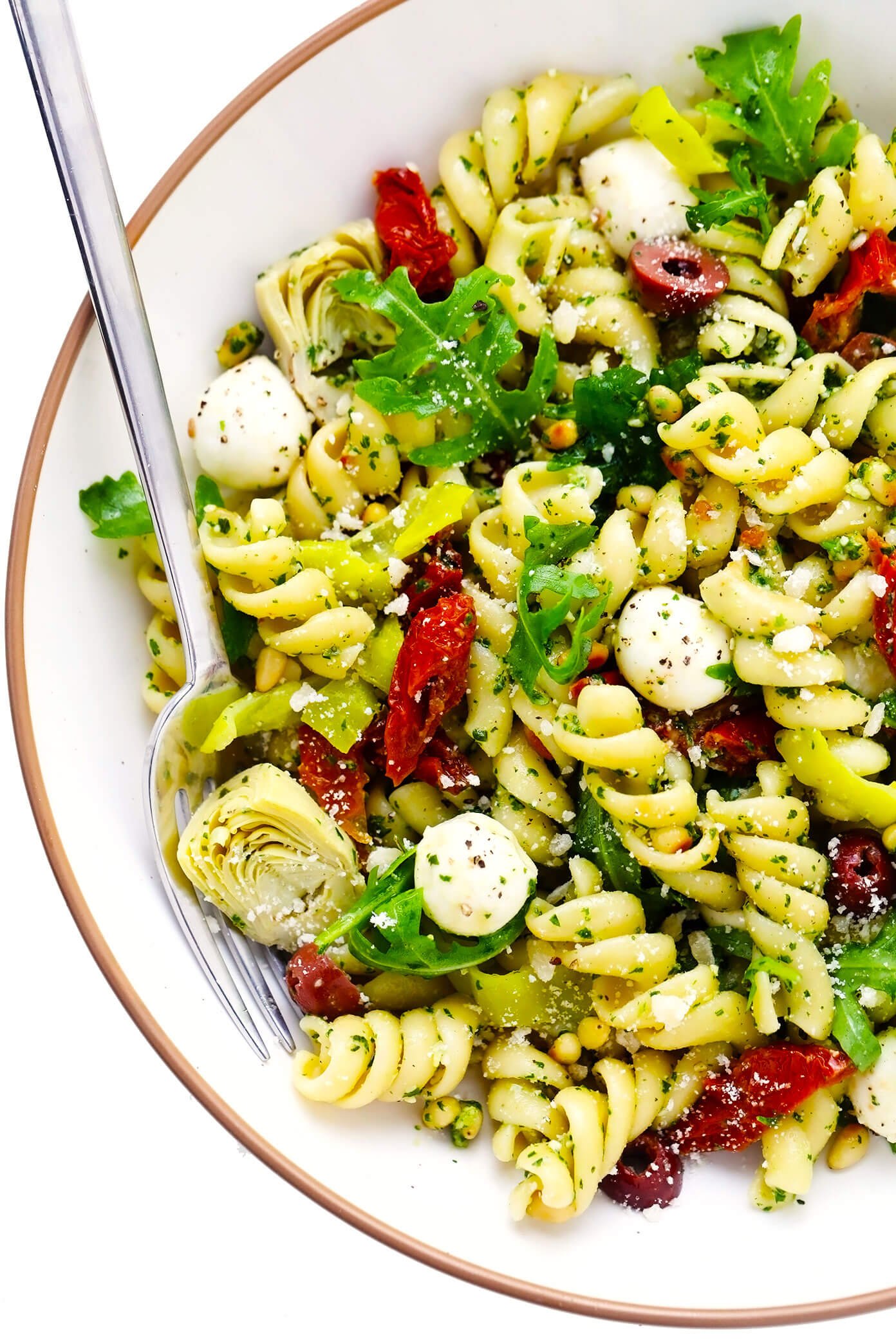 Print
---
Description
This Pesto Pasta Salad recipe is loaded up with the most delicious mix of Italian-inspired ingredients. It's easy to prep up to a few days in advance and it's sure to be a crowd fave!
---
1

pound uncooked pasta (I used rotini)

2/3 cup

(

6 ounces

) basil pesto

1

(12-ounce) jar artichoke hearts, drained

8 ounces

mini mozzarella balls

2

large handfuls baby arugula

2/3 cup

sliced Kalamata olives

2/3 cup

sliced pepperoncini peppers

2/3 cup

sun-dried tomatoes in olive oil, drained

1/2 cup

toasted pine nuts or sliced almonds
freshly-grated Parmesan, for serving
---
Cook pasta. Cook the pasta in a large stockpot of generously-salted water until al dente. Drain the pasta in a colander, then immediately rinse with cold water until the pasta is chilled.
Combine ingredients. Add the chilled pasta and pesto to a large mixing bowl and toss until evenly combined. Add the remaining ingredients and gently toss until evenly combined.
Serve. Serve cold, garnished with freshly-grated Parmesan, and enjoy!
---