This post may contain affiliate links. Please read my disclosure policy.
This traditional Mexican pozole recipe is made with tender pork and hominy and simmered in the most delicious chile broth, then piled high with all of your favorite fresh toppings. Stovetop, Crock-Pot and Instant Pot instructions included!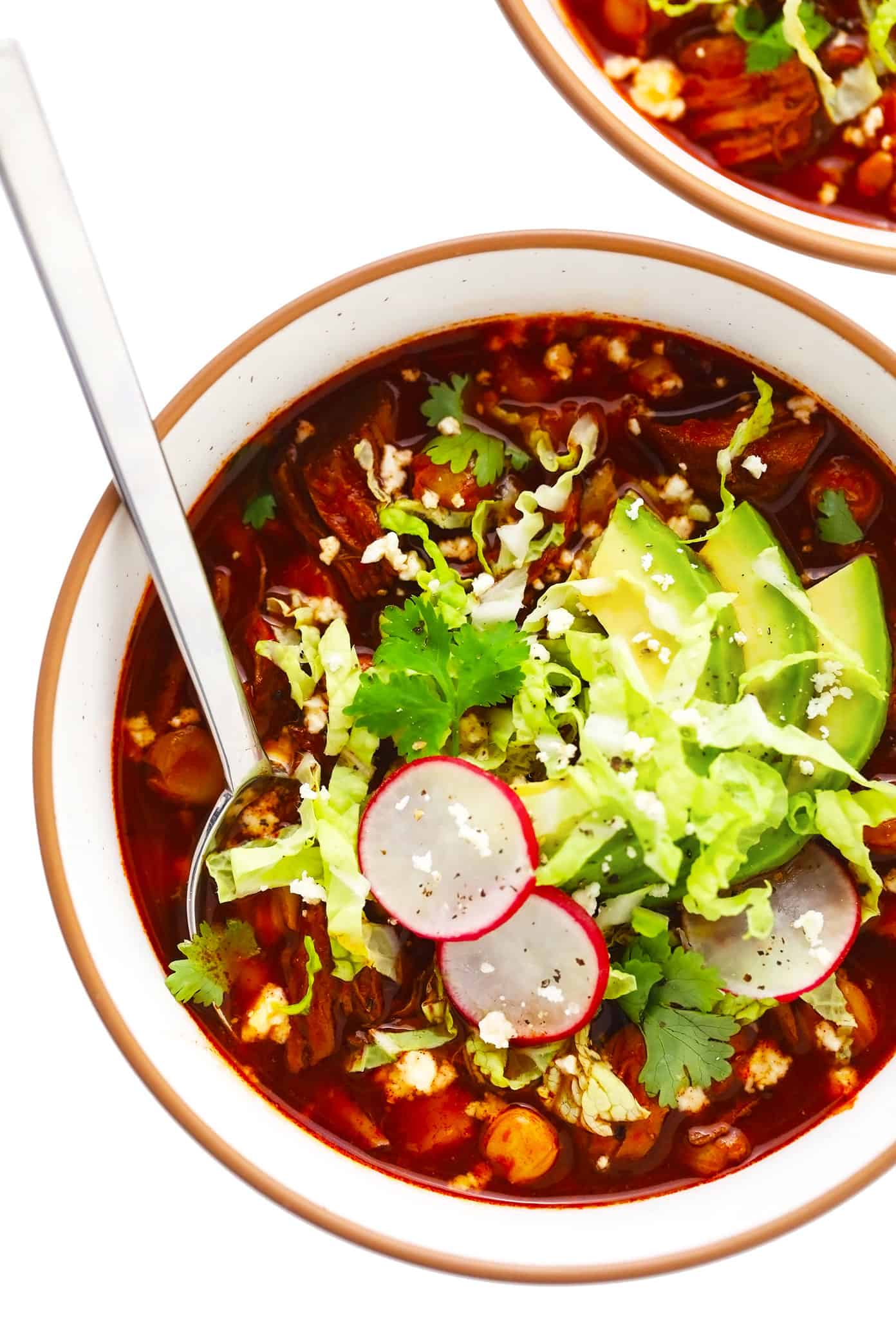 There are a million reasons to love a good bowl of pozole. But in my opinion, the magic of this traditional Mexican soup is found in its rich, vibrant, and incredibly flavorful red chile broth. ♡
By contrast to its pozole blanco (white) or pozole verde (green) cousins, pozole rojo is made with a blend of red chiles that gives this broth the most irresistible balance of savory, smoky, earthy, slightly sweet, and spicy flavors. And when slow simmered together with tender pork and hearty hominy, this later piled high with a generous handful of fresh toppings, this classic Mexican soup is my absolute idea of cozy comfort food to the max. Soooo much flavor!
To be honest, I love this recipe's pozole broth so much that I've been known to make small batches of it just to sip from a mug on chilly winter nights. But when you're craving a good and hearty bowl of soup, the traditional pork and hominy combo here will never let you down. You can either simmer all of the ingredients together for a few hours on the stovetop or toss everything in the Instant Pot or Crock-Pot. And while I'm going to insist that you use dried Mexican chiles to make this broth (no chili powder shortcuts here), I promise that they are incredibly easy to work with and dried chiles are absolutely essential when making pozole. I have also included notes for how to adjust the spice level here to make your batch exactly as mild or spicy as you prefer. And keep in mind that this recipe freezes wonderfully, so feel free to make a double batch while you're at it!
Thousands of you have made and loved our pozole rojo recipe over the years. So in honor of the arrival of fall this week — hello, soup season! — I thought I would bump it back to the top of the site for anyone who has yet to give it a try. Let's make some pozole!
Pozole Rojo Recipe | 1-Minute Video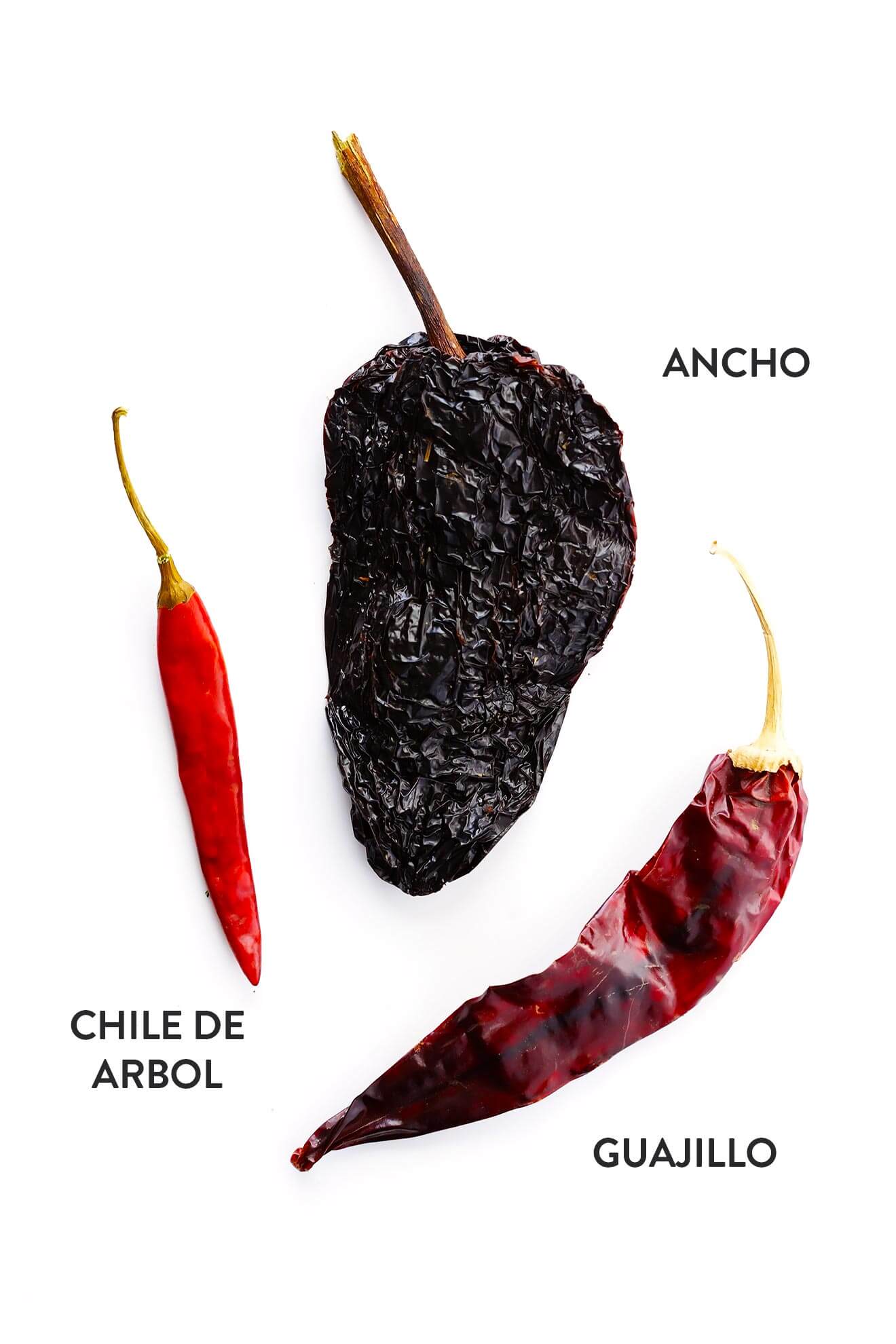 Pozole Ingredients
Before we get to the full pozole recipe below, here are a few important notes about the ingredients you will need to make pozole rojo:
Dried chile peppers: There are many different varieties of dried or fresh Mexican chiles that can be used to make red pozole broth, but this classic trio of dried chiles is my favorite. Each can typically be purchased at a Latino grocery or online. And I highly recommend briefly toasting the chiles before soaking to bring out their best flavor.

Ancho chiles: These dried poblano peppers are fairly mild and have a smoky, earthy, raisin-like flavor.
Guajillo chiles: These moderately hot peppers have a sharp, fruity flavor.
Chiles de árbol: These bright red peppers are fiery hot and are a great way to amp up the heat. (Or feel free to omit these chiles if you prefer a milder soup.)

Pork: I prefer to make pozole with boneless pork shoulder, which becomes incredibly tender and flavorful once it has been slow-cooked in this soup.
Onion and garlic: I typically just sauté and stir onion and garlic into the broth, but you are welcome to purée them into the chile sauce if you prefer.
Chicken stock: Chicken stock or vegetable stock will be delicious as our base. Feel free to add more or less, depending on how brothy you prefer your soup to be.
Hominy: These puffy maize kernels (typically called maíz para pozole in Spanish) are traditionally used to make this soup extra-hearty. You can typically find them in the canned vegetable or Latino section of the grocery store.
Seasonings: I keep the seasoning simple with a mix of ground cumin, ground oregano (or Mexican oregano, if you happen to have some) and bay leaves.
Toppings: Finally, toppings are everything when it comes to pozole! So I highly recommend loading each serving up with a mix of whatever toppings you prefer, such as chopped fresh cilantro, crumbled cotíja cheese, avocado, lime wedges, shredded cabbage, Mexican crema, crumbled tortilla chips, and/or thinly-sliced radishes.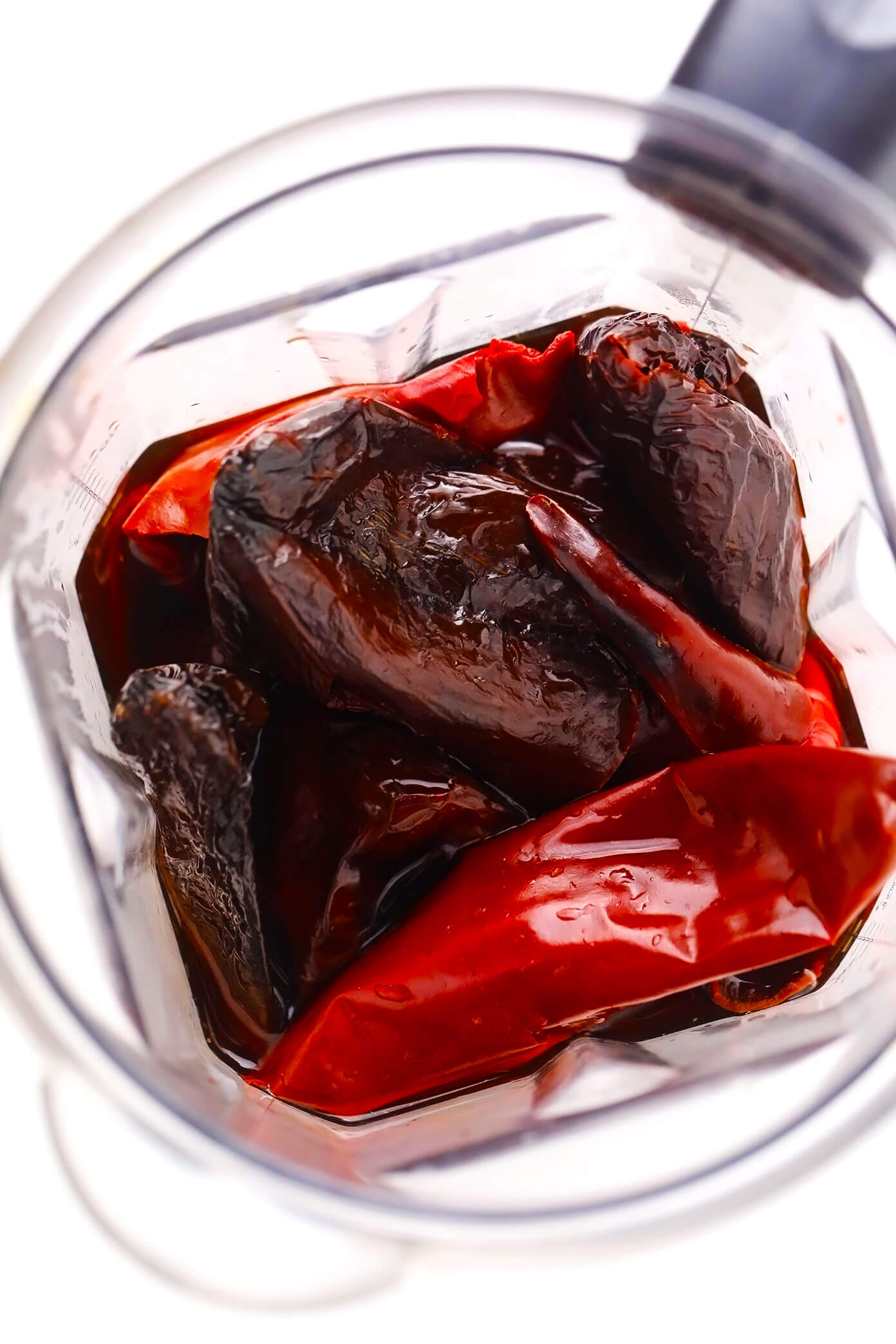 How To Make Pozole
Detailed instructions are included in the recipe below for how to make pozole in the Instant Pot (pressure cooker), Crock-Pot (slow cooker) or on the stovetop, but here is a quick overview:
Make the chile sauce: First, we will make the chile sauce by toasting and then soaking the dried chiles in hot water until softened. Then we will purée them with some of the soaking water in a blender of food processor until completely smooth.
Sear the pork (optional): To add extra flavor, I recommend cutting the pork into 1.5-inch cubes and searing it briefly over high heat before cooking the pork in the broth. That said, feel free to skip this step if you are using the Crock-Pot or Instant Pot method, or if you would like to save time.
Sauté the veggies (stovetop only): If making the stovetop method, we will then sauté the onion and garlic in a bit of oil until softened.
Simmer: Then we will combine the pork, hominy, seasonings, chile sauce, cooked veggies and simmer (either in a covered stockpot, in the Crock-Pot or in the Instant Pot) until the pork is tender and shreds easily.
Shred the pork: Next, we will remove the pork, shred it with two forks into bite sized pieces, and return it to the soup.
Season: Taste and season the soup with salt and pepper (or any other seasonings) as needed.
Serve: And finally, ladle up the pozole and serve it nice and warm, piled high with all of your favorite toppings.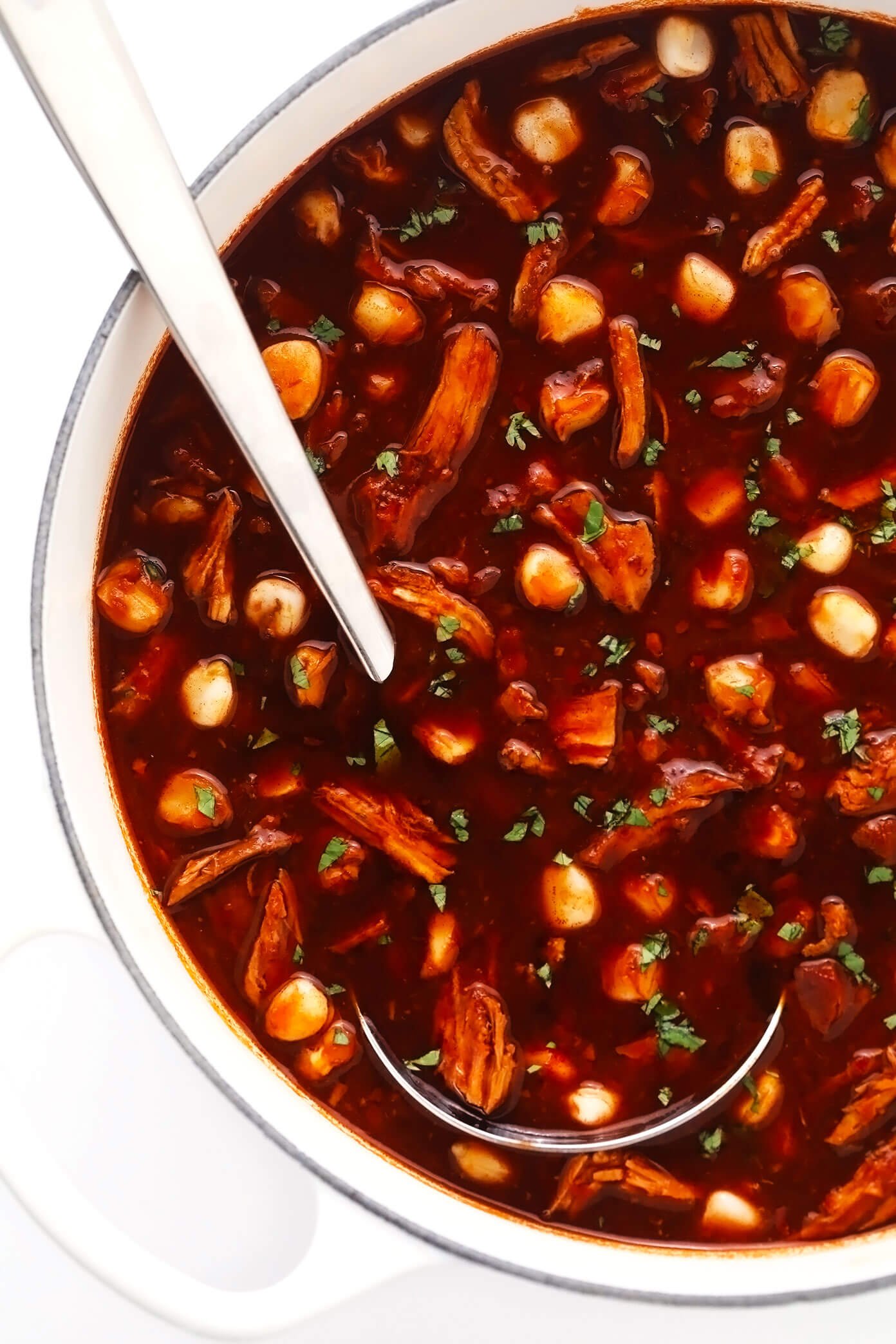 Pozole Recipe Variations
Here are a few options for how to customize this pork pozole recipe to your liking…
Strain the chile sauce: Feel free to strain the chile broth through a fine mesh strainer before adding it to the pozole, which is sometimes traditionally done to give the soup a thinner broth.
Make it spicier/milder: Add in extra chiles de árbol to make the soup more spicy, or omit them (and half of the guajillo chiles) to make the soup more mild.
Add extra veggies: While not necessarily traditional, the addition of extra veggies such as mushrooms, cauliflower, potatoes, peppers, or zucchini would be delicious.
Add beans : Feel free to also add in a can of rinsed and drained pinto beans to give this soup some extra protein.
Use chicken: To make chicken pozole, swap boneless chicken breasts or thighs for the pork and simmer the chicken until completely tender. It will not require as much cooking time as the pork.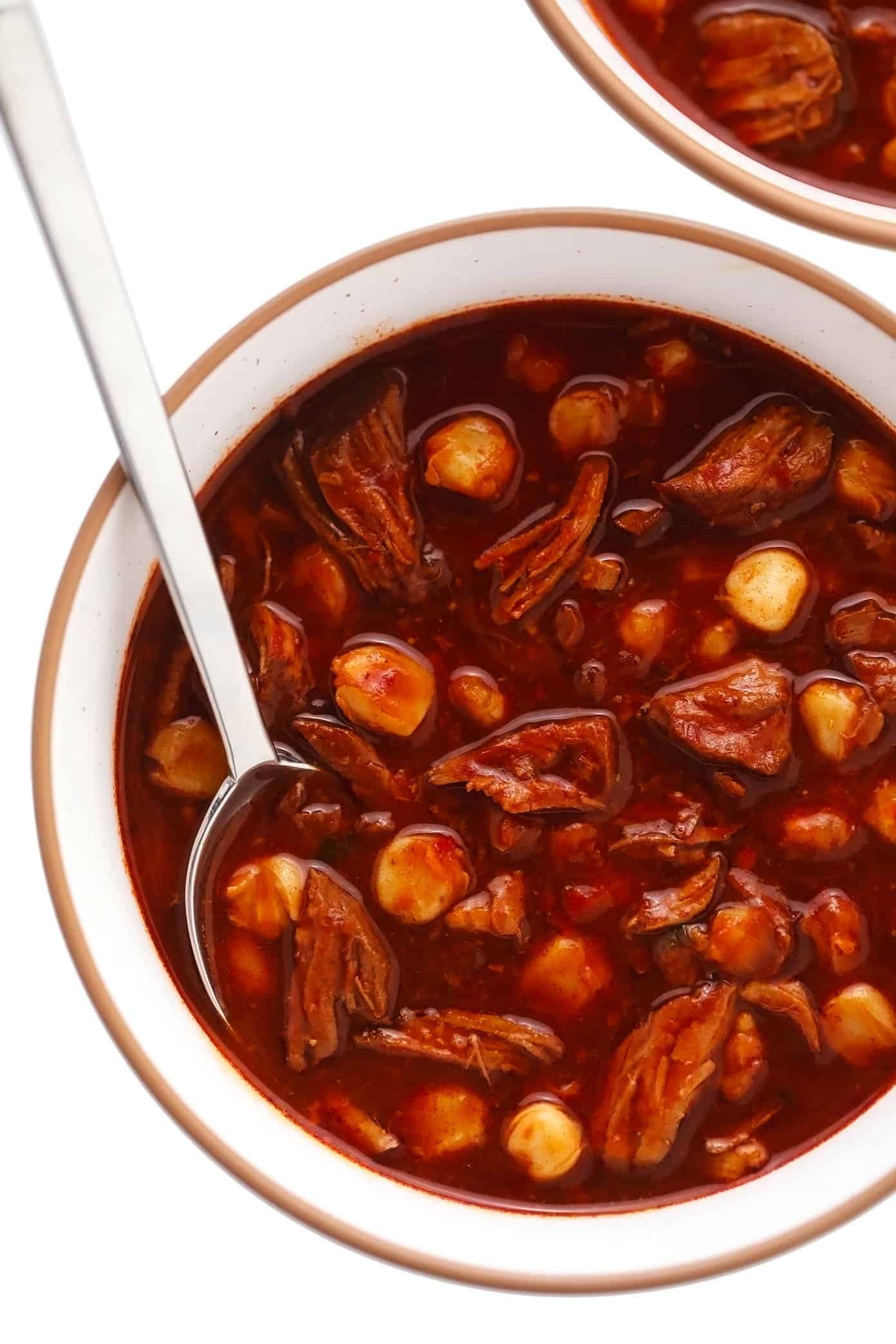 Pozole FAQ
How do you pronounce pozole? In Spanish, pozole is pronounced "poh-SOH-leh."
It is spelled pozole or posole? The correct spelling in Spanish is with a "z," but versions of this soup in the United States are occasionally spelled with an "s."
What does pozole mean? The Spanish word is believed to have originated from a Nahuatl word, pozoll, meaning "a variety of corn or maize."
When is pozole traditionally served? In Mexico, pozole is often traditionally served for large gatherings and holidays, such as Mexican Independence Day, Christmas, New Years and more. Traditional red, white and green pozole recipes vary from region to region across Mexico, and there are also New Mexican and Tex-Mex versions of posole now as well.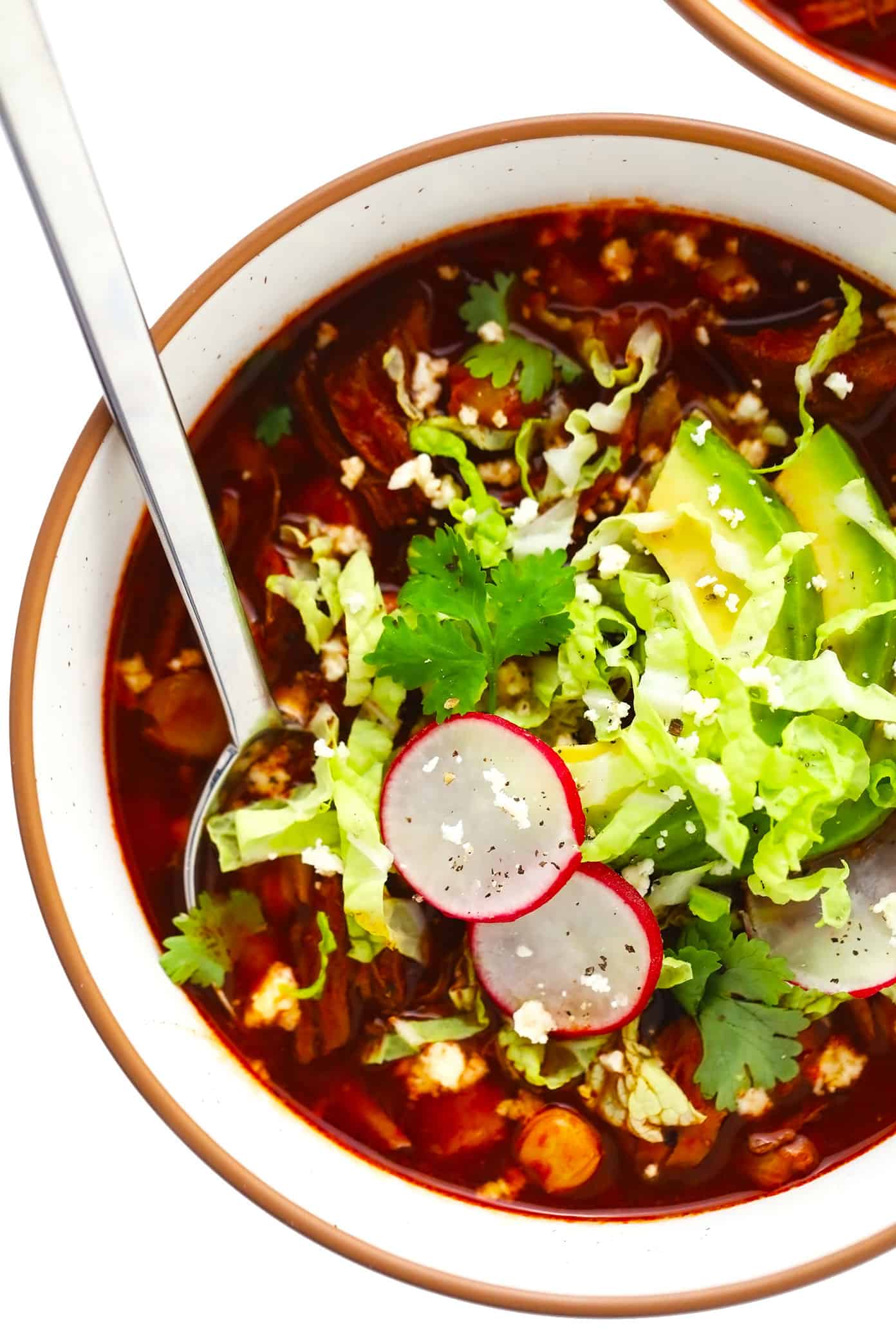 More Mexican-Inspired Soup Recipes
Looking for more Mexican-inspired soup recipes to try? Here are a few of my faves…
This post contains affiliate links.