This post may contain affiliate links. Please read my disclosure policy.
This homemade pumpkin spice latte recipe is quick and easy to make, more affordable than the coffee shop version, and lightly sweetened with maple syrup. Feel free to top with whipped cream if you'd like!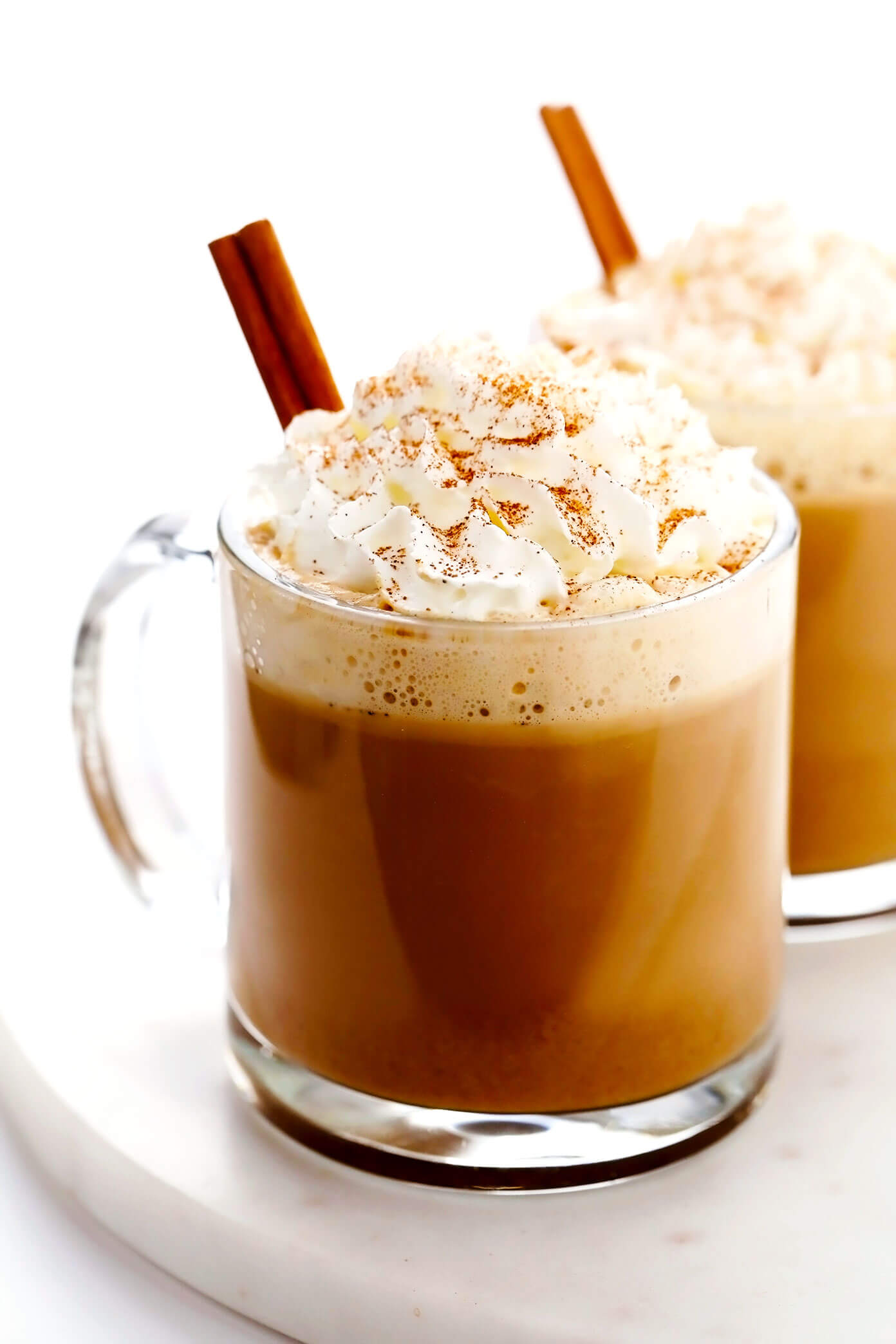 Pumpkin spice latte fans! ♡
In honor of the return of PSL season in coffee shops everywhere, I thought I would bump this recipe to the top of the blog today for those of you interested in making your own pumpkin spice lattes at home this season. Because while the coffee shop version is fun, I'm much more partial to making homemade pumpkin spice lattes because:
I'm one of those people who likes my coffee first-first thing in the morning while padding around at home in my pjs and slippers, and this version can be made in just 5 minutes in the comfort of my kitchen.
I've never been able to handle the sugar roller coaster that comes with the original Starbucks pumpkin spice latte recipe, so I appreciate being able to use less sweetener and natural sweetener (maple syrup, which I would argue is even more delicious than sugar in PSLs) in this homemade version.
I also enjoy being able to use my favorite type of oat milk and coffee and a legit spoonful of pumpkin purée when making my lattes. And occasionally, it's also a fun treat to top it with some whipped cream a la Starbucks.
Finally — let's be real — the cost of those coffee shop lattes adds up quickly. So it's always nice to be able to make a homemade version at a small fraction of the cost.
Anyway, I've been tinkering around with these ingredient ratios for years and finally landed on a pumpkin spice latte recipe that I absolutely love. But of course, the joy of making your own version is that you can customize this recipe endlessly to your taste as well. (Lots of suggestions below!) So if you're a fellow PSL fan, I say tap into your inner barista and let's make some lattes together!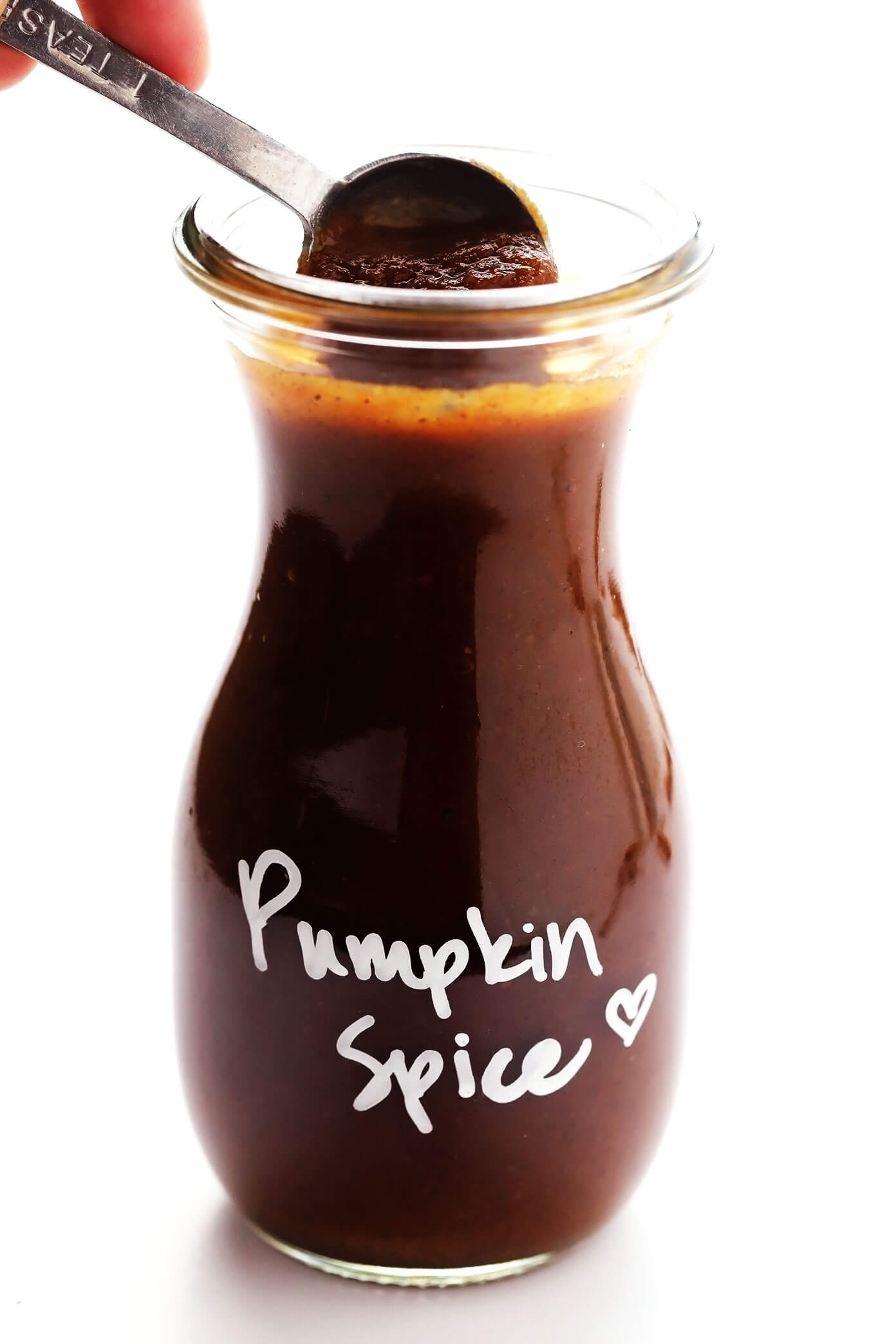 Homemade Pumpkin Spice Latte Ingredients
Before we get to the full homemade pumpkin spice latte recipe below, here are a few notes about the ingredients you will need…
Espresso or strong coffee: You are welcome to use either espresso or very strongly-brewed coffee to make your latte. Starbucks typically adds one shot in their "tall" (12-ounce) latte, but I prefer two shots for the extra coffee flavor.
Milk: Feel free to use whatever type of plain-flavored milk that you love best in this latte. It is traditionally made with cow's milk, but I love using a barista-style oat milk to make mine.
Pumpkin purée: Yes, by contrast to the original pumpkin spice lattes that did not contain actual pumpkin back in the day, this PSL recipe does contain a significant amount of real pumpkin. Be sure to double-check that you are buying pumpkin purée and not pumpkin pie filling, which is a different ingredient altogether.
Pumpkin pie spice: I used my favorite homemade pumpkin pie spice recipe, but you can also purchase it store-bought.
Maple syrup: You are welcome to use whatever sweetener you love best here, but I highly recommend maple syrup! In addition to being a more natural sweetener, its flavor really complements the pumpkin spice flavors and makes this latte extra delicious. Feel free to adjust the amount of sweetener to taste.
Vanilla extract and fine sea salt: We will also add a splash of pure vanilla extract and fine sea salt to the latte to help bring out all of those delicious pumpkin pie spice flavors.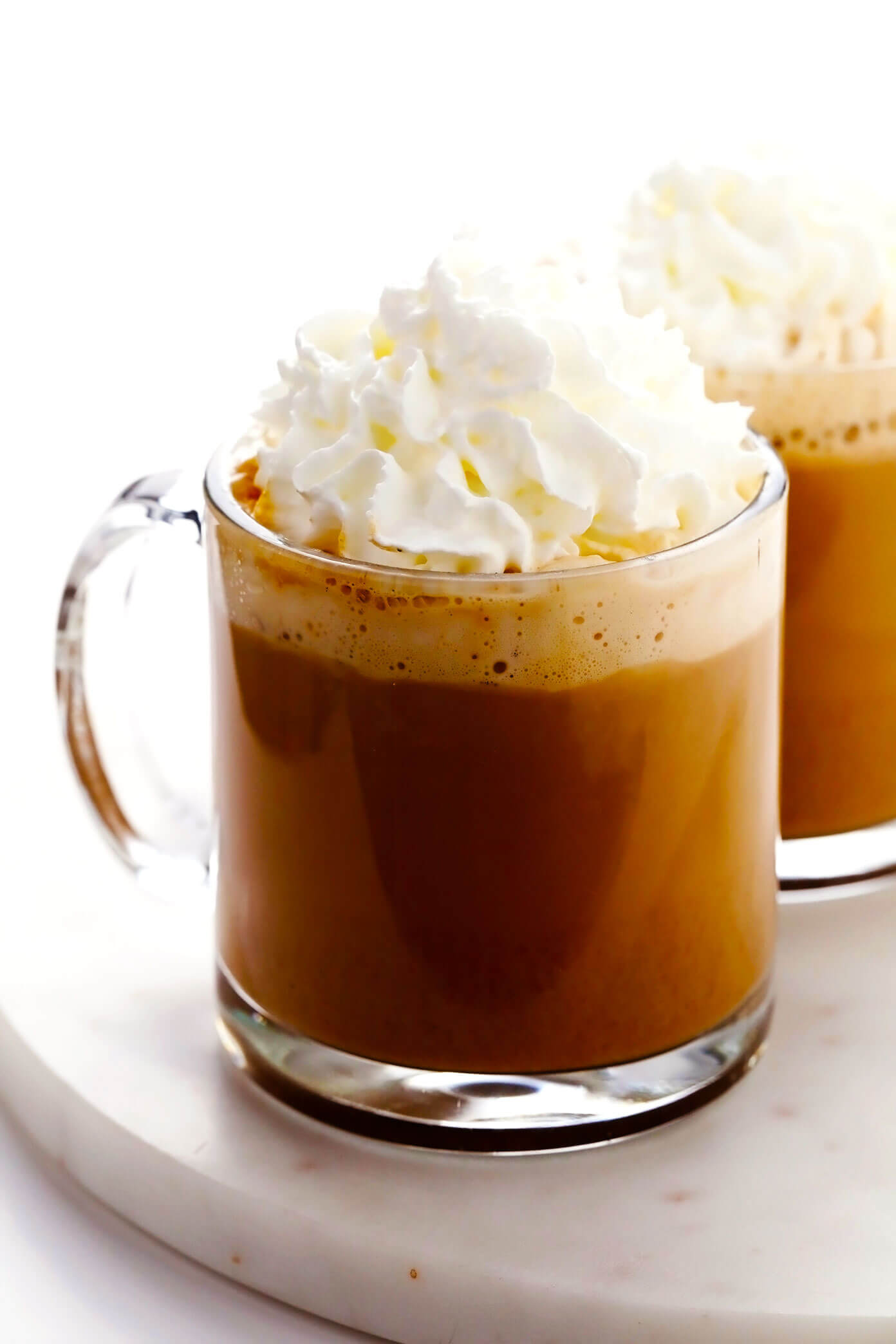 How To Make A Pumpkin Spice Latte
Detailed instructions for how to make pumpkin spice lattes are included in the recipe below, but here are a few tips to also consider…
Make a big batch of the syrup to have on hand. I highly recommend making a large batch of just the syrup (with the pumpkin purée, maple syrup and spices) to keep on hand in the fridge. Then all you will need to do is scoop out 2 tablespoons' worth of syrup each morning to add to your coffee and milk. See the notes below the recipe for instructions on how to make a large batch of the syrup.
Adjust the sweetener to taste. As mentioned above, Starbucks' PSL includes considerably more sugar. So if you want this to taste like the coffee shop version, I would recommend using more sweetener (and they use simple syrup instead of maple syrup).
Froth the milk however you prefer (or skip that step). We invested in a Nespresso Aeroccino a few years ago, which does an amazing job at frothing just about any kind of milk. But you are welcome to use a handheld milk frother or any of these alternate methods (<– I'm partial to the mason jar hack) to froth the milk. Or you can skip the frothing step altogether and your latte will still taste delicious.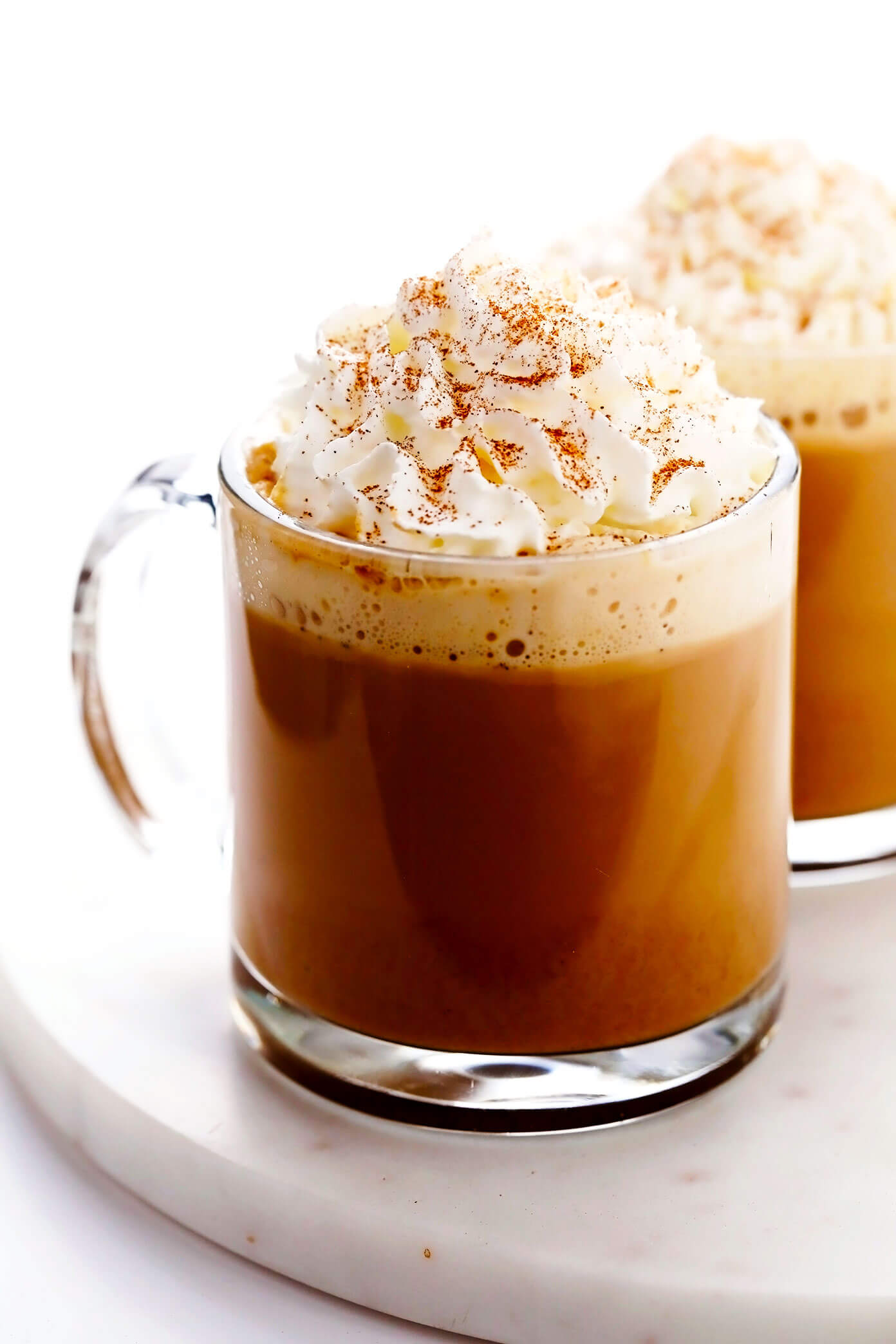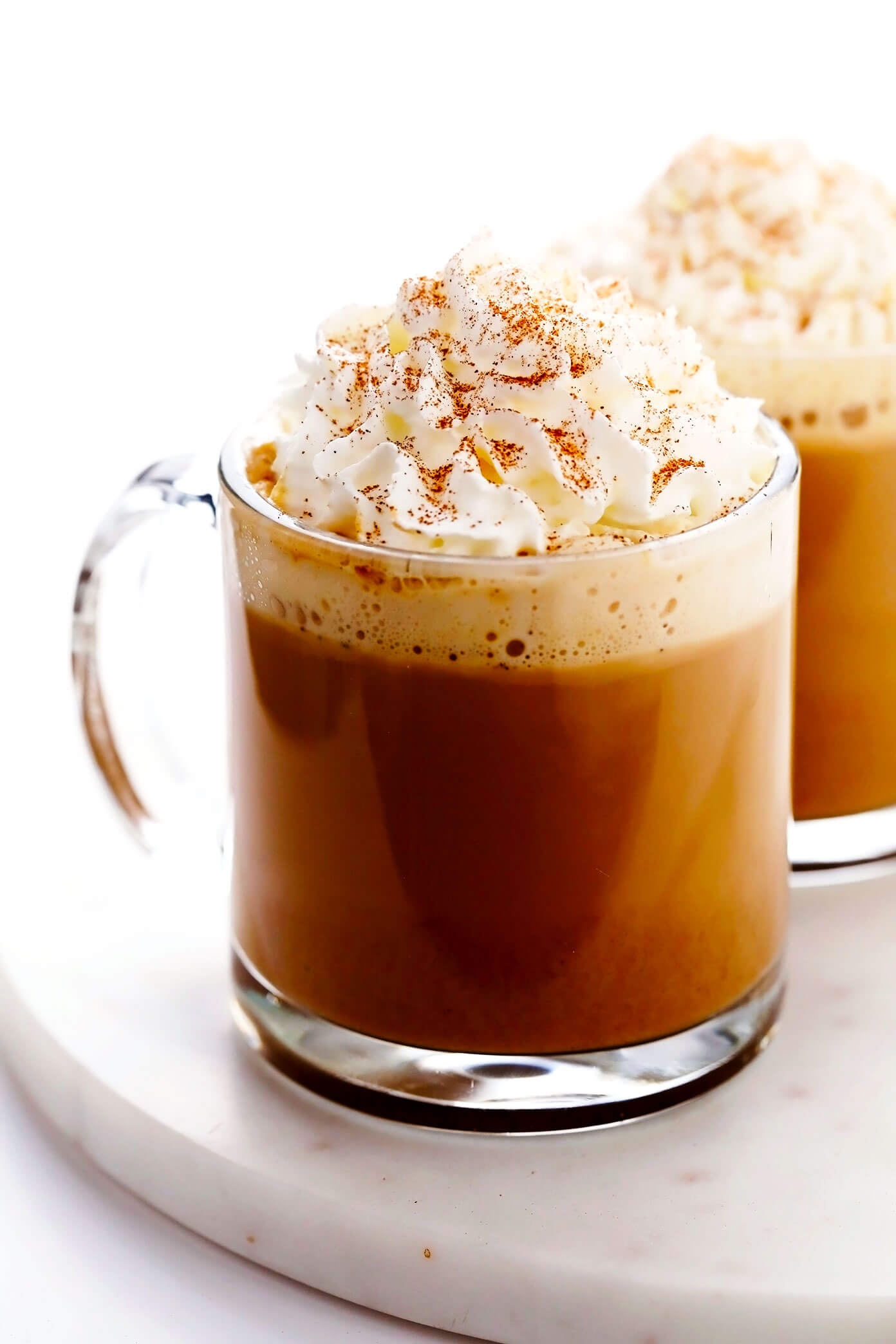 PSL Recipe Variations
Here are a few fun ways that you can customize your pumpkin spice latte recipe if you'd like…
Make an iced pumpkin spice latte: Here is my full tutorial for how to make an iced pumpkin spice latte if you're interested. ♡
Make a chai pumpkin spice latte: Omit the espresso/coffee and instead steep 2 chai tea bags in 1/2 cup of very hot water for a few minutes. Then add the chai tea to the steamed milk and pumpkin spice syrup.
Make a mocha pumpkin spice latte: Add 2 3 teaspoons of unsweetened cocoa powder to the mix. (You may need to add a touch more sweetener too.)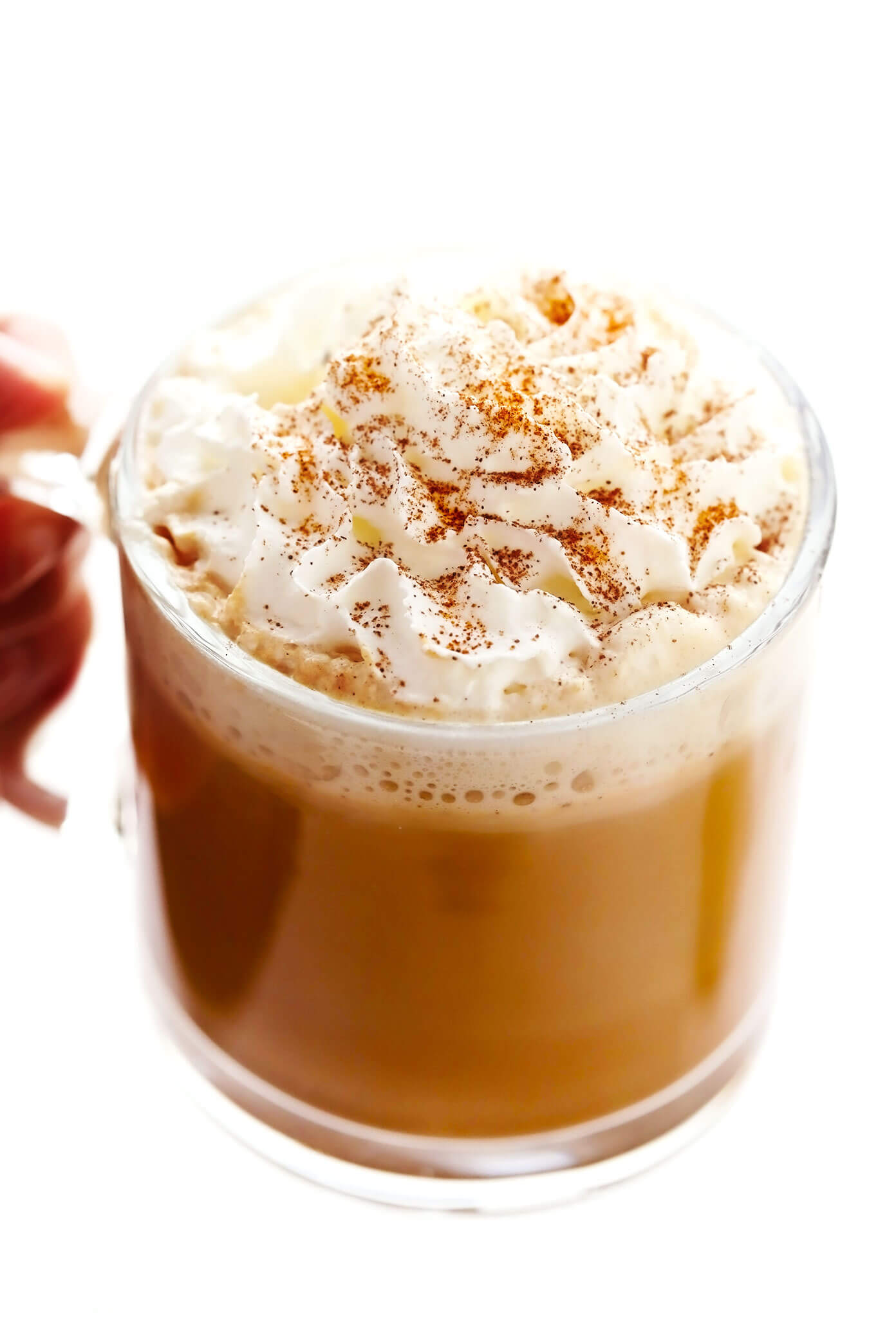 More Favorite Latte Recipes
Looking for more homemade latte recipes to try at home? Here are a few of my faves…
---
Description
This homemade pumpkin spice latte recipe is easy to make in just a few minutes and naturally sweetened with maple syrup.
---
---
Mix the coffee and pumpkin spice syrup. Add the freshly-brewed hot espresso, pumpkin purée, maple syrup, vanilla extract, pumpkin pie spice, and salt to a large mug. Briefly stir to combine until the mixture is smooth.
Heat the milk. Heat and froth the milk until it is very hot (but not boiling) using a milk frother or an alternative frothing method. (Or you can skip the frothing step altogether.) Immediately pour the hot milk into the coffee mixture.
Serve. Serve immediately, topped with whipped cream and/or a pinch of pumpkin pie spice if desired, and enjoy!
---
---
Notes
Espresso/coffee: Starbucks' pumpkin spice latte that is similarly sized (a 12-ounce "tall") typically contains just 1 shot of espresso. I prefer two to really bring out the coffee flavor, but feel free to use however much espresso (or very strongly-brewed coffee) that you prefer.
Sweetener: Feel free to use any other sweetener that you prefer in place of maple syrup, adding more or less if needed to taste.