This post may contain affiliate links. Please read my disclosure policy.
Learn how to make quick pickled red onions in just 30 minutes with 5 easy ingredients!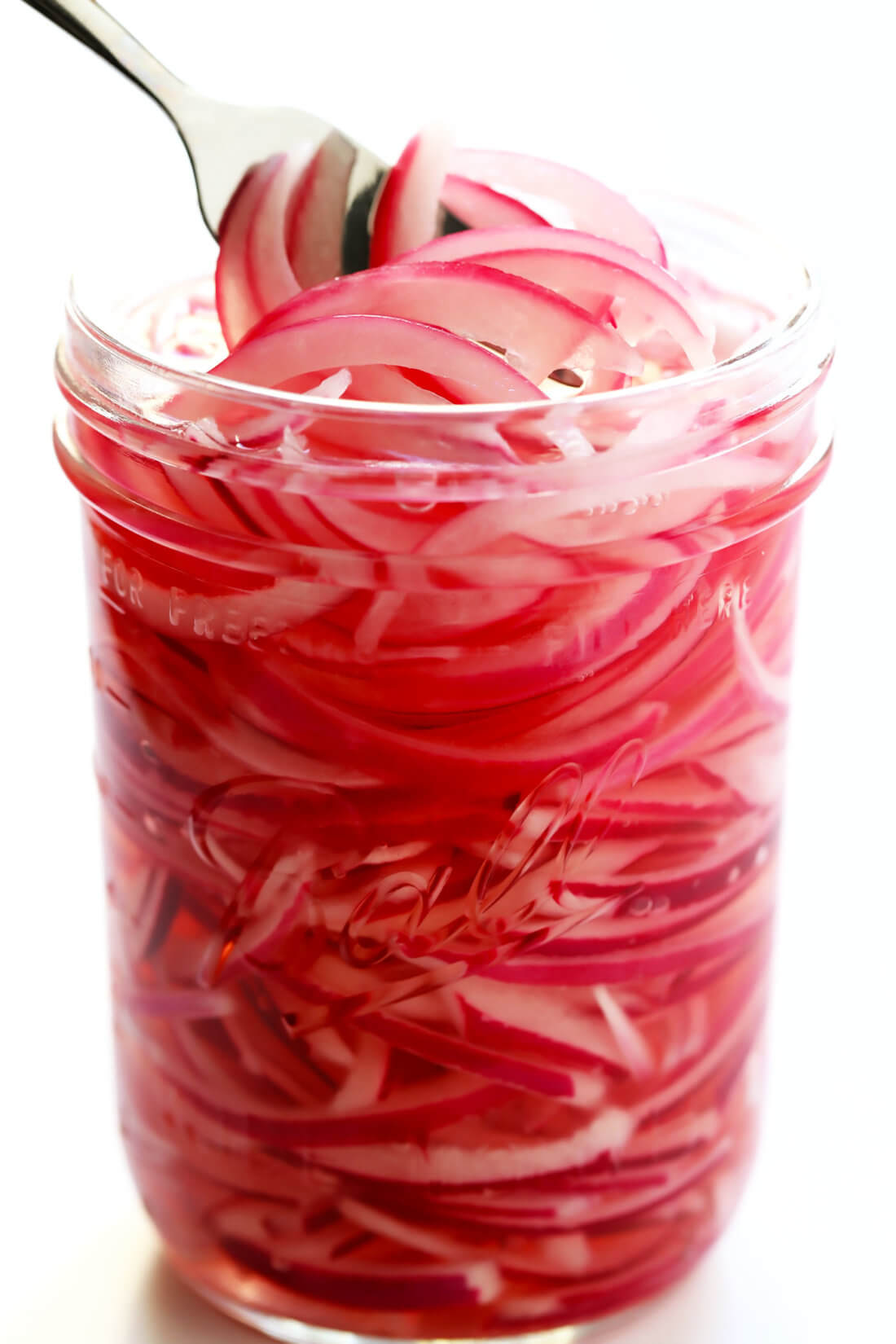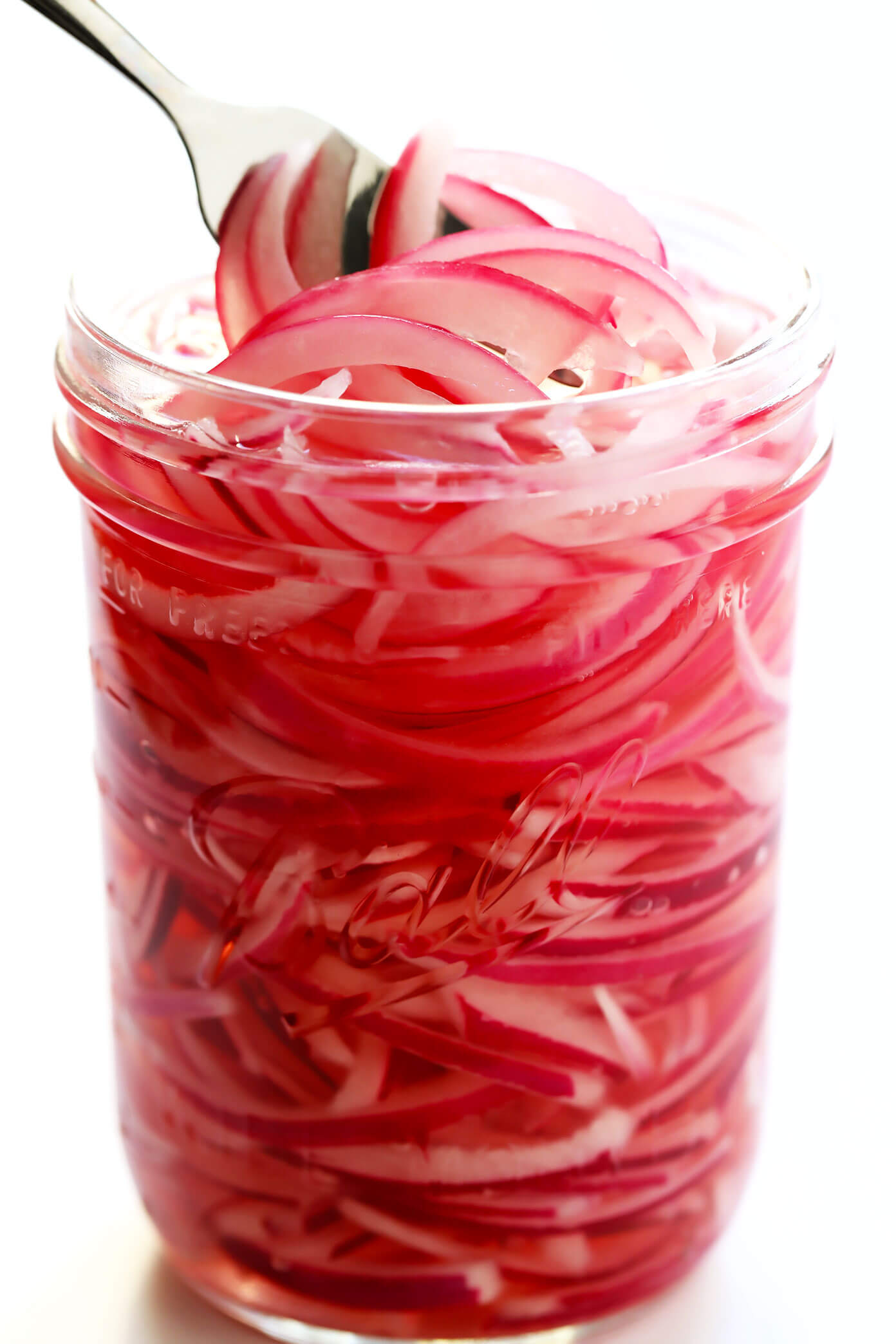 Ever made homemade pickled red onions before?
It's so easy! Also, super speedy.
All you need are 5 basic ingredients, about 5 minutes of prep time, plus another 30 minutes to let the marinade work it's quick-pickling magic. Then a delicious batch of pickled red onions can be yours to enjoy immediately! (No long brining times or canning required!)
We're big fans here in our house of serving pickled red onions with all sorts of Mexican dishes, from tacos to burritos, enchiladas, soups, salads, nachos, chilaquiles and more. But pickled red onions can also liven up everything from burgers to curries, pizza to falafel, eggs to potato salad and beyond. Basically anytime you need an extra pop of tangy, colorful, zippy flavor to balance out your dish, these quick pickled red onions are here for you.
Let's make a quick batch! ♡

Quick Pickled Red Onions Ingredients:
Before we get to the full recipe below, here are a few notes about the ingredients you will need to make this quick pickled onions recipe…
Red onion: One large red onion or two small red onions, which I recommend slicing vertically as thinly as possible. (If you happen to own a mandoline, this would be a great time to put it to use! Otherwise, you can just thinly slice the onions with a chef's knife.)
Vinegar: I prefer the sweeter taste of apple cider vinegar when pickling onions. But you could alternately use rice vinegar, white vinegar or red wine vinegar (or a combination of vinegars) instead.
Sweetener: White (granulated) sugar is traditionally used to make pickled red onions in Mexican cooking, but feel free to use maple syrup, honey, or agave as a more natural sweetener instead.
Salt: We'll add in just a touch to help bring out all of those delicious flavors.
Water: We will also add just a bit of water to the brine. And if you would like your onions to have a milder flavor, you are welcome to par-blanch the onions with some hot water before brining as well. (More on that option below.)
(Optional) Extra seasonings: See note below for optional extra seasonings that you are welcome to add to your brine too.
How To Pickle Red Onions:
Detailed instructions are included in the full recipe below, but here's a brief overview of the process for pickling onions:
Simmer the pickling mixture. First, combine the vinegar, water, salt, sweetener, and any additional seasonings that you would like to add and bring the mixture to a simmer — either on the stovetop or in the microwave.
Thinly slice the onion. While the vinegar mixture is heating, slice your onion as thinly as possible either using a chef's knife or a mandoline.
Pickle. Combine the sliced onion and the hot vinegar mixture in a mason jar, cover and shake to combine. Then let the mixture rest for about 30 minutes, being sure that the onion is completely submerged.
Serve. Then…your pickled red onions will be ready to serve and enjoy!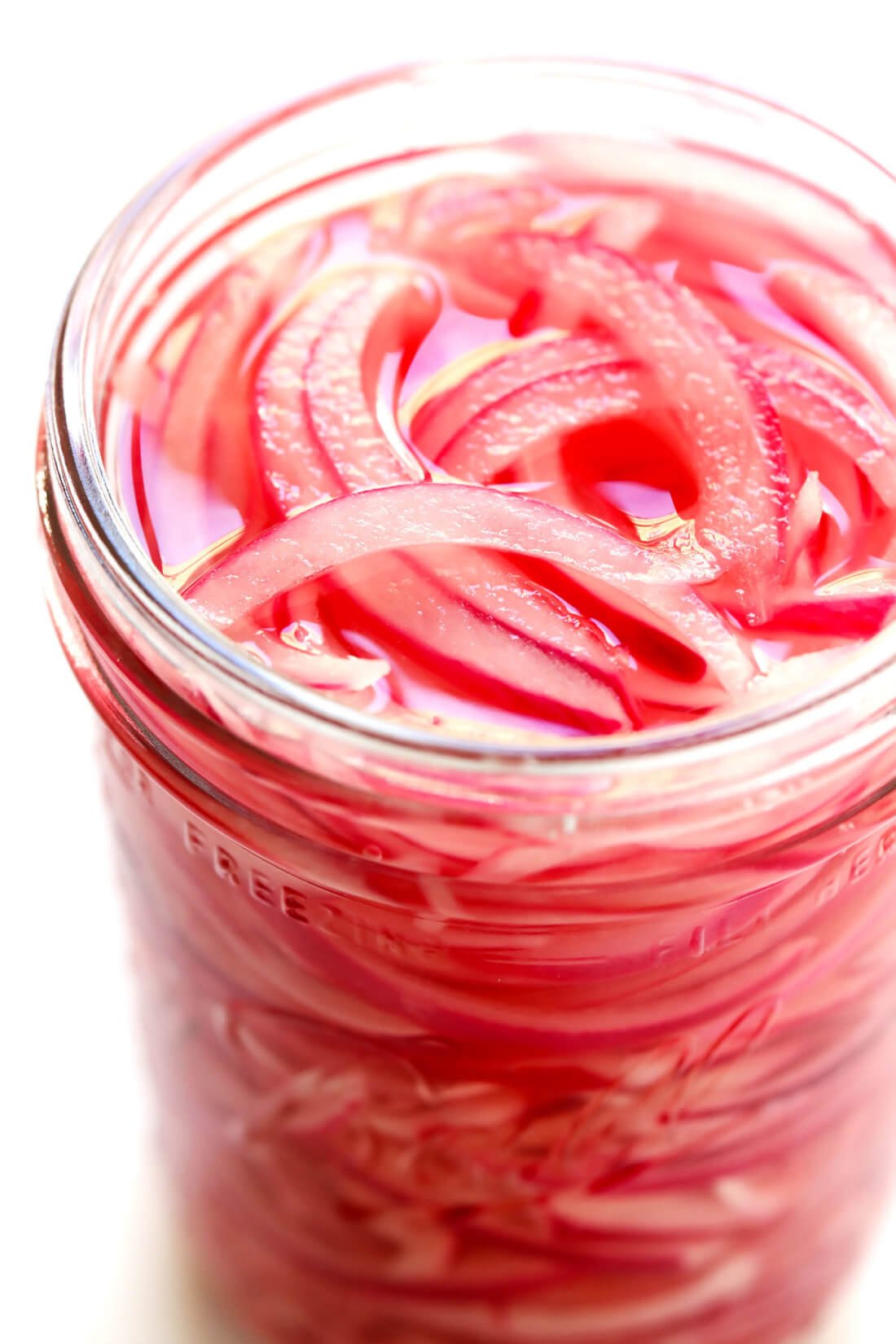 Possible Variations:
There are so many ways to customize your own quick pickled red onion recipe.  For example, you can…
Par-blanch the onions. If you would like to mellow out the flavor of the onions, bring 2 cups of water to a boil. Then place the raw onions in a fine-mesh strainer over the sink, pour the hot water slowly and evenly over the onions, then let the onions drain before combining them with the vinegar brine.
Use thicker onions. If you prefer the crunch of thicker onions, just note that you will need to let them sit in the pickling marinade for at least twice the amount of time.
Make it spicy. Sliced fresh habañero peppers are often added to pickled red onions in Mexico to kick them up a (very) spicy notch.  But for a more mild dose of heat, feel free to add in a slice or two of jalapeño peppers, or even just a pinch of crushed red pepper flakes.
Make it garlicky. Add in a clove or two of thinly-sliced garlic.
Make it peppery. Add in a few whole peppercorns or a few twists of freshly-cracked black pepper.
Make it herby. Add a few sprigs or fresh herbs or a pinch of any dry herbs/seasonings that you love best. (I almost always add a few bay leaves to my pickled onions, plus whatever seasonings go with my accompanying recipe.)
Use a citrus base (instead of vinegar).  In the Yucatan, it's traditional to use Seville (sour) orange juice in place of vinegar. So if your local market happens to carry Seville oranges, just add 3/4 cup freshly-squeezed Seville orange juice in place of the vinegar.  Or if your market does not carry Seville oranges, you can substitute 1/2 cup freshly-squeezed naval (regular) orange juice + 1/4 cup freshly-squeezed lime juice.
Use a different color of onions.  Feel free to use white or yellow onions instead of red onions for a different twist.
How To Use Pickled Onions:
There are so many delicious ways to use pickled red onions! Some of my favorites include…
Mexican classics: tacos, tostadas, burritos, quesadillas, enchiladas, fajitas, chimichangas, flautas, nachos, sopes and more
Breakfast foods: scrambled or fried eggs, chilaquiles, huevos rancheros, breakfast sandwiches, breakfast casseroles and more
Sandwiches: any kinds of burgers, paninis, wraps, or other types of sandwiches
Meat and seafood: chicken, pork, steak, fish, shrimp or shellfish (esp any kind of bbq!)
Side dishes: refried beans, rice, elote, potato salads, roasted veggies and more
Other faves: soups, salads, curries, falafel, pizza and beyond…the sky is the limit!