This post may contain affiliate links. Please read my disclosure policy.
These salted chocolate peanut butter oat cups are quick and easy to make, made with feel-good ingredients, and always SO tasty!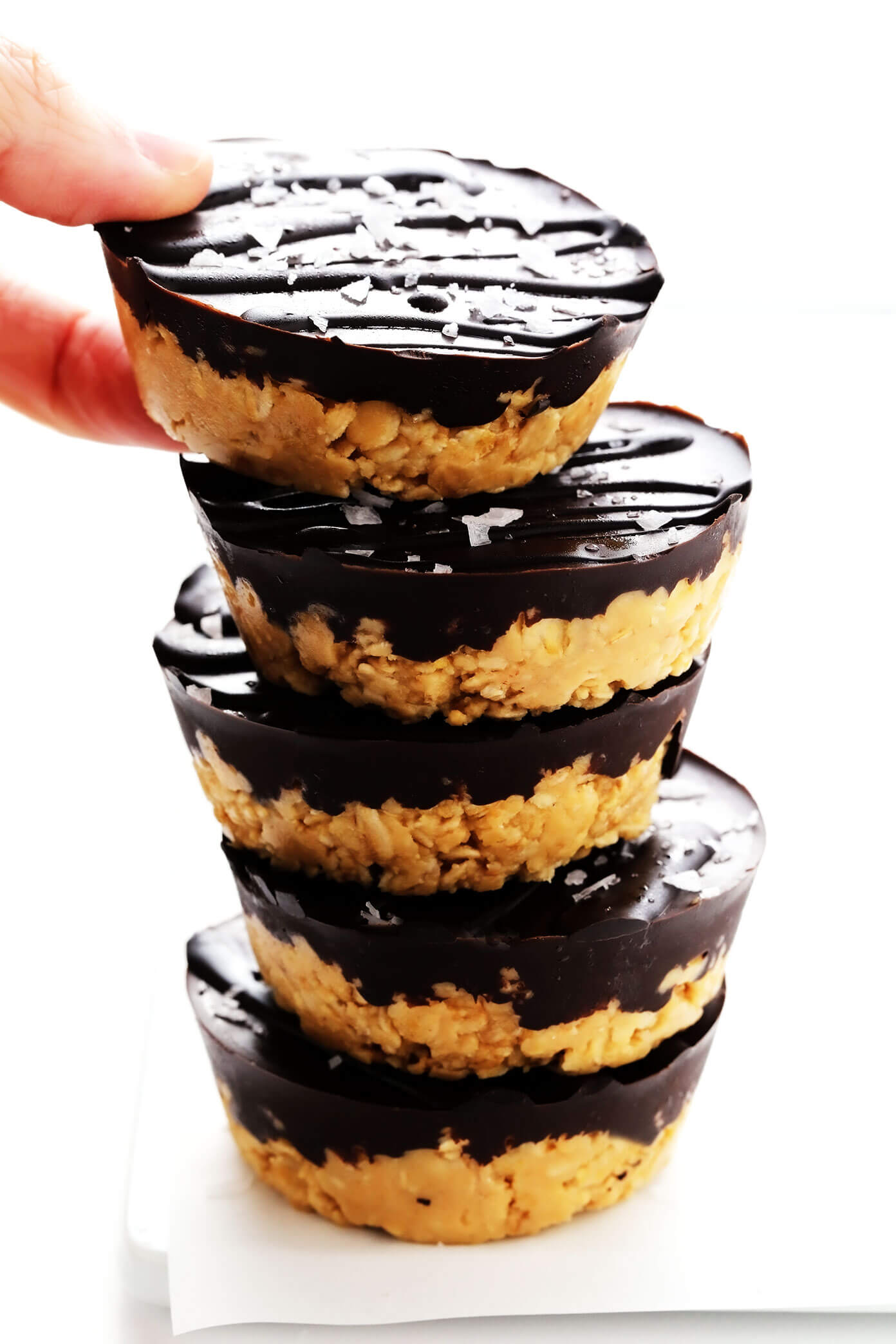 Say hello to the super-simple salted peanut butter oat cups I've been loving lately! ♡
I honestly hesitated to even share this "recipe," since these tasty little treats are super basic and easy to make. But after enjoying dozens of them during pregnancy (in my never-ending quest to find new ways to eat more protein), I thought some of you might enjoy them too. So here we are!
They are made with a simple base of peanut butter and oats, sweetened with however much honey that you prefer. Then when topped with a spoonful of melted chocolate, chilled in the freezer until solid, and finished off with a pinch of flaky sea salt, these oat cups turn into the most irresistible sweet treat. And all the better — a sweet treat made with whole, protein-packed, easy-to-grab pantry ingredients that you can feel great about enjoying!
Feel free to tinker around the recipe, of course, and swap in whatever kind of nut (or seed) butter you might prefer. And if you don't happen to have oats on hand, you could also play around with using puffed rice cereal, puffed quinoa, or other crunchy cereals as a base. But however you make these cups, there's basically no going wrong with this salty chocolate-peanut butter combo here. So have fun and enjoy them!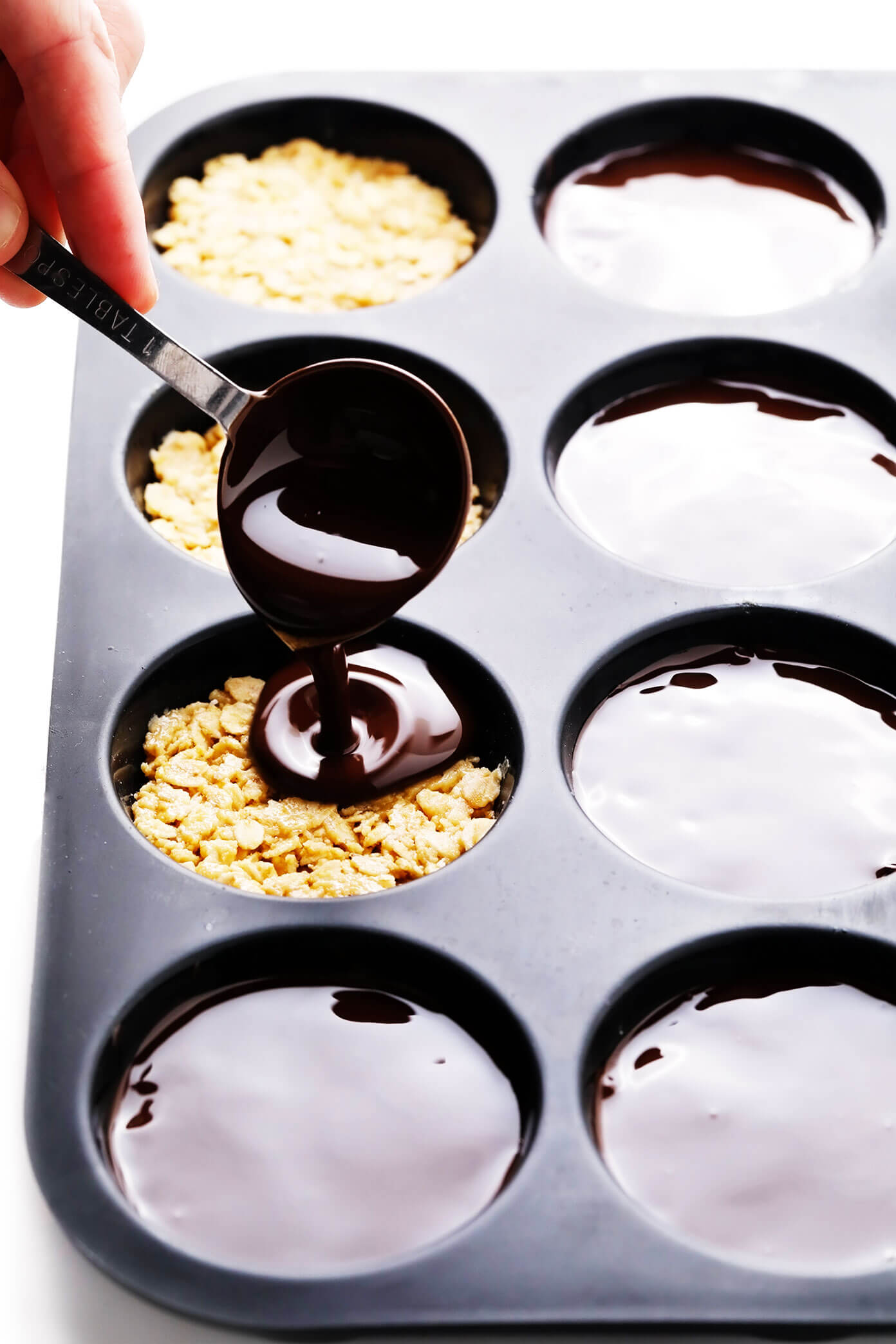 Salted Peanut Butter Oat Cups Ingredients:
Before we get to the full recipe listed below, here are a few notes about the ingredients you will need to make these salted peanut butter oat cups:
Peanut butter: I used homemade natural peanut butter (made with 100% peanuts) for this recipe, which my husband loves making so we always have on hand, but any type of creamy peanut butter that you have on hand will do.
Honey: I prefer not to add too much honey to these oat cups, since the peanut butter and chocolate are already quite sweet. But feel free to add however much you prefer. (Just give the oat mixture a quick taste before adding it to the pan to see if you would like to add more honey.)
Oats: You will need old-fashioned (rolled) oats for this recipe. If you are making it gluten-free, be sure to double-check the brand to be sure that the oats are certified gf.
Dark chocolate: You can use any type of dark chocolate that you prefer for this recipe, which we will roughly chop and then melt in a saucepan (or in the microwave) with a tablespoon of oil (any neutral-flavored oil that you prefer).
Flaky sea salt: And finally, I love finishing these oat cups with a pinch of flaky sea salt on top.
I also highly recommend making these oat cups in a silicone muffin pan, which is definitely the easiest option when it comes to popping the frozen oat cups out of the pan. That said, any non-stick muffin pan will also work. You may just need to carefully run the bottom of the pan under a stream of warm water to help release the cups from the pan.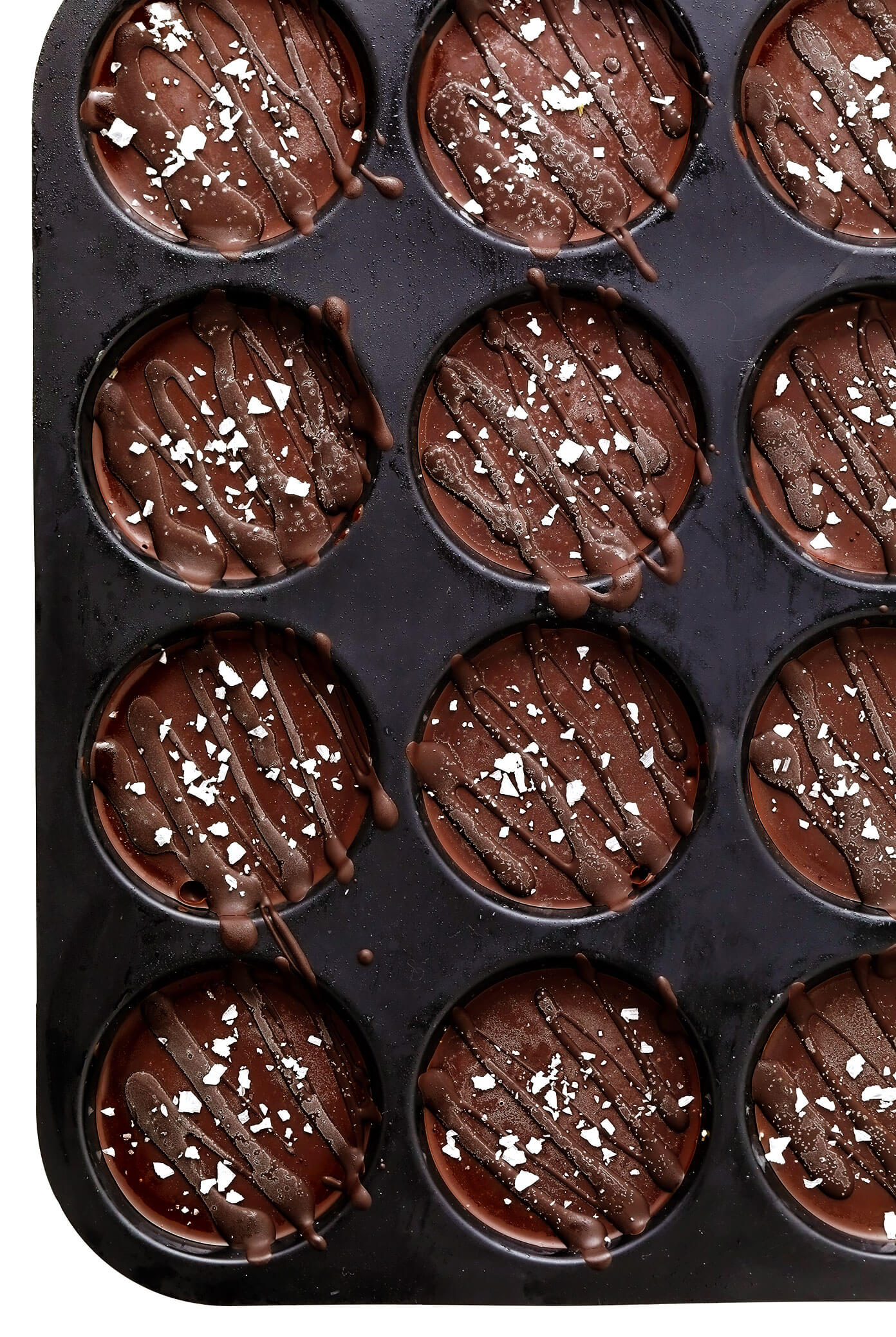 Possible Variations:
Here are a few other fun variations that you can try with this recipe…
Use a different nut or seed butter: Just swap in any other favorite nut butter or seed butter if you would like, in place of the peanut butter.
Use puffed rice or quinoa: If you would like to give these more of a crispy texture, feel free to swap puffed rice or quinoa in place of the oats. (Or you could do a 50/50 blend of oats and puffed cereal.)
Add miso: Add two tablespoons of miso paste to the peanut butter mixture to give these oat cups a delicious extra hint of salty-savory-umami flavor.
Stir everything together: If you prefer not to have the chocolate layer on top, feel free to just stir the melted chocolate mixture directly into the oat-and-PB mixture.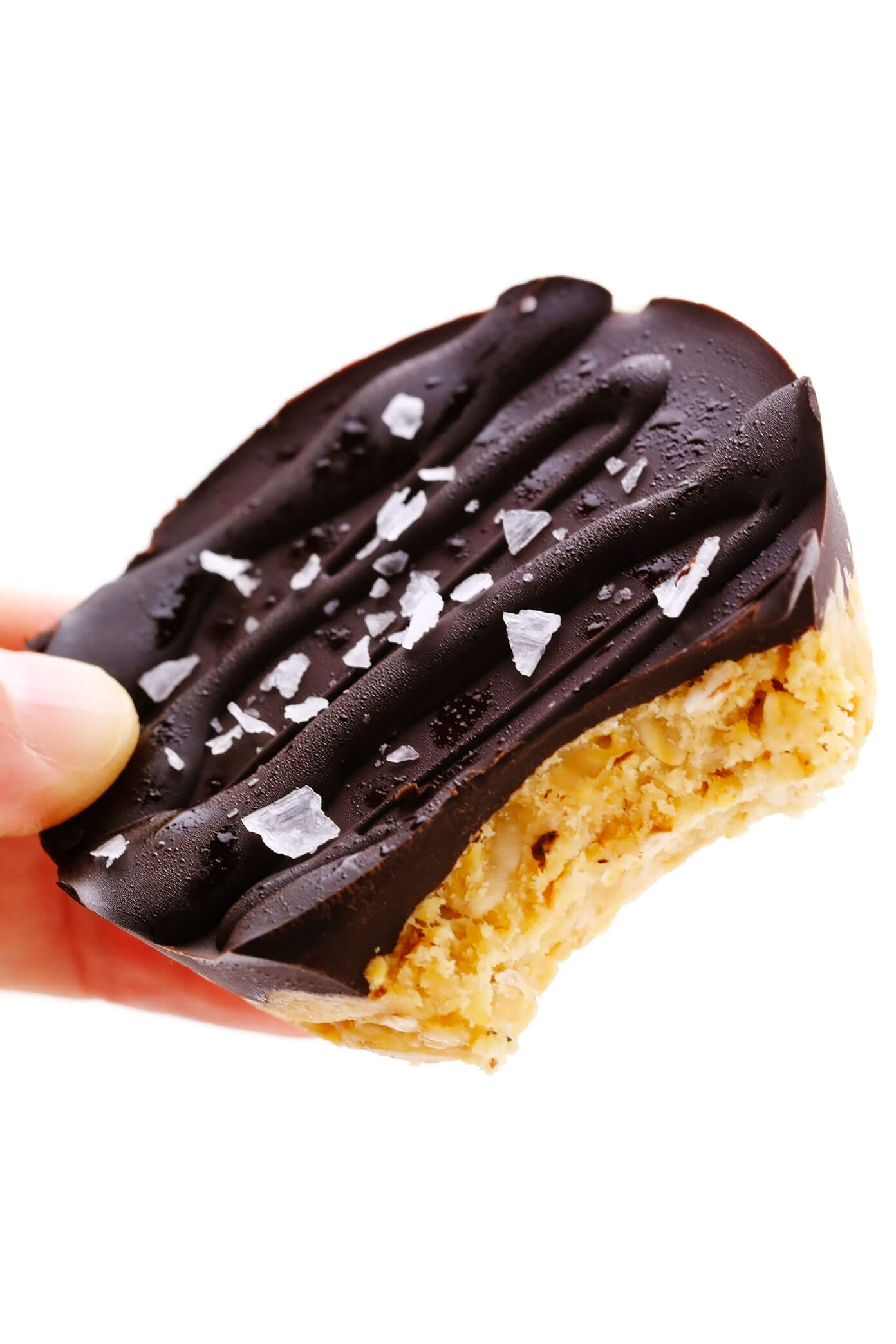 More Chocolate Peanut Butter Treats:
Can't get enough of that irresistible chocolate + peanut butter combo? Here are a few more recipes to try…
clock icon
cutlery icon
flag icon
folder icon
instagram icon
pinterest icon
facebook icon
print icon
squares icon
heart icon
heart solid icon
---
Description
These salted chocolate peanut butter oat cups are quick and easy to make, made with whole ingredients, and always such a tasty sweet treat!
---
---
Prep the oat mixture. Heat the peanut butter and honey in a small saucepan over medium-low heat, stirring frequently, until warm but not hot. (You can also do this in the microwave if you prefer.) Add the oats to the peanut butter mixture and stir until combined.
Press into baking cups. Portion the oat mixture evenly into a silicone* or non-stick 12-cup muffin pan (approximately 1/3 cup of the oat mixture per baking cup). Then use a spoon to press the oat mixture firmly into each baking cup.
Add the chocolate. Rinse out the saucepan, then return it to the burner. Add the dark chocolate and coconut oil to the saucepan. Heat over medium-low heat, stirring frequently, until the chocolate is completely melted and smooth. Remove pan from heat. Spoon approximately 1 tablespoon of chocolate on top of each oat cup, spreading the chocolate so that it covers the top of each baking cup.*
Freeze. Transfer the pan to the freezer and chill for at least 1 hour, or until the oat mixture is firm.
Serve. Pop out however many oat cups you would like to serve, sprinkle each with a pinch of flaky sea salt, then serve immediately and enjoy! Store any remaining oat cups in the freezer until ready to serve.
---
---
Notes
Chocolate drizzle: If you would like an extra chocolate drizzle on top of each oat cup, as shown in the photos above, let the first round of chocolate topping on the oat cups chill in the freezer until hardened. Then remove the pan and drizzle a bit of extra melted chocolate on top of each oat cup and chill again until frozen. This step is totally optional, so feel free to skip it to save some time.
Prep time: Prep time listed does not include the time required to chill the oat cups. This may vary depending on the temperature of your freezer, and also how much patience you have for the oat cups to chill. 😉