This post may contain affiliate links. Please read my disclosure policy.
This easy stuffed mushrooms recipe is made with a garlicky goat cheese, sun-dried tomato, pine nut and basil filling and topped with crispy toasted breadcrumbs.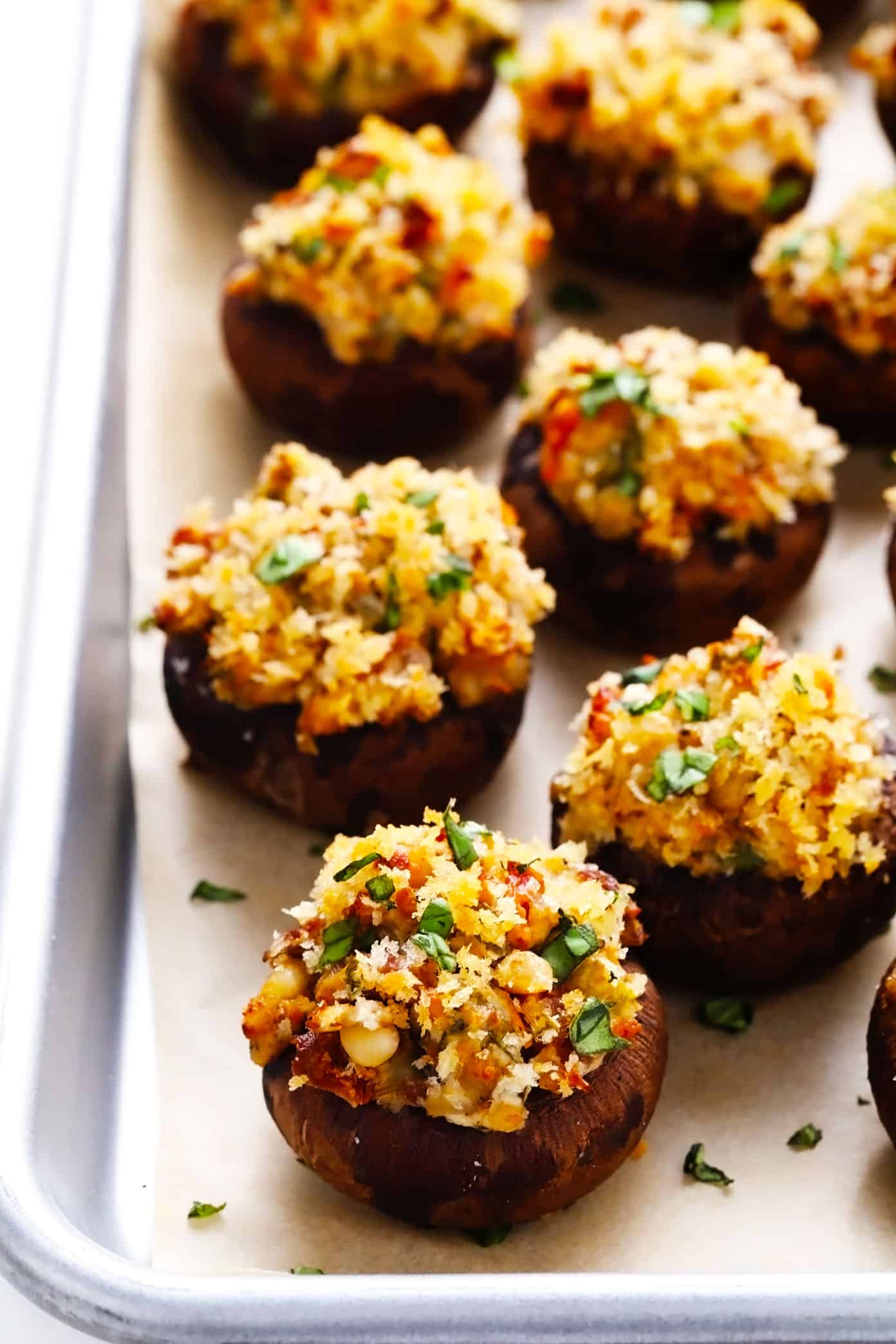 When it comes to easy appetizers that are sure to please a crowd, you can't go wrong with stuffed mushrooms. And this particular recipe is the new favorite in our house this season! ♡
These little guys came about as we were scavenging the fridge and pantry to whip up a quick appetizer for a gathering, but ended up being so delicious that couldn't resist making them again and again. The filling is made with a savory and tangy filling, thanks to a simple mix of sun-dried tomatoes, goat cheese, cream cheese, fresh basil, toasted pint nuts, green onion and lots of garlic. Fresh baby bella mushrooms are then stuffed with the filling, sprinkled with crispy golden Panko, and baked until tender. And when served nice and warm, these stuffed mushrooms are SO flavorful and downright irresistible!
We opted to make our stuffed mushrooms vegetarian, although you're welcome to mix in some bacon or sausage if you would like to add a protein. And if you need to make them gluten-free, just use some variety of gluten-free breadcrumbs and you'll be good to go. I've also included make-ahead instructions below if you would like to prep this easy stuffed mushrooms recipe up to a day in advance, which can come in extra handy for holiday entertaining this time of year.
Let's make some stuffed mushrooms!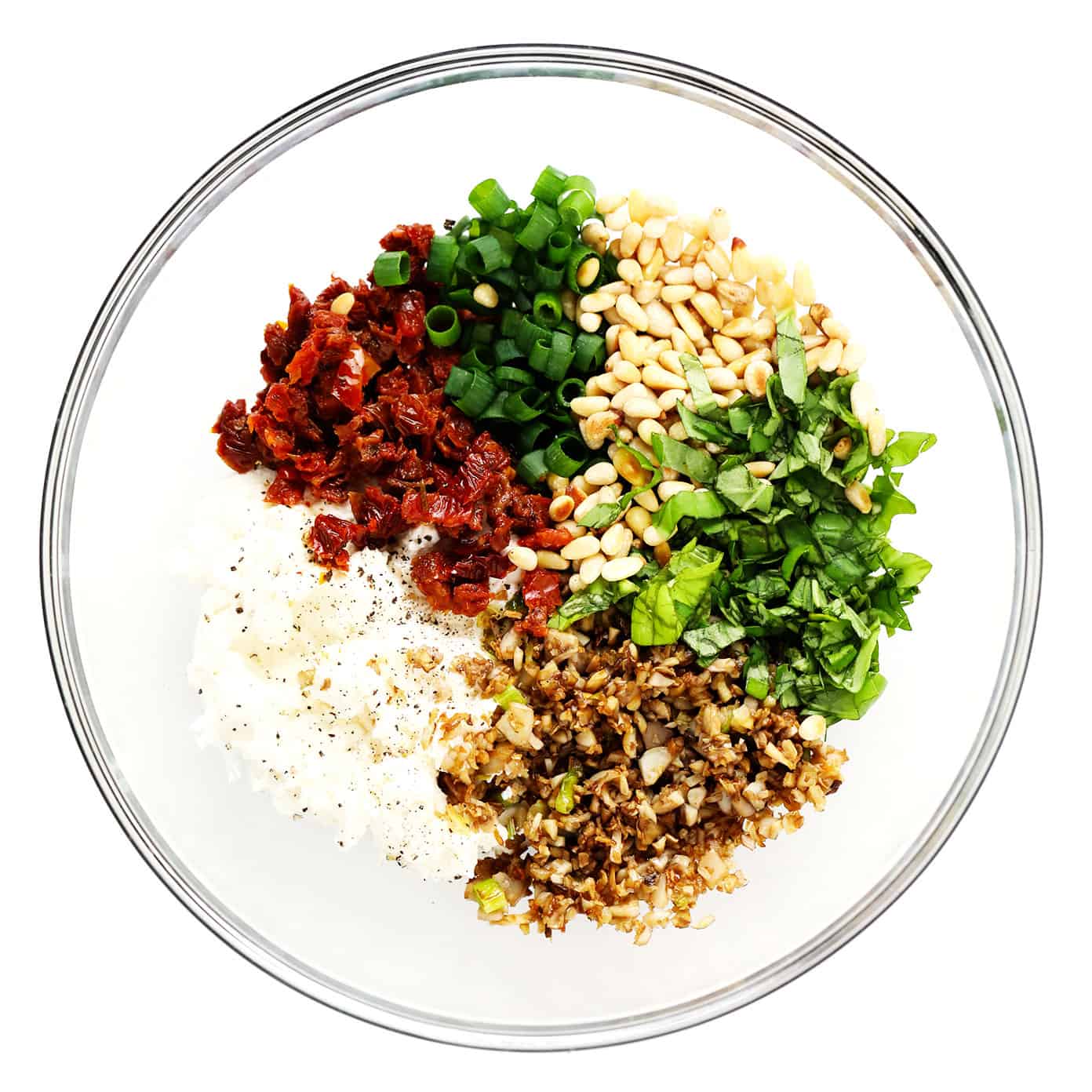 Stuffed Mushroom Ingredients
Before we get to the full stuffed mushroom recipe below, here are a few notes about the ingredients you will need (including some potential swaps)…
Mushrooms: I recommend using baby bella (cremini) mushrooms for the best flavor and texture, but white button mushrooms are the next best option that will work well too. You want to be sure that all of your mushrooms are roughly the same size so that they will cook evenly. And ideally, look for larger mushrooms so that they can hold a generous amount of that delicious filling.
Panko breadcrumbs: Which we will briefly toast in oil before sprinkling on the stuffed mushrooms so that the breadcrumbs are extra golden and crunchy.
Scallions: I recommend slicing your scallions very thin, then we will sauté the white and light green parts with the garlic and stir the dark green parts into the filling later.
Garlic: I love a generous amount of garlic in this recipe, but feel free to use less if you prefer.
Cream cheese: Feel free to use either full-fat or low-fat cream cheese for this recipe. Also, no need to let it warm up to room temperature — the warm mushroom sauté will help to soften it.
Goat cheese: I found that about 2 ounces of goat cheese was perfect for this recipe, which was enough so that its tangy flavor would shine through yet not overpower all of the other ingredients. That said, if you're not a fan of goat cheese, feel free to just add in 2 extra ounces of cream cheese instead. Or you can sub in a different kind of cheese, such as feta, gorgonzola, shredded sharp cheddar, or Parmesan.
Sun-dried tomatoes: Their sweet, tangy flavor is absolutely delicious in this stuffed mushroom filling! Be sure to finely chop the tomatoes before you measure them to yield the correct amount.
Pine nuts: The buttery flavor of pine nuts gives this filling a delicious pesto vibe, but feel free to sub in any other chopped nuts that you prefer. And as always, give them a quick toast on the stovetop or in the oven before adding them to the recipe to bring out their best flavor.
Fresh basil: Finally, I recommend adding lots of finely-chopped fresh basil to the filling, plus a little sprinkle on top at the end. It complements the filling flavors just perfectly!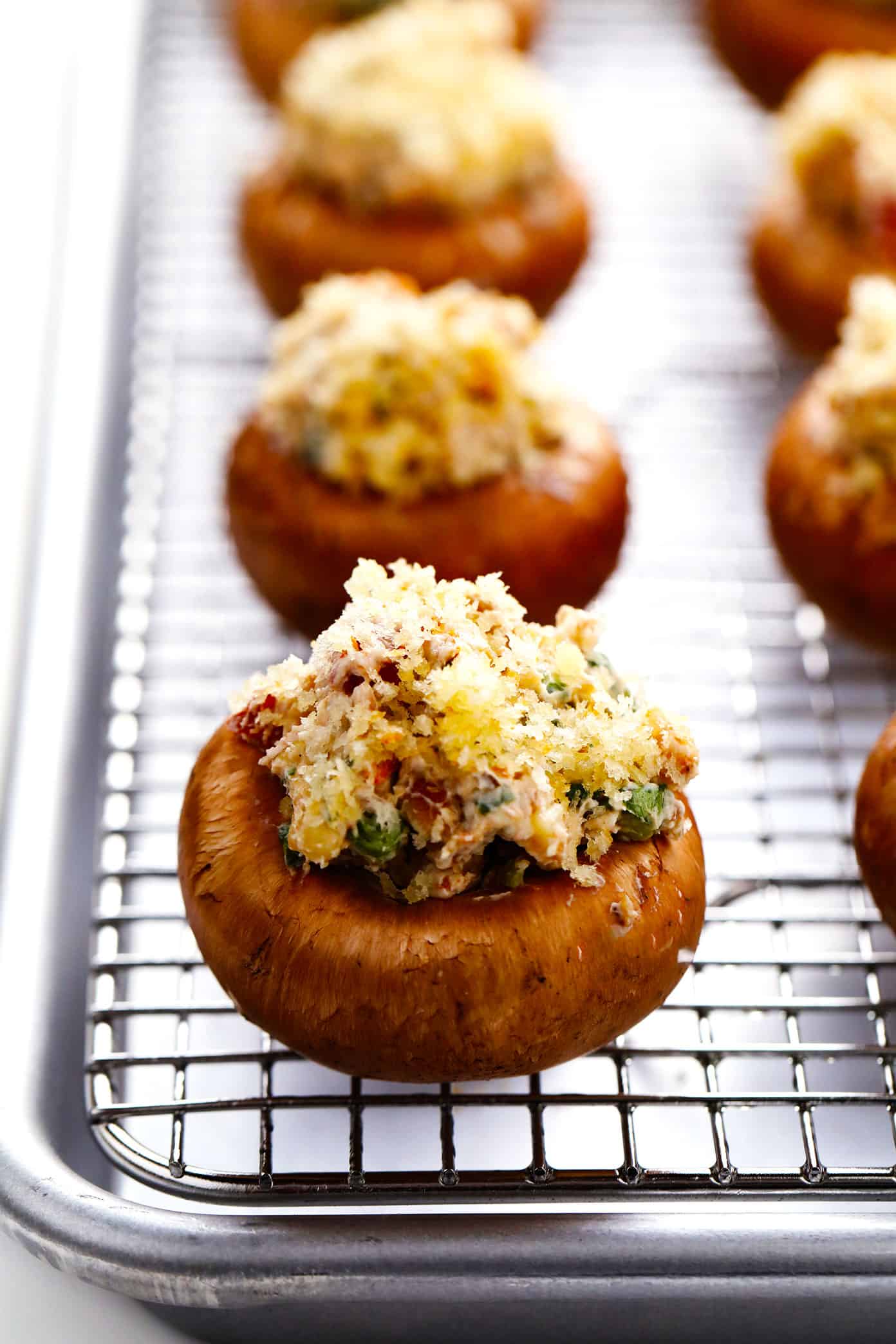 How To Make Stuffed Mushrooms
Detailed directions for how to make stuffed mushrooms are included in the recipe below, but here are a few helpful tips to remember as well.
Clean the mushrooms with a damp towel. We want to avoid adding any extra moisture in the mushrooms for this recipe. So instead of cleaning them under the faucet, wipe them down gently with a damp towel (or paper towel) instead.
Use those mushroom stems! Instead of discarding the mushroom stems, save them because we will finely chop and sauté them with the green onion and garlic to form the base for our filling.
Bake on a wire rack (if you have one). Stuffed mushrooms always inevitably have some juices that leak out while baking. So if you would like to avoid soggy mushroom bottoms, elevate the mushrooms on a wire baking rack placed on top of a baking sheet. This way, the juices will not pool beneath the mushrooms and will instead drip onto the sheet below. That said, though, this step is totally optional, so feel free to place the mushrooms directly on a baking sheet if you prefer.
Don't forget to season. Be sure to season both the mushroom caps and the filling with a few shakes of black pepper and sea salt before baking.
Make the filling in advance. If you would like to prep this appetizer in advance, follow the recipe through the end of Step 5 (stuffing the mushrooms). Then transfer them to a sealed container and refrigerate for up to 1 day. Once you are ready, transfer the stuffed mushrooms to the baking sheet and bake as directed.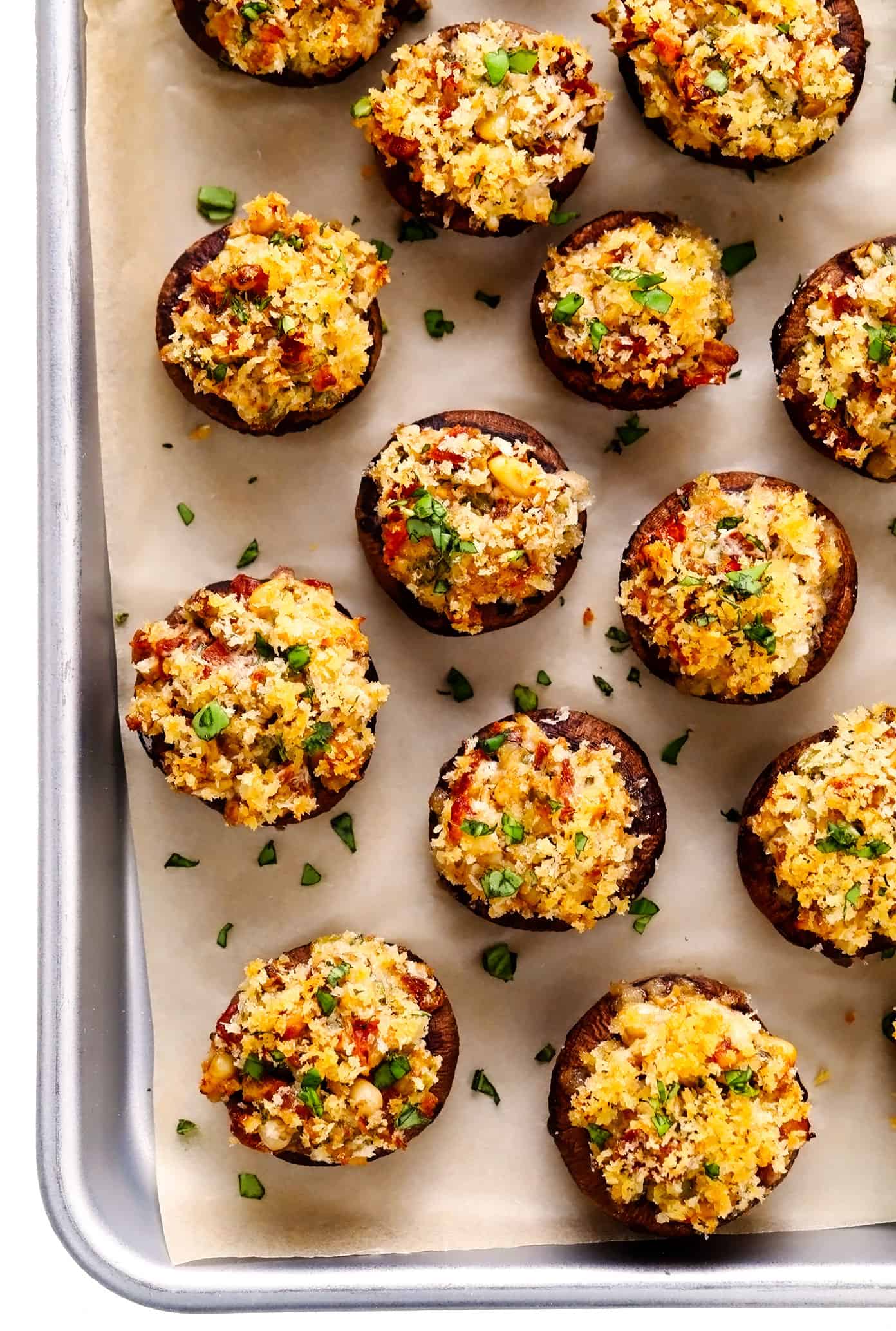 Recipe Variations
Here are a few additional ways that you are welcome to customize this recipe if you'd like!
Make gluten-free stuffed mushrooms: Just use gluten-free Panko (or another variety of gluten-free breadcrumbs) to make this recipe GF.
Add a protein: Finely-chopped cooked bacon, chorizo, or sausage would all be delicious additions to the filling if you would like to add a protein.
Add a glaze: A balsamic glaze would also be delicious drizzled on top.
Use portobello mushrooms: If you would like to super-size this recipe, feel free to bake the filling in large portobello mushroom cups. Just note that the mushrooms will likely need a bit longer to cook.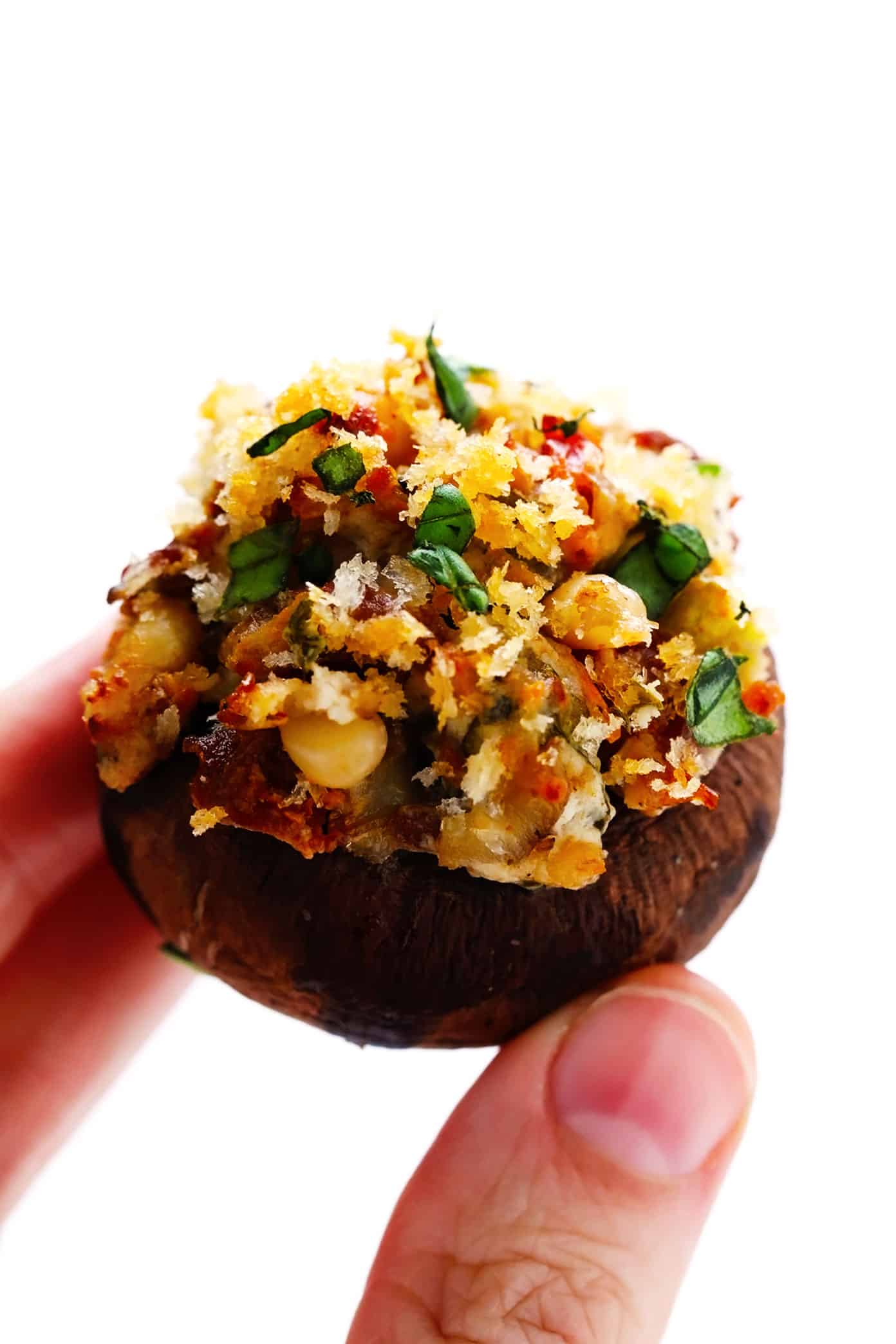 ---
Description
This easy stuffed mushrooms recipe is made with a garlicky goat cheese, sun-dried tomato, pine nut and basil filling and topped with crispy toasted breadcrumbs. See notes above for fun ingredient variations to try too!
---
20

large baby bella (cremini) mushrooms

3 tablespoons

olive oil, divided
fine sea salt and freshly-cracked black pepper

1/3 cup

Panko breadcrumbs

2

scallions, thinly sliced with white and green parts divided

4

cloves garlic, minced

4 ounces

cream cheese

2 ounces

goat cheese

1/4 cup

finely-chopped sun-dried tomatoes

1/4 cup

toasted pine nuts

3 tablespoons

finely-chopped fresh basil
---
Prep the mushrooms. Place a wire rack (if using*) on top of a large baking sheet and mist with cooking spray. Carefully remove and transfer the mushroom stems to a cutting board and finely chop. Cluster the mushroom caps close together cavity-side-up on the prepared baking rack. Drizzle the mushroom caps evenly with 1 tablespoon (or more) olive oil and season evenly with a few twists of black pepper and a pinch of sea salt.
Toast the breadcrumbs. Heat 1 tablespoon oil in a sauté pan over medium-high heat. Add Panko and toss to combine. Cook for 2 to 3 minutes, stirring frequently, until lightly golden. Transfer the Panko to a bowl, then briefly wipe down the sauté pan to remove any remaining crumbs.
Sauté the veggies. Heat the remaining 1 tablespoon oil over medium-high heat. Add the 

white

parts of the scallions and sauté for 3 minutes, stirring occasionally. Add the garlic and chopped mushroom stems and sauté for 3 to 5 more minutes until tender. Remove pan from heat.
Combine the filling. Combine the garlic-mushroom mixture, cream cheese, goat cheese, sun-dried tomatoes, pine nuts and basil in a mixing bowl (or you can combine them in the same sauté pan) and stir until evenly combined.
Stuff the mushrooms. Heat oven to 350°F (180°C). Use a small spoon to scoop the filling mixture evenly into the prepared mushroom caps, pressing the filling into the cavities as much as possible. Dip the mushrooms upside-down in the Panko mixture so that it coats the filling, then place the mushrooms back on the wire rack spaced at least 1 inch apart.
Bake. Bake for 20 to 25 minutes, or until the mushroom caps are tender. (Baking time will vary based on the size of your mushrooms.)
Serve. Remove baking sheet from the oven and serve the stuffed mushrooms warm, sprinkled with extra fresh basil if you would like. Enjoy!
---
Notes
Wire rack: Baking the mushrooms on a wire rack (placed on top of a baking sheet) can help prevent liquid from pooling beneath the mushrooms. But this is completely optional — feel free to bake the mushrooms directly on a baking sheet if you prefer.