This post may contain affiliate links. Please read my disclosure policy.
My all-time favorite bolognese sauce recipe is slow-simmered with a rich tomato base, a delicious blend of beef and pork, and the coziest blend of garlicky seasonings.  Serve with pasta, gnocchi, or roasted eggplant and enjoy!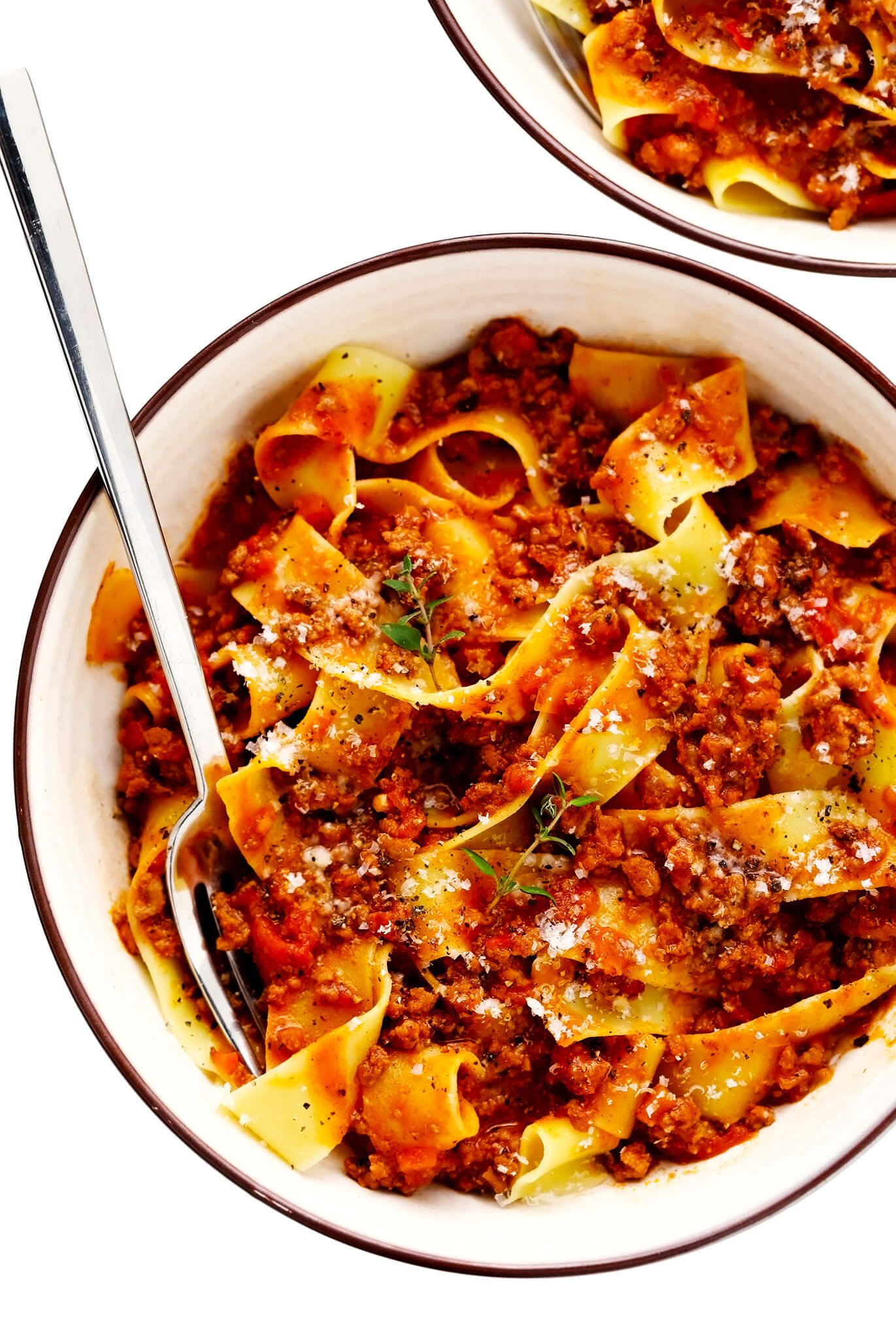 Finally!  After sharing my favorite recipes for classic marinara, spicy arrabbiata, creamy carbonara, cheesy cacio e pepe, and garlicky aglio e olio, I'm back today to add one more very important recipe to our collection here of classic Italian pasta sauces.
Meet my all-time favorite bolognese recipe. ♡
Over the years, I've ordered, cooked and tasted a wide variety of sauces all considered to be some variation of bolognese.  From having the chance to sample bowls upon bowls of the real-deal authentic ragù alla bolognese during our trip to Bologna last year, to cooking up and learning from Marcella, Lidia, and Massimo's famous bolognese sauce recipes here at home, to playing around with a number of non-traditional shortcuts, seasonings or cooking methods, to even sampling a few of the jarred versions of bolognese that are crazy-popular at nearly every grocery store around — it seems clear that the world has come to love this hearty Italian meat sauce, however traditional or non-traditional various versions of it may be.
And based on the number of requests I've received over the years for a bolognese sauce recipe here on Gimme Some Oven, it sounds like many of you certainly love it too!!
Well to be sure, the certified traditional bolognese recipe will always remain the undisputed authentic classic.  But over the years, I've come to learn that I personally prefer a more modern take on the original recipe.  One with a rich, slow-simmered, tomato base (versus the traditional version, which many are surprised to learn includes minimal tomato), one made with an extra-flavorful variety of meats (including Italian sausage, in addition to traditional beef and pancetta), one that leans into some of my favorite Italian seasonings (garlic, herbs, plus a hint of anchovies, trust me), and one that takes the time it needs to simmer and develop an unforgettable depth of flavor (the key to good bolognese, a process that simply can't be rushed).
It's not a complicated recipe to make at all, but it is one that requires a bit of extra love and time.  And one that — I promise — will be so worth it.  ♡  So gather up your ingredients, turn up some good music in the kitchen, maybe pour yourself a glass of wine, and settle in for a few hours of cooking up the coziest, richly-flavored, most delicious bolognese recipe I know.  You are in for a treat!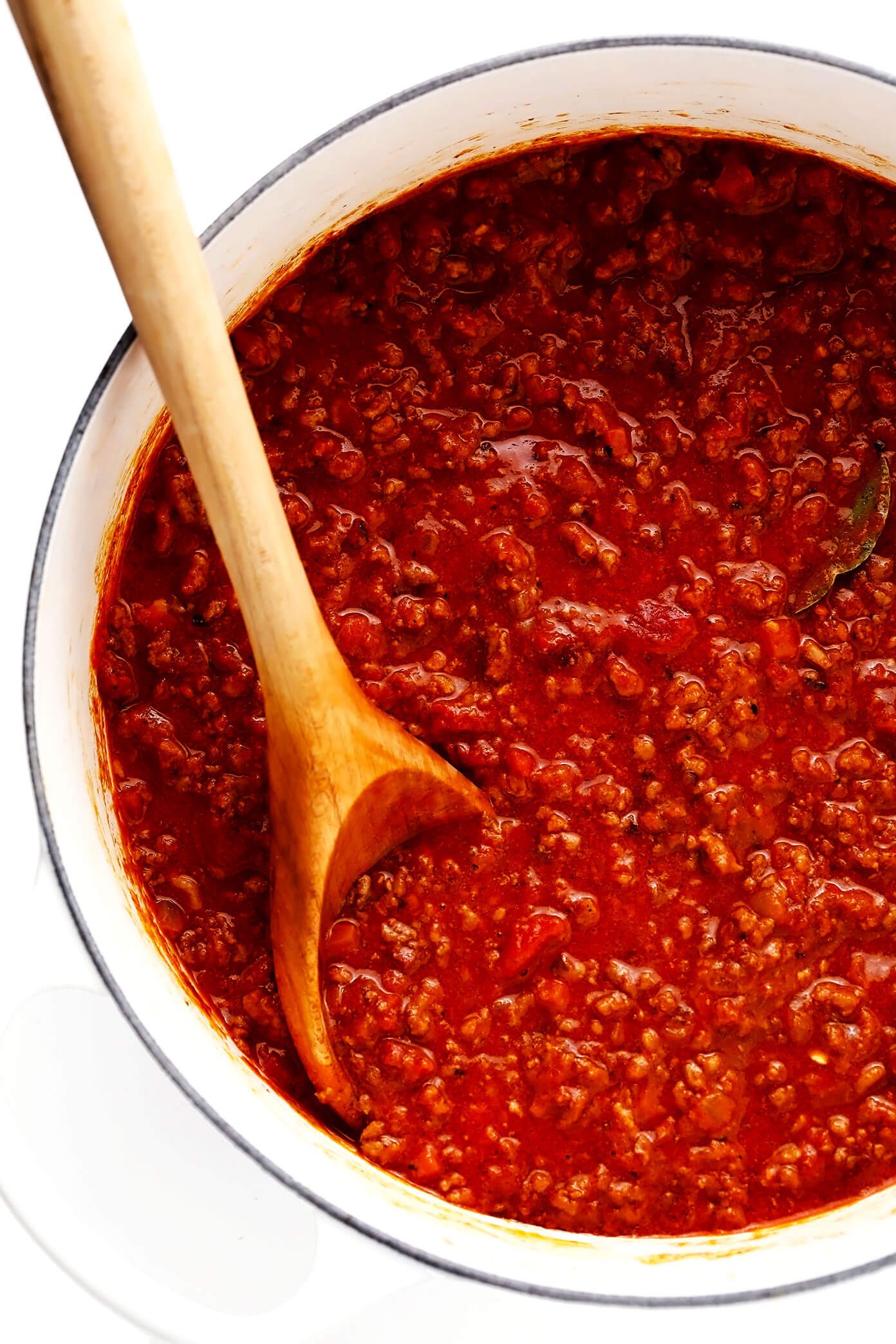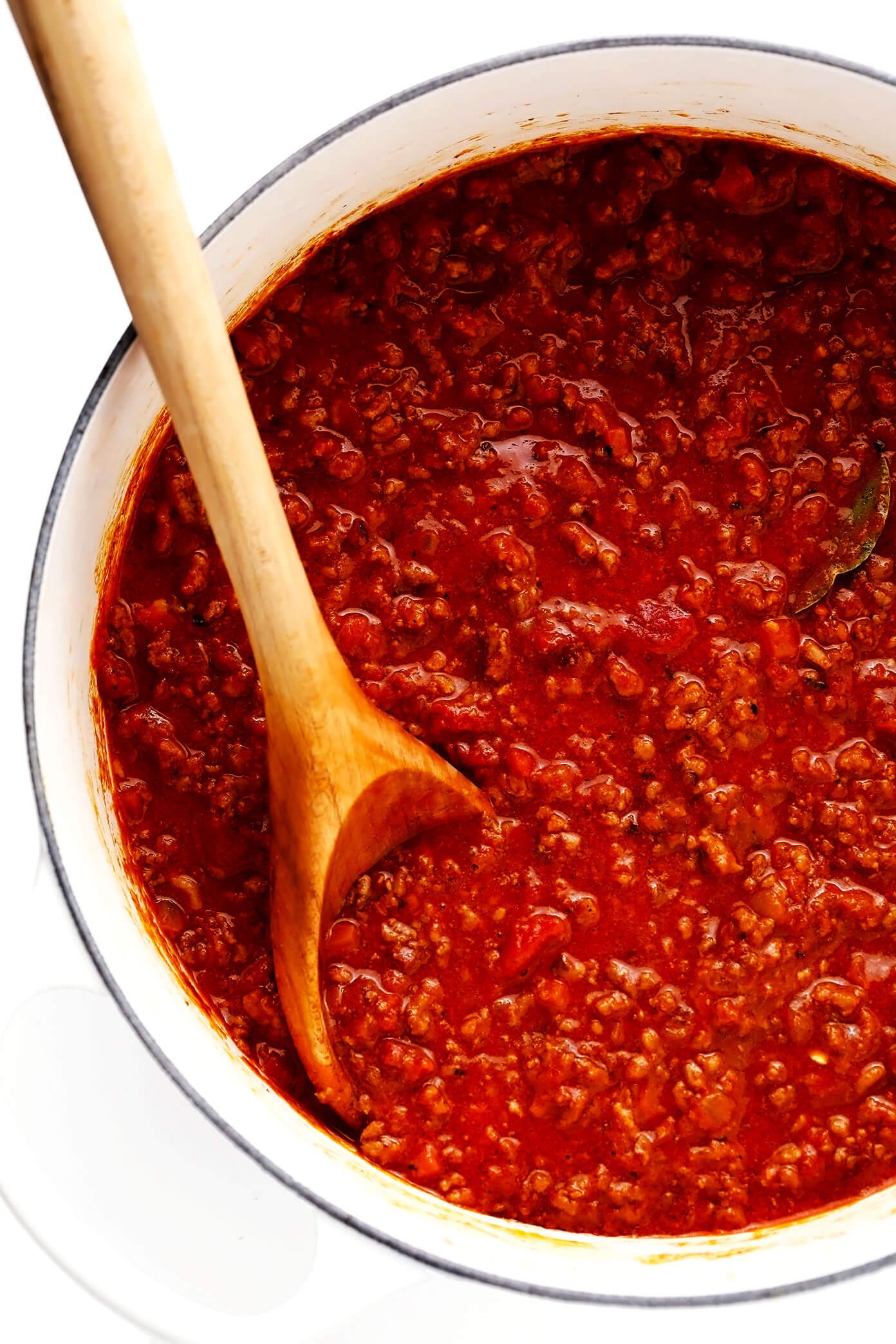 Bolognese FAQ:
What is the correct "bolognese" pronunciation? In Italian, "bolognese" is pronounced boh-loh-nyeh-zeh. But in English, for better or worse, it is usually simplified to boh-loh-nyehz.
What is bolognese sauce? Technically, the term "bolognese" refers to anything associated with the region of Bologna, Italy.  But in the culinary world, it is most often associated with the region's famous meat sauce, known locally as "ragù."  (Yep, heads up!  If you travel to Bologna, you'll notice that there is no bolognese sauce on the menus — only ragù.)  In Bologna, this sauce is traditionally slow-simmered with just a handful of standard ingredients, including beef, pancetta, Italian soffritto (carrots, celery, onion), tomato paste, milk, wine, salt and pepper.  The official ragù alla bolognese recipe, certified in 1982 by the Accademia Italiana della Cucina, does not include garlic or other herbs or seasonings.  And many bolognese fans around the world may be surprised to learn that it also notably includes very little tomato paste.
That said, of course, the world loves putting its own spin on classic Italian recipes.  (Shout out to all of the different styles of pizza you can now order in different regions of the United States alone!)  And over the past century, bolognese sauce has likewise been adapted in many different ways by many different countries around the world.  It's most often now commonly known outside of Italy as a tomato-based marinara meat sauce.  And it is often seasoned with garlic and/or herbs, made with different combinations of meats (or plant-based alternatives to make vegan bolognese), made using quicker shortcuts (instead of simmering the sauce for hours), etc.  While these modern versions would certainly not be considered traditional or "authentic" in Bologna, I think most would agree that they can certainly be very, very delicious as well.  I would humbly recommend this modern recipe as a prime example!
What pasta shape is traditionally used in bolognese? In many countries outside of Italy (especially the United States), spaghetti bolognese is the most popular pasta pairing.  But in Italy, the sauce is much more commonly paired with tagliatelle, pappardelle or rigatoni.  Or it can be used to make different dishes such as lasagna bolognese or gnocchi bolognese.  That said, any pasta shape would be delicious here, so feel free to use whatever you have in the pantry!
Does bolognese sauce really require hours to cook? My personal opinion and that of the Italian Academy is — yes.  If you're in a hurry, you can let the sauce simmer for 30 minutes and it will still be delicious.  But if you really want to get that rich depth of tomato-y flavor and have the meat be perfectly tender, the sauce needs to simmer for at least two hours or longer.  It's worth it!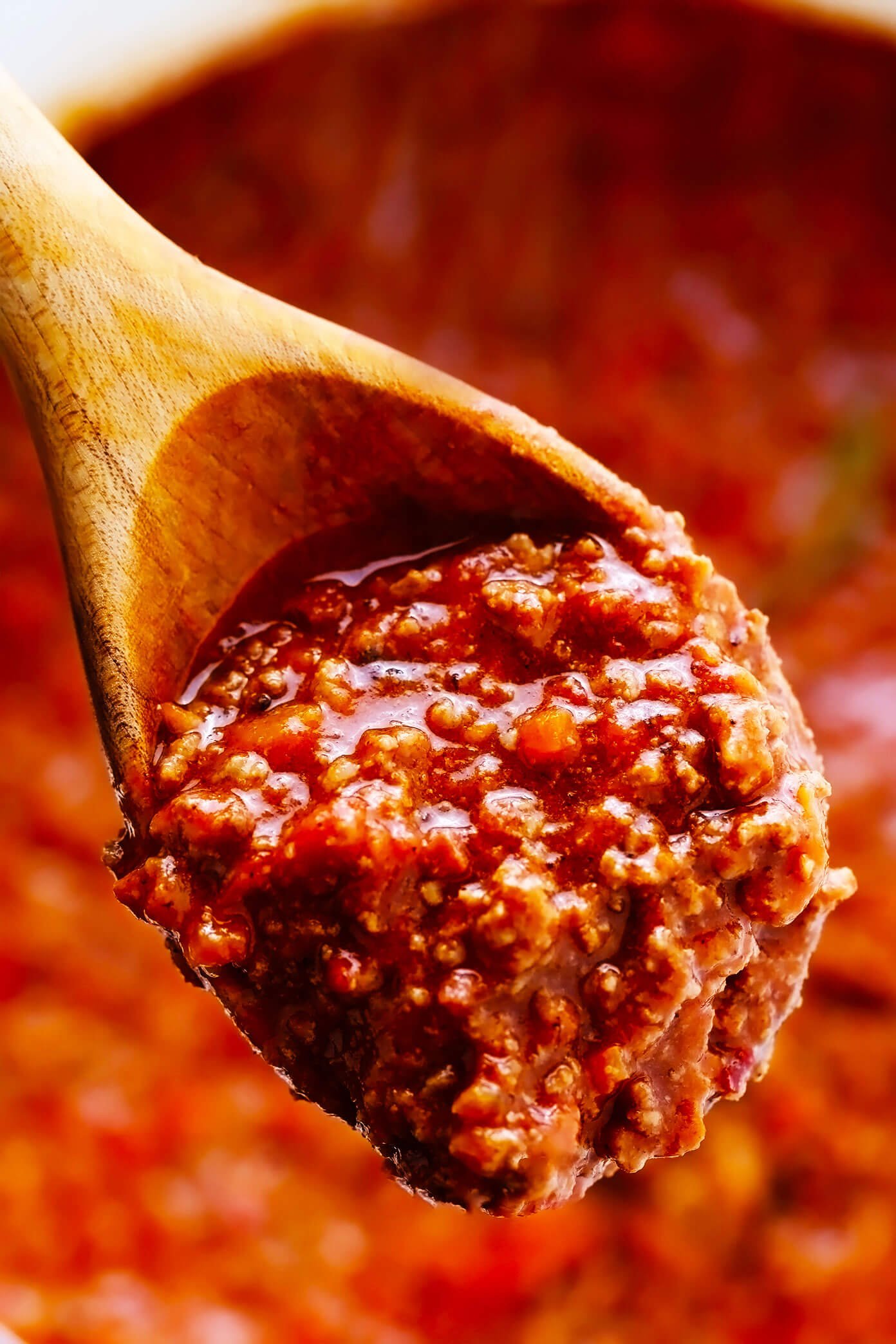 Bolognese Sauce Ingredients:
Before we get to the full recipe below, here are a few important notes about the ingredients you will need (including possible substitutions) for this bolognese recipe…
Pancetta: I love the flavor that Italian pancetta adds to this sauce.  But if you can't track it down at the grocery store, feel free to use diced bacon instead.
Veggies: This sauce is traditionally made with the Italian soffritto mix of onion, carrot and celery, which I recommend very finely dicing unless you prefer bigger chunks in your sauce.
Garlic: It's not traditionally used in this sauce, but I can never resist adding in at least a few cloves, either pressed or minced.
Anchovies: Trust me here — anchovies are the secret ingredient that take this recipe over the top!  Don't worry, they dissolve into the sauce as it cooks and won't make it taste "fishy."  Rather, they serve to help bring out the rich umami flavors of the meat and add in a subtle savory nuance that is absolutely delicious.  You can either use anchovy filets or anchovy paste, or alternately, you could just add in a few teaspoons of fish sauce instead.  (Or if you really insist, you can just leave the anchovies out and your sauce will still be delicious.)
Extra seasonings: I also like to add in some crushed red pepper flakes, bay leaf and fresh thyme and/or rosemary to the sauce.  And of course, season it with plenty of sea salt and freshly-cracked black pepper.
Meat: Bolognese sauce is traditionally made with just ground beef and pancetta, but I like to use a 50/50 combo of ground beef and ground Italian sausage for extra flavor.  I typically use mild Italian sausage, although you could use sweet or hot sausage if you prefer.  Or you could go the traditional route and just use all ground beef instead.
Wine: There are strong opinions amongst Italian chefs about using dry white wine vs red wine in Bolognese sauce!  I'm of the opinion that both are delicious, so feel free to use whichever you prefer. 😉
Tomatoes: I really recommend investing in a large can of San Marzano whole tomatoes or another brand of good-quality whole tomatoes to serve as the base for this sauce, plus a 6-ounce can (or tube) of tomato paste.  I take a tip from Chef Lidia and like to crush the whole tomatoes by hand before adding them to the recipe, along with their juices, or you can just break the tomatoes up in the pan with a wooden spoon as they cook.
Milk: I've written this recipe using whole milk, as is tradition.  But if you really want to make it extra luxe, I highly recommend using 1/2 cup (or more) of heavy cream instead — so delicious!
Parmesan: Finally, I'm of the firm belief that Bolognese sauce must be served with a generous sprinkling of grated Parmesan cheese.  Its aged, salty flavor is the perfect way to finish off this dish!
The batch of bolognese sauce photographed here is served with pappardelle pasta, but feel free to make spaghetti bolognese, rigatoni bolognese, tagliatelle bolognese, or any other pasta shape that you prefer.  Or you can also use this recipe to make gnocchi bolognese, eggplant bolognese, or any other dishes that sound good.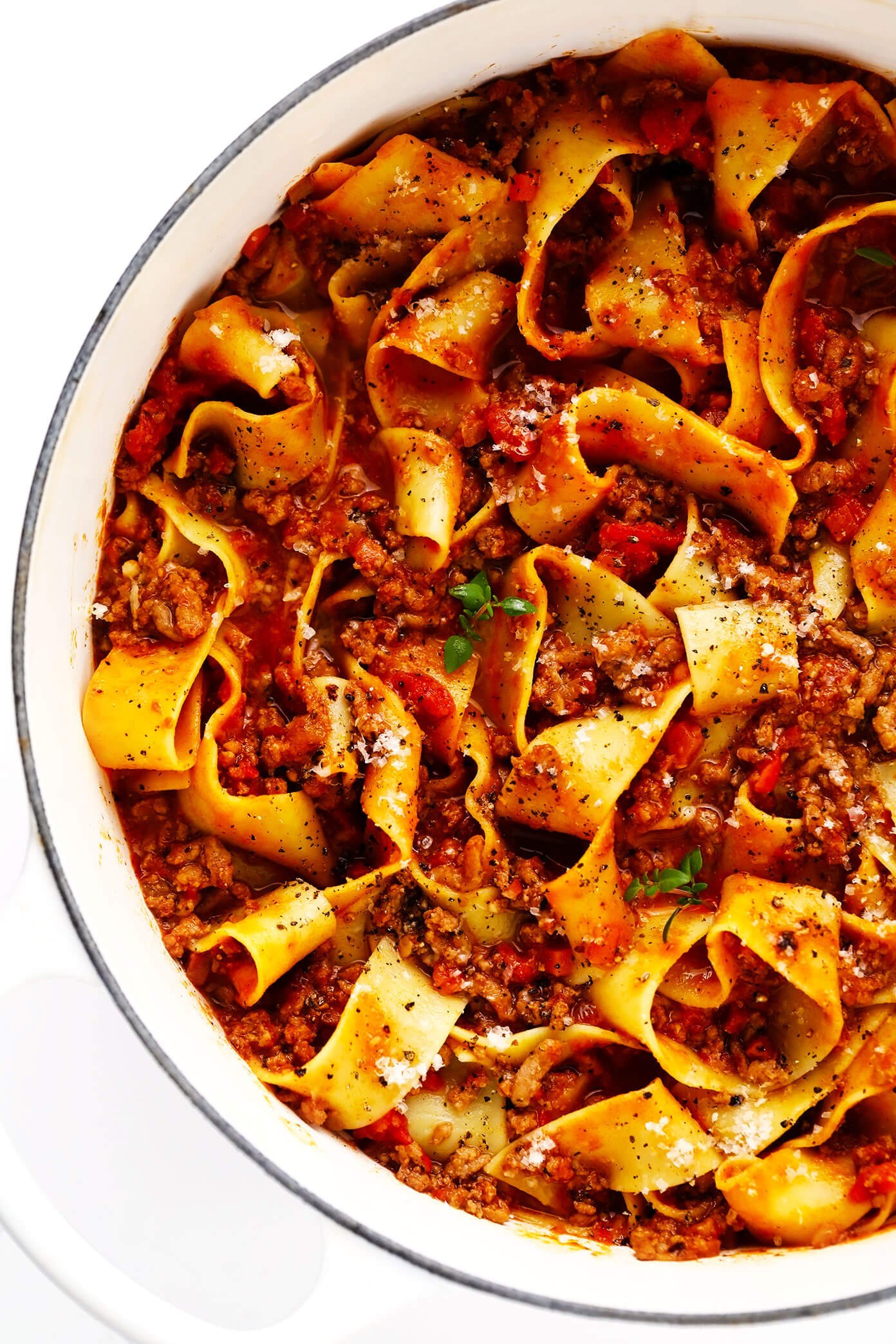 Possible Bolognese Recipe Variations:
As I mentioned above, there are endless ways that people have adapted and customized the classic bolognese recipe over the years.  So feel free to get creative with yours, if you would like!  For example, you could also…
Add more herbs: Some fresh basil, sage or oregano would also be absolutely delicious simmered in this sauce or sprinkled on top.
Make it spicy: Feel free to also add in more crushed red pepper flakes if you would like the sauce to have more of a kick.
Make it gluten-free: This bolognese sauce is already naturally gluten-free.  But feel free to serve it with your favorite variety of gluten-free pasta to make GF pasta bolognese.
Use heavy cream: As I mentioned above, feel free to also swap heavy cream or half and half in place of the milk.  (I recommend starting with 1/2 cup, and then you can add more if you'd like.)
Use homemade pasta: And of course, if you really want to go all out with this Bolognese sauce, you can make a batch of homemade pasta to serve with it.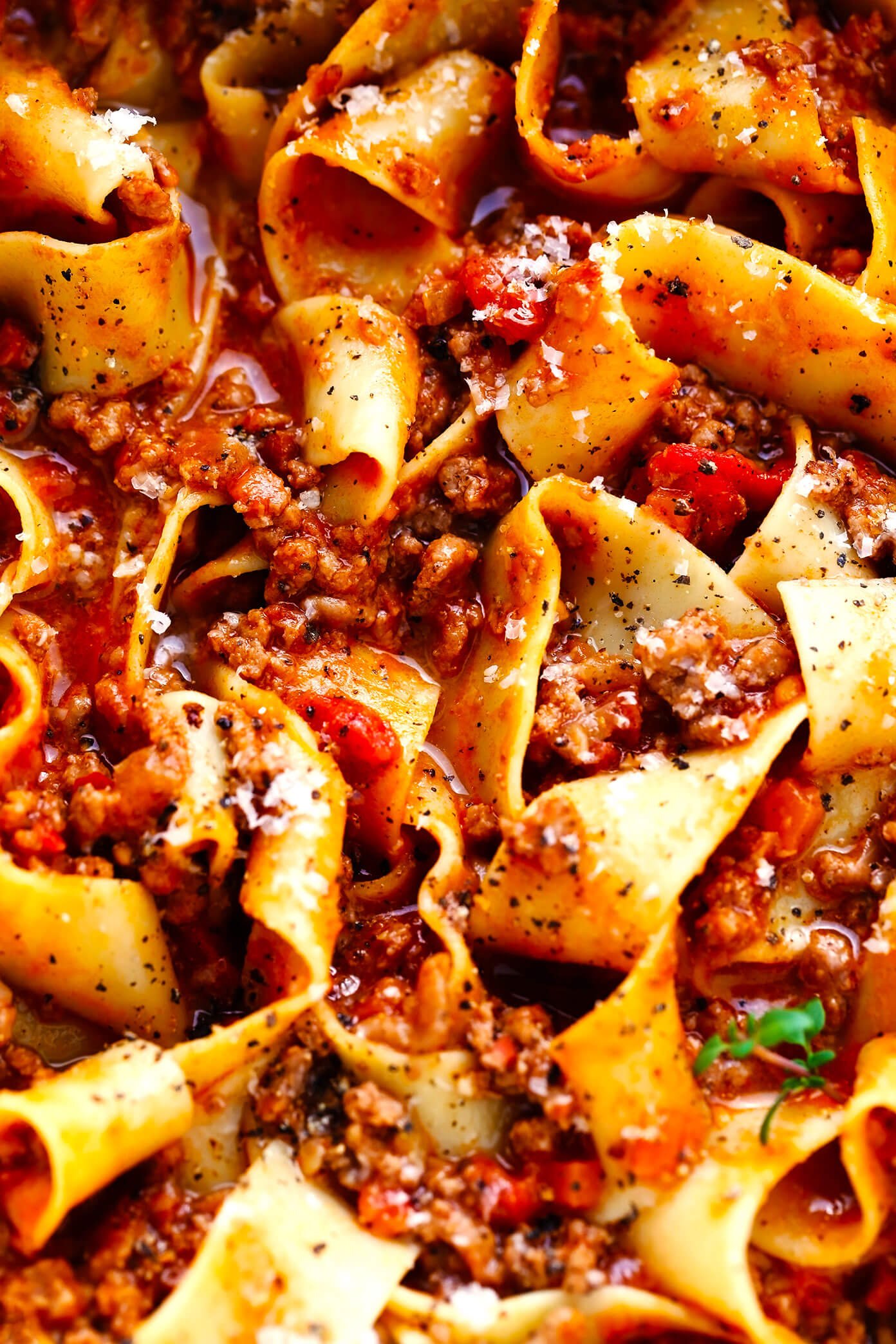 More Classic Pasta Recipes:
Looking for more classic Italian pasta recipes?  Here are a few of my faves…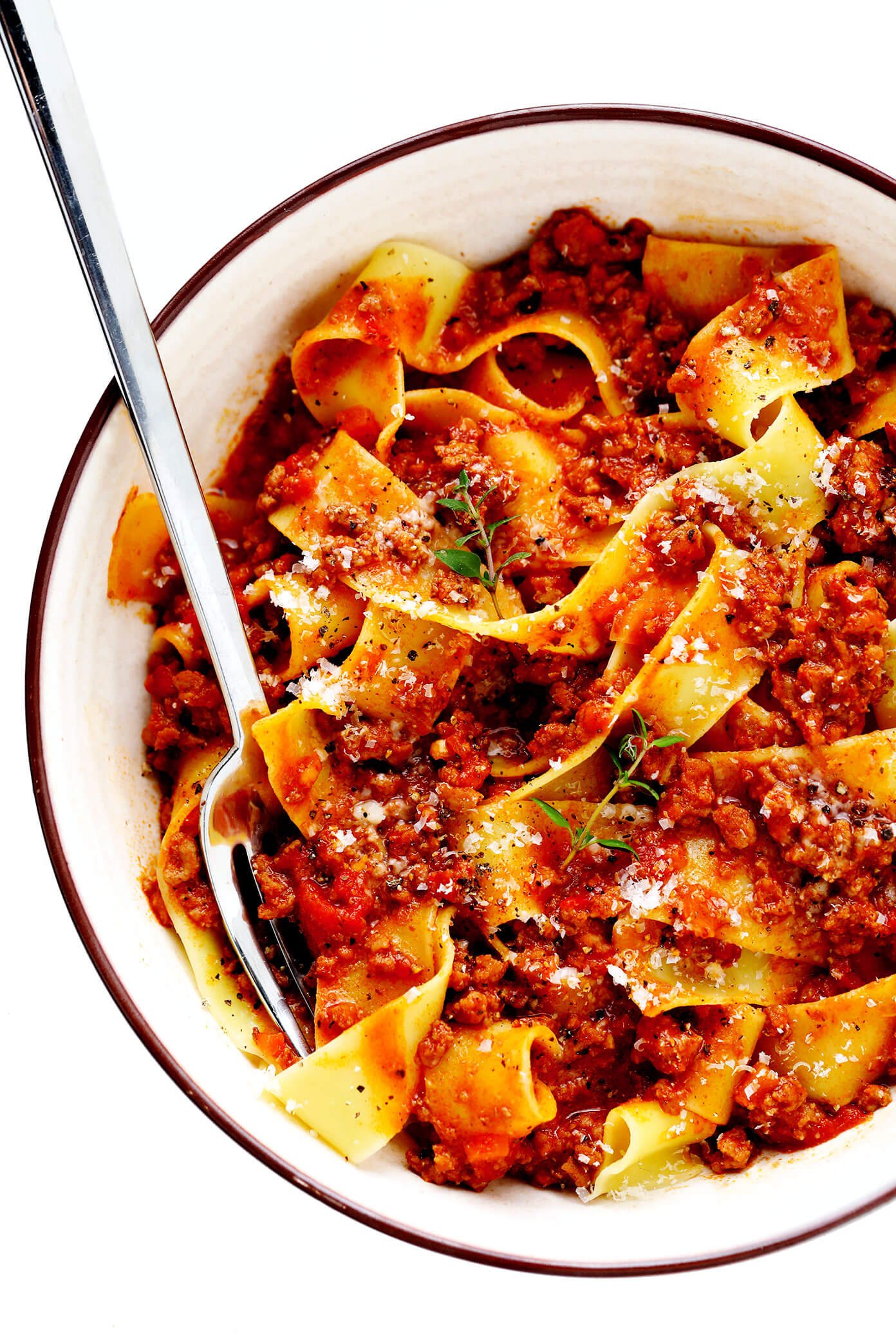 ---
Description
My all-time favorite Bolognese sauce recipe is slow-simmered with a rich tomato base, a delicious blend of beef and pork, and the coziest blend of garlicky seasonings.  This recipe makes enough sauce to be paired with approximately 1 pound of uncooked pasta (see notes below).
---
---
Instructions
Cook the pancetta (or bacon). Add the pancetta to a large stockpot and cook over medium-high heat, stirring occasionally, until lightly crispy.  There should be about 1 to 2 tablespoons of grease that has rendered in the stockpot, but if not, add in a drizzle of olive oil to supplement.
Sauté the veggies. Add the onion, carrot and celery to the stockpot and stir to combine.  Sauté for about 7 to 8 minutes, stirring occasionally, until the veggies are softened.  Add the garlic, anchovy filets and crushed red pepper flakes and stir to combine.  Sauté for 2 more minutes, stirring occasionally, until fragrant.
Brown the meat. Add the ground beef and Italian sausage and toss to combine with the veggies.  Cook until the meat is completely browned, breaking up the meat with a wooden spoon as it cooks and flipping it only occasionally so that it can get a bit browned and crispy on the bottom.
Deglaze the pan. Add the wine and use the wooden spoon to thoroughly scrape up any browned bits that are stuck to the bottom or sides of the pan.
Simmer. Add the San Marzano tomatoes, tomato paste, thyme, bay leaf and stir to thoroughly combine.  Continue cooking until the sauce just barely reaches a simmer.  Then reduce heat to low, cover, and simmer anywhere from 30 minutes to 3 hours.  (I recommend at least a 2-hour simmer for optimum flavor.)  Be sure to check on the sauce and give it a stir every 30 minutes or so to be sure that the bottom does not burn.
Season. Remove and discard the thyme/rosemary sprigs and bay leaf.  Add the milk and stir until combined.  Give the sauce a taste and season with however much additional salt and pepper you believe it needs.  (I typically add in at least a few teaspoons of salt and some generous cracks of black pepper.)  If the sauce seems too thick, you can add in a bit of water to thin it out. (If you are serving the sauce with pasta,* I recommend using some of the starchy pasta water.)
Serve. Serve warm with pasta, gnocchi, roasted eggplant, or whatever sounds good (see notes below) and garnish with lots of freshly-grated Parmesan cheese.  Enjoy!
---
---
Notes
Anchovies: You can either use two anchovy filets (from tins of anchovies packed in oil) or 1 teaspoon anchovy paste.  Don't worry, the filets chunks will dissolve into the sauce as it cooks, and they won't make the sauce taste "fishy!"  Rather, they work wonders to help to bring out the delicious umami flavor of the meat.  If you don't have anchovy filets or paste on hand, you can sub in 2 teaspoons of fish sauce.  Or you can just leave this ingredient out altogether, if you prefer.
Sausage: I love the extra flavor that Italian sausage adds to this recipe.  (You can use mild, sweet or hot Italian sausage, whichever you prefer.)  Or alternately, you can just use plain ground pork instead of sausage.  Or skip the pork and just use 2 pounds of ground beef.
Tomatoes: If you can, I recommend paying a bit extra for a can of San Marzano whole tomatoes imported from Italy, which add amazing flavor to the sauce.  Or if you can't find those, just buy a good-quality (large) can of whole tomatoes.  Pour them out into a separate bowl before adding them to the sauce and use your hands to crush and break them into smaller pieces, then add them to the sauce.
Milk vs. cream: Bolognese is traditionally made with whole milk, but if you would like a richer sauce, feel free to add in 1/2 cup (or more) heavy cream or half and half instead of milk.
Pasta or gnocchi: You can serve this Bolognese sauce any number of ways.  But if you are pairing it with pasta or gnocchi, I recommend boiling approximately 1 pound of (uncooked) pasta in a large stockpot of generously-salted water until it is just 1 minute shy of al dente.  Then use tongs to transfer the pasta or gnocchi directly into the bolognese sauce, along with a ladle-full of starchy water (if needed to thin the sauce), and toss continuously until the pasta is al dente.
Storage instructions: Leftovers can be cooled to room temperature, then refrigerated in a sealed food storage container for up to 4 days or frozen for up to 4 months.